Prayer is a profound means of communication with God, possessing immense power to transform lives.
According to religious texts, God hears each prayer, akin to a caring parent, eager to listen to our anxieties, requests and needs.
Prayer acts as a conduit to communicate with the divine, facilitating forgiveness, strength, healing and supernatural power.
Prayer quotes often serve as an inspiring tool for many individuals, reminding them of the tremendous miracles that sincere prayers can bring about.
However, despite its importance, prayer can sometimes evoke confusion and guilt, leading many to struggle with cultivating this practice.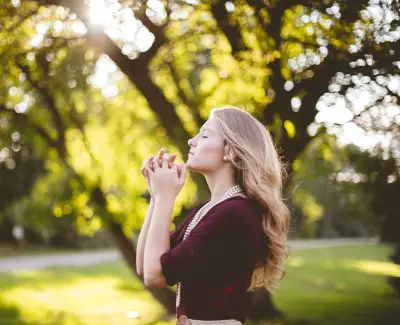 Numerous books address the theology and practice of prayer to alleviate this issue.
This collection of 67 prayer quotes aims to stimulate your prayer life, fortify your faith and remind you of the power of prayer.
Whether shared or reflected upon privately, these quotes underscore the transformative gift of prayer.
---
Top 10 Prayer Quotes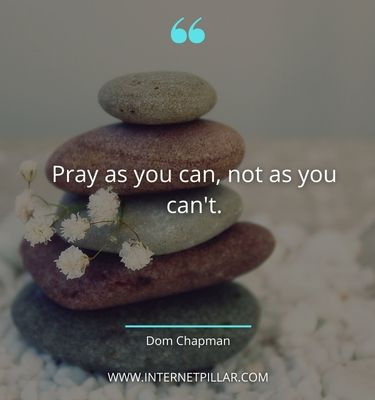 Pray as you can, not as you can't. ~ Dom Chapman.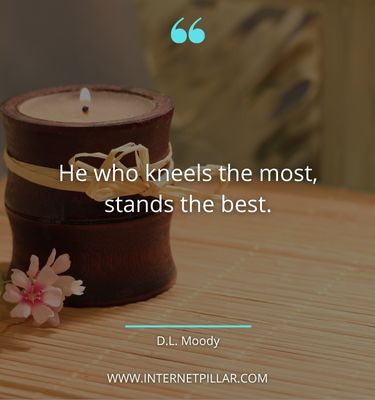 He who kneels the most, stands the best. ~ D.L. Moody.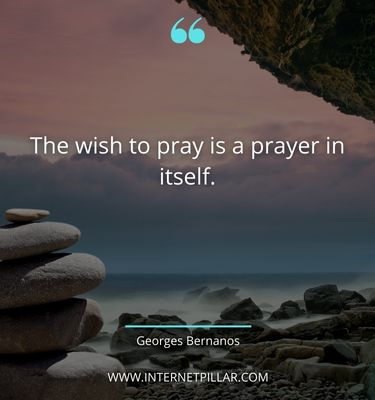 The wish to pray is a prayer in itself. ~ Georges Bernanos.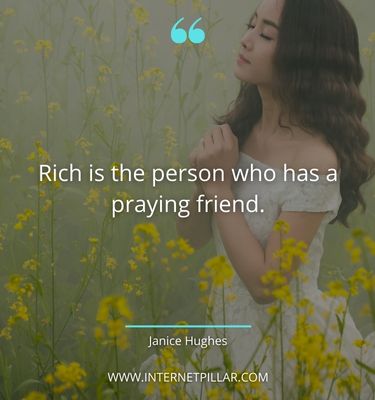 Rich is the person who has a praying friend. ~ Janice Hughes.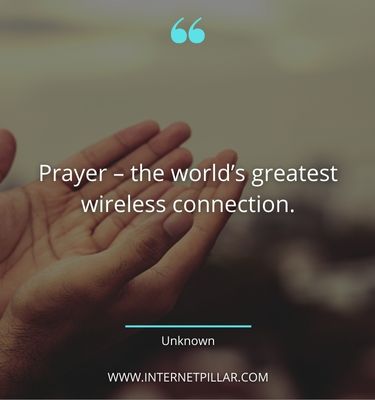 Prayer – the world's greatest wireless connection. ~ Unknown.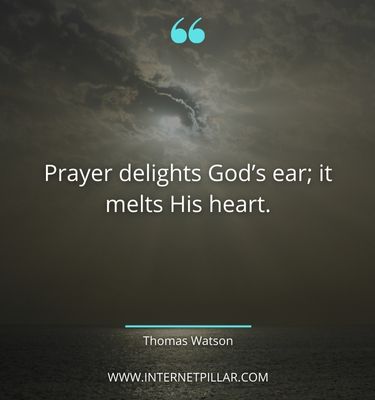 Prayer delights God's ear; it melts His heart. ~ Thomas Watson.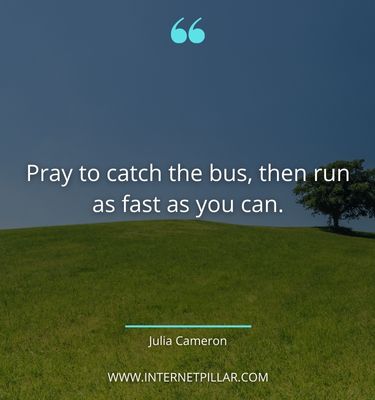 Pray to catch the bus, then run as fast as you can. ~ Julia Cameron.
Prayer may just be the most powerful tool mankind has. ~ Ted Dekker.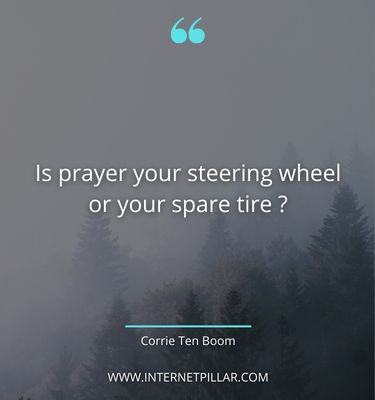 Is prayer your steering wheel or your spare tire ? ~ Corrie Ten Boom.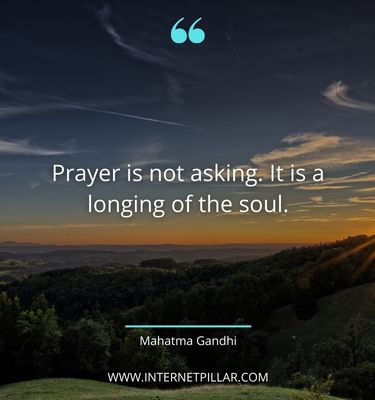 Prayer is not asking. It is a longing of the soul. ~ Mahatma Gandhi.
Power of Prayer Quotes
God does nothing except in response to believing prayer. ~ John Wesley.
Prayer is a participation in willing God's will. ~ Marjorie J. Thompson.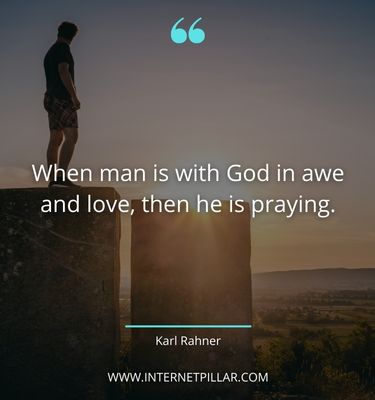 When man is with God in awe and love, then he is praying. ~ Karl Rahner.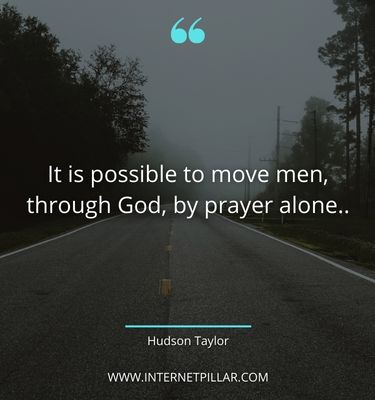 It is possible to move men, through God, by prayer alone. ~ Hudson Taylor.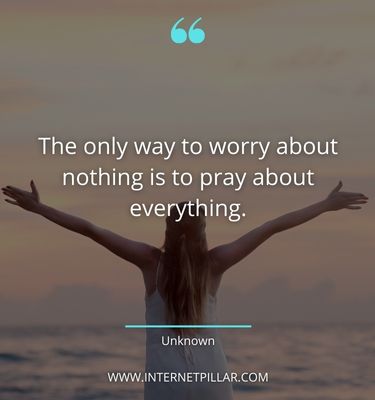 The only way to worry about nothing is to pray about everything. ~ Unknown.
Also read: Little Things in Life quotes and Heart Quotes to Follow Your Heart.
Best Prayer Quotes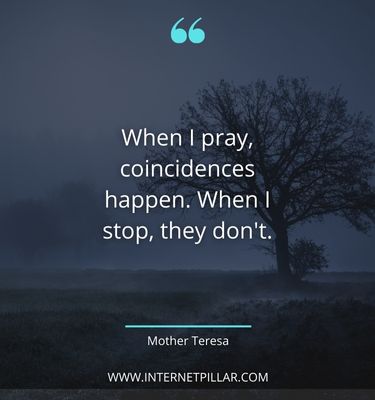 When I pray, coincidences happen. When I stop, they don't. ~ Mother Teresa.
God, grant me strength to accept those things I cannot change. ~ Dan Brown.
Prayer should be the key of the day and the lock of the night. ~ George Herbert.
We have to pray with our eyes on God, not on the difficulties. ~ Oswald Chambers.
Don't stop praying. He hears you and He is working it out for your good. ~ Unknown.
More things are wrought by prayer than this world dreams of. ~ Alfred Lord Tennyson.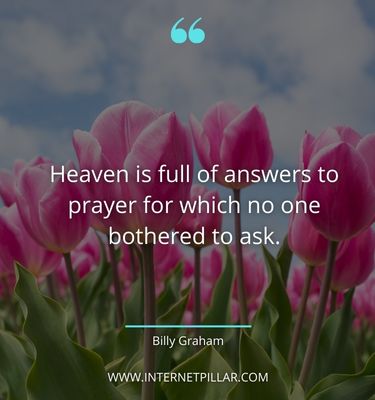 Heaven is full of answers to prayer for which no one bothered to ask. ~ Billy Graham.
Prayer is nothing else than being on terms of friendship with God. ~ Teresa of Avila.
The great tragedy of life is not unanswered prayer, but unoffered prayer. ~ F. B. Meyer.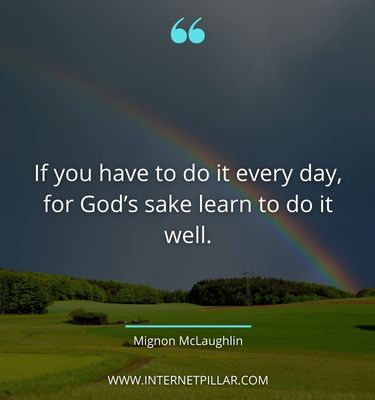 If you have to do it every day, for God's sake learn to do it well. ~ Mignon McLaughlin.
Inspirational Quotes About Prayer
Prayer is the inner bath of love into which the soul plunges itself. ~ St. John Vianney.
Prayer does not fit us for the greater work; prayer is the greater work. ~ Oswald Chambers.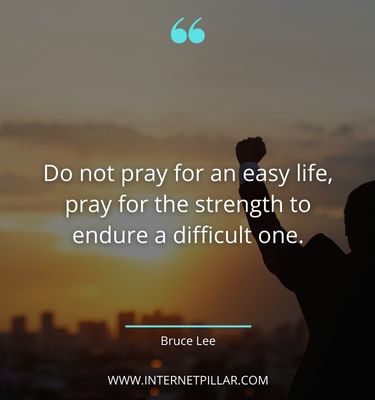 Do not pray for an easy life, pray for the strength to endure a difficult one. ~ Bruce Lee.
If your day is hemmed in with prayer, it is less likely to come unraveled. ~ Cynthia Lewis.
No matter what, never underestimate the power of prayer, love and faith. ~ Anurag Prakash Ray.
I believe in prayer. It's the best way we have to draw strength from heaven. ~ Josephine Baker.
Prayer Quotes To Remind You That God Is Always Listening
Prayer is God's ordained way to bring his miracle power to bear in human need. ~ Wesley L Duewel.
Your prayer for someone may or may not change them, but it always changes you. ~ Craig Groeschel.
Prayer is not conquering God's reluctance, but taking hold of God's willingness. ~ Phillip Brooks.
Regardless of where you are or what country you are in, God knows your prayers. ~ D. Duane Engler.
If you want your prayers answered, get up off your knees and do something about them. ~ Wally Lamb.
Prayer is the key that unlocks all the storehouses of God's infinite grace and power. ~ R.A. Torrey.
When we pray we are demonstrating our belief in a power that is greater than our own. ~ Olive Steele.
Prayer indeed is good, but while calling on the gods a man should himself lend a hand. ~ Hippocrates.
Famous Prayer Quotes
Pray as though everything depended on God. Work as though everything depended on you. ~ St. Augustine.
Any concern too small to be turned into a prayer is too small to be made into a burden. ~ Corrie ten Boom.
The Word of God represents all the possibilities of God as at the disposal of true prayer. ~ A. T. Pierson.
The world was made partly that there may be prayer; partly that our prayers might be answered. ~ C.S. Lewis.
You know the value of prayer: it is precious beyond all price. Never, never neglect it. ~ Sir Thomas Buxton.
Pray as if everything depended upon God and work as if everything depended upon man. ~ Francis Cardinal Spellman.
Quotes About Prayer
The powerful promise of God's presence when we pray with others is too great a gift to ignore. ~ Stormie Omartian.
A day without prayer is a day without blessing, and a life without prayer is a life without power. ~ Edwin Harvey.
Prayer is not monologue, but dialogue. God's voice in response to mine is its most essential part. ~ Andrew Murray.
The wise man in the storm prays God not for safety from danger but for deliverance from fear. ~ Ralph Waldo Emerson.
Prayer is not asking for what you think you want, but asking to be changed in ways you can't imagine. ~ Kathleen Norris.
We use prayer when we need something, but praying is also for giving thanks for all your blessings. ~ Catherine Pulsifer.
The function of prayer is not to influence God, but rather to change the nature of the one who prays. ~ Soren Kierkegaard.
Life Changing Prayer Quotes
You can do more than pray after you have prayed, but you cannot do more than pray until you have prayed. ~ Adoniram Judson.
Our prayers are heard, not because we are in earnest, not because we suffer, but because Jesus suffered. ~ Oswald Chambers.
The great thing in prayer is to feel that we are putting our supplications into the bosom of omnipotent love. ~ Andrew Murray.
We can reach our world, if we will. The greatest lack today is not people or funds. The greatest need is prayer. ~ Wesley Duewel.
God can handle your doubt, anger, fear, grief, confusion, and questions. You can bring everything to him in prayer. ~ Rick Warren.
Don't pray when you feel like it. Have an appointment with the Lord and keep it. A man is powerful on his knees. ~ Corrie ten Boom.
If you've made a habit of communing with God when the sun is shining, you'll find it much easier to sing in the rain. ~ Bill Pannell.
Powerful Prayer Quotes
The greatest use of your words is prayer. Talk to God about everything, all the time. Maintain a running conversation. ~ Rick Warren.
Perfect prayer does not consist in many words, silent remembering and pure intention raises the heart to that supreme Power. ~ Amit Ray.
Prayer is nothing but the breathing that out before the Lord, that was first breathed into us by the spirit of the Lord. ~ Thomas Brooks.
Those who pray from the heart do not think about the prayer they are saying, but about the God to whom they pray. ~ Saint Francis De Sales.
Prayer breaks all bars, dissolves all chains, opens all prisons, and widens all straits by which God's saints have been held. ~ E. M. Bounds.
Prayer turns ordinary mortals into men of power. It brings power. It brings fire. It brings rain. It brings life. It brings God. ~ Samuel Chadwick.
You pray in your distress and in your need; would that you might pray also in the fullness of your joy and in your days of abundance. ~ Kahill Gibran.
True prayer is a way of life, not just for use in cases of emergency. Make it a habit, and when the need arises you will be in practice. ~ Billy Graham.
---
So these were the 67 quotes about power of prayer.
If you like these quotes, then you can also read our other posts on Socrates Quotes You Need to Know Before 40 and Quotes about Growing Up and Opportunity quotes.