Prosperity is a state in which you have an abundance of resources and riches and your cup overflows.
It represents not just financial wealth, but also the fullness of life.
In essence, prosperity and plenty denote a condition of development and expansion, a life full with wealth.
They depict a land where scarcity is replaced by plenty, where aspirations become reality and where chances abound.
Believe it or not, prosperity and abundance are right around the corner, waiting for you to seize them.
They might become a part of your life if you want them badly enough, concentrate your thoughts on them, picture their manifestation and take proactive efforts to welcome them in.
However, keep in mind that the feeling of prosperity starts within. It's all about creating the correct mentality, one that believes in and attracts prosperity.
If you can train your mind to resonate with wealth, you will be able to attract anything you want.
It's about shifting from a scarcity perspective to an abundance mindset, about thinking that the universe is abundant and ready to deliver.
So, arm yourself, tune your mind and set out on the path to prosperity and abundance.
The universe is waiting for you to claim your share.
Here is a great selection of the top prosperity quotes to help you become wealthy.
---
Top 10 Prosperity Quotes
Much effort, much prosperity. ~ Euripides.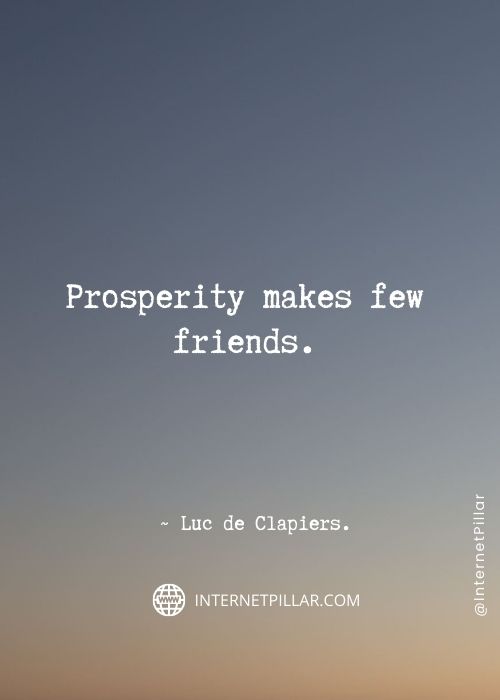 Prosperity makes few friends. ~ Luc de Clapiers.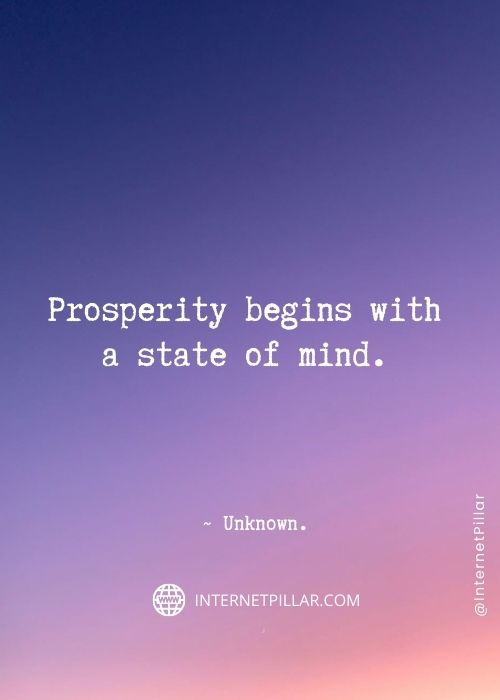 Prosperity begins with a state of mind. ~ Unknown.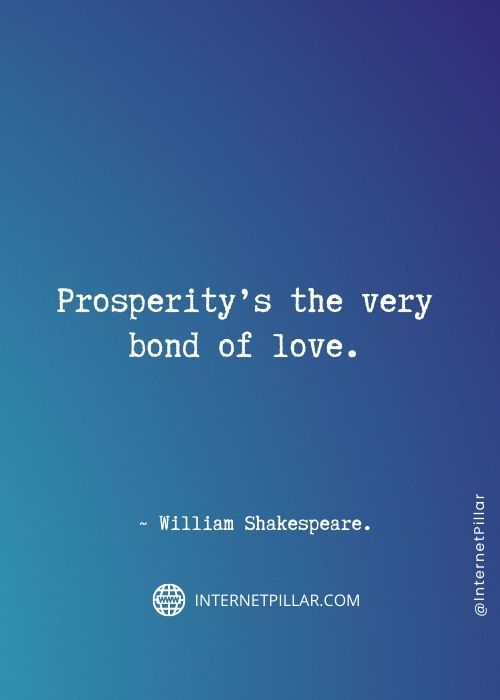 Prosperity's the very bond of love. ~ William Shakespeare.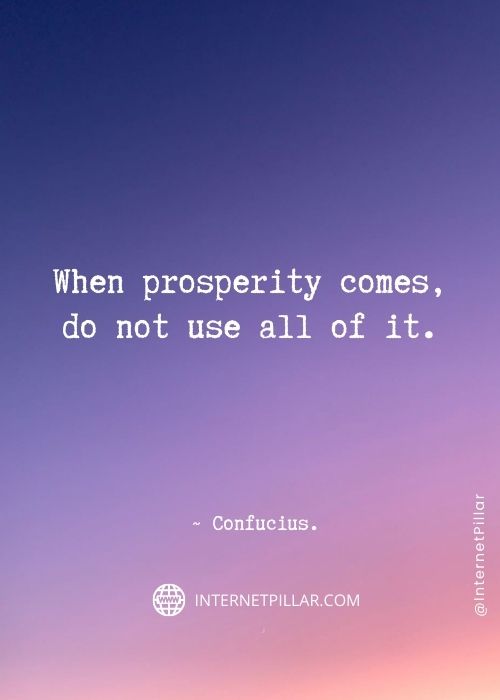 When prosperity comes, do not use all of it. ~ Confucius.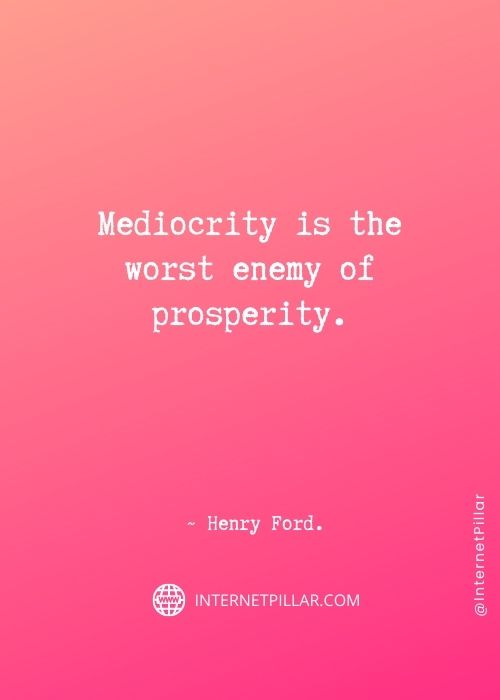 Mediocrity is the worst enemy of prosperity. ~ Henry Ford.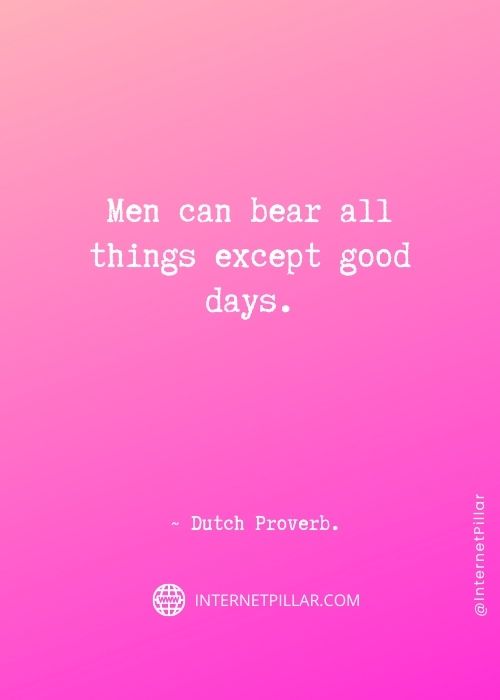 Men can bear all things except good days. ~ Dutch Proverb.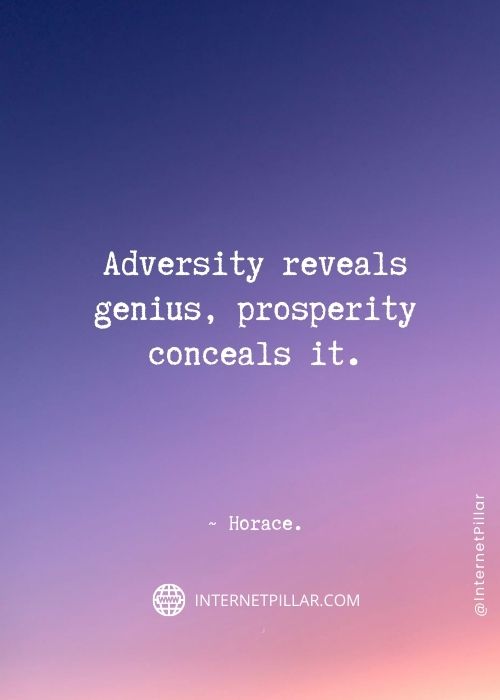 Adversity reveals genius, prosperity conceals it. ~ Horace.
Sloth and prosperity can never be companions. ~ James Allen.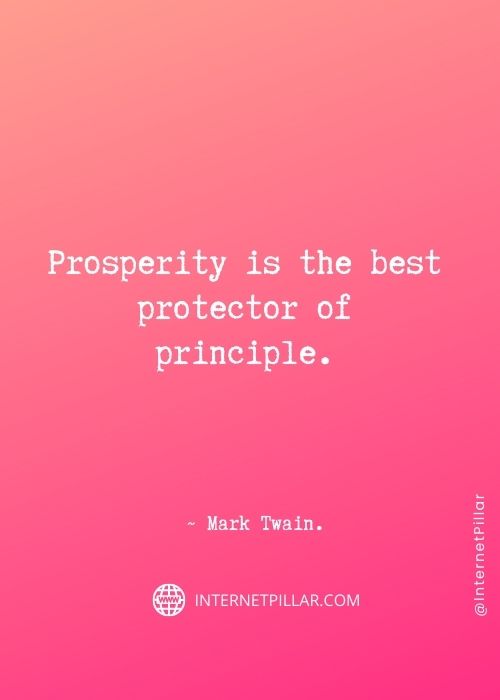 Prosperity is the best protector of principle. ~ Mark Twain.
Also read: Generosity Quotes and Accomplishment Quotes.
Prosperity Quotes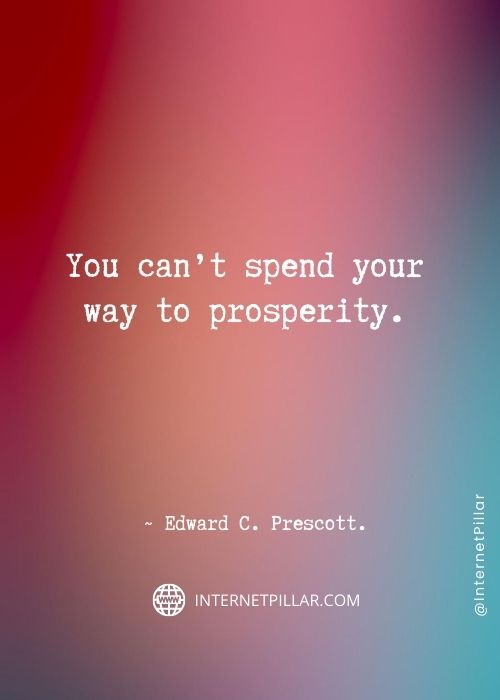 You can't spend your way to prosperity. ~ Edward C. Prescott.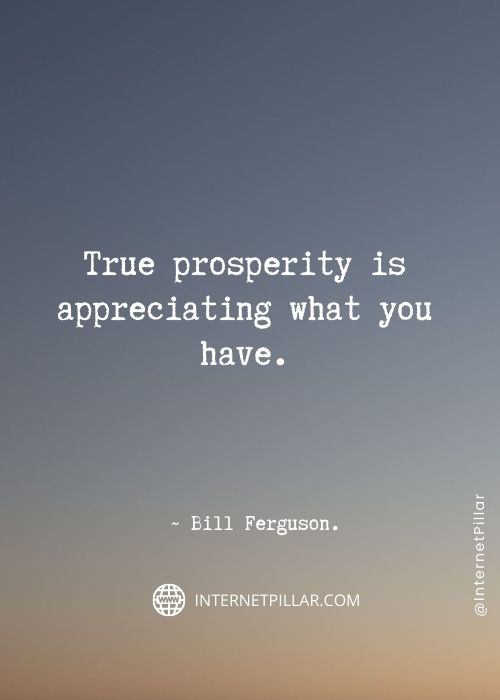 True prosperity is appreciating what you have. ~ Bill Ferguson.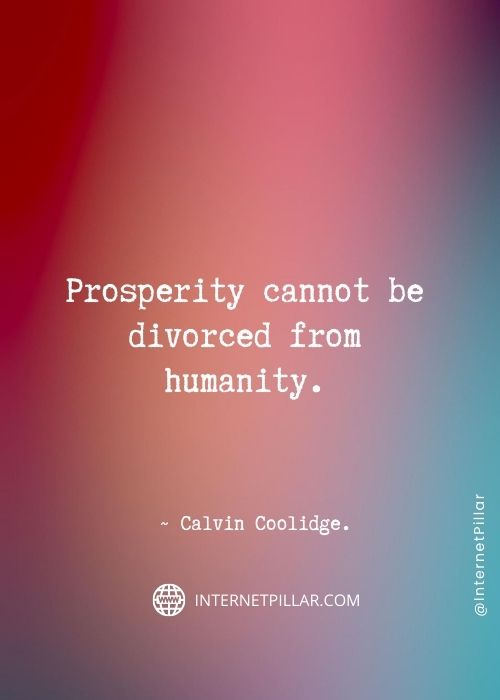 Prosperity cannot be divorced from humanity. ~ Calvin Coolidge.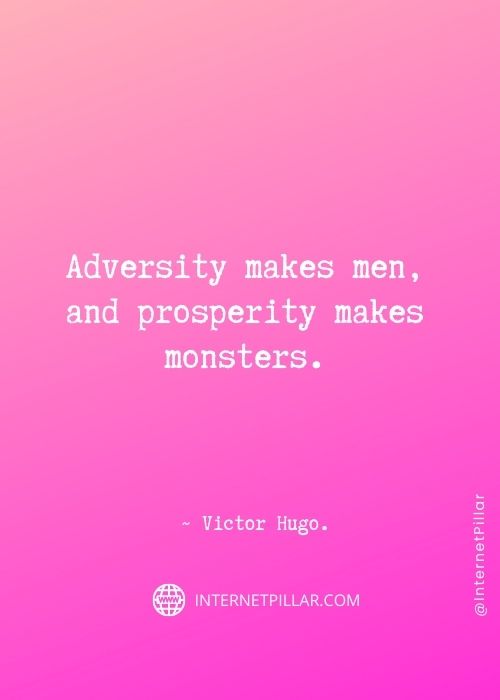 Adversity makes men, and prosperity makes monsters. ~ Victor Hugo.
If there's a will, prosperity can't be far behind. ~ W. C. Fields.
There is no way to prosperity. Prosperity is the way. ~ Wayne Dyer.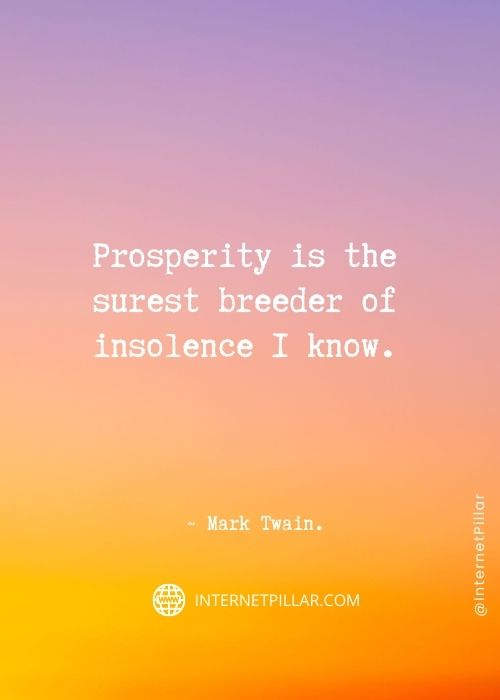 Prosperity is the surest breeder of insolence I know. ~ Mark Twain.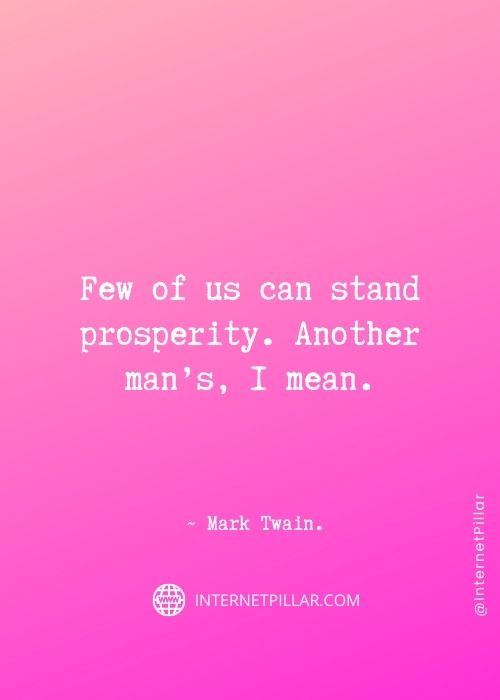 Few of us can stand prosperity. Another man's, I mean. ~ Mark Twain.
Short Prosperity Quotes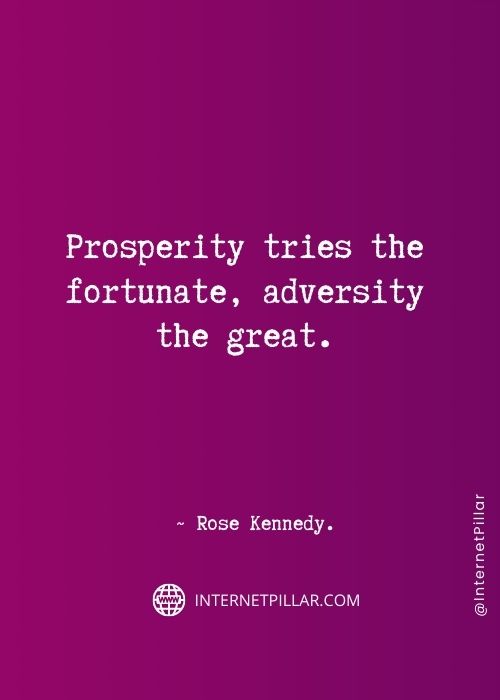 Prosperity tries the fortunate, adversity the great. ~ Rose Kennedy.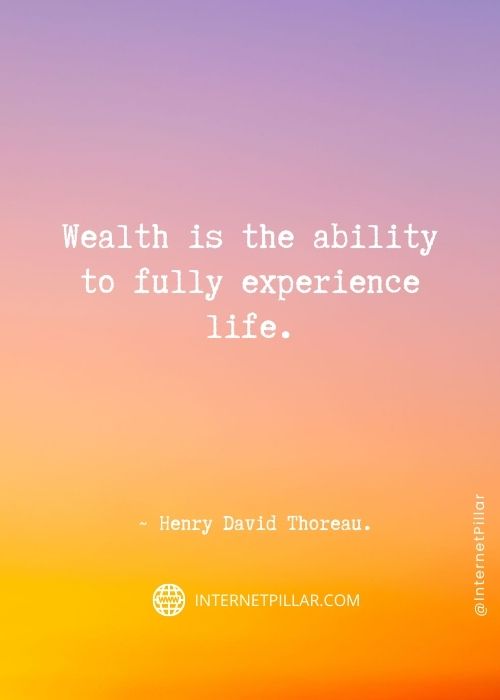 Wealth is the ability to fully experience life. ~ Henry David Thoreau.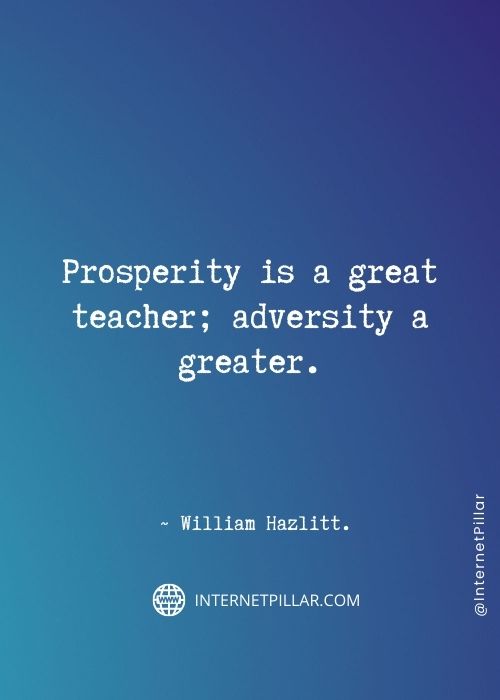 Prosperity is a great teacher; adversity a greater. ~ William Hazlitt.
The only limits in life are those we impose on ourselves. ~ Bob Proctor.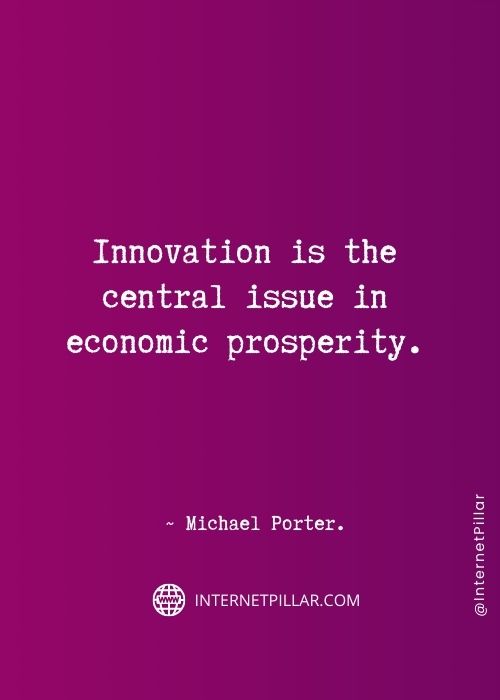 Innovation is the central issue in economic prosperity. ~ Michael Porter.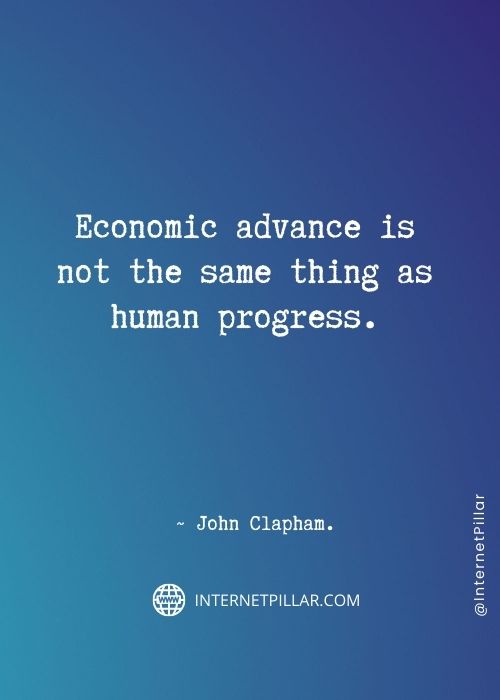 Economic advance is not the same thing as human progress. ~ John Clapham.
Live a life of positivity and you will have a life of prosperity. ~ Unknown.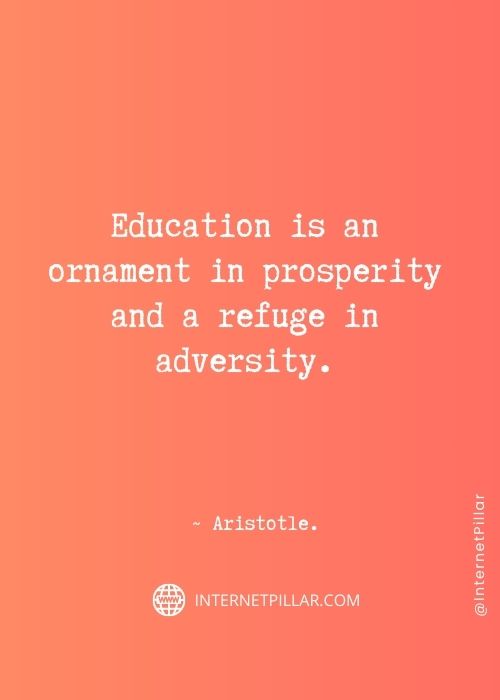 Education is an ornament in prosperity and a refuge in adversity. ~ Aristotle.
Prosperity Quotes That Will Enrich Your Life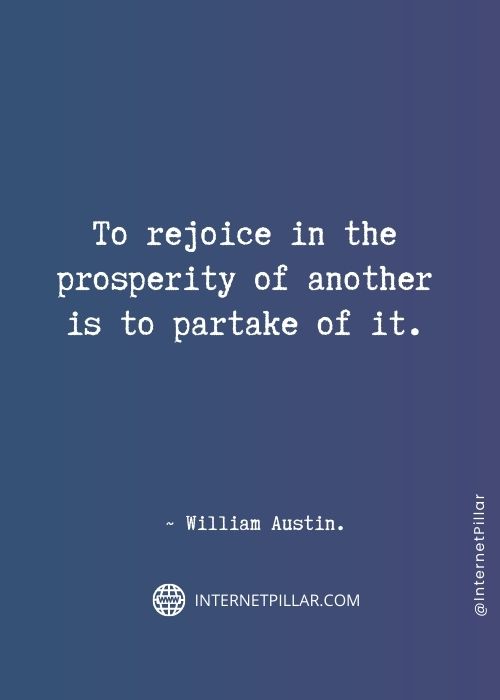 To rejoice in the prosperity of another is to partake of it. ~ William Austin.
In prosperity let us particularly avoid pride, disdain and arrogance. ~ Cicero.
You grow your way to prosperity; you don't cut your way to it. ~ Jeremy Corbyn.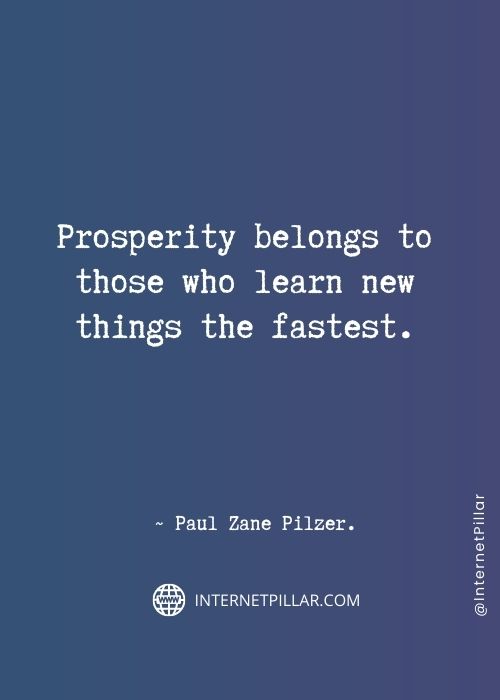 Prosperity belongs to those who learn new things the fastest. ~ Paul Zane Pilzer.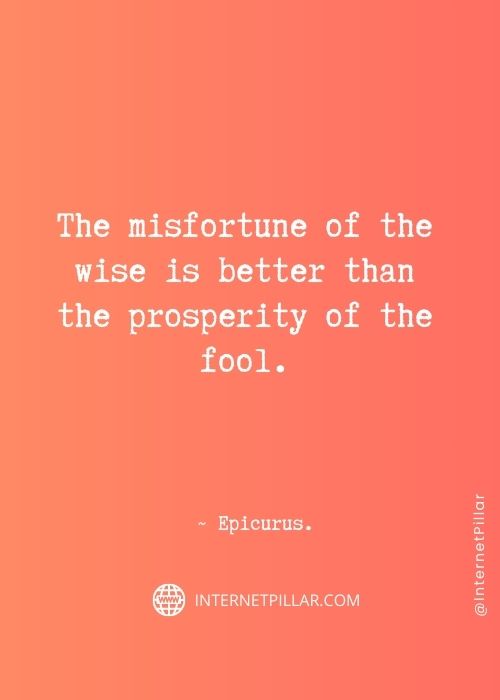 The misfortune of the wise is better than the prosperity of the fool. ~ Epicurus.
It is easy when we are in prosperity to give advice to the afflicted. ~ Aeschylus.
Quotes about Prosperity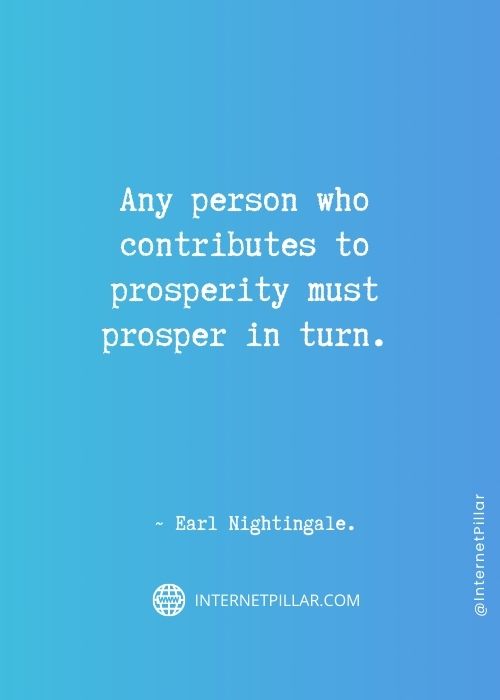 Any person who contributes to prosperity must prosper in turn. ~ Earl Nightingale.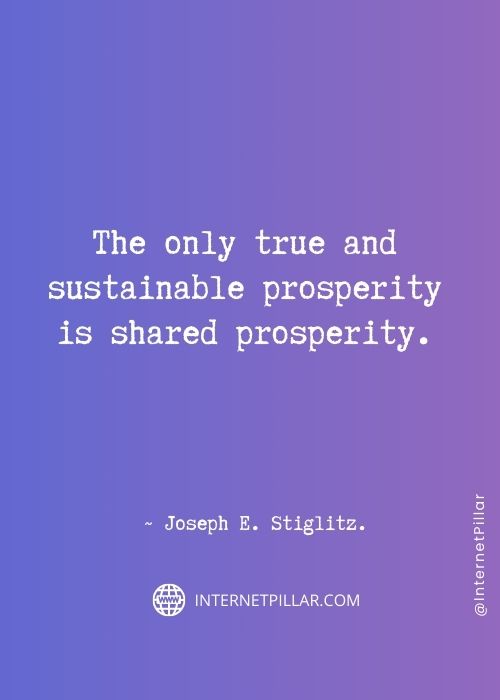 The only true and sustainable prosperity is shared prosperity. ~ Joseph E. Stiglitz.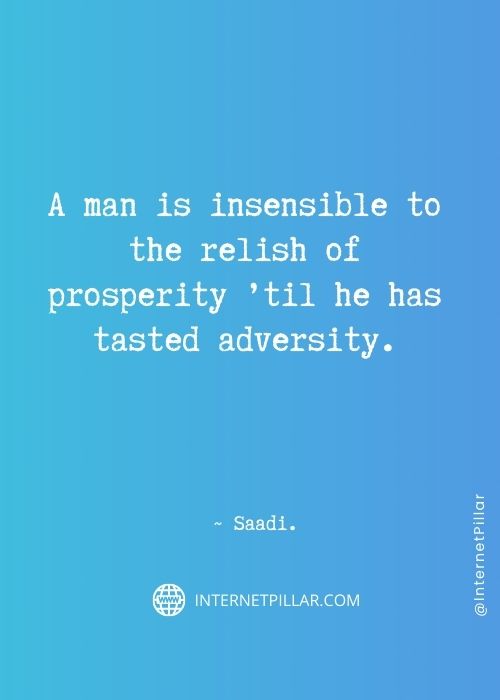 A man is insensible to the relish of prosperity 'til he has tasted adversity. ~ Saadi.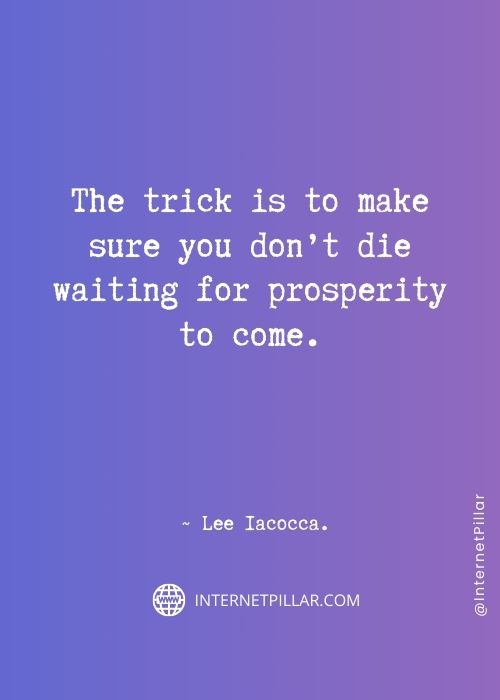 The trick is to make sure you don't die waiting for prosperity to come. ~ Lee Iacocca.
Prosperity of wicked men runs like a torrent past, and soon is spent. ~ Marcel Proust.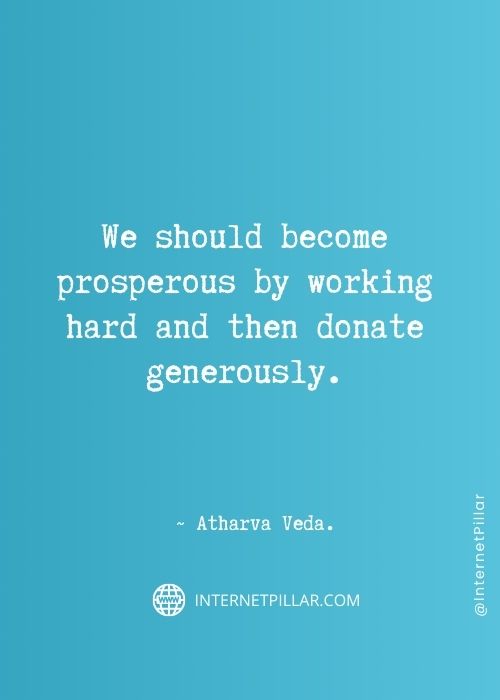 We should become prosperous by working hard and then donate generously. ~ Atharva Veda.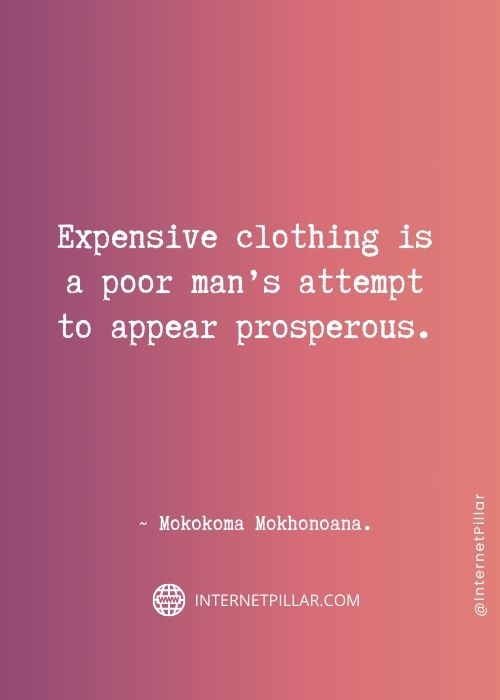 Expensive clothing is a poor man's attempt to appear prosperous. ~ Mokokoma Mokhonoana.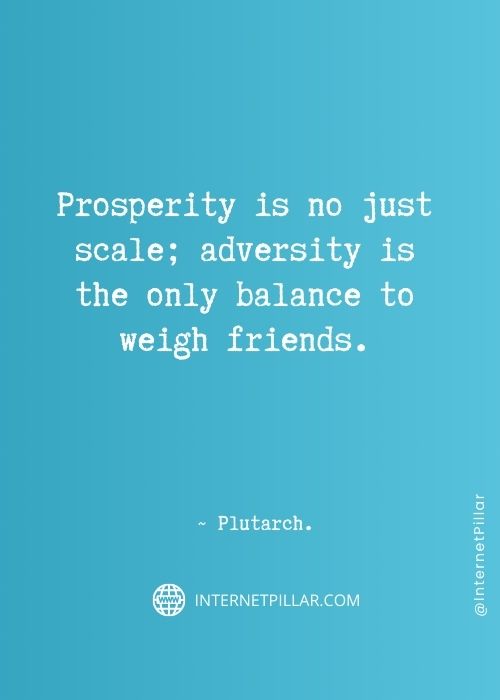 Prosperity is no just scale; adversity is the only balance to weigh friends. ~ Plutarch.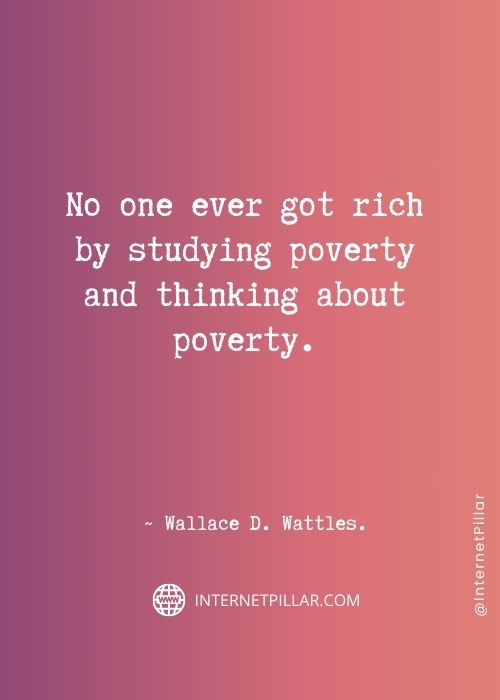 No one ever got rich by studying poverty and thinking about poverty. ~ Wallace D. Wattles.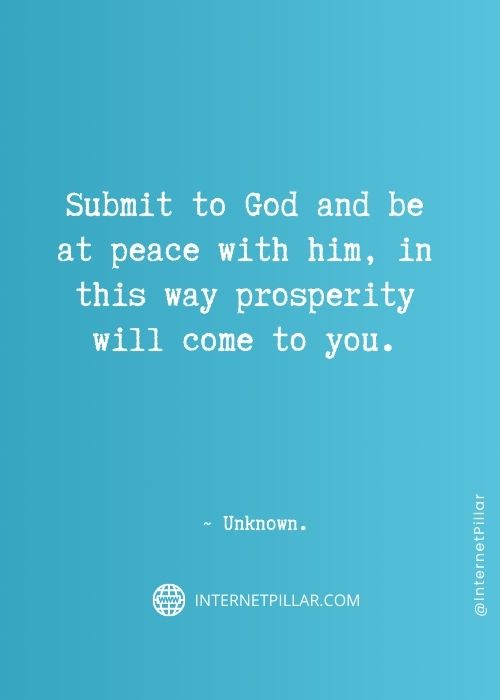 Submit to God and be at peace with him, in this way prosperity will come to you. ~ Unknown.
Best Prosperity Quotes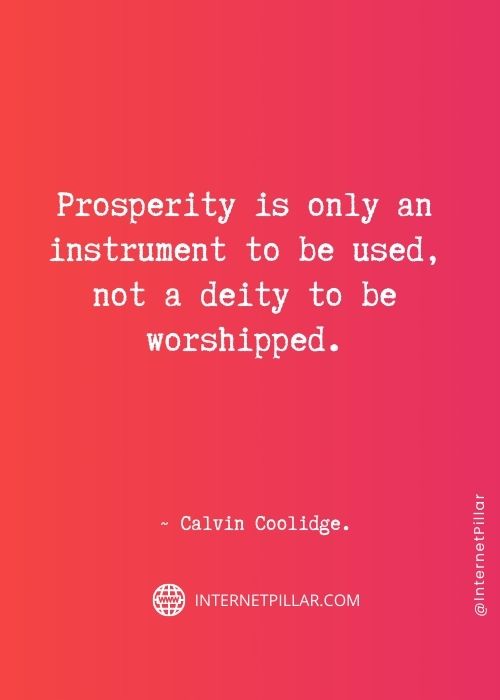 Prosperity is only an instrument to be used, not a deity to be worshipped. ~ Calvin Coolidge.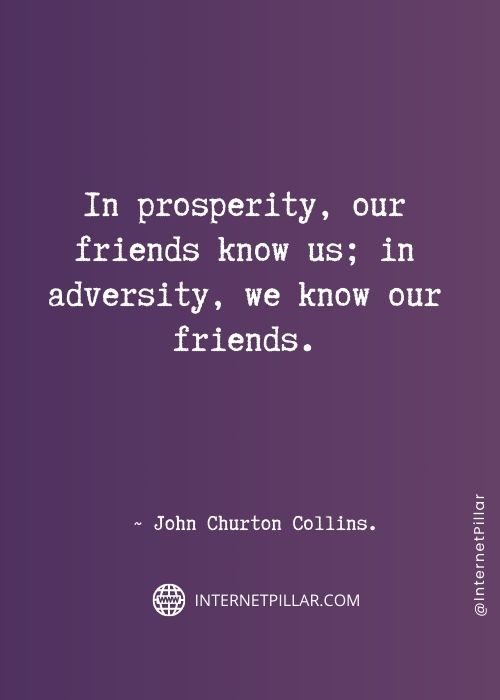 In prosperity, our friends know us; in adversity, we know our friends. ~ John Churton Collins.
The heart is great which shows moderation in the midst of prosperity. ~ Lucius Annaeus Seneca.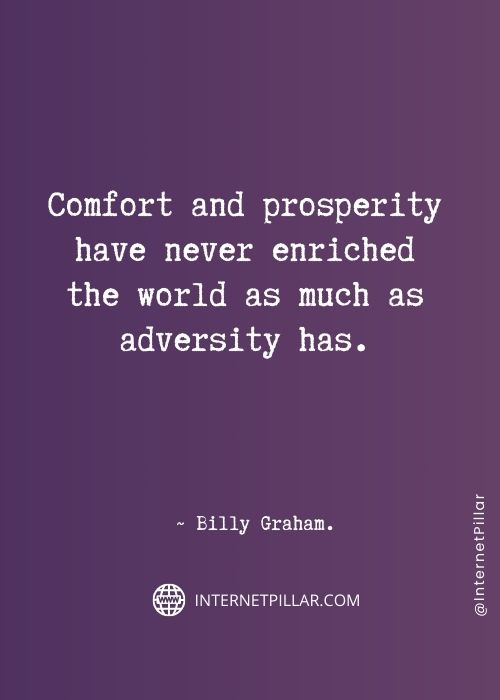 Comfort and prosperity have never enriched the world as much as adversity has. ~ Billy Graham.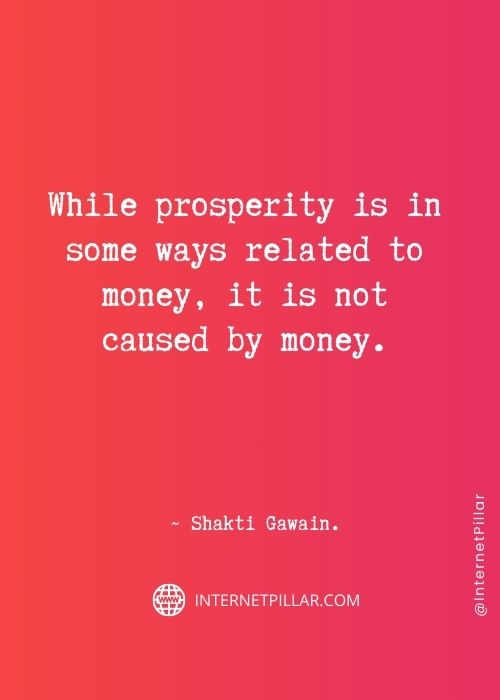 While prosperity is in some ways related to money, it is not caused by money. ~ Shakti Gawain.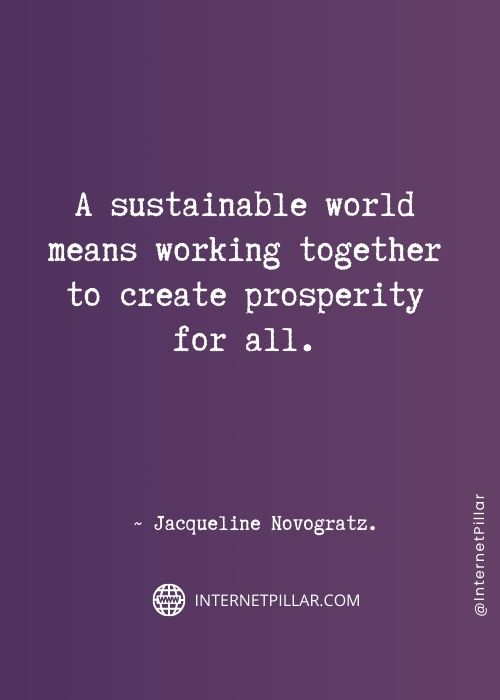 A sustainable world means working together to create prosperity for all. ~ Jacqueline Novogratz.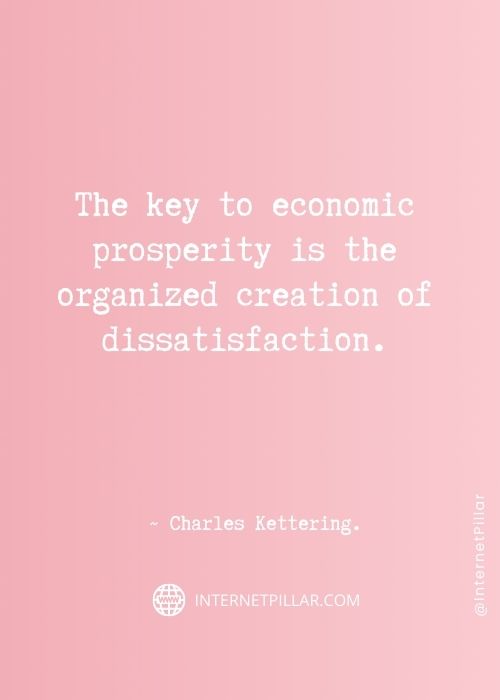 The key to economic prosperity is the organized creation of dissatisfaction. ~ Charles Kettering.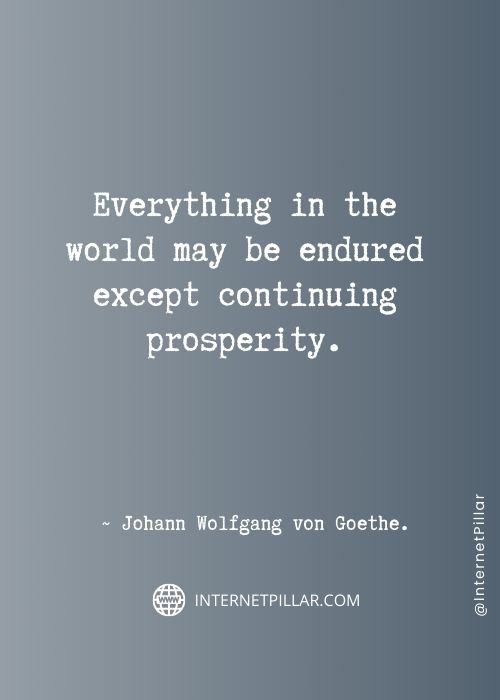 Everything in the world may be endured except continuing prosperity. ~ Johann Wolfgang von Goethe.
Inspirational Quotes On Prosperity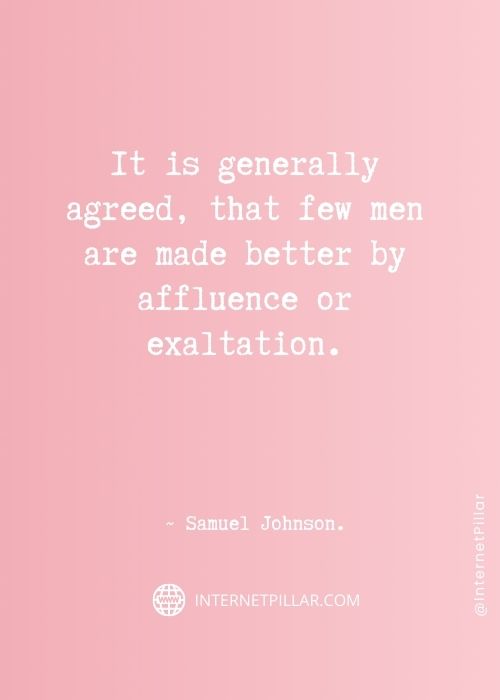 It is generally agreed, that few men are made better by affluence or exaltation. ~ Samuel Johnson.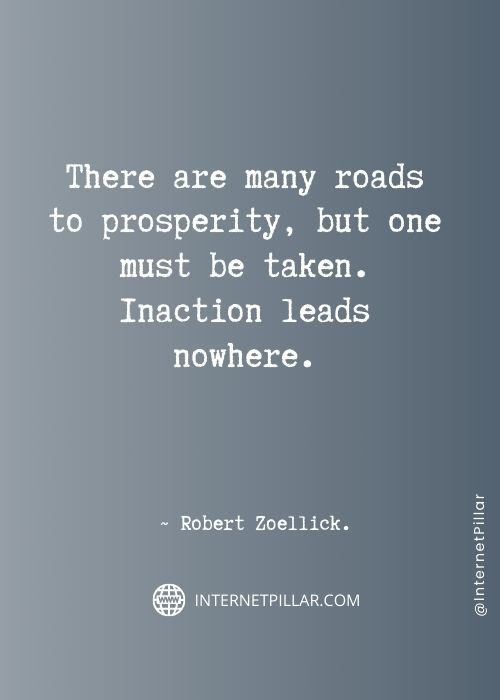 There are many roads to prosperity, but one must be taken. Inaction leads nowhere. ~ Robert Zoellick.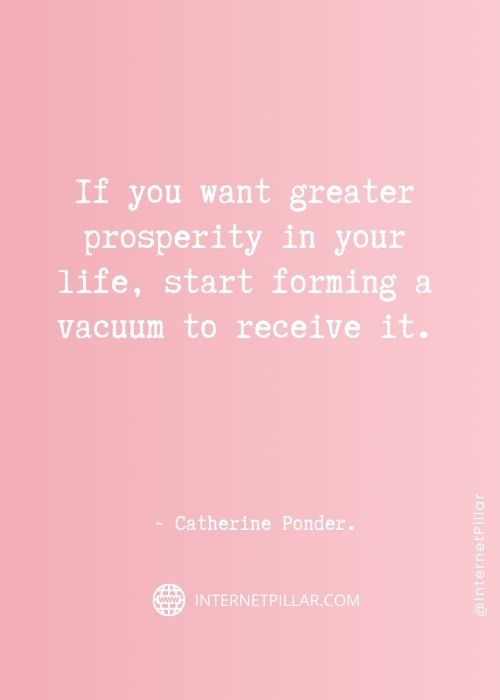 If you want greater prosperity in your life, start forming a vacuum to receive it. ~ Catherine Ponder.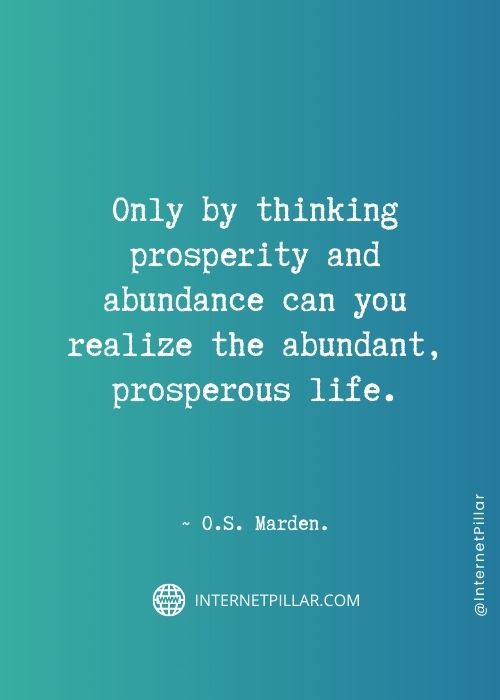 Only by thinking prosperity and abundance can you realize the abundant, prosperous life. ~ O.S. Marden.
True prosperity is the result of well-placed confidence in ourselves and our fellow man. ~ Benjamin Burt.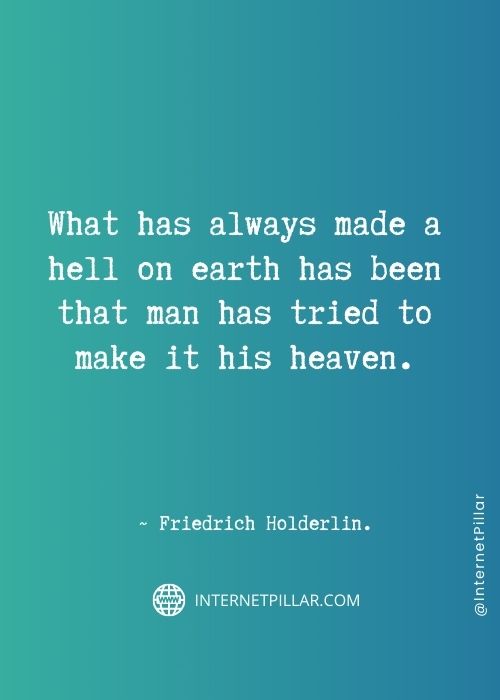 What has always made a hell on earth has been that man has tried to make it his heaven. ~ Friedrich Holderlin.
As sure as the spring will follow the winter, prosperity and economic growth will follow recession. ~ Bo Bennett.
Prosperity Quotes with Images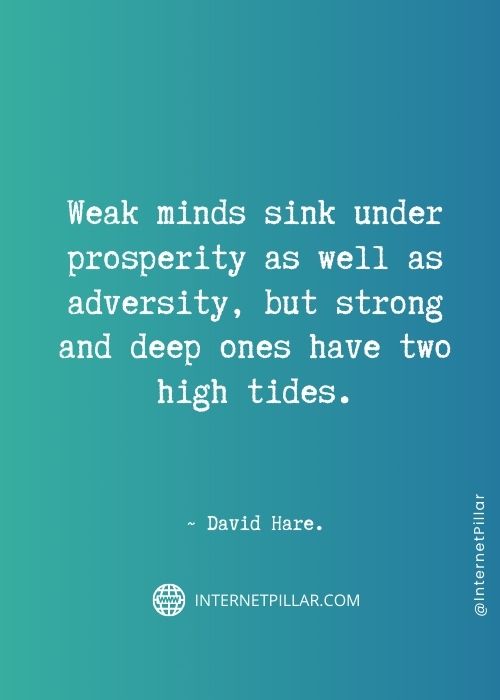 Weak minds sink under prosperity as well as adversity, but strong and deep ones have two high tides. ~ David Hare.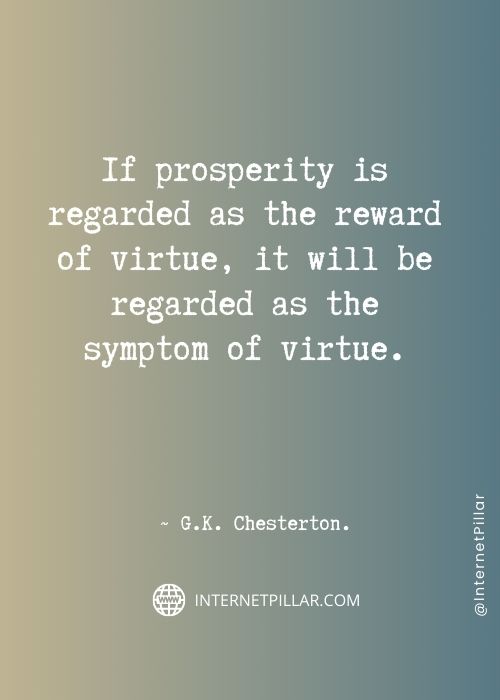 If prosperity is regarded as the reward of virtue, it will be regarded as the symptom of virtue. ~ G.K. Chesterton.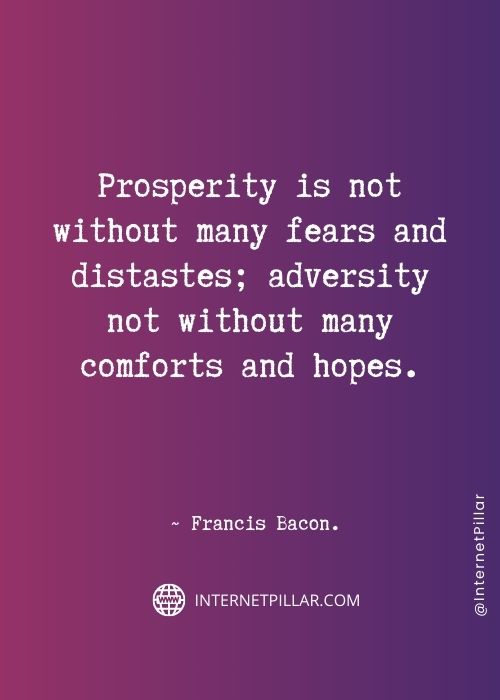 Prosperity is not without many fears and distastes; adversity not without many comforts and hopes. ~ Francis Bacon.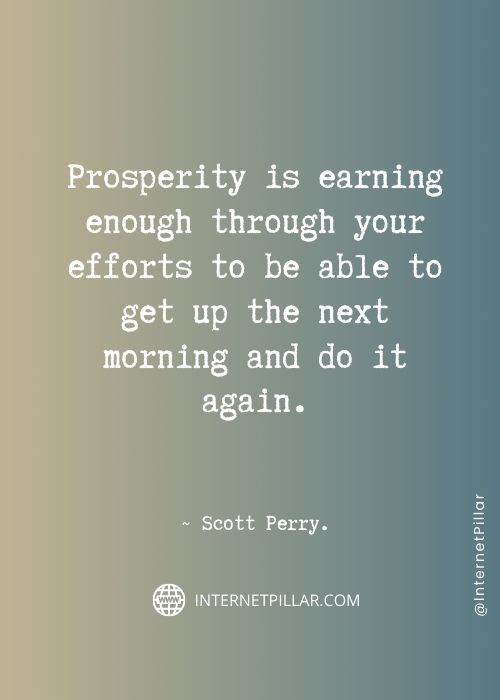 Prosperity is earning enough through your efforts to be able to get up the next morning and do it again. ~ Scott Perry.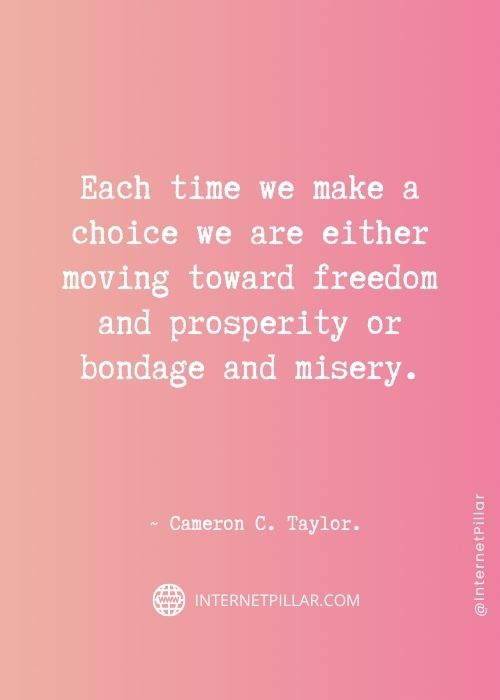 Each time we make a choice we are either moving toward freedom and prosperity or bondage and misery. ~ Cameron C. Taylor.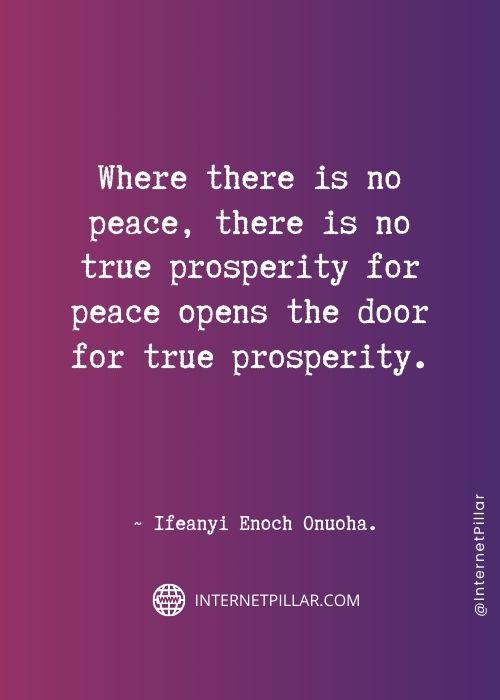 Where there is no peace, there is no true prosperity for peace opens the door for true prosperity. ~ Ifeanyi Enoch Onuoha.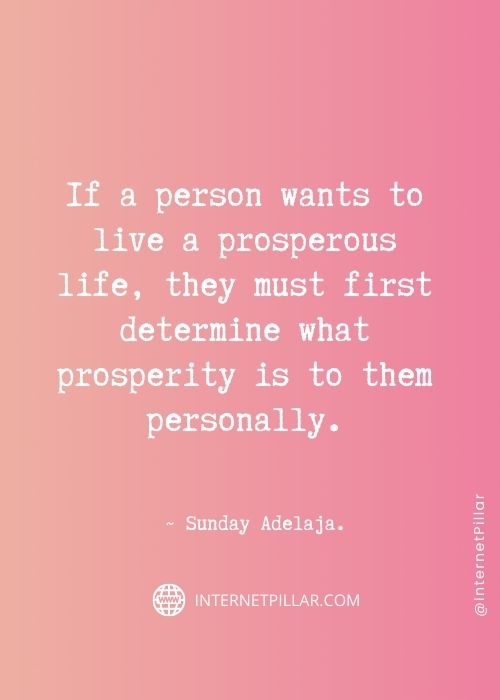 If a person wants to live a prosperous life, they must first determine what prosperity is to them personally. ~ Sunday Adelaja.
Power, privilege and prosperity come from God. That is why we have to thank Him for His presence in our lives. ~ Gift Gugu Mona.
A rich, robust, well-resourced public education is one of the best routes out of poverty and a pathway to prosperity. ~ Randi Weingarten.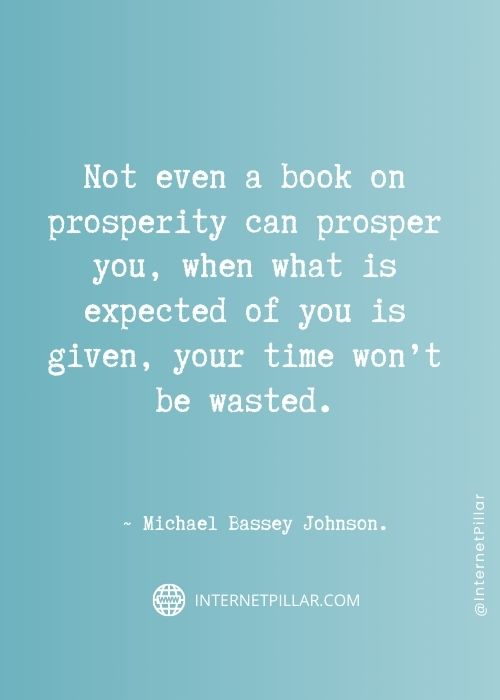 Not even a book on prosperity can prosper you, when what is expected of you is given, your time won't be wasted. ~ Michael Bassey Johnson.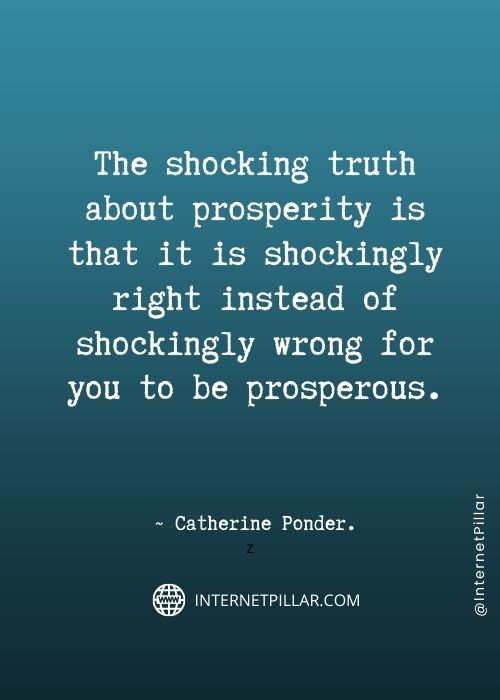 The shocking truth about prosperity is that it is shockingly right instead of shockingly wrong for you to be prosperous. ~ Catherine Ponder.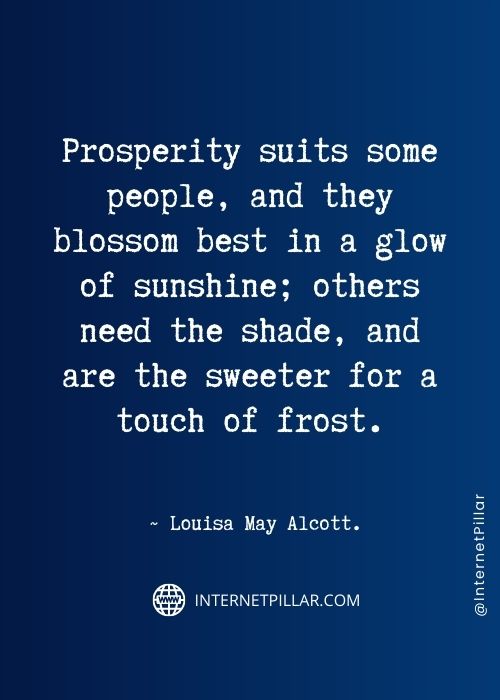 Prosperity suits some people, and they blossom best in a glow of sunshine; others need the shade, and are the sweeter for a touch of frost. ~ Louisa May Alcott.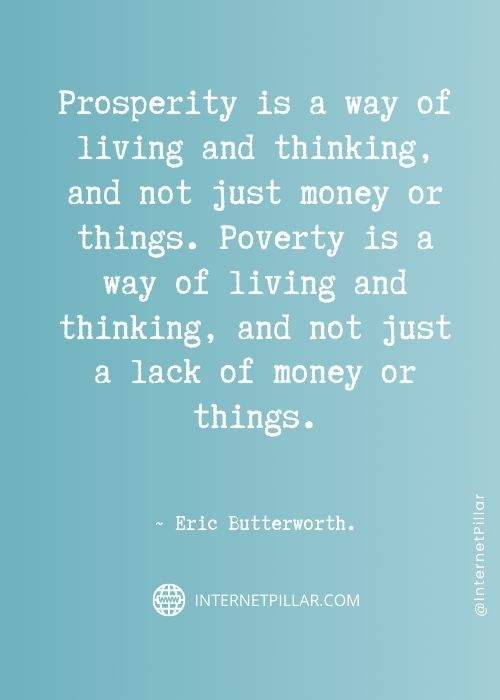 Prosperity is a way of living and thinking, and not just money or things. Poverty is a way of living and thinking, and not just a lack of money or things. ~ Eric Butterworth.
---
---
So this ends our list of 70 Quotes about Prosperity.
If you like these quotes, then you can also read our other posts on Unhappy Quotes and Breathing Quotes and Charm Quotes and Meaning of Life Quotes.
---
Sources: