Sadie Carroway Robertson Huff is an American Christian speaker, actress, author, podcaster and businesswoman, known from A&E's Duck Dynasty and her WHOA, That's Good podcast.
A granddaughter of Duck Commander founder Phil Robertson, her parents are Korie and Willie Robertson, the CEO.
Among her endeavors, she sang with Alison Krauss, was first runner-up on Dancing with the Stars' 19th season, acted in films like God's Not Dead 2 and initiated her Live Original tour in 2016.
A regular speaker at Passion Christian Conference, she collaborated with Roma Boots to combat poverty.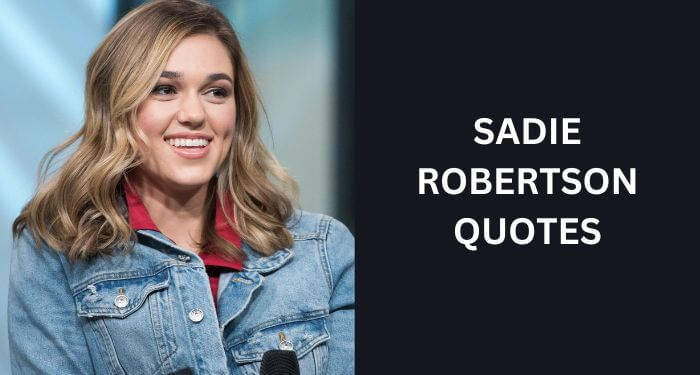 Robertson authored several books, including New York Times Best Seller "Live Original" and its sequels.
In her personal life, she married Christian Huff in 2019 and they have daughters named Honey and Haven.
Here is a great collection of quotes by Sadie Robertson.
---
Best Sadie Robertson Quotes
People who fall in public get up twice as fast. ~ Sadie Robertson.
You've got to work the Word for the Word to work. ~ Sadie Robertson.
Being kind makes you feel happy. ~ Sadie Robertson.
The world will always go one way, and Jesus will always have a better option. ~ Sadie Robertson.
What do you love so much you forget to eat when you're doing it? ~ Sadie Robertson.
You are not qualified to minister but God is. ~ Sadie Robertson.
Happiness is a choice – a choice to be joyful, no matter what the circumstance. ~ Sadie Robertson.
That's the thing about God; He's the one in charge: not you or me. ~ Sadie Robertson.
Even if your world feels dark right now, the darkness has not and never will overcome the light! ~ Sadie Robertson.
Taking responsibility is the opposite of blaming other people. ~ Sadie Robertson.
Famous Sadie Robertson Quotes
It's okay to laugh at yourself as you do the things God has called you to do. Take some risks. Face-plant. Laugh about it. But it is not okay to bury the talents and gifts God has given you or to hold back because of fear. ~ Sadie Robertson.
Relax and enjoy the good times God gives us. ~ Sadie Robertson.
When people lose their identity in order to get to the top, they begin to lose everything. ~ Sadie Robertson.
If you want to know how to really live, part of the answer is to find the song your heart wants to sing and sing it out with everything you have. ~ Sadie Robertson.
Anybody can quit. Only a real champion and a person of character and strength can keep going and refuse to give up. ~ Sadie Robertson.
Surround yourself with good people. Expect a good day. And giggle at the pure joy of being alive. ~ Sadie Robertson.
Top Sadie Robertson Quotes
When God says, 'Do not fear,' He means it. We aren't supposed to fear anything at any time for any reason. ~ Sadie Robertson.
My takeaway from this is that no matter what I step into or what my day looks like, I can be joyful. Because I know my God is holy, I can publicly honor and praise Him as I celebrate each day. ~ Sadie Robertson.
When your brain starts getting afraid or stressed about something, it's hard to just shut down those thoughts. If you can replace them with other thoughts, that helps a lot. ~ Sadie Robertson.
Maybe it's time we all just start shouting each other's names and start going in for the hugs because we are excited to see people we love and want them to know it. ~ Sadie Robertson.
I believe you have potential to be a great friend, and if are a great friend, you'll have great friends in return. ~ Sadie Robertson.
When we're afraid, we have a tendency to pray and ask God for peace before we'll step out and do what frightens us. But most of the time, we simply need to move forward. ~ Sadie Robertson.
Becoming fearless is both an achievement and an ongoing journey. For me, it's also a commitment and a way of life. I pray it will be the same for you. ~ Sadie Robertson.
Popular Sadie Robertson Quotes
If you will stand up to fear, give it a little straight talk, and tell it to leave you alone in Jesus' name, that will get you a long way. ~ Sadie Robertson.
Don't let the sun go down angry with your spouse. ~ Sadie Robertson.
Fearless is a word that describes who I am today. It also describes who I am continually coming. I want you to continually become more fearless every day you live. I know it's possible. ~ Sadie Robertson.
The things of this life change, so I want to remind you or lead you to remain in God – He is the same yesterday, today, and tomorrow. This is what I have found to be the path of life. ~ Sadie Robertson.
You don't have to look like a champion to be a legend. ~ Sadie Robertson.
I never want fear to stop me from doing anything else in my life. I never want fear to make me say no again. I never want fear to be even the slightest problem for me. And if I ever have just a tiny fearful thought, I want to be able to say no to it immediately. ~ Sadie Robertson.
Ultimate Sadie Robertson Quotes
The key ingredient to overcoming fear is not just speaking to it; it's speaking to it in Jesus' name. ~ Sadie Robertson.
I was becoming completely disgusted with the way fear was controlling my life. As I started hating the fear that consumed me, I also began to hate the person I was becoming because of it – and that was a major problem. ~ Sadie Robertson.
Lord Jesus, I am in awe and wonder of who You are. I want to know more about You. I want to see more sides of You. Enlighten my mind to see a new side of Your holiness today. As I seek Your face, fuel my heart with passion and give me the strength to bypass my enemies to fulfill the purpose You have given me. Thank You, God, for bringing meaning to my life. ~ Sadie Robertson.
Your birthday is a reminder that God gave you life. It gives you a fresh start every year. It symbolizes the fact that there was something about God's image that He wanted to create in you and share with the world. ~ Sadie Robertson.
Living original means being confident that God made you in a really cool, unique way. ~ Sadie Robertson.
The Holy Spirit showed me that unless I dealt with the hurts I still carried from the past, I would not be able to totally enter into and enjoy the future He has for me. ~ Sadie Robertson.
---
So these were the 37 top Sadie Robertson quotes and sayings.
If you like these quotes and sayings, then you can also read my other posts on Cody Johnson quotes and Mercy Otis Warren quotes.