Self-control is the ability to master yourself.
Self-control helps in making your life simpler.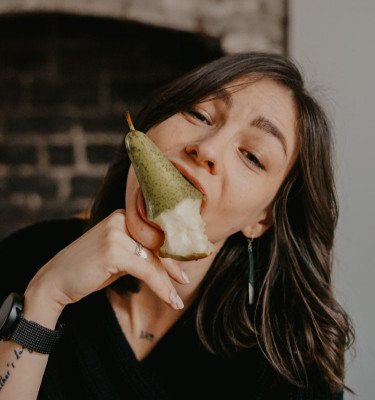 ---
Self Control Quotes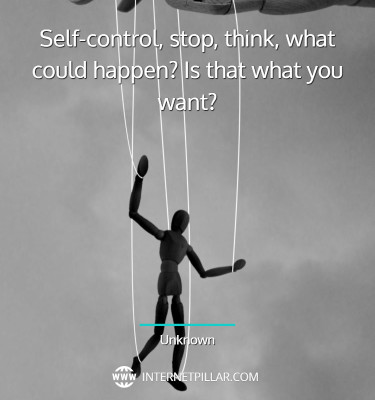 Self-control, stop, think, what could happen? Is that what you want? ~ Unknown.
He who angers you, conquers you. ~ Elizabeth Kenny.
The control centre of your life is your attitude. ~ Unknown.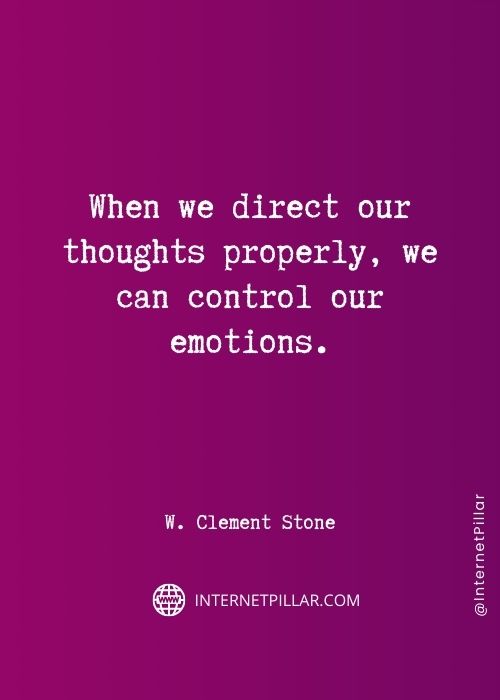 When we direct our thoughts properly, we can control our emotions. ~ W. Clement Stone.
Self-control is strength. Right thought is mastery. Calmness is power. ~ James Allen.
Anger doesn't demand action. When you act in anger, you lose self-control. ~ Joe Hyams.
Challenge yourself all the days of your life. ~ Unknown.
It is as proper to have pride in oneself as it is ridiculous to show it to others. ~ Francois De La Rochefoucauld.
Your success depends mainly upon what you think of yourself and whether you believe in yourself. ~ William Boetcker.
He who controls others may be powerful, but he who has mastered himself is mightier still. ~ Tao Te Ching.
When you borrow trouble you give your peace of mind as security. ~ Myrtle Reed.
Best Self Control Quotes
Seek always for the answer within. Be not influenced by those around you, by their thoughts or their words. ~ Eileen Caddy.
Self-control is one mark of a mature person; it applies to control of language, physical treatment of others, and the appetites of the body. ~ Joseph B. Wirthlin.
When we have begun to take charge of our lives, to own ourselves, there is no longer any need to ask permission of someone. ~ George O'Neil.
The highest possible stage in moral culture is when we recognize that we ought to control our thoughts. ~ Charles Darwin.
You have no control over what the other guy does. You only have control over what you do. ~ A. J. Kitt.
What man's mind can create, man's character can control. ~ Thomas Edison.
Anger is only one letter short of danger. ~ Unknown.
One can be the master of what one does, but never of what one feels. ~ Gustave Flaubert.
Famous Self Control Quotes
I cannot trust a man to control others if he cannot control himself. ~ Robert E. Lee.
Control your destiny or somebody will. ~ Jack Welsh.
You can't control the fact people will annoy you, but what you can control is your reaction. ~ Unknown.
No one can make you jealous, angry, vengeful, or greedy–unless you let him. ~ Napoleon Hill.
The best fighter is never angry. ~ Lao Tzu.
He who reigns within himself, and rules passions, desires, and fears, is more than a king. ~ John Milton.
Don't speak unless you can improve on the silence. ~ Spanish Proverb.
No conflict is so severe as his who labors to subdue himself. ~ Thomas Kempis.
Great Self Control Quotes
Silence is not always a sign of weakness; it's also a sign of strong self-control. ~ Unknown.
We have a spirit not of fear but of power and love and self-control. ~ Unknown.
Clean your own yard first before asking others to clean theirs. ~ Bosnian Proverb.
What lies in our power to do, it lies in our power not to do. ~ Aristotle.
Self-control is the ability to control the expression of our passions and emotions. ~ Unknown.
Ultimately, the only power to which man should aspire is that which he exercises over himself. ~ Elie Wiesel.
No one is in control of your happiness but you; therefore, you have the power to change anything about yourself or your life that you want to change. ~ Barbara De Angelis.
Superior people never make long visits. ~ Marianne Moore.
You have power over your mind – not outside events. Realize this, and you will find strength. ~ Marcus Aurelius.
Powerful Self Control Quotes
Prudent, cautious self-control, is wisdom's root. ~ Robert Burns.
He who cannot obey himself will be commanded. That is the nature of living creatures. ~ Friedrich Nietzsche.
Speak when you are angry and you will make the best speech you will ever regret. ~ Ambrose Bierce.
If you conquer yourself, then you conquer the world. ~ Paulo Coelho.
It isn't until you come to a spiritual understanding of who you are–not necessarily a religious feeling, but deep down, the spirit within–that you can begin to take control. ~ Oprah Winfrey.
Temptations come, as a general rule, when they are sought. ~ Margaret Oliphant.
My super power is self-control. ~ Unknown.
To handle yourself, use your head; to handle others, use your heart. ~ Donald Laird.
When the fight begins within himself, a man's worth something. ~ Robert Browning.
Wise Self Control Quotes
In the midst of movement and chaos keep stillness inside of you. ~ Deepak Chopra.
There never has been, and cannot be, a good life without self-control. ~ Leo Tolstoy.
You can't always control the wind, but you can control your sails. ~ Dr. Bob Chope.
Believe that you can whip the enemy, and you have won half the battle. ~ General J.E.B. Stuart.
Self-control is the chief element in self-respect, and self-respect is the chief element in courage. ~ Thucydides.
We improve ourselves by victories over ourselves. There must be contest, and we must win. ~ Edward Gibbon.
Inspirational Quotes On Self-Control
If you lose self-control everything will fall. ~ John Wooden.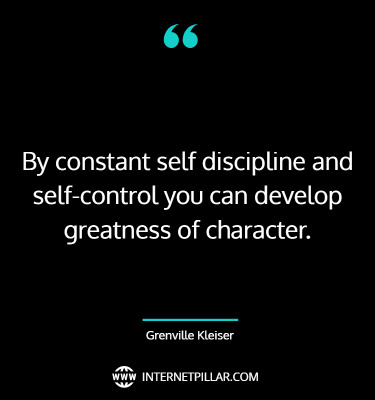 By constant self discipline and self-control you can develop greatness of character. ~ Grenville Kleiser.
I never prod my nose into other man's porridge. ~ Miguel De Cervantes.
You are always responsible for how you act, no matter how you feel. Remember that. ~ Unknown.
I am the master of my fate; I am the captain of my soul. ~ William Henley.
A man without self-control is like a city broken into and left without walls. ~ Unknown.
You must have discipline to have fun. ~ Julia Child.
Your brain shall be your servant instead of your master. You will rule it instead of allowing it to rule you. ~ Charles Popplestone.
Self-Control Quotes That Can Change Your Life
The best time for you to hold your tongue is the time you feel you must say something or bust. ~ Josh Billings.
The man who masters his own soul will forever be called conqueror of conquerors. ~ Plautus.
Mastering self-control, the act of restraining one's emotions is the true key to success. ~ Timothy Pina.
Control yourself or someone else will control you. ~ Unknown.
No man is fit to command another that cannot command himself. ~ William Penn.
Self-determination is fine but needs to be tempered with self-control. ~ Unknown.
Amazing Self Control Quotes
Rule your mind or it will rule you. ~ Horace.
If you learn self-control, you can master anything. ~ Unknown.
Such power there is in clear-eyed self-restraint. ~ James Russell Lowell.
Don't make a mouse of yourself, or else you will be eaten by cats. ~ German Proverb.
If you do not conquer self, you will be conquered by self. ~ Napoleon Hill.
The first and best victory is to conquer self. To be conquered by self is, of all things, the most shameful and objectionable. ~ Plato.
---
So these were the 73 quotes about Self-Control.
If you like these quotes and sayings, then you can also read my other popular blog posts on the topics of After the Storm quotes and You Can Do It quotes and Mental Toughness quotes.