Showing off involves displaying something admirable or good, often to draw attention.
It's a means of showcasing one's achievements, abilities and skills.
However, the concept also bears a cautionary note. As conveyed in a notable quote, constantly showing off may result in a loss of surprise and novelty.
The philosophy recommends revealing one's talents progressively to maintain intrigue and avoid exposing the full extent of one's abilities.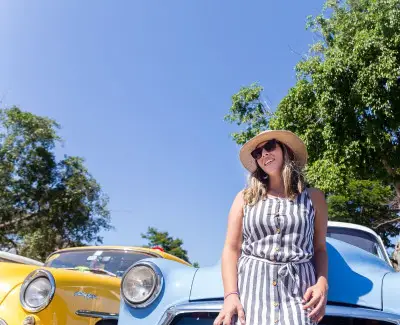 By managing the display of your skills and achievements, you can retain a sense of novelty and keep others' expectations in check.
This strategy not only fuels interest but also ensures that your talents are continuously appreciated.
The balance between sharing accomplishments and retaining an element of surprise is a nuanced aspect of showing off.
---
Table of Contents
Top 10 Show Off Quotes
God was showing off when he made you. ~ Ben Stiller.
I don't like to show off; if I have to save a ball in an ugly way, fine. ~ Keylor Navas.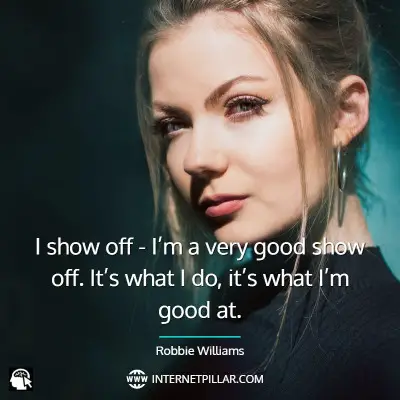 I show off – I'm a very good show off. It's what I do, it's what I'm good at. ~ Robbie Williams.
What fun is life without a bit of showing off? ~ Matt Lucas.
It takes guts to praise someone's nobility, instead of show off or self-praise. ~ Chetan Patel.
Knowledge and ability were tools, not things to show off. ~ Haruki Murakami.
It's not showing off if you back it up. ~ Dolph Ziggler.
Knowledge is like underwear. It is useful to have it, but not necessary to show it off. ~ Nicky Gumbel.
Shaker pieces were not to show off. One was not to waste energy to decorate. ~ Ken Hakuta.
It is no use to keep private information which you can't show off. ~ Mark Twain.
Famous Show Off Quotes
I got to show off in front of my husband, who married me as I was stepping out of the business, so he had no idea that I could strut my stuff on the stage. ~ Kim Wilde.
The man that shows off, to that one who wants to convince of his value is to himself. ~ Domenico Cieri.
I love doing photoshoots; it let's me really show off my personality, flair, and makeup within a photo. ~ Jeffree Star.
The church is never a place to show off. Do your good deeds quietly. Serve; don't seek to be seen. ~ Max Lucado.
Power doesn't have to show off. Power is confident, self-assuring, self-starting and self-stopping, self-warming and self-justifying. When you have it, you know it. ~ Ralph Ellison.
Most people think of cinematographers as choosing subjects of an epic nature to show off what they do – big, sweeping images of war or pageantry. ~ Caleb Deschanel.
One cannot review a bad book without showing off. ~ W. H. Auden.
He's not pointing to anybody, he's showing off how high he can count! ~ Bobby Heenan.
In television, things move quite slowly. It can take years to get a show off the ground. ~ Julia Hartz.
If you do something too good, then, after a while, if you don't watch it, you start showing off. And then you're not as good any more. ~ J.D. Salinger.
I am young. I better show off what I have now. ~ Michelle Trachtenberg.
When everything seems to be set to show me off as intelligent, the fool I always keep hidden takes over all that I say. ~ Pablo Neruda.
Telling lies and showing off to get attention are mistakes I made that I don't want my kids to make. ~ Jane Fonda.
I'm not somebody who likes to show off my cleavage, and I don't dress up for the papers. ~ Louise Nurding.
Vanity, showing off, is an attitude that reduces spirituality to a worldly thing, which is the worst sin that could be committed in the church. ~ Pope Francis.
Related: Fly High Quotes to Blow Your Mind and Friends are Family Quotes for That Special Bond
Best Show Off Quotes
Sometimes glass glitters more than diamonds because it has more to prove. ~ Terry Pratchett.
Why not show off if you've got something to show? ~ January Jones.
The better you feel about yourself, the less you feel the need to show off. ~ Robert Hand.
We need arrogant people who like showing off. They can cover us from bullets in the line of fire. ~ Toba Beta.
To just be able to sing and show off the chops is kind of why I got into the music industry. ~ Tiffany Darwish.
I'm not a show-off by nature. ~ Kate Moss.
Rich people in poor places want to show off their wealth. And their less affluent counterparts feel pressure to fake it, at least in public. Nobody wants the stigma of being thought poor. ~ Virginia Postrel.
I'm a show-off basically… always have been. ~ Dolly Parton.
Don't show off every day, or you'll stop surprising people. There must always be some novelty left over. The person who displays a little more of it each day keeps up expectations, and no one ever discovers the limits of his talent. ~ Baltasar Gracian.
Popular Show Off Quotes
Never underestimate wisdom in silence, proof isn't always a mouthful of words. ~ Anthony Liccione.
I don't do cookery shows to show off, I do it to encourage people. What's the point in going on TV and doing a recipe that no one can replicate? ~ Gino D'Acampo.
Singing in character you can be more of a show off or more modest because it isn't yourself it's a nice way to sing, unusual, a bit like being in musical I guess. ~ Charlotte Ritchie.
Swankiness get noticed but style get remembered. ~ Amit Kalantri.
Too many people spend money they haven't earned to buy things they don't want to impress people they don't like. ~ Unknown *
I'm an actor, of course, so I like to show off. ~ Sam Riley.
As any new parent knows, you're only too happy to show off your new child and, you know, proclaim that he is the best looking or the best everything. ~ Prince William.
Wealthy people have not disappeared, they are just not so willing to show off their wealth. ~ Martin Parr.
Don't pretend to be a great master and don't try to show off your strength. ~ Gichin Funakoshi.
The trick to acting is not to show off, it's to think the thoughts of the character. ~ Eddie Marsan.
I think the most important thing about holding a concert is to enjoy the moment, rather than showing off. ~ Yunho.
I don't think any comic could say there isn't a bit of them that doesn't want to show off. ~ Bill Bailey.
You know the bad thing about being a survivor… You keep having to get into difficult situations in order to show off your gift. ~ Carrie Fisher.
Thought-Provoking Show Off Quotes
I love to show off my body, and I feel like I earned it. ~ Alexis Ren.
Don't fall in love with your wit. Your cleverly turned phrase may not, as you hope, show off how much gray matter you have, especially if the phrase is at someone else's expense. ~ Harvey Mackay.
Do not try to impress anyone by showing them how worthy you can be, always be yourself and let fate speak for you. ~ Deborah Nwakwesili.
When I watch films and it becomes just about the reference and not necessarily a flow with how people naturally speak, that's when you're just saying, 'Okay, I'm trying to be cool and show off.' ~ Rick Famuyiwa.
I would love to do something like Austin Powers to show off my comic timing. ~ Uma Thurman.
The perfect way for an angler who loves to cook to show off his fish is serving it whole, fresh off the grill, with crispy skin and moist flesh. Problem is, that's not usually how it happens. ~ Jonathan Miles.
I like to have fun with my videos and performances, that's the most fun part when it comes to the music. I get to show off my character. ~ DaBaby.
I'm a little greedy for action scenes. I'm a martial artist, and any time I get to show off some of that art is great. ~ David Ramsey.
Show off your own style and uniqueness to stand out. That's the advice I'd give to people getting started online now. ~ Conor Maynard.
My mother helped me understand how not to show off what I knew, but how to use it so that others might benefit. ~ Dorothy Height.
Showing off is the fool's idea of glory. ~ Bruce Lee.
Knowing yourself, and learning to love yourself as you are, is the beginning of beauty. I think the most important thing is to show off what's most beautiful about you and to hide what's less beautiful. ~ Sonia Rykiel.
He's a shy man. Life has taught him not to show off what is most precious to him. ~ Yann Martel.
---
So these were the 65 top quotes about Show Off.
If you like these quotes and sayings, then you can also read my other posts on Self Esteem quotes and Self Respect quotes.