Sunflowers, with their radiant yellow petals, symbolize positivity, happiness and joy, making them an ideal choice for lifting spirits.
These "happy" flowers have the unique ability to turn towards the sun, a testament to their resilience and strength.
The sunflower belongs to the genus Helianthus, with approximately 70 species, but the most recognized is the Helianthus annuus, which can tower up to 14 feet.
They come in various sizes, with most being golden-yellow, though some bear hints of red and orange.
Sunflower fields are among nature's most mesmerizing sights, evoking awe and admiration.
Drawing inspiration from these remarkable flowers, numerous sunflower quotes highlight their beauty, the positive energy they emanate and the motivation they instill.
Emulating the sunflower's unwavering determination to face the sun and stand tall can be a guiding principle for individuals to find light in their lives and embrace it wholeheartedly.
See also: Lotus Flower Quotes
Let's refresh ourselves by diving deep into quotes about Sunflower.
---
Beautiful Sunflower Quotes
We're all golden sunflowers inside. ~ Allen Ginsberg.
You look beautiful as a sunflower and charming as a rose. ~ Avijeet Das.
True friends are like bright sunflowers that never fade away, even over distance and time. ~ Marie Williams Johnstone.
Sunflowers are like people to me. ~ Joan Mitchell.
The sunflower is a favorite emblem of constancy. ~ Thomas Bulfinch.
Sunflowers are my friends. ~ Laynni Locke.
And the yellow sunflower by the brook, in autumn beauty stood. ~ William Cullen Bryant.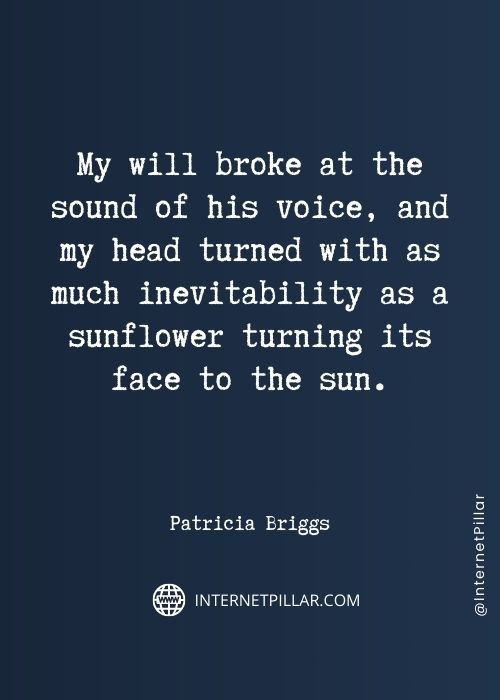 My will broke at the sound of his voice, and my head turned with as much inevitability as a sunflower turning its face to the sun. ~ Patricia Briggs.
I can't feel bad about being who I am, just like the girl next to me can't feel bad about being who she is. Because a rose can never be a sunflower, and a sunflower can never be a rose. ~ Miranda Kerr.
She stood out like a sunflower in a field of wheat. ~ Jennifer L. Armentrout.
She may be a rose dipped in gold, but he prefers Sunflowers. ~ Katrina Nutter.
What god does a sunflower believe in? That's the god I believe in. ~ Marty Rubin.
Which way will the sunflower turn surrounded by millions of suns? ~ Allen Ginsberg.
Inspirational Sunflower Quotes
The sunflower is mine, in a way. ~ Vincent Van Gogh.
A sunflower field is like a sky with a thousand suns. ~ Corina Abdulahm-Negura.
Turn your face to the sun, and shadows follow behind you. ~ Maori Proverb.
Attention shifted to him like sunflowers turning to the sun. ~ Khaled Hosseini.
Every friend is to the other a sun, and a sunflower also. He attracts and follows. ~ Jean Paul.
A sunflower teaches us so much about love. ~ Samrah Ahmad.
And here the sunflower of the spring burns bright in the morning's beam. ~ Ebenezer Elliott.
Fame is the scentless sunflower, with gaudy crown of gold; But friendship is the breathing rose, with sweets in every fold. ~ Oliver Wendell Holmes.
If roses tried to be sunflowers, they would lose their beauty; and if sunflowers tried to be roses, they would lose their strength. ~ Matshona Dhliwayo.
In the morning the sunflower blossoms due to the sun's rays. This morning I just wanted to remind you that my heart blossoms with love for you every day I wake up and it is going to do that forever. ~ Sheila Carey.
Sunflowers end up facing the sun, but they go through a lot of dirt to find their way there. ~ J.R. Rim.
True friends are like bright sunflowers that never fade away, even over distance and time. ~ Marie Williams Johnstone.
Best Sunflower Quotes
Yellow is my favorite summer color – it makes me feel like a sunflower. ~ Bria Vinaite.
Smile to the world and smile to the people you love, as a sunflower smiles at the sun. ~ Remez Sasson.
The road to freedom is bordered with sunflowers. ~ Martin Firrell.
Be a Sunflower in a field of roses. ~ T. F. Fox.
I am working with the enthusiasm of a man from Marseilles eating bouillabaisse, which shouldn't come as a surprise to you because I am busy painting huge sunflowers. ~ Vincent Van Gogh.
If I were a flower…I would be a sunflower. To always follow the sun, turn my back to darkness, stand proud, tall and straight even with my head full of seeds. ~ Pam Stewart.
Restless sunflower; cease to move. ~ Pedro Calderon de la Barca.
The morning glories and the sunflowers turn naturally toward the light, but we have to be taught, it seems. ~ Richard Rohr.
Famous Sunflower Quotes
Then one by one they raised their faces to the sky. Like a field of sunflowers. ~ Fiona Valpy.
Keep your face to the sunshine and you cannot see the shadow. It's what sunflowers do. ~ Helen Keller.
Who knows what may lie around the next corner? There may be a window somewhere ahead. It may look out on a field of sunflowers. ~ Joe Hill.
Her smile put the sunflower to shame. ~ Jerry Spinelli.
Despite knowing they won't be here for long, they still choose to live their brightest lives – sunflowers. ~ Rupi Kaur.
I plant sunflowers and get back daily joy. ~ Nadine Locke.
Inspiring Sunflower Quotes
My work is the world. Here the sunflowers, there the hummingbird – equal seekers of sweetness. Here the quickening yeast; there the blue plums. ~ Mary Oliver.
Like sunflowers, galaxies, and fingerprints, your life is an intricately designed spiral. ~ Kristen Lee.
Make it like a sunflower. ~ Steve Jobs.
A long time ago in a kingdom by the sea there lived a princess as tall and bright as a sunflower. ~ Jeanne Desy.
Never look directly at the sun. Instead, look at the sunflower. ~ Vera Nazarian.
I chose a sunflower because when darkness descends they close up to regenerate. ~ Halle Berry.
---
So these were the 42 quotes about Sunflower.
If these quotes and sayings connect with you, check out our other blogs on Old friends quotes and coworker quotes.