Halle Berry is a popular actress from the United States.
---
Best Halle Berry Quotes
1. "I take care of myself, because I learned early on that I am the only person in life who's responsible for me." ~ (Halle Berry).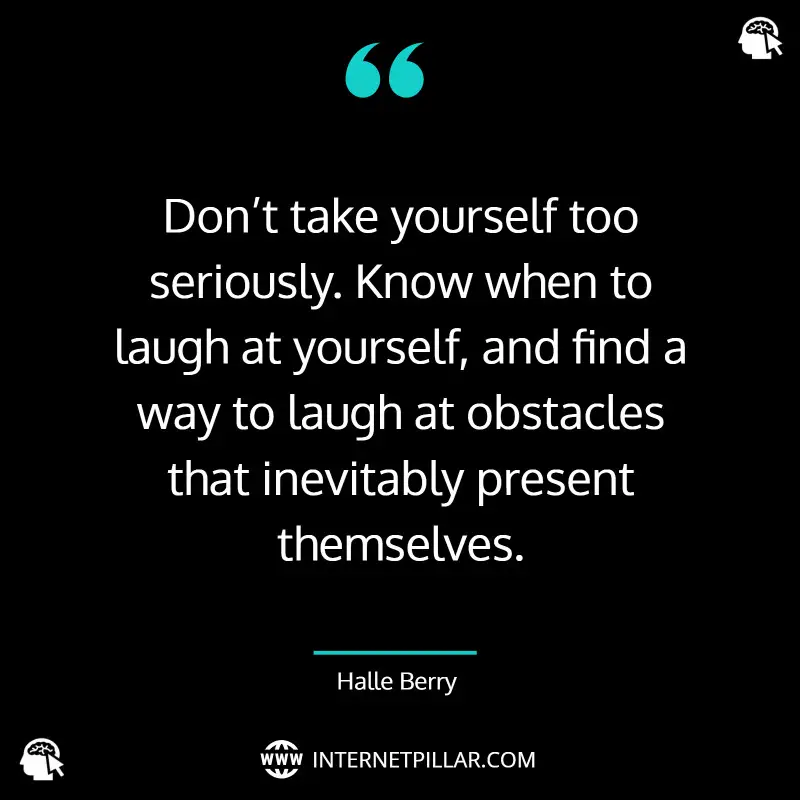 2. "Don't take yourself too seriously. Know when to laugh at yourself, and find a way to laugh at obstacles that inevitably present themselves." ~ (Halle Berry).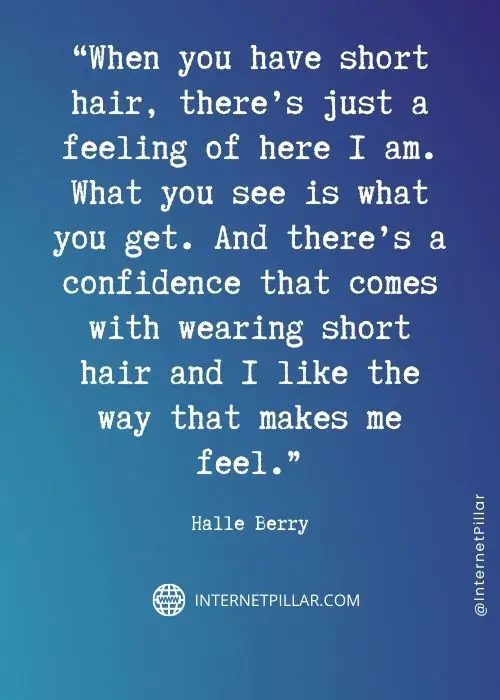 3. "When you have short hair, there's just a feeling of here I am. What you see is what you get. And there's a confidence that comes with wearing short hair and I like the way that makes me feel." ~ (Halle Berry).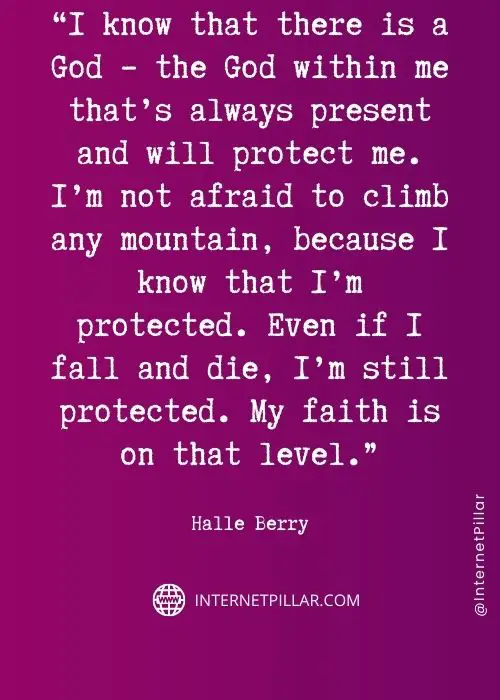 4. "I know that there is a God – the God within me that's always present and will protect me. I'm not afraid to climb any mountain, because I know that I'm protected. Even if I fall and die, I'm still protected. My faith is on that level." ~ (Halle Berry).
5. "In Monster's Ball I went nude, which was scary, but I took the chance and that's how I like to approach my career." ~ (Halle Berry).
6. "I'm just going to live my life and be who I am." ~ (Halle Berry).
7. "Sexiness is a state of mind – a comfortable state of being. It's about loving yourself in your most unlovable moments." ~ (Halle Berry).
8. "I can't imagine my life without animals. I have two dogs and three cats. Coming home and finding them all lined up at the door waiting for me has got to be one of the sweetest joys of my life." ~ (Halle Berry).
9. "Any time you risk big you often risk losing big. You can win big but you can also lose big, but you have to be willing to take those risks." ~ (Halle Berry).
10. "When an opportunity comes your way, it's about making sure you're prepared to be the one who can walk through the door and deliver the goods. And I've had a lot of luck on my side and I've been prepared for that luck." ~ (Halle Berry).
Popular Halle Berry Quotes
11. "There have been so many people who have said to me, 'You can't do that,' but I've had an innate belief that they were wrong. Be unwavering and relentless in your approach." ~ (Halle Berry).
12. "I would say a magical thing happened on when the big 40th birthday came. I felt like a light kind of just went off, and maybe that's because I felt like at 40 I had the right to say and be who I wanted to be, say what I wanted to say, and accept what I didn't want to accept." ~ (Halle Berry).
13. "This moment is so much bigger than me. It's for every nameless, faceless woman of colour that now has a chance because this door tonight has been opened." ~ (Halle Berry).
14. "I think my feet are my sexiest body part. People I find really sexy include Angelina Jolie, George Clooney and my mum." ~ (Halle Berry).
15. "Let me tell you something – being thought of as a beautiful woman has spared me nothing in life. No heartache, no trouble. Love has been difficult. Beauty is essentially meaningless and it is always transitory." ~ (Halle Berry).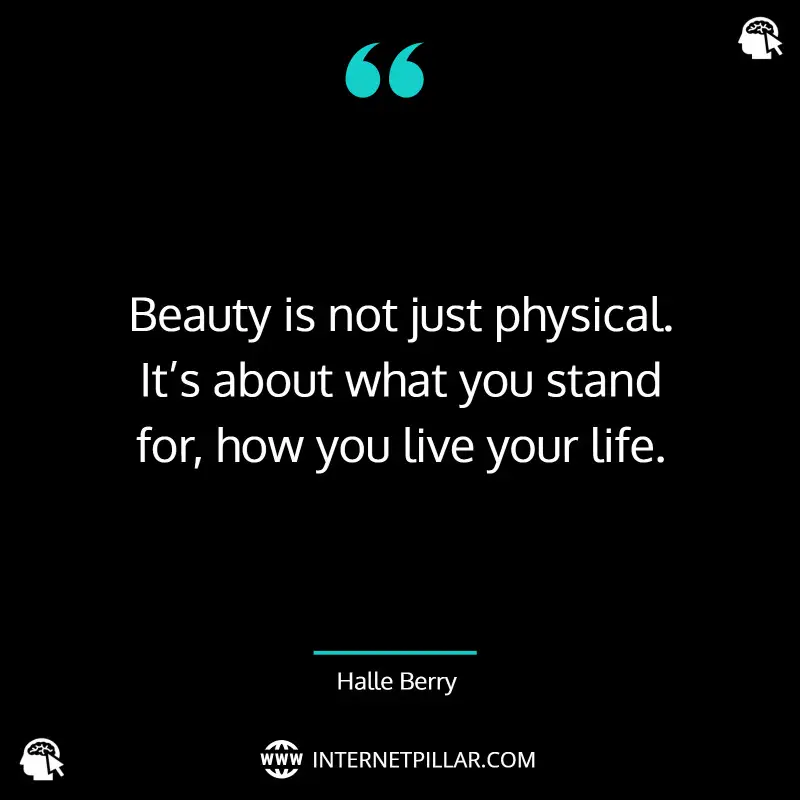 16. "Beauty is not just physical. It's about what you stand for, how you live your life." ~ (Halle Berry).
17. "I meditate and pray all the time. The faith and respect that I have in the power of God in my life is what I've used to keep myself grounded, and it has allowed me to move away from the storms that were in my life." ~ (Halle Berry).
18. "I am my best self when I have super-short hair. That's when I feel most like me and most confident." ~ (Halle Berry).
19. "We've become obsessed with beauty and the fountain of youth and, frankly, I'm really saddened by the way women mutilate their faces today in search of that." ~ (Halle Berry).
20. "It's an amazing feeling to know that life is actually growing inside your body. The first time you see the ultrasound and you see the little bones and you realize that it's part of you and it's in your care is life changing and this sort of protective instinct has taken over." ~ (Halle Berry).
Top Halle Berry Quotes
21. "I always had to diet. I'm diabetic, so it's a lifestyle for me anyway just to stay healthy and not end up in the hospital." ~ (Halle Berry).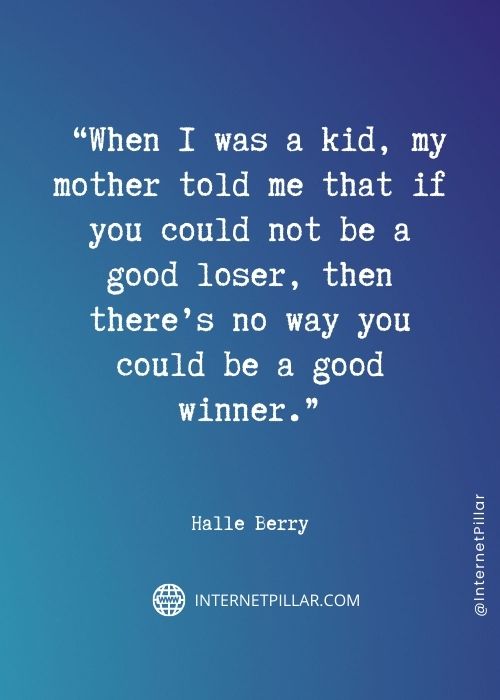 22. "When I was a kid, my mother told me that if you could not be a good loser, then there's no way you could be a good winner." ~ (Halle Berry).
23. "I chose a sunflower because when darkness descends they close up to regenerate. But I really wish I'd never had the tattoo in the first place. Clean, clear skin is always better." ~ (Halle Berry).
24. "Facials are my biggest beauty indulgence. Looking good is about having a good base. It's about taking care of your skin." ~ (Halle Berry).
25. "I realize as you age the less makeup you wear the younger you look." ~ (Halle Berry).
26. "During really difficult times in my life when I start questioning why I am struggling with something, I often turn to books to understand myself better." ~ (Halle Berry).
27. "Just to be true to myself, which is why I did this movie. I figured everyone was going to freak out and say, 'Why would you do that after Dorothy Dandridge?' My answer is 'Because I can.' And that feels really good to be comfortable saying that." ~ (Halle Berry).
28. "My pregnancy was amazing. I was happy that whole time, I felt good, I had energy, I was like Superwoman. I wish I could feel like that for the rest of my life, that's how fantastic it was." ~ (Halle Berry).
29. "I will not marry again. There is no need." ~ (Halle Berry).
30. "I guess you could say I have bad taste in men. But I no longer feel the need to be someone's wife." ~ (Halle Berry).
31. "I spent a lot of time with a crown on my head." ~ (Halle Berry).
32. "As beautiful as Halle is on the outside, she's 10 times more beautiful on the inside." ~ (Halle Berry).
33. "The worst thing a man can ever do is kiss me on the first date." ~ (Halle Berry).
Famous Halle Berry Quotes
34. "Sexuality is part of being a woman, it's part of what empowers us when we're smart enough to know how to use it." ~ (Halle Berry).
35. "I wish all men were like dogs." ~ (Halle Berry).
36. "After my divorce, I was struggling to find my own voice. Through reading, I gained my power back." ~ (Halle Berry).
37. "There's a place in me that can really relate to being the underdog. I'm always fighting to overcome the obstacle. I can really understand what's that about." ~ (Halle Berry).
38. "I'm learning to accept the lack of privacy as the real downer in my profession." ~ (Halle Berry).
39. "The day I saw my mom eating the Santa cookies on the plate was one of the most horrific days of my life." ~ (Halle Berry).
40. "I didn't think it was possible at my age honestly. They call it a geriatric pregnancy." ~ (Halle Berry).
41. "Motherhood sort of puts things into perspective, and it's about real life, and life is about people, what we give, what we take, what we share." ~ (Halle Berry).
42. "I used to believe that if my career was going great, then I was not entitled to a great personal life. Well, I've stopped thinking that way. I believe I can have it all." ~ (Halle Berry).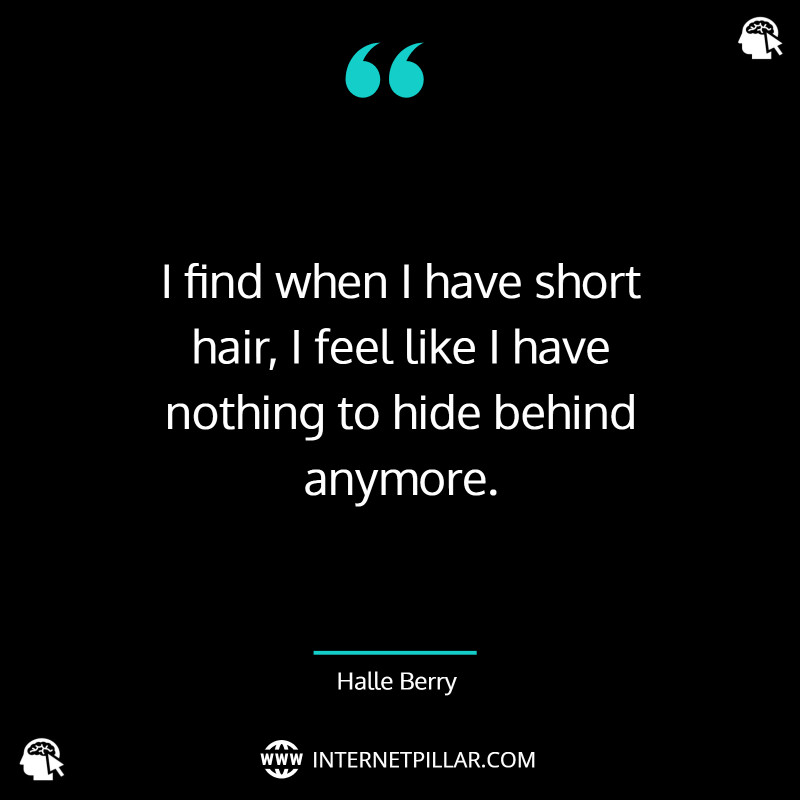 43. "I find when I have short hair, I feel like I have nothing to hide behind anymore." ~ (Halle Berry).
Short Halle Berry Quotes
44. "I am so ready to be a mommy. I can't wait. I notice every little baby dress, every little baby toy, every little baby thing." ~ (Halle Berry).
45. "I think I am at my best when my hair is short. It's easier to take care of and more of who I am. Women are conditioned to think we need long hair." ~ (Halle Berry).
46. "I like Doritos. I'm usually watching 'The Biggest Loser' eating Doritos." ~ (Halle Berry).
47. "I get offered varied parts, often super sexy roles. But I still think it's an issue to find the good scripts. It's a myth that you win an Oscar and you get more opportunities, and this doesn't just go for me." ~ (Halle Berry).
48. "My partner is a Frenchman, so I have got to smell right." ~ (Halle Berry).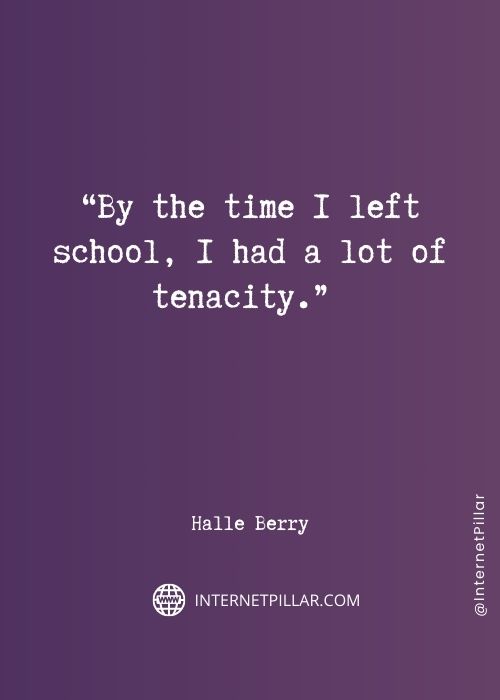 49. "By the time I left school, I had a lot of tenacity." ~ (Halle Berry).
50. "I'm not sad at all about turning 40." ~ (Halle Berry).
---
You Might Like