Helping and supporting others not only benefits the recipient but also fosters a sense of community and personal satisfaction.
In times of difficulty, support quotes and affirmations can be a potent aid to navigate tough situations.
These quotes will provide you with strength and resilience and you will get all the inspiration that is needed.
Sharing these quotes can also be a significant way to assist others who may be dealing with life's challenges.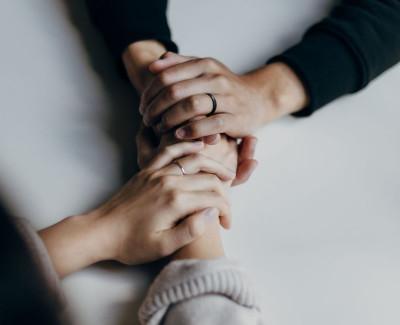 Thus, the exchange of such supportive words strengthens relationships and empowers both the giver and receiver to overcome obstacles.
---
Table of Contents
Best Support Quotes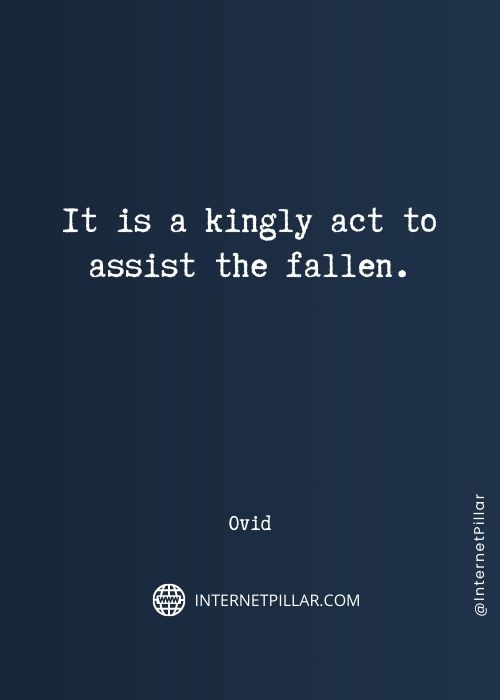 It is a kingly act to assist the fallen. ~ Ovid.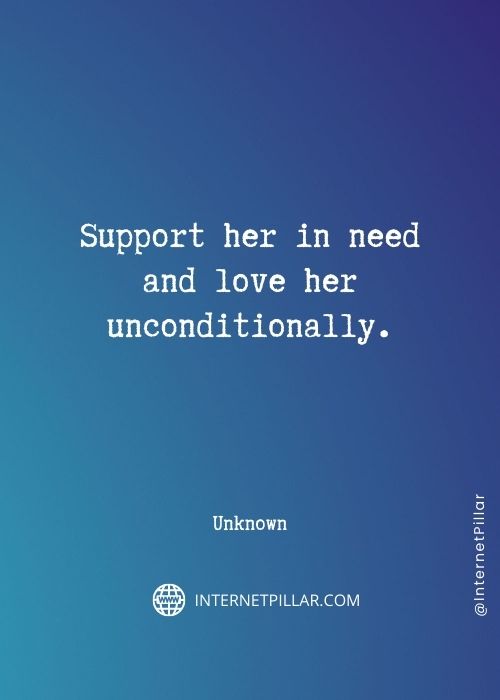 Support her in need and love her unconditionally. ~ Unknown.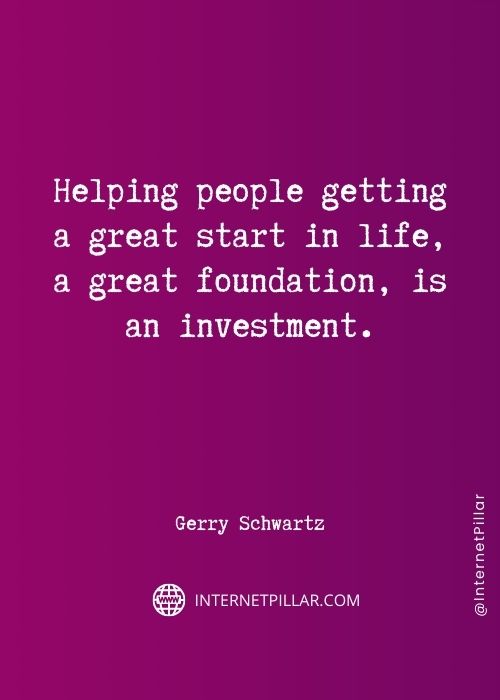 Helping people getting a great start in life, a great foundation, is an investment. ~ Gerry Schwartz.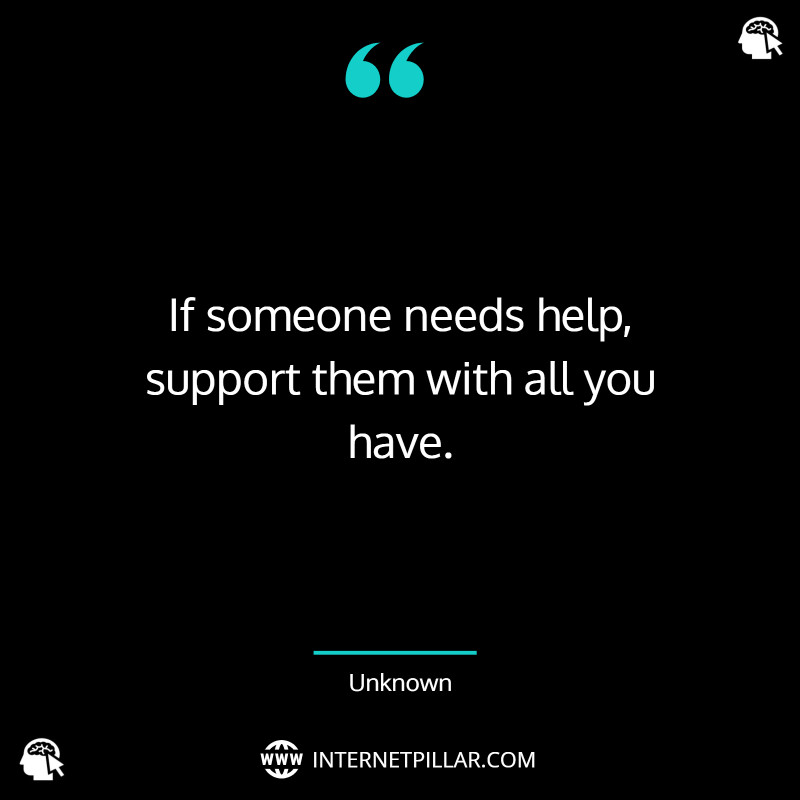 If someone needs help, support them with all you have. ~ Unknown.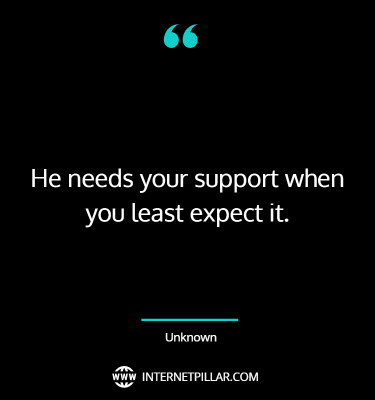 He needs your support when you least expect it.~ Unknown.
Anxiety actually signifies that there is a part of us in need of attention and or support. ~ John Crawford.
When a loved one has a birthday or a holiday is coming up, make sure to send a card or a quick phone call. These times often call for people needing extra support. ~ Minka Ferguson.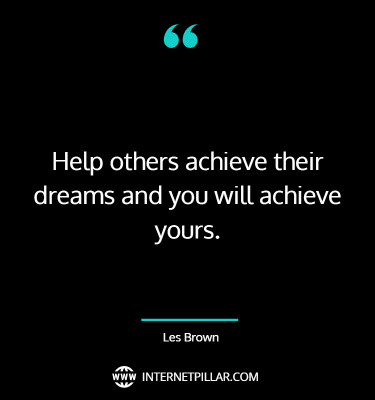 Help others achieve their dreams and you will achieve yours. ~ Les Brown.
Give, but give until it hurts. ~ Mother Teresa.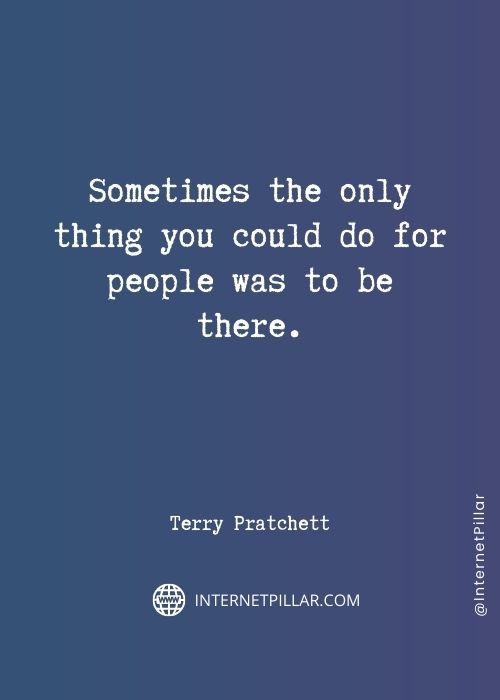 Sometimes the only thing you could do for people was to be there. ~ Terry Pratchett.
Asking is the beginning of receiving. Make sure you don't go to the ocean with a teaspoon. At least take a bucket so the kids won't laugh at you. ~ Jim Rohn.
Help and support your partner during dark times. ~ Unknown.
Never reach out your hand unless you're willing to extend an arm. ~ Elizabeth Fuller.
Famous Support Quotes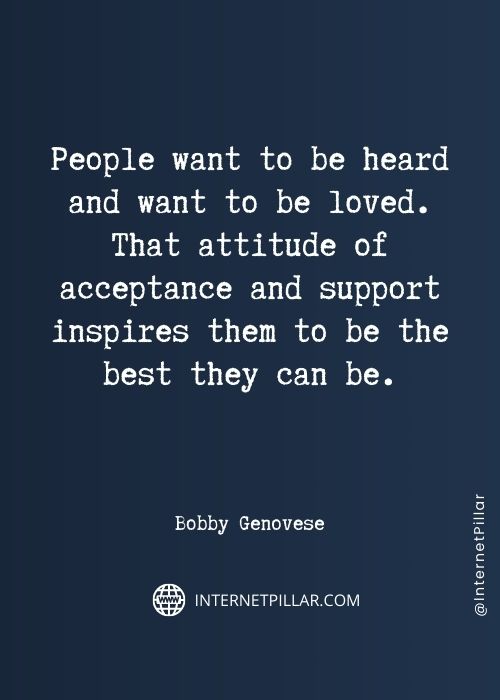 People want to be heard and want to be loved. That attitude of acceptance and support inspires them to be the best they can be. ~ Bobby Genovese.
Be a rock to others in need, be a rock of support to those who are facing critical issues, be a rock full of caring, but be a rock who recognizes that you also will experience times when you need to seek your own rock. ~ Byron Pulsifer.
Be graceful. Support others. ~ Unknown.
There's a fine line between support and stalking and let's all stay on the right side of that. ~ Joss Whedon.
Never look down on anybody unless you helping him up. ~ Jesse Jackson.
Having friends who are accepting, supportive, available, and loving are key to feeling safe. If you choose to cultivate better friendships, begin by being a great friend to others. ~ Tara Bianca.
We come in many different shapes and sizes, and we need to support each other and our differences. Our beauty is in our differences. ~ Carre Otis.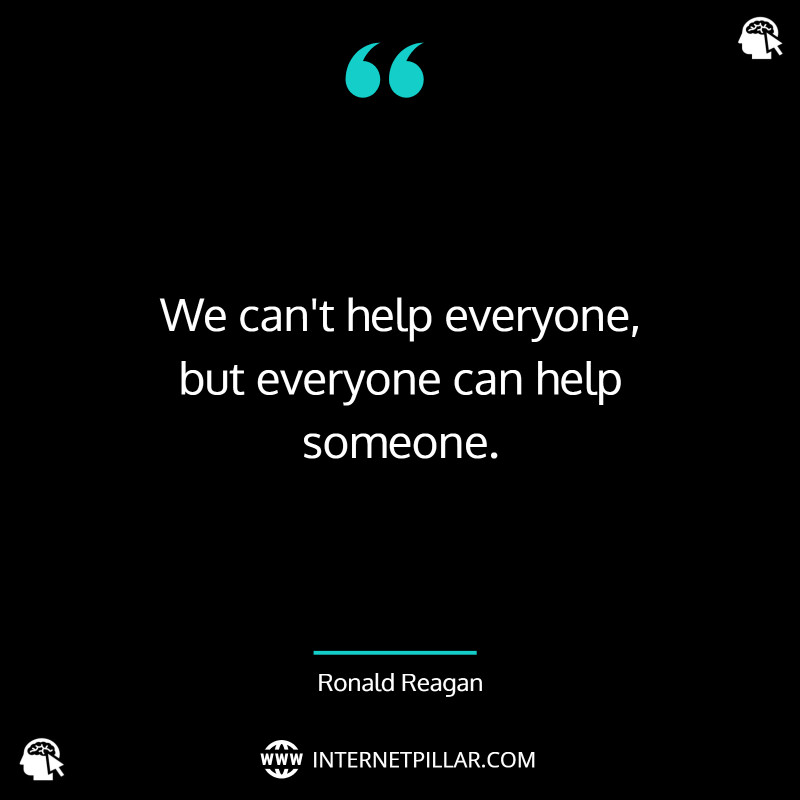 We can't help everyone, but everyone can help someone. ~ Ronald Reagan.
A girl just wants support more than gifts. ~ Unknown.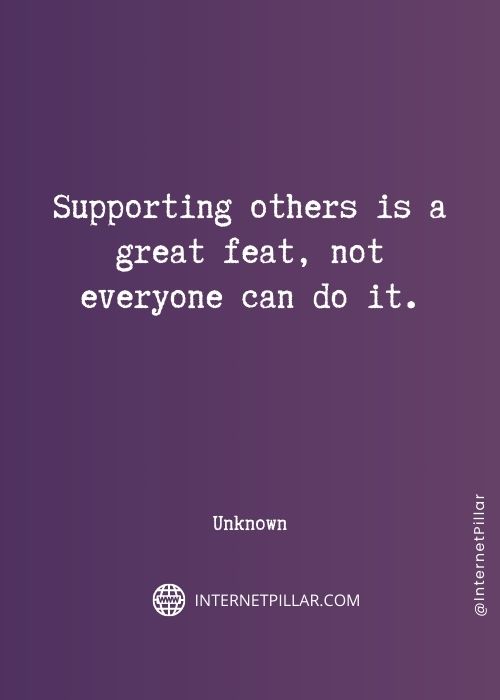 Supporting others is a great feat, not everyone can do it. ~ Unknown.
When a person is down in the world, an ounce of help is better than a pound of preaching. ~ Edward Bulwer-Lytton.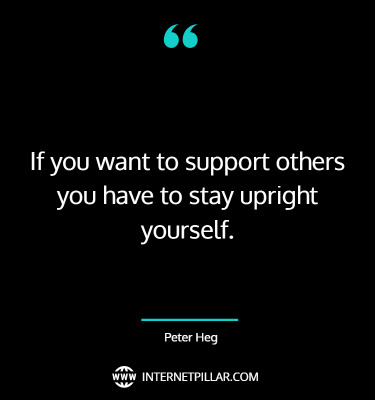 If you want to support others you have to stay upright yourself. ~ Peter Heg.
We can change our behavior even if we struggle to change our thoughts and emotions. ~ Dr Harry Barry.
Relevant Quotes: Community Quotes to Help and Support Others and Support Small Business Quotes to Inspire and Motivate You
Popular Support Quotes
It is an eternal obligation toward the human being not to let him suffer from hunger when one has a chance of coming to his assistance. ~ Simone Weil.
Encourage, lift and strengthen one another. For the positive energy spread to one will be felt by us all. For we are connected, one and all. ~ Deborah Day.
Support and love are the two pillars of a friendship. ~ Unknown.
Be the support to someone's happiness. ~ Unknown.
Be strong enough to face the world each day. Be weak enough to know you cannot do everything alone ~ Unknown.
Don't dwell on what went wrong. Instead, focus on what to do next. Spend your energies on moving forward toward finding the answer. ~ Denis Waitley.
Our prime purpose in this life is to help others. And if you can't help them, at least don't hurt them. ~ Dalai Lama.
Each of us has the power to inspire or depress, to lift others or to push them down. ~ Wilferd Peterson.
I am only one, but still I am one. I cannot do everything, but still I can do something; and because I cannot do everything, I will not refuse to do something I can do. ~ Edward Everett Hale.
Not every opinion of someone should be supported blindly. ~ Unknown.
Top Support Quotes
I believe my life has no limits. I want you to feel the same way about your life, no matter what your challenges may be. ~ Nick Vujicic.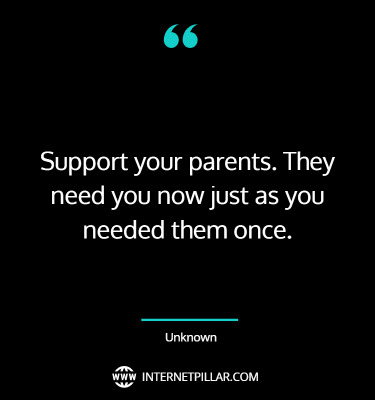 Support your parents. They need you now just as you needed them once. ~ Unknown.
Likewise, family caregivers can go a long way toward helping parents or other loved ones stay in their own homes, but only if they understand the challenges of caregiving and know how to get help and support. ~ Denise Logeland.
You give but little when you give of your possessions. It is when you give of yourself that you truly give. ~ Kahlil Gibran.
To give aid to every poor man is far beyond the reach and power of every man. Care of the poor is incumbent on society as a whole. ~ Baruch Spinoza.
Support others to achieve great things. ~ Unknown.
The truest help we can render an afflicted man is not to take his burden from him, but to call out his best energy, that he may be able to bear the burden. ~ Phillips Brooks.
Short Support Quotes
The power of positive prayer comes from knowing we are not alone and that someone greater than ourselves is helping us. ~ Patricia Partney Dascher.
When you cease to make a contribution, you begin to die. ~ Eleanor Roosevelt.
While the predictable path may feel more comfortable, it goes against the nature of change and growth. ~ Amy E. Dean.
Support the strong, give courage to the timid, remind the indifferent, and warn the opposed. ~ Whitney M. Young.
Look up and not down. Look forward and not back. Look out and not in, and lend a hand. ~ Edward Everett Hale.
No act of kindness, no matter how small, is ever wasted. ~ Aesop.
Life's most urgent question is: 'What are you doing for others?' ~ Martin Luther King Jr.
Strong people don't put others down… They lift them up. ~ Michael P. Watson.
To keep a lamp burning we have to keep putting oil in it. ~ Mother Teresa.
A best friend is the only one that walks into your life when the world has walked out. ~ Shannon l. Alder.
To aid life, leaving it free, however, that is the basic task of the educator. ~ Maria Montessori.
Meaningful Support Quotes
I trust that my body will sustain me; that people will support me; and that what I need, want, and desire I can and will eventually have. ~ Iyanla Vanzant.
Helping others isn't a chore; it is one of the greatest gifts there is. ~ Liya Kebede.
Accomplishments are not only what other people can see but, more importantly, are those selfless actions and behavior that focus on giving assistance to others without any thoughts of getting something back in return. ~ Byron R. Pulsifer.
Even with world class external support, many still fall into despair because they lack internal support. ~ Stephen Guise.
The greatest good you can do for another is not just share your riches, but reveal to them their own. ~ Benjamin Disraeli.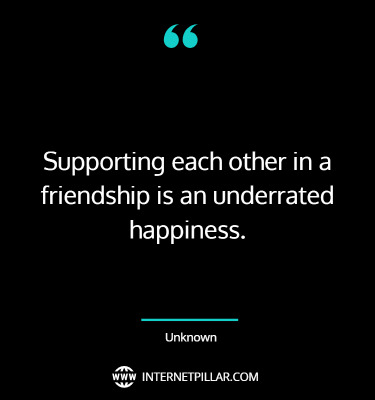 Supporting each other in a friendship is an underrated happiness. ~ Unknown.
Kind words can be short and easy to speak, but their echoes are truly endless. ~ Mother Teresa.
Understand others and support them on their way of growth. ~ Unknown.
Support the needy and find your heaven. ~ Unknown.
When we open our hearts to the voice of intuition, we come to the realization that the universe supports our growth and courageous expression in every moment. ~ Maura McCarley Torkildson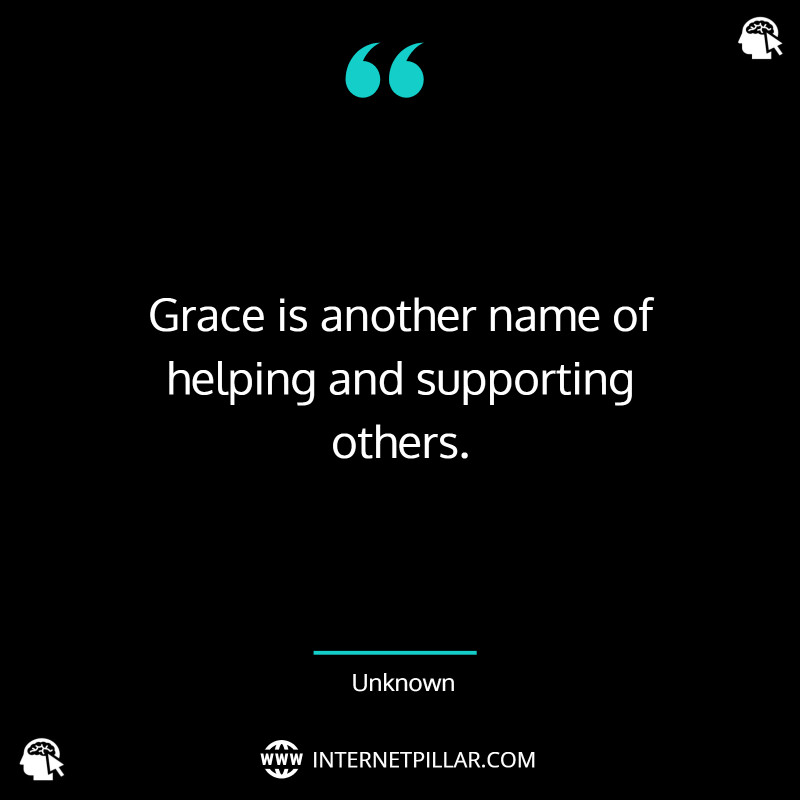 Grace is another name of helping and supporting others. ~ Unknown.
Your support network is the solid ground from which you can propel yourself upwards. ~ Anna Barnes.
Keeping consistent in God's word will lift you up and encourage you! ~ Andrew Farland.
He stands erect by bending over the fallen. He rises by lifting others. ~ Robert Green Ingersoll.
---
So these were the 68 quotes about Support.
If these quotes and sayings connect with you, check out our other posts on villain quotes and farewell quotes.