Small businesses are vital cogs in the economic machinery, playing a crucial role in job creation and fueling local economies.
Patronizing these businesses not only supports local entrepreneurs but also helps to stimulate employment.
In this article you will find an inspiring collection of "support small business" quotes aimed at encouraging individuals to invest their money within their local communities first before considering other options.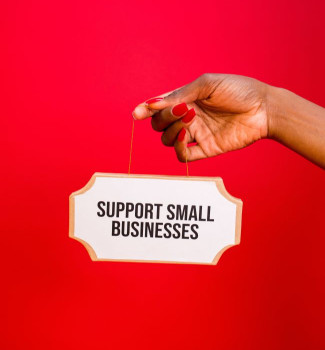 By spending locally, we can contribute substantially to the vibrancy and resilience of our hometown economies.
These quotes serve as a motivational tool to underscore the importance of small businesses and to inspire us to actively back them.
---
Table of Contents
Top 10 Support Small Business Quotes
I try to eat locally and go to the farmer's market. ~ Nikki Reed.
Eat. Live. Breathe. Shop Local. ~ Unknown.
Think globally, act locally. ~ Paul McCartney.
They're the ones that are actually of, and not just in, a community. ~ Nigel Sylvester.
Every small purchase makes a big difference. ~ Unknown.
Supporting small businesses is like that first sip of coffee in the morning. So gooooood…… ~ Unknown.
Your most unhappy customers are your greatest source of learning. ~ Bill Gates.
I think I'm a critic of corporate power, whether locally or globally. ~ Naomi Klein.
Independent businesses are where most interesting concepts and new ideas are generated. ~ Sabrina De Sousa.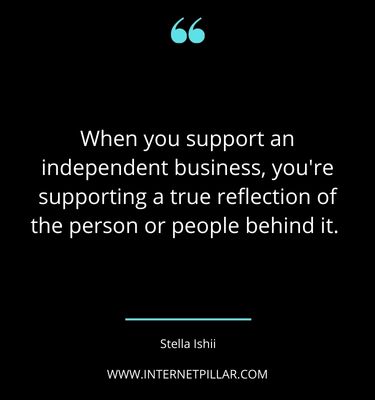 When you support an independent business, you're supporting a true reflection of the person or people behind it. ~ Stella Ishii.
Every time you spend money, you are casting a vote for the kind of world you want. ~ Anna Lappe.
Best Support Small Business Quotes
By using locally manufactured products, you will be able to help the small entrepreneurs in your area to a great extent. ~ Ram Nath Kovind.
The consciousness with which a thing is made is often more important than the thing itself. ~ J. Donald Walters.
If you can't feed a team with two pizzas, it's too large. ~ Jeff Bezos.
If each of us spent 100$ a year more on local businesses instead of chain stores, it would put an extra $3 million a year into our economy, not only that but it would create thousands more jobs. ~ Unknown.
Small businesses provide the feeling that a real person is behind it all, someone who cares more about giving us a quality product or service, over just taking our hard-earned dollars. ~ Annie Bukhman.
Small businesses represent the creative consciousness… ~ Maayan Zilberman and Alex Burn.
All the corner shops in our towns and cities, the restaurants, cleaners, gyms, hair salons, hardware stores ~ these didn't come out of nowhere. ~ Paul Ryan.
We need to keep our small businesses healthy in order to keep our economy strong. ~ Keith Haynes.
A small business is an amazing way to serve and leave an impact on the world you live in. ~ Nicole Snow.
Supporting another person's success won't ever damper yours. ~ Layla Fidel.
If people like you, they'll listen to you, but if they trust you, they'll do business with you. ~ Zig Ziglar.
Independent businesses give cities their shape, texture, color, and taste… often literally. ~ Hasan Minhaj.
When I go to a new place, I'll find the locally made natural lip balms and buy them as my little memento. ~ Betsy Hodges.
Relevant Quotes: Small Business Quotes to Inspire Entrepreneurs and Business Success Quotes to Motivate You Today
Inspiring Support Small Business Quotes
Small businesses are the backbone of the American economy and employ almost half of the working population. ~ Dan Lipinski.
There's a feeling of shared responsibility and ownership when you support an independent business. ~ Angie Martinez.
You want to shop and live near places that actually mean things to people; places that have a real effect on communities. ~ Sandeep Salter.
Support your friends. Don't ask for free stuff, pay for it. Go to their shows, be the first to buy their products and promote their ideas. ~ Unknown.
I always take the time to eat well and eat locally because it's common sense. ~ Eliot Page.
It's a common misconception that money is every entrepreneur's metric for success. It's not, and nor should it be. ~ Richard Branson.
By doing so, you're directly putting money back into your own community. You're funding great ideas and ventures that can only exist outside of mainstream, corporate chains. ~ Tamara Santibanez.
Popular Support Small Business Quotes
I always believe in buying things locally; anything locally made is a big plus, along with organic materials. ~ Jessica Hart.
If you don't try at anything, you can't fail. It takes backbone to lead the life you want. ~ Richard Yates.
And so you get a different kind of care and quality in their product because their work is a reflection of themselves. ~ Erica Cerulo and Claire Mazur.
Giving a gift from a small business is giving a gift twice. ~ Unknown.
You can't buy happiness, but you can buy local and that's kind of the same. ~ Unknown.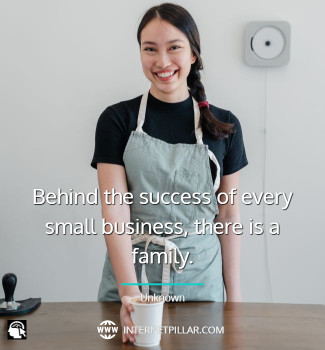 Behind the success of every small business, there is a family. ~ Unknown.
If you think you are too small to make an impact, try going to bed with a mosquito in the room. ~ Ekaterina Walter.
Most independent businesses are run by people – not by boards, not by stockholders, not by algorithms. ~ Erica Cerulo and Claire Mazur.
Independent business is the fabric, man. ~ DJ Clark Kent.
Please Support Small Business Quotes
Independent businesses make neighborhoods healthy; they ground them. ~ Bernie Telsey.
It's important to support people who put their heart, soul, and last dollar into something they believe in. ~ Jillionaire.
Independent businesses are where innovation happens – it's where things move forward. ~ Daniel Arsham and Alex Mustonen.
Some of the most green people in our lives are our parents and grandparents, who always bought locally and carefully. ~ Su-chin Pak.
Independent businesses are the lifeline of every community. ~ Wilson Tang.
You're helping real people ~ who you may know personally – do what they do better. ~ DJ Neil Armstrong.
Behind every small business, there's a story worth knowing. ~ Paul Ryan.
Small businesses are the engine of the economy. In past recessions, they were the ones really fueling the economy.' ~ Ahu Yildirmaz.
The relationships created between customers and those that work in independent business frequently go beyond just purchases – it becomes familial. ~ Rembert Browne.
When you buy something made by a person, there is something special there, and you feel it. ~ J. Donald Walters.
In a world where you can shop anywhere, shop local. ~ Robyn Liechti.
Why Support Small Business Quotes
Independent businesses create and offer choice. ~ Lyndsey Butler.
Support women. Support freelancers. Support creatives. Support small businesses. ~ Unknown.
When you support a small business, you support a dream. ~ Unknown.
Good things come to those who shop local. ~ Melinda Lemay.
The concept of being a locavore, or one who chooses whenever possible to incorporate locally grown or locally produced food into one's nutrition plan, is of great importance. ~ Tyler Florence.
If you just work on stuff that you like and you're passionate about, you don't have to have a master plan with how things will play out. ~ Mark Zuckerberg.
When you buy from a small business you're not helping a CEO buy a third vacation home. You are helping a little girl get dance lessons, a little boy his team jersey, a mom put food on the table, a dad pay a mortgage or a student pay for college. ~ Unknown.
Independent businesses feel like home. ~ Yasmin Daguilh and Mackenzie Gleason.
Running that first shop taught me business is not financial science; it's about trading. ~ Anita Roddick.
Inspirational Support Small Business Quotes
Independent business bring originality and variety in a world that's becoming increasingly homogenized. ~ Craig Costello
When you buy from a small business, an actual person does a little happy dance. ~ Unknown.
Shop local, cause Amazon won't sponsor your kid's ball team. ~ Unknown.
Opportunity is missed by most people because it is dressed in overalls and looks like work. ~ Thomas Edison.
Support your friend's business and progression like you support the celebrities that you actually don't know. ~ Unknown.
Authenticity and hustle – that's why you should support independent businesses. ~ Yu-Ming Wu.
Why help make big companies bigger when you can get the same thing from the little guy and actually help someone accomplish their dream? ~Trevor D. Richardson.
You can feel when someone really cares about the neighborhood they're running a business in. ~ Sandeep Salter.
Support each other. Why do you need a reason to do that besides the fact that it's the right thing to do? ~ Scarr and Los Franco.
When you support handmade, you are not just supporting a person, small business, family, our economy; you are purchasing a small part of an artist's heart. ~ Unknown.
I'm happy as long as I am making other people happy. ~ Dominique Ansel.
---
---
So these were the 75 quotes about Support Small Business.
If you like these quotes and sayings, then you can also read my other popular blog posts on the topics of Small Business quotes and Best Business quotes.