Tom Ford, a renowned American fashion designer and film director, is celebrated for reviving Gucci during his time as creative director (1994-2004).
Before launching his own line in 2005, Ford graduated from Parsons School of Design in New York City and worked with New York fashion houses Perry Ellis and Cathy Hardwick.
As Gucci's creative director, he transformed the brand's image from "logo-laden" to sophisticated sex appeal, popularized Gucci with Hollywood actresses and increased its worth to $4.3 billion.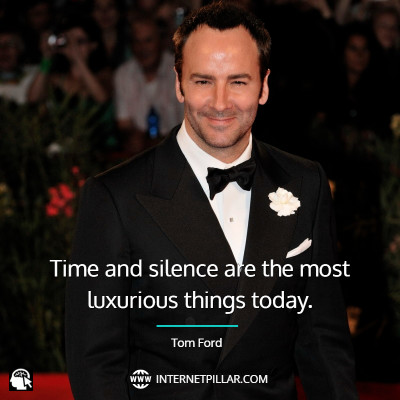 Ford's impact catapulted after Gucci acquired Yves Saint Laurent, where he became the ready-to-wear line designer.
In 2004, he left Gucci due to contract disagreements and founded his own fashion house, Tom Ford.
Also a filmmaker, Ford debuted with the critically acclaimed "A Single Man" in 2009 and later directed "Nocturnal Animals" in 2016.
His success story offers inspiration on fashion, style and achieving success.
Related: Yohji Yamamoto Quotes from Japanese Fashion Designer and Alexander Wang Quotes from Top Fashion Designer
I have compiled the popular quotes by Tom Ford below.
---
Best Tom Ford Quotes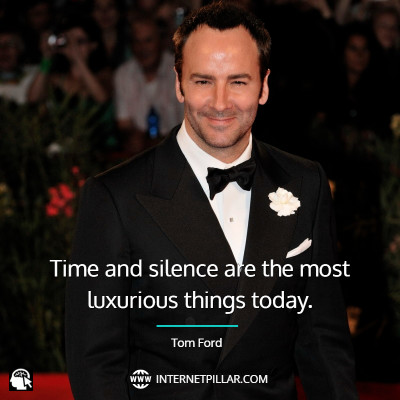 Time and silence are the most luxurious things today. ~ Tom Ford.
If it's not fun, I'm not going to do it. ~ Tom Ford.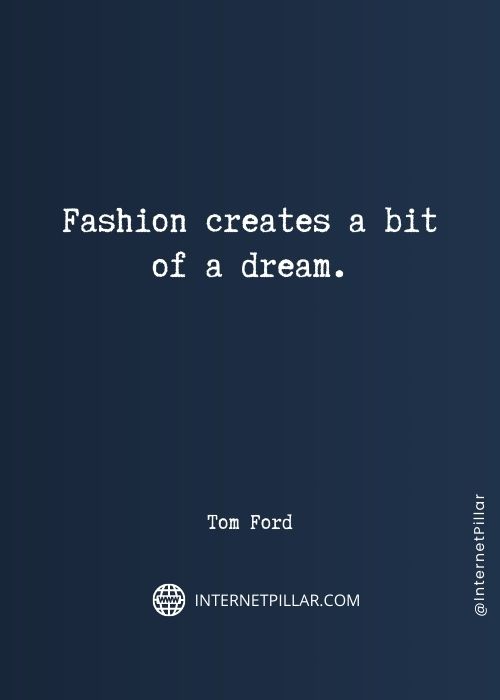 Fashion creates a bit of a dream. ~ Tom Ford.
What works with your skin and eyes? Use that to zero in on your wardrobe. ~ Tom Ford.
I don't work for money any longer. I work for pride. ~ Tom Ford.
I do everything completely naked. ~ Tom Ford.
It's not about what your friends or partner thinks, it's about what you feel. ~ Tom Ford.
I'm actually very introverted. I'm very shy. I'm very emotional. ~ Tom Ford.
I thought I was fabulous and everyone else was stupid. ~ Tom Ford.
When the youth of America gets together, amazing things happen. ~ Tom Ford.
Your name is a funny thing. It stands for what you're about, and everything I do is really about pride. ~ Tom Ford.
There aren't many strong or charismatic candidates today, because many people can't withstand the scrutiny. ~ Tom Ford.
I'm a perfectionist to the point of insanity. ~ Tom Ford.
British men are peacocks. You see a lot more style on the streets here than you see anywhere else, on every level. ~ Tom Ford.
There is no more dramatic accessory than a perfect lip. It is the focus of the face and it has the power to define a woman's whole look. ~ Tom Ford.
Top Tom Ford Quotes
I think people who are attracted to the fashion industry are people who are really insecure and looking for a certain identity. ~ Tom Ford.
It's really about putting that sort of quality and beauty back into our life. ~ Tom Ford.
We are living in a material world, so why not live with something beautiful? ~ Tom Ford.
It's really never fair to judge people because none of us know what's going on inside anyone else's head. ~ Tom Ford.
Fashion is everything. Art, music, furniture design, graphic design, hair, makeup, architecture, the way cars look – all those things go together to make a moment in time, and that's what excites me. ~ Tom Ford.
If you don't need to quit drinking, you shouldn't quit drinking. I used to really love to drink, and especially living in London, it's just built for drinking… ~ Tom Ford.
I worry constantly and obsess over things, but I just don't let fear stand in the way of doing something that I really want to do. ~ Tom Ford.
I don't do shows. I don't have reviews. I'm not putting the clothes on every celebrity so that by the time they reach the store the customers are sick of seeing them. ~ Tom Ford.
If my parents had discouraged me, I would have turned out very differently. They raised me in an open-minded, liberal environment. ~ Tom Ford.
What's so wrong with vanity? It's different from narcissism, you know? It's not about admiring yourself-it's about taking pride in your appearance. ~ Tom Ford.
We have to have genius creative thoughts precisely four times a year and on exact dates. I actually write them on my calendar. I write, 'Friday, Nov. 8. Three o'clock. Have a genius creative idea.' ~ Tom Ford.
Give me the control, don't ever come on the set, and I'll show it to you when it's cut. ~ Tom Ford.
I swore that I wouldn't be one of those parents who leaves a Bugaboo pram parked in the communal entry hall. Well guess what, ours is there right now. ~ Tom Ford.
Inspiring Tom Ford Quotes
On the one hand, I want to go off and live in the desert with my dog and sculpt things out of adobe. ~ Tom Ford.
You should put on the best version of yourself when you go out in the world because that is a show of respect to the other people around you. ~ Tom Ford.
From the time we're born until we die, we're kept busy with artificial stuff that isn't important. ~ Tom Ford.
Just because one is spiritual doesn't mean that one doesn't like crocodile, cashmere. We live in a material world. We still experience these things. It doesn't mean to completely disregard them. ~ Tom Ford.
She needs to have a few drinks and cry a little-then she'll be perfect. ~ Tom Ford.
I believe in living life the way that you want to live it every day, and if you do that, you don't really need to have New Year's resolutions. ~ Tom Ford.
It was like one of those dreams at high school when everyone else has clothes on except you. ~ Tom Ford.
Famous Tom Ford Quotes
As a fashion designer, I was always aware that I was not an artist, because I was creating something that was made to be sold, marketed, used, and ultimately discarded. ~ Tom Ford.
I believe that when you really want to do something, you should go ahead and do it. I mean, I feel fear, but I never let that stop me. ~ Tom Ford.
I think the 1970s will always be the decade for me. Obviously, I grew up in that era, but the beauty standard was touchable, kissable. ~ Tom Ford.
Men don't wear fashion any more except in Italy and London. Americans have lost that. ~ Tom Ford.
You always notice a facelift on a woman. It's a tightness around the ears, and the scar is usually inside the ears. If I suspect it's been done, I usually move around until I can see it. But with a man, it actually pulls your beard and your sideburns back, and that's what's so strange. ~ Tom Ford.
In my adult life I've understood that if I put an enormous amount of love and honesty into something, usually that shows in the end. ~ Tom Ford.
I am one of those people who isn't great at anything, but I'm pretty good at most things. ~ Tom Ford.
Perfection is almost an illness with me, but sometimes I have moments where everything is absolutely clear and you can feel, rather than think. ~ Tom Ford.
When I am on my deathbed, I don't think I will be thinking about a nice pair of shoes I had or my beautiful house. I am going to be thinking about an evening I spent with somebody when I was twenty where I felt that I was just absolutely connected to them. ~ Tom Ford.
A few times in my life I've had moments of clarity where the silence drowns out the noise and I can feel rather than think. ~ Tom Ford.
I think that monogamy is artificial. I do not think it's something that comes naturally to us. ~ Tom Ford.
I enjoy the speed of fashion. I love doing different things and I think I still have something valid to say in fashion. ~ Tom Ford.
When I come home I actually take off all my clothes, and I wear no clothes until I leave. I eat naked. I do everything completely naked. ~ Tom Ford.
Everyday is one less day. ~ Tom Ford.
We live in a material world. I'm not saying that beautiful things don't enhance our lives. But, in our culture, we're never happy. ~ Tom Ford.
Popular Tom Ford Quotes
I am not someone who likes cocktail parties or large dinner parties, but I have to attend them often. I much prefer very small dinners with close friends. ~ Tom Ford.
I'm not designing clothes for someone who is doing lines of coke off the table, like I was when I was at Gucci and Saint Laurent. ~ Tom Ford.
I never want to retire until the day I drop dead. I want to work and work and work because work, I don't do for money, I do for love. And I love to work. ~ Tom Ford.
Certain directors are known for a certain kind of beauty; it becomes their signature. ~ Tom Ford.
I probably do have an obsessive personality, but striving for perfection has served me well. ~ Tom Ford.
I'm a fashion designer. What I do is artistic, but I'm not an artist because everything I do is destined to be sold. That's not to say that you can't be an artist and a fashion designer. I think some designers are artists. ~ Tom Ford.
The world might be a very scary place if it were only run by Virgos. ~ Tom Ford.
Part of fashion is newness. It's got to be a new combination of elements that's shocking-stunning-beautiful all at the same time. But it doesn't have any emotion. ~ Tom Ford.
Just like girls need to learn to be comfortable in heels before they go out in them for the first time, a man should try wearing a suit throughout a normal day. I do most things in a suit-and sometimes even in a tuxedo-and so I'm really comfortable in one. ~ Tom Ford.
You know that only thing that has made the whole thing worthwhile has been those few times that I was able to truly connect with another person. ~ Tom Ford.
I don't believe in playing around much with suit cuts. I like a fairly classic shape that gives a man strong shoulders, a fitted waist, and long legs. Classic simplicity always works. ~ Tom Ford.
Banking types should take their cue from Gordon Gekko. Or pick the best-looking banker in their firm and copy him. ~ Tom Ford.
I hate tricky facial hair. If your facial hair is too spotty in places, shave. Just forget about it. ~ Tom Ford.
In the early Seventies, I had shoulder-length hair, bell-bottom pants, love beads and shirts that laced up at the front. But then I smartened up. ~ Tom Ford.
I guess I'm just one of these people who, when I decide I'm going to do something, I just do it. ~ Tom Ford.
I think that the older you get, the more you become your true, essential self. You find the things that make you happy. You whittle away the parts of yourself that mean less to you. ~ Tom Ford.
Ultimate Tom Ford Quotes
I'm extremely organized. The more things I have to work on and can bounce back and forth between, the more energized I am. ~ Tom Ford.
Want girls to let you put your fingers in certain places? Get a manicure. ~ Tom Ford.
I think people are sick of trends changing every six months – not because we're tired of them, but just for the sake of change. There is so much junk in the world: junk TV, junk movies, all those junk magazines with the same people on the cover. ~ Tom Ford.
I'm a very serious person. ~ Tom Ford.
A lot of people think a high armhole is restrictive, but it gives you total movement because it's cut right up to your arm. ~ Tom Ford.
I just want to make beautiful, glamorous clothes. ~ Tom Ford.
The idea of losing someone that you love could throw you into a situation where you could not see your future and you really would be living in the past. ~ Tom Ford.
I'm a pretty calm person. That came from living in Italy for a long time. Nothing works, nothing is on time. You have to learn to deal with it. ~ Tom Ford.
I haven't had any plastic surgery – despite what people think, this is my nose. I have had Restylane and Botox, but I don't think of that as plastic surgery any more. ~ Tom Ford.
You can't fake anything. If you're honest and true and you love something, and you put that energy into it, people can usually feel it on the other side. ~ Tom Ford.
I don't believe that clothes can start a revolution, but I do believe that fashion is often a manifestation of a sociological or political climate. ~ Tom Ford.
There are no right or wrong answers, there is only intuition. ~ Tom Ford.
If I had been a dog walker, I would have been the most successful dog walker in Paris. ~ Tom Ford.
British people still wear clothes. By clothes I mean actual clothes: jackets and shirts and ties and suits. The spirit of Beau Brummell is still visible. English men make an effort. We've lost that in the US. Everyone is more concerned with being comfortable. ~ Tom Ford.
Inspirational Tom Ford Quotes
I am really a loner after all; I am really not a social person. Because of my job, people think I am out every night, but I really hate all that. I am somebody who likes to be alone and see some close friends. I am a shy and introspective person. ~ Tom Ford.
I think people who are compelled to achieve never really think they've achieved. ~ Tom Ford.
A man should never wear shorts in the city. Flip-flops and shorts in the city are never appropriate. Shorts should only be worn on the tennis court or on the beach. ~ Tom Ford.
Keep your jacket buttoned. Always. It's just really flattering – it will take pounds off you. ~ Tom Ford.
Both film and fashion are businesses where the audience doesn't feel or see the work that goes on behind the scenes. ~ Tom Ford.
Your connections with other people are important, our connection to the earth. ~ Tom Ford.
My real life's not like the fantasy Tom Ford world – with naked girls pouring perfume everywhere. It's more staying in and watching Friends on television. ~ Tom Ford.
Tom Ford Quotes on Fashion
Skin bathed in summer sunset light is sultry and sublime. Every woman looks irresistible in its glow-relaxed and sensual. ~ Tom Ford.
I find a bath meditative and usually prepare myself for the day in this manner. ~ Tom Ford.
I'm a believer in fate and in fulfilling your destiny. I've always had a kind of inner voice that I have learned to listen to. ~ Tom Ford.
When you find somebody good, keep them in your life. ~ Tom Ford.
My goal is to help women to become the best version of themselves. ~ Tom Ford.
Good manners is what transforms a man into a gentleman. ~ Tom Ford.
Real fashion change comes from real changes in real life. Everything else is just decoration. ~ Tom Ford.
I suppose, yes, I've been guilty of provocation but it's also just common sense marketing – put a bottle of scent in a woman's cleavage, or between her thighs – and men will notice. ~ Tom Ford.
Dressing well is a form of good manners. ~ Tom Ford.
My customer has her own sense of style and knows herself well. My goal is to help women become the best version of themselves. ~ Tom Ford.
A good trick as you get older is to get a thick pair of glasses that have a dark frame. Everything else can droop and slide but that pair of dark glasses stays sharp and crisp. ~ Tom Ford.
I don't think fashion has to change every five minutes. I'd like these to be clothes you can wear for a long time – ten, 20 years; pass on to your daughter. Why buy vintage when you can open your own closet! ~ Tom Ford.
I'm a perfectionist, to the point of insanity. ~ Tom Ford.
Only hire people you want to have dinner with. ~ Tom Ford.
You have to love what you do to the point that you can't imagine doing anything else with your life. ~ Tom Ford.
A film should be somewhat personal. I think that whatever you create you have to be true to yourself and create something that feels right to you. ~ Tom Ford.
I am a perfectionist. This job is a total ego thing in a way. To be a designer and say, 'This is the way they should dress; this is the way their homes should look; this is the way the world should be.' But then, that's the goal: world domination through style. ~ Tom Ford.
I was bullied every day at school because I carried a briefcase. I could have left it at home. But I thought it looked great! I didn't understand why anyone else didn't think so. ~ Tom Ford.
When I was a kid, I really thought that the key to happiness was living a very artificial life in a penthouse in New York. ~ Tom Ford.
---
So these were the 107 top Tom Ford quotes on fashion, beauty, style and success.
If you like these quotes and sayings, then you can also read my other posts on Andy Frisella quotes and Jim Jones quotes.