Being unhappy can be a complicated and multifaceted experience, marked by emotions of melancholy, dissatisfaction, or discontent.
It may be caused by a variety of circumstances, including stress, grief, missed expectations, or even loneliness.
In such circumstances, uplifting quotes can provide comfort and perspective.
They are gentle reminders of resilience, hope, and the possibility of happiness even in the face of adversity.
These quotes might help you redirect your attention away from negative thoughts and emotions and toward optimism and thankfulness.
---
Table of Contents
Top 10 Unhappy Quotes
To be happy, let things be. ~ James Pierce.
Unhappy people are dangerous. ~ Rebecca West.
Stop saying yes just to be nice. ~ Layah Heilpern.
Misery is the search for happiness. ~ James Pierce.
It's a hard life if you don't weaken. ~ Stephen King.
We become moral when we are unhappy. ~ Marcel Proust.
Desire is not evil, only misunderstood. ~ James Pierce.
Misery requires effort, happiness does not. ~ James Pierce.
The more refined one is, the more unhappy. ~ Anton Chekhov.
Being rude is the most common sign of unhappiness. ~ Unknown.
Related: 73 Choose Happiness Quotes & Sayings to Be Happy and 73 Being Classy Quotes That Have Lots of Class
Best Sad And Unhappy Quotes
The desire to feel better makes you feel worse. ~ James Pierce.
Attachment creates pain in the name of pleasure. ~ James Pierce.
How unhappy is he who cannot forgive himself. ~ Publilius Syrus.
To be happy, you have to risk being unhappy. ~ Ogwo David Emenike.
Unhappy people compare. Happy people don't care. ~ Gary Goodridge.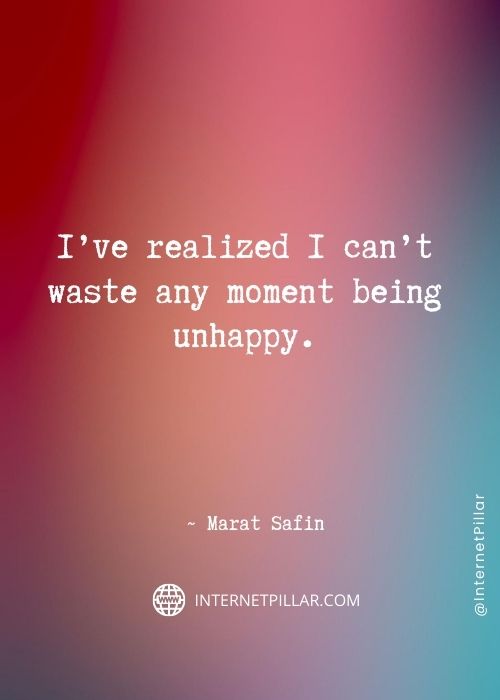 I've realized I can't waste any moment being unhappy. ~ Marat Safin.
Unhappy Quotes
Most people will choose unhappiness over uncertainty. ~ Tim Ferriss.
Anyone who loves music can never be quite unhappy. ~ Franz Schubert.
Chasing happiness is guaranteed to make to you unhappy. ~ Ed Latimore.
It's the most unhappy people who most fear change. ~ Mignon McLaughlin.
If you optimize everything, you will always be unhappy. ~ Donald Knuth.
We are no longer happy so soon as we wish to be happier. ~ Walter Savage.
If you are unhappy, you are too high up in your mind. ~ Carl Gustav Jung.
Happy is the hearing man; unhappy the speaking man. ~ Ralph Waldo Emerson.
Best Unhappy Quotes Ideas Images
If you're unhappy, you should change what you're doing. ~ Marc Andreessen.
The best way to be miserable is by comparing yourself to others. ~ Shane Parrish.
The most unhappy people are those who care only about themselves. ~ Paulo Coelho.
When unhappy, one doubts everything; when happy, one doubts nothing. ~ Joseph Roux.
A happy man has no past, while an unhappy man has nothing else. ~ Richard Flanagan.
Unhappy Quotes To Help You Stop Feeling Miserable
People prefer the certainty of misery to the misery of uncertainty. ~ Virginia Satir.
It's better to be unhappy alone than unhappy with someone – so far. ~ Marilyn Monroe.
How to be unhappy: Pin all your hopes on the things you can't control. ~ Jack Butcher.
Focus. Be here and now. A distracted mind is a recipe for unhappiness. ~ Paulo Coelho.
If you look to circumstances for happiness, you will never find peace. ~ James Pierce.
Misery is what happiness rests upon. Happiness is what misery lurks beneath. ~ Lao Tzu.
When you are unhappy, discover what you are clinging to and let it go. ~ Jan Chozen Bays.
Let no one who loves be unhappy, even love unreturned has its rainbow. ~ James M. Barrie.
Unhappy Quotes to Bring Out Your Inner Happiness
The natural state of the sentient adult is a qualified unhappiness. ~ F. Scott Fitzgerald.
I'm surprised to see how many people are happy with their own unhappiness. ~ Paulo Coelho.
Unhappiness lies in that gap between our talents and our expectations. ~ Sebastian Horsley.
When unhappy, one doubts everything. When happy one doubts nothing. ~ Philibert Joseph Roux.
A great way to be unsuccessful is to care deeply about everybody's opinion about you. ~ Zuby.
One can be unhappy before eating caviar, even after, but at least not during. ~ Irving Kristol.
I was deeply unhappy, but I didn't know it because I was so happy all the time. ~ Steve Martin.
Feeling Unhappy Quotes
If any be unhappy, let him remember that he is unhappy by reason of himself alone. ~ Epictetus.
The moment is beautiful, yes. But attachment to that beauty removes one from it. ~ James Pierce.
The desire for happiness creates misery. True happiness is the absence of desire. ~ James Pierce.
People are not looking for happiness, people are looking for an escape from misery. ~ Brian Norgard.
When one searches for happiness, he remains tied to misery. The two are inseparable. ~ James Pierce.
The primary cause of unhappiness is never the situation, but your thoughts about it. ~ Eckhart Tolle.
Quotes about Unhappy
The more you need to signal to others that you're happy, the less happy you really are. ~ Shane Parrish.
Happiness cannot be accumulated. What is accumulated is always destructed by time. ~ Jiddu Krishnamurti.
Have you noticed it's always unhappy people who attack the things happy people believe in? ~ Jeff Guinn.
People don't know when they are happy. They're never so unhappy as they think they are. ~ Marcel Proust.
If you make others happy, you'll be happy. If you make others unhappy, you'll be miserable. ~ Dalai Lama.
I would not have traded the delights of my suffering for anything in the world. ~ Gabriel García Márquez.
Emotion in itself is not unhappiness. Only emotion plus an unhappy story is unhappiness. ~ Eckhart Tolle.
In separateness lies the world's greatest misery; in compassion lies the world's true strength. ~ Buddha.
Unhappy Quotes about Life
I barricaded myself and stared out the window, without seeing anything but my own unhappiness. ~ Thomas Bernhard.
You know, happiness isn't a permanent state. Neither is unhappiness. There's a flow, back and forth. ~ Carole Glickfeld.
The unhappy person is never present to themself because they always live in the past or the future. ~ Søren Kierkegaard.
Indeed there has never been any explanation of the ebb and flow in our veins of happiness and unhappiness. ~ Virginia Woolf.
Whoever does not regard what he has as most ample wealth, is unhappy, though he may be master of the whole world. ~ Epicurus.
There's no point in being unhappy about things you can't change, and no point being unhappy about things you can. ~ Dan Harris.
I have learned now that while those who speak about one's miseries usually hurt, those who keep silence hurt more. ~ C. S. Lewis.
Your unhappiness ultimately arises not from the circumstances of your life but from the conditioning of your mind. ~ Eckhart Tolle.
The capacity to be either happy or unhappy is determined by the manner in which you react to whatever happens. ~ Norman Vincent Peale.
If you're always battling against getting older, you're always going to be unhappy, because it's going to happen anyhow. ~ Mitch Albom.
Do not give in too much to feelings. A overly sensitive heart is an unhappy possession on this shaky earth. ~ Johann Wolfgang von Goethe.
Avoidable human misery is more often caused not so much by stupidity as by ignorance, particularly our ignorance about ourselves. ~ Carl Sagan.
---
So these were the 70 Quotes about Unhappy.
If you like these quotes, then you can also read our other posts on Humanity Quotes and Calm Quotes and Serenity Quotes and Optimism Quotes and Tea Quotes.
---
References: