Being classy is being polite and well-mannered.
It means you act in a way that shows you care about other people and how you present yourself.
Being classy might mean wearing nice clothes or behaving in a way that is respectful.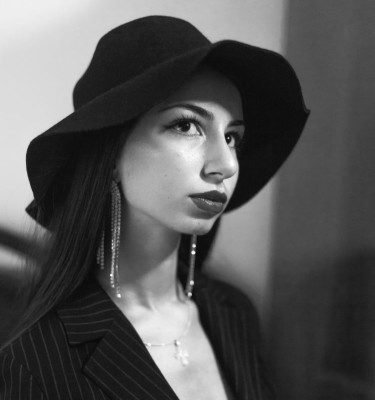 People, places, and things with a lot of "class" are referred to as "classy." A sophisticated individual, however, isn't merely someone who dresses in high-end clothing.
Classy may also apply to someone who holds himself to a high standard in his behavior. Ladies are greeted by a male who opens doors for them.
Here is the best collection of being classy quotes and sayings. You can read, enjoy and share these quotes about being classy with your friends and family members.
---
Best Being Classy Quotes
The elegance under pressure is the result of fearlessness. ~ Ashish Patel.
Simplicity is the ultimate sophistication. ~ Leonardo da Vinci.
Fashion is the armor to survive the reality of everyday life. ~ Bill Cunningham.
Elegance is a progressive concept. ~ Hedi Slimane.
If you ask what the ten things that improve the quality of this rude world are, I would say one right away: Elegance! ~ Mehmet Murat İldan.
Age is an issue of mind over matter. If you don't mind, it doesn't matter. ~ Mark Twain.
Being male is a matter of birth. Being a man is a matter of age. But being a gentleman is a matter of choice. ~ Vin Diesel.
Fashion anticipates… elegance is a state of mind. ~ Oleg Cassini.
Chic is a combination of style and fashion. ~ Elizabeth Hawes.
Elegance and honesty are two mandatory parameters for any human production. ~ Philippe Starck.
A guy wants a classy girl who is smart and has goals – someone that he wouldn't be afraid to bring home to his parents. ~ Victoria Justice.
Ah, dinner time. A time when you can class it up, or inadvertently do the opposite. ~ Sara Altschule.
Inspirational Being Classy Quotes
When it comes to the topic of class, there are many different definitions. Webster's Dictionary defines class as, "a division of society consisting of people with similar levels of wealth, education, or occupation." 

While this may be one definition of class, it is not the only one. There is a certain air about someone who is considered to be classy. 

They carry themselves with dignity and grace. They are polite and respectful. They know how to dress for any occasion and they always look their best.
She's just a very classy lady, always knows what to say and how to approach someone; she is very caring. ~ Joy Smith.
Chic is when a woman is in harmony with herself. ~ Giambattista Valli.
Elegance is achieved when all that is superfluous has been discarded and the human being discovers simplicity and concentration: the simpler and more sober the posture, the more beautiful it will be. ~ Paulo Coelho.
In temperance there is ever cleanliness and elegance. ~ Joseph Joubert.
Elegance is timeless. It withstands trend; it withstands the commercialization of what fashion and style have become. ~ Zac Posen.
I do not connect fashion to elegance. Elegance is in the wilderness, and fashion is in the domestic. ~ Nate Lowman.
Dressing well is a form of good manners. ~ Tom Ford.
In character, in manner, in style, in all the things, the supreme excellence is simplicity. ~ Henry Wadsworth Longfellow.
We have classy things and sexy things. We like to look pretty, no matter how big we get. ~ Carol Johnson.
The expression a woman wears on her face is more important than the clothes she wears on her back. ~ Dale Carnegie.
Being stylish is about enjoying your life and expressing yourself and your inner light. ~ Tori Amos..
Fashion is nothing more than the temporary custom of rich and idle people who make it their principal business to study the external elegance of life. ~ Philip Gilbert Hamerton.
Famous Being Classy Quotes
Being classy means behaving in a way that is considered to be sophisticated and elegant. 

For example, someone who is classy might dress in expensive clothes and behave in a polite and restrained manner. Another example would be someone who is always well-groomed and never uses foul language.
Don't be into trends. Don't make fashion own you, but you decide what you are. ~ Gianni Versace.
Dress shabbily and they remember the dress; dress impeccably and they remember the woman. ~ Coco Chanel.
The way you dress is how you greet the sun and other stars. ~ Kamand Kojouri.
I believe one can live many lives through personal style. Every day is an occasion to reinvent yourself. ~ Ralph Lauren.
The most sophisticated people I know – inside they are all children. ~ Jim Henson.
I call everyone 'Darling' because I can't remember their names. ~ Zsa Zsa Gabor.
We age not by holding on to youth, but by letting ourselves grow and embracing whatever youthful parts remain. ~ Keith Richards.
Trendy is the last stage before tacky. ~ Karl Lagerfeld.
True sensuality is classy, not trashy. ~ Lebo Grand.
Elegance is something more than ease – more than a freedom from awkwardness and restraint. It implies precision, a polish, and a sparkling which is spirited, yet delicate. ~ William Hazlitt.
Popular Being Classy Quotes
I dress in a sophisticated and classy way – I always dress in a way I know my mother wouldn't be embarrassed to see. ~ Jessie Ware.
Classy is when a woman has everything to flaunt but chooses not to show it. ~ Unknown.
I feel that my environment reflects my belief in the grace and art and elegance of living simply. ~ Bell Hooks.
Being classy is my teenage rebellion. ~ Rebecca Mckinsey.
True class can never receive the highest grade.. for its grade is endless. ~ Denise Newsome.
Tact is the ability to tell someone to go to hell in such a way that they look forward to the trip. ~ Winston Churchill.
Being classy is a culmination of being yourself, being positive, and doing good in all the places you can by all the means you can. Clothes, hair, music, film….none of these things a classy person makes. ~ Unknown.
A stylish person, for me, is one who draws your eye without necessarily being showy; they wear clothes that are beautifully cut, flatter the wearer, and show that they are not impervious to fashion, but not a slave to it either. ~ Jojo Moyes.
Elegance is a statement, an attitude. Elegant women are women of character with confidence. ~ Elie Saab.
Humility is the best dress you can wear. ~ Treasure Stitches.
Elegant is not what you wear, and it's not about how you wear it, but it's more about who you are. ~ Alber Elbaz.
Fashion is an expression of the times. Elegance is something else again. ~ Horst P. Horst.
The dress must follow the body of a woman, not the body following the shape of the dress. ~ Hubert de Givenchy.
Always be a first rate version of yourself instead of a second rate version of somebody else. ~ Judy Garland.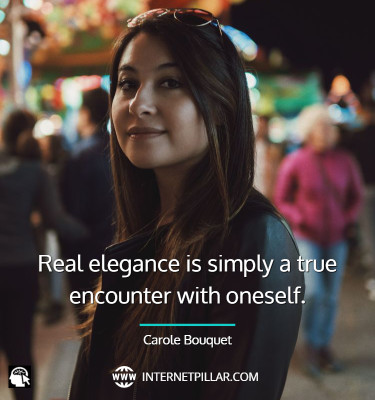 Real elegance is simply a true encounter with oneself. ~ Carole Bouquet.
I got my style from my mom, she was a classy lady. ~ Big Freedia.
Braininess is not attractive unless combined with some signs of elegance; class. ~ Alice Munro.
Top Being Classy Quotes
It is not chic to be too chic. ~ Elsie de Wolfe.
Be classy. Anything but trashy. ~ Coco Chanel.
A girl should be two things: classy and fabulous. ~ Coco Chanel.
Respect is love in plain clothes. ~ Frankie Byrne.
Elegance is when the inside is as beautiful as the outside. ~ Coco Chanel.
We're very sensitive about what we do, or don't do. We're sassy and classy. ~ Nicole Scherzinger.
Elegance is an attitude. ~ Longines.
I don't like women who follow fashion in the sense of becoming victims of it. I like women who have elegance, who have allure, who use fashion, rather than the other way around. ~ Giorgio Armani.
You may be a princess or the richest woman in the world, but you cannot be more than a lady. ~ Randolph Churchill.
Individuality will always be one of the conditions of real elegance. ~ Christian Dior.
Respect for ourselves guides our morals, respect for others guides our manners. ~ Laurence Sterne.
I don't consider myself a goody-goody, but I like to be perceived as classy. ~ Kristen Johnston.
Being classy isn't a choice. It's a lifestyle. ~ Unknown.
Every woman is after a kind of classy image. ~ Evangeline Lilly.
Isn't elegance forgetting what one is wearing? ~ Yves Saint Laurent.
There is more to being classy than simply being stylish and confident. Being classy means always being kind, respectful and polite, even to those who are unkind to you. ~ Unknown.
I've tried to find a new elegance. It's not easy because people want to be shocked. They want explosive fashion. But explosions don't last, they disappear immediately and leave nothing but ashes. ~ Giorgio Armani.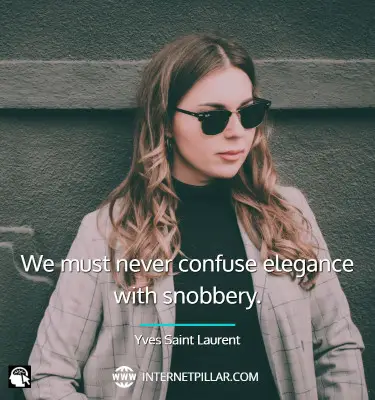 We must never confuse elegance with snobbery. ~ Yves Saint Laurent.
Beauty of style and harmony and grace and good rhythm depend on simplicity.
Plato.
I change my style maybe every month. I'm, like, punk one month, ghetto fab the next, classy the next. I'm just young and finding out who I am. ~ Kylie Jenner.
Do you know what elegance is? It is not only what you're wearing. It is how you wear it. Who you are inside. ~ Carolina Herrera.
---
So these were the 73 quotes about Being Classy.
If these quotes and sayings connect with you, check out our other posts on beautiful women quotes and successful women quotes and cricket quotes and bonding quotes.
You are welcome to share these inspiring and motivating quotations with your friends and family on social media platforms such as Facebook, WhatsApp, Twitter, Pinterest, and Instagram to motivate them to improve their lives and achieve success!
---
Frequently Asked Questions about Being Classy
What does it mean to be classy?
In a world where the term "classy" is thrown around loosely, it can be hard to determine what it really means.
To some, it may mean having expensive taste in fashion or being wealthy. To others, it might mean having good manners and being well-educated.
But at its core, being classy is about having a certain level of sophistication and grace that sets you apart from the rest.
It's about taking pride in who you are and living your life with elegance and integrity. So if you're looking to add a little more class to your life, here are a few tips:
1. Dress like a lady (or gentleman)
2. Be modest and humble
3. Speak eloquently
4. Live with purpose
5. Embrace your femininity (or masculinity)
6. Be confident and positive
7. Improve your health
8.  Have a hobby
9.  Be polite
10. Don't take yourself too seriously
11. Have good manners
12. Appreciate everything you have
13. Be forgiving
14. Work hard
15. Don't be afraid to ask for help
16. Show compassion
17. Appreciate your relationships
18. Dress up
19. Be nice to everyone
20. Be respectful.
What is the meaning of classy woman?
The word "classy" is often used to describe women who know how to carry themselves with poise and grace.
A classy woman is someone who is not afraid to be herself and doesn't feel the need to dress or act a certain way in order to fit in.
She is confident in her own skin and knows that she can hold her own in any situation.
A classy woman also has a sense of humor and isn't afraid to laugh at herself.
She is kind and generous, and always puts others before herself.
How to Be Classy?
One can often hear the phrase "classy lady" or "classy gentleman." What does this mean and how can one become classy?
Class is often mistaken for being snobbish or standoffish, but this is not the case.
A classy person is confident without being cocky, they have good manners and know how to act in any situation.
There are a few key things to remember in order to be classy: dress appropriately, be well-mannered, and don't be a pushover.