Unity means being together and working together.
It's like when people work together to build a house.
Everyone has a job to do and they all work together to finish the house.
That's unity.
Here is the best collection of unity quotes and sayings.
You can read, enjoy and share these quotes about unity with your friends and family members.
---
Best Unity Quotes
Unity without verity is no better than conspiracy. ~ John Trapp.
When spiders unite, they can tie down a lion. ~ Unknown.
Even the weak become strong when they are united. ~ Friedrich von Schiller.
Unity is vision, it must have been part of the process of learning to see. ~ Henry Adams.
Like a sculptor, if necessary, carve a friend out of stone. Realize that your inner sight is blind and try to see a treasure in everyone. ~ Jalaluddin Rumi.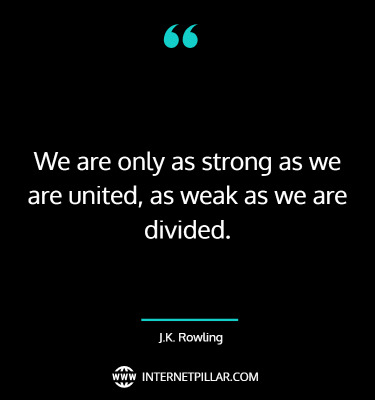 We are only as strong as we are united, as weak as we are divided. ~ J.K. Rowling.
In crucial things, unity. In important things, diversity. In all things, generosity. ~ George H. W. Bush.
In order to have a winner, the team must have a feeling of unity ~ every player must put the team first ahead of personal glory. ~ Paul Bryant.
You are never alone. You are eternally connected with everyone. ~ Amit Ray.
Unity, not uniformity, must be our aim. We attain unity only through variety. Differences must be integrated, not annihilated, not absorbed. ~ Mary Parker Follett.
We cannot be separated in interest or divided in purpose. We stand together until the end. ~ Woodrow T. Wilson.
We are each other's harvest, we are each other's business, we are each other's magnitude and bond. ~ Gwendolyn Brooks.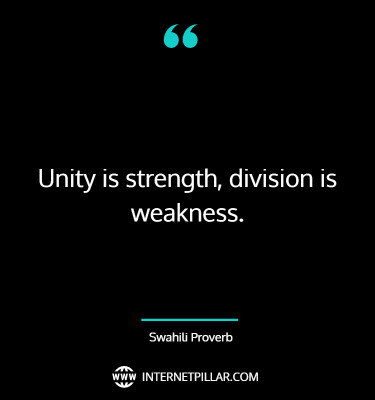 Unity is strength, division is weakness. ~ Swahili Proverb.
We should attempt to bring nature, houses, and human beings together in a higher unity. ~ Ludwig Mies van der Rohe.
Famous Unity Quotes
Unity can only come when there is better coordination and mutual understanding in the society. ~ Atharva Veda.
Coming together is a beginning. Keeping together is progress. Working together is success. ~ Henry Ford.
Our cultural strength has always been derived from our diversity of understanding and experience. ~ Yo Yo Ma.
The significance which is in unity is an eternal wonder. ~ Rabindranath Tagore.
Buddhism… is based on a religious sense aspiring from the experience of all things, natural and spiritual, as a meaningful unity. ~ Albert Einstein.
Society is unity in diversity. ~ George Herbert Mead.
I want to enjoy not getting recognized while it lasts. But the mask is a symbol of unity. ~ Alan Walker.
Where there is unity there is always victory. ~ Publilius Syrus.
Popular Unity Quotes
Being one in spirit or in harmony is the definition of unity. We can all work, and we all have the capacity to start a business, but we can only win if we work together. Individually, we are a drop in the ocean, but when we work together, we are an ocean.
The deepest level of communication is not communication, but communion. It is wordless…beyond speech…beyond concept. ~ Thomas Merton.
The significance which is in unity is an eternal wonder. ~ Rabindranath Tagore.
The essence of the beautiful is unity in variety. ~ W. Somerset Maugham.
When I make a fist, it's strong, and you can't tear it apart. As long as there's unity, there's strength. ~ Ara Parseghian.
In union there is strength. ~ Aesop.
There is power in unity. There is power in strength. ~ Bradley Beal.
For the strength of the pack is the wolf, and the strength of the wolf is the pack. ~ Rudyard Kipling.
Together, we form a necessary paradox; not a senseless contradiction. ~ Criss Jami.
Top Unity Quotes
We cannot live only for ourselves. A thousand fibers connect us with our fellow men. ~ Herman Melville.
Strength in bonded unity overcomes momentary individual vulnerability. ~ Hubbs.
No doubt, unity is something to be desired, to be striven for, but it cannot be willed by mere declarations. ~ Theodore Bikel.
I offer you peace. I offer you love. I offer you friendship. I see your beauty. I hear your need. I feel your feelings. ~ Mahatma Gandhi.
When there is no enemy within, the enemies outside cannot hurt you. ~ Winston S. Churchill.
You don't get unity by ignoring the questions that have to be faced. ~ Jay Weatherill.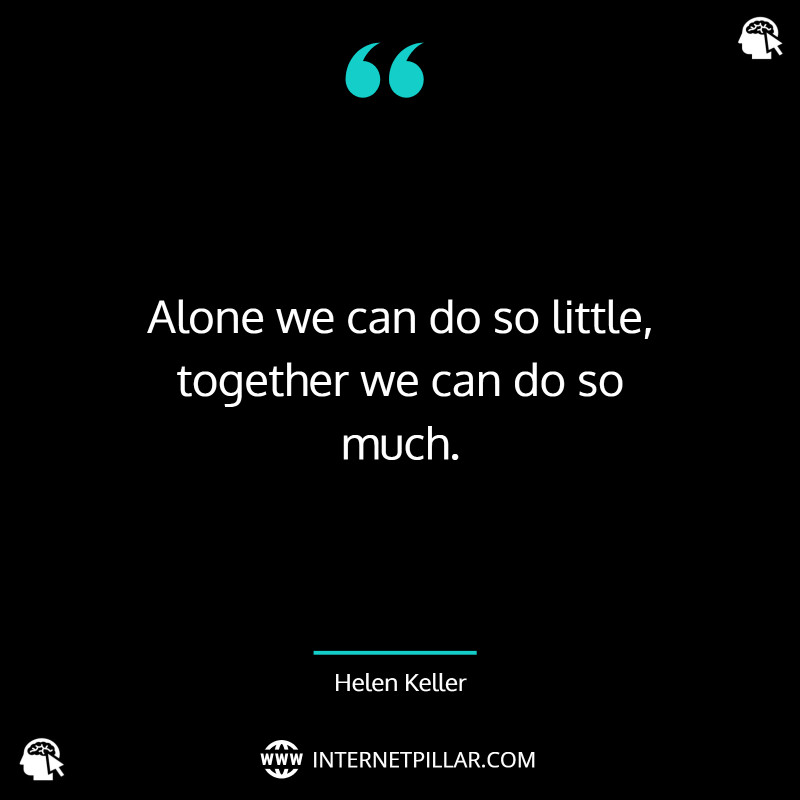 Alone we can do so little, together we can do so much. ~ Helen Keller.
If everyone helps to hold up the sky, then one person does not become tired. ~ Askhari Johnson Hodari.
As the unity of the modern world becomes increasingly a technological rather than a social affair. ~ Marshall McLuhan.
There is beauty and power in unity. We must be united in heart and mind. One world, one people. ~ Lailah Gifty Akita.
Unity and victory are synonymous. ~ Samora Machel.
Do not follow the ideas of others, but learn to listen to the voice within yourself. Your body and mind will become clear and you will realize the unity of all things. ~ Dogen.
Short Unity Quotes
Unity means being together and working together. It's like when people build a house. Everyone has a job to do and they all work together to build the house. If they didn't work together, the house would never get built.
Unity is a kind of engine for the everyman. ~ Tim Sweeney.
We cannot live only for ourselves. A thousand fibers connect us with our fellow men. ~ Herman Melville.
United we stand, divided we fall. ~ Proverb.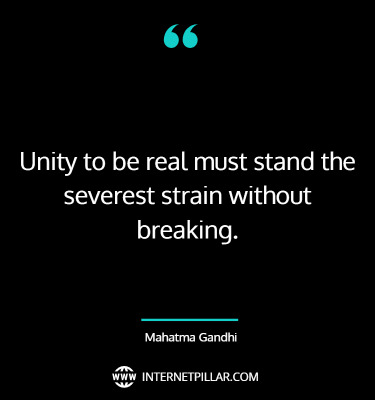 Unity to be real must stand the severest strain without breaking. ~ Mahatma Gandhi.
We must learn to live together as brothers or perish together as fools. ~ Martin Luther King, Jr.
Our flag is not just one of many political points of view. Rather, the flag is a symbol of our national unity. ~ Adrian Cronauer.
So powerful is the light of unity that it can illuminate the whole earth. ~ Baha'U'Llah.
Unity is vision, it must have been part of the process of learning to see. ~ Henry Adams.
Inspirational Unity Quotes
Unity is strength… when there is teamwork and collaboration, wonderful things can be achieved. ~ Mattie Stepanek.
Build for your team a feeling of oneness, of dependence on one another and of strength to be derived by unity. ~ Vince Lombardi.
I think my best skill in this whole deal is as a conduit to try to bring people together, because I think it's in our unity that we'll have the greatest strength. ~ Woody Harrelson.
There is more power in unity than division. ~ Emanuel Cleaver.
Held fast by love and unity. ~ Edgar Albert Guest.
---
So these were the 56 quotes about Unity.
If these quotes and sayings connect with you, check out our other posts on singing quotes and Graduating High School quotes.
You are welcome to share these inspiring and motivating quotations with your friends and family on social media platforms such as Facebook, WhatsApp, Twitter, Pinterest, and Instagram to motivate them to improve their lives and achieve success!