Singing is the act of using one's voice to create musical sounds.
A singer, often known as a vocalist, is someone who sings.
Singing improves composure, self-esteem, and public speaking abilities. Singing improves memory and focus.
Singing strengthens the lungs and improves posture.
Singing increases the range of expressive communication.
Here is the best collection of singing quotes and sayings. You can read, enjoy and share these quotes about singing with your friends and family members.
---
Best Singing Quotes
If everyone started off the day singing, just think how happy they'd be. ~ Lauren Myracle.
It is the best of all trades, to make songs, and the second best to sing them. ~ Hilaire Belloc.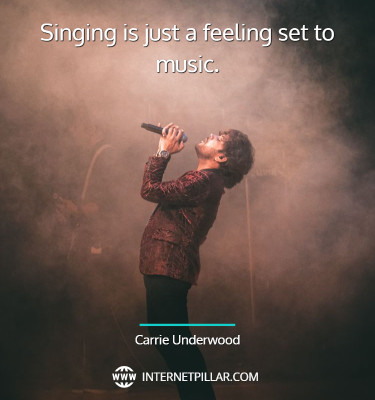 Singing is just a feeling set to music. ~ Carrie Underwood.
But when our voices join together, the music sets us free. ~ Julia K. Dinsmore.
In life, you either choose to sing a rainbow, or you don't. Keep singing. ~ Kathleen Long.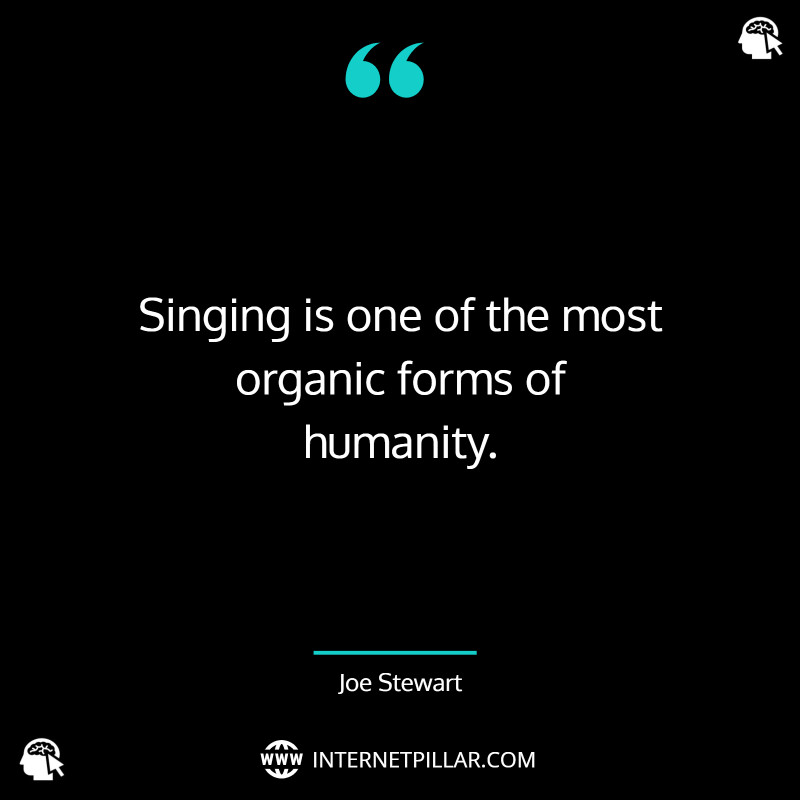 Singing is one of the most organic forms of humanity. ~ Joe Stewart.
Sometimes, when we are sad, we have to do the opposite of sad. Sometimes we have to sing. ~ Daisy Whitney.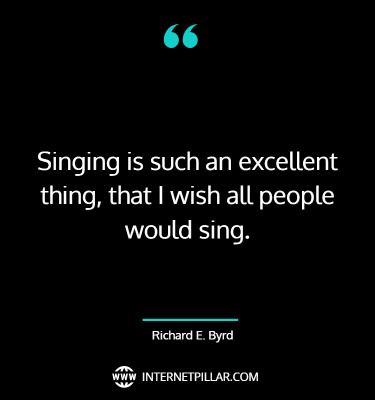 Singing is such an excellent thing, that I wish all people would sing. ~ Richard E. Byrd.
His tongue is now a stringless instrument. ~ William Shakespeare.
Singing allowed me to express myself in ways that I wouldn't be able to do otherwise. ~ Josh Turner.
Powerful Singing Quotes
Singing is like when you speak, but instead of using your voice, you use your singing voice. Singing is a way to express how you feel. Singing can make you happy, or it can make you sad. When you sing, you can tell a story, or just sing for fun!
Singing is one preparation for heaven. ~ Joseph Gurney Bevan.
Singing is my life. It has always been my life. It will always be my life. ~ Celia Cruz.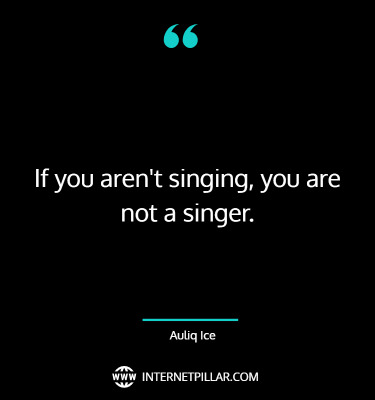 If you aren't singing, you are not a singer. ~ Auliq Ice.
There is no sorrow in singing. ~ Lailah Gifty Akita.
Music heals all forms of misery. ~ Friedrich Nietzsche.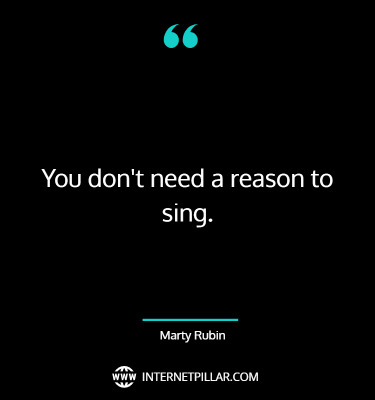 You don't need a reason to sing. ~ Marty Rubin.
Let us go singing as far as we go: the road will be less tedious. ~ Virgil.
Famous Singing Quotes
Love, I find, is like singing. ~ Zora Neale Hurston.
It is the best of all trades, to make songs, and the second best to sing them. ~ Hilaire Belloc.
Those who wish to sing always find a song. ~ Swedish Proverb.
You chose the toughest song to sing tonight … and you worked it out. ~ Randy Jackson.
Singing is the language of the soul,
The way we speak when we can't find the words.
It's a way to connect with the divine,
And express our deepest desires and fears.
When we sing from our heart,
We open up to the possibility of magic.
The voice is a powerful tool,
For healing and transformation. ~ Chandan Negi.
A lot of work. A lot of vocal coaching, a lot of instrument training. ~ Reese Witherspoon.
Singing is a natural outgrowth of time spent in revelry. ~ Adam Reinwald.
When I discovered music – when I discovered the craft of shaping a song – my being fell into place. ~ Charlotte Eriksson.
Sing like no one is listening. ~ Unknown.
Singing is one of the most beautiful forms of expression. ~ Unknown.
Singing is the language of the soul. ~ Unknown.
I don't know what happens to me on stage. Something else seems to take over. ~ Maria Callas.
Great Singing Quotes
Sing again, with your dear voice revealing A tone Of some world far from ours, Where music and moonlight and feeling Are one. ~ Percy Bysshe Shelley.
Music is the strongest form of magic. ~ Marilyn Manson.
Singing evokes the temple of the soul. ~ Unknown.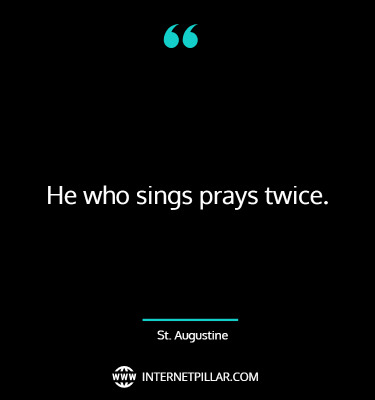 He who sings prays twice. ~ St. Augustine.
For me, singing is the most natural thing in the world. I've grown up with it and I know I've got that gift. ~ Stella Mccartney.
There are always going to be bad things. But you can write it down and make a song out of it. ~ Billie Eilish.
The woods would be quiet if no bird sang but the one that sang best. ~ Henry van Dyke.
Popular Singing Quotes
The softer you sing, the louder you're heard. ~ Donovan.
You can cage the singer but not the song. ~ Harry Belafonte.
Words make you think. Music makes you feel. A song makes you feel a thought. ~ Yip Harburg.
If I cannot fly, let me sing. ~ Stephen Sondheim.
We don't just sing; we are the song. ~ Louise Penny.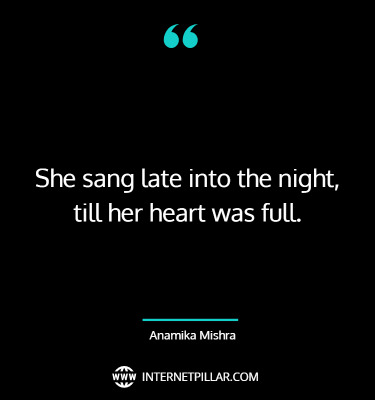 She sang late into the night, till her heart was full. ~ Anamika Mishra.
If God wanted the woods to be quiet, He would not have given birds songs to sing. ~ Matshona Dhliwayo.
Lovely Singing Quotes
Singing is a powerful tool for self-realization and for nourishment of others. Developing it is a shared responsibility. ~ Meribeth A. Dayme.
Singing provides a true sense of lightheartedness. If I sing when I am alone, I feel wonderful. It's freedom. ~ Andrea Bocelli.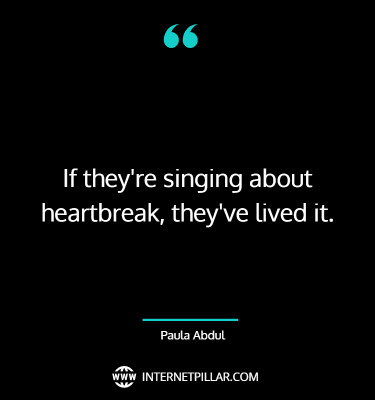 If they're singing about heartbreak, they've lived it. ~ Paula Abdul.
Sing as though you're summoning the heavens; silver your voice and bare your throat. ~ Roshani Chokshi.
Some days there won't be a song in your heart. Sing anyway. ~ Emory Austin.
Top Singing Quotes
Blessed is the nightbird that sings for joy and not to be heard. ~ Marty Rubin.
When a singer truly feels and experiences what the music is all about, the words will automatically ring true. ~ Montserrat Caballe.
Music is the fastest motivator in the world. ~ Amit Kalantri.
God respects me when I work, but he loves me when I sing. ~ Rabindranath Tagore.
To sing is to bring to the surface all the depth of one's being. ~ Marty Rubin.
Singing is the sound of the soul. ~ James Runcie.
Singing is a miracle. It has been called the most complex coordinative act that a human being is ever called upon to perform. ~ Dan Marek.
Anything that is too stupid to be spoken is sung. ~ Voltaire.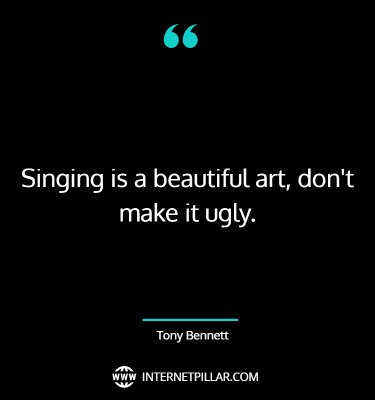 Singing is a beautiful art, don't make it ugly. ~ Tony Bennett.
Music shouldn't be just a tune, it should be a touch. ~ Amit Kalantri.
A bird doesn't sing because it has an answer, it sings because it has a song. ~ Lou Holtz.
There is delight in singing, though none hear beside the singer. ~ Walter Savage Landor.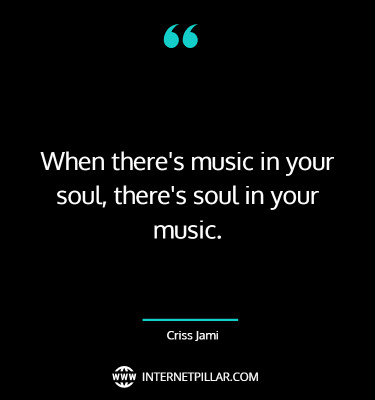 When there's music in your soul, there's soul in your music. ~ Criss Jami.
Basically, I started singing when I started talking. Music has just been my saving grace my whole life. ~ Mariah Carey.
Short Singing Quotes
As long as we live, there is never enough singing. ~ Martin Luther.
Singing on earth is an accomplishment we can carry with us to heaven. ~ Maria L. Pizzoli.
Singing dissipates sorrow. ~ Lailah Gifty Akita.
If you're gonna sing, sing loud. ~ Travis Tritt.
To me, singing is like talking. If it ain't natural, it ain't right. ~ B.B. King.
Words make you think. Music makes you feel. A song makes you feel a thought. ~ E.Y. Harburg.
We sing because we can't speak anymore. ~ Kristen Chenoweth.
I sing, no matter who is listening coz it is my natural way of expression. ~ Jeffy Thomas.
Beautiful Singing Quotes
Not to say that music today doesn't have heart, but it's really few and far between because technology has advanced itself so much that anybody can be a singer. Back in the day, you had to know how to sing. ~ Christina Aguilera.
He who sings frightens away his ills. ~ Miguel de Cervantes.
There's no half-singing in the shower, you're either a rock star or an opera diva. ~ Josh Groban.
Singing is a way of escaping. It's another world. I'm no longer on earth. ~ Edith Piaf.
Singing in a storm silences thunder's threats. ~ Matshona Dhliwayo.
Let's sing our way out of this. ~ Isabel.
The only thing better than singing is more singing. ~ Ella Fitzgerald.
---
So these were the 75 quotes about singing.
If these quotes and sayings connect with you, check out our other posts on negative people quotes and fence quotes.
You are welcome to share these inspiring and motivating quotations with your friends and family on social media platforms such as Facebook, WhatsApp, Twitter, Pinterest, and Instagram to motivate them to improve their lives and achieve success!