This article provides a collection of 78 quotes aimed at overcoming bitterness and resentment, negative emotions that often stem from feelings of hurt, dissatisfaction, or anger.
Bitterness can profoundly impact an individual's actions, leading to cruel or mean behavior towards others.
With the help of these insightful quotes and sayings, readers are encouraged to heal, grow and move past these negative feelings.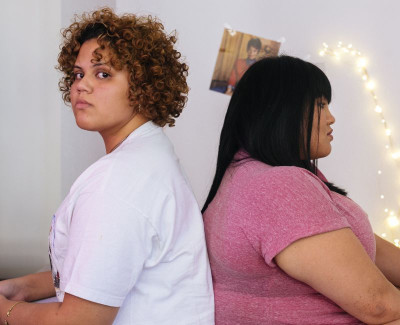 The compilation serves as a valuable resource for anyone grappling with bitterness, offering wisdom and guidance to navigate their emotions and cultivate a more positive mindset.
---
Best Bitterness Quotes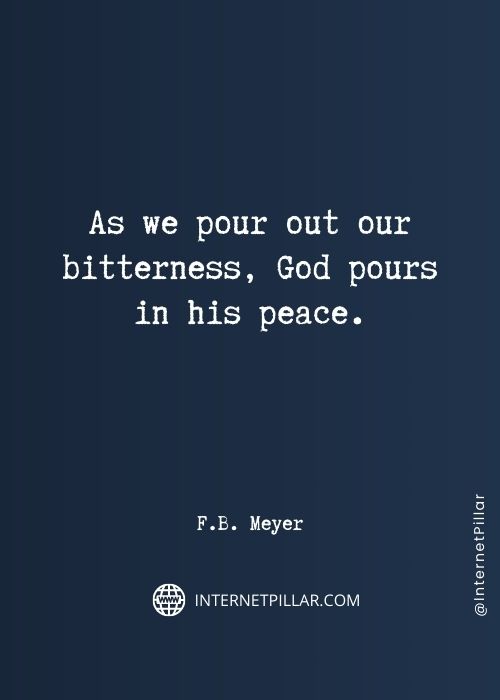 As we pour out our bitterness, God pours in his peace. ~ F.B. Meyer.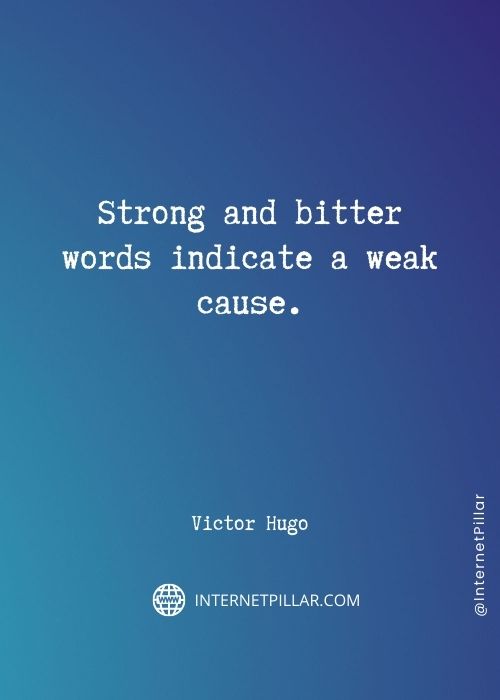 Strong and bitter words indicate a weak cause. ~ Victor Hugo.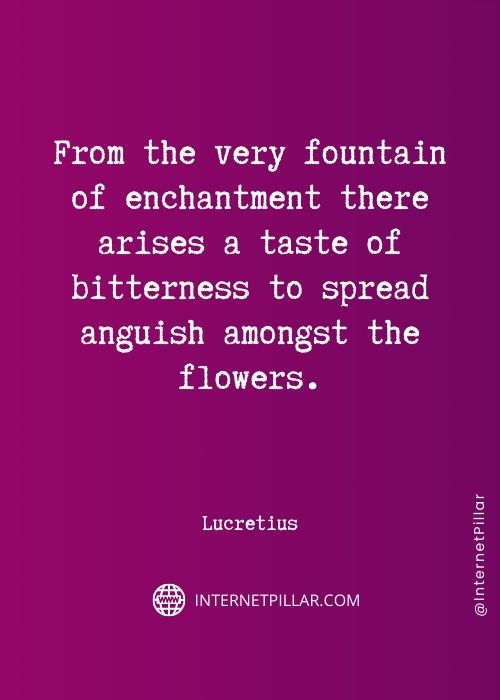 From the very fountain of enchantment there arises a taste of bitterness to spread anguish amongst the flowers. ~ Lucretius.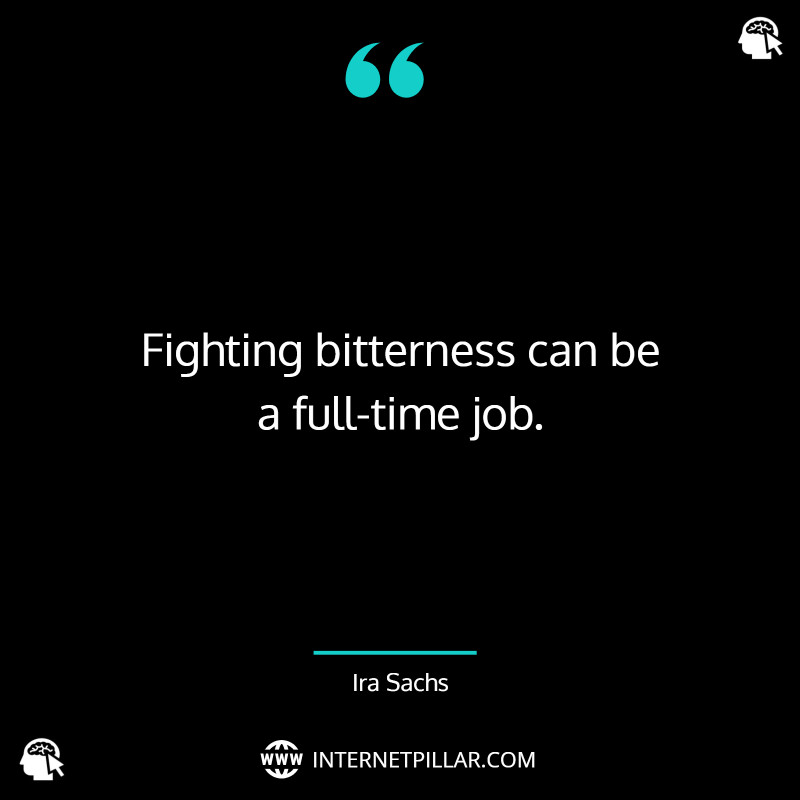 Fighting bitterness can be a full-time job. ~ Ira Sachs.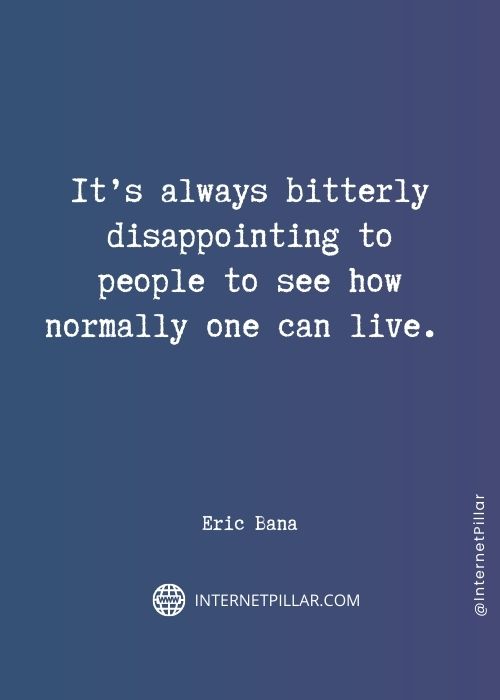 It's always bitterly disappointing to people to see how normally one can live. ~ Eric Bana.
When the root is bitterness – imagine what the fruit might be. ~ Woodrow Kroll.
The heart knoweth his own bitterness. ~ Bible.
Maybe people become bitter when they don't know what they are fighting for. But I keep my eyes open. ~ Eva Gabrielsson.
We can react with bitterness and hate God, as some do, or we can accept suffering as a natural part of life and a condition that comes with living in this world. We cannot avoid suffering, but we can determine our response to it. ~ Billy Graham.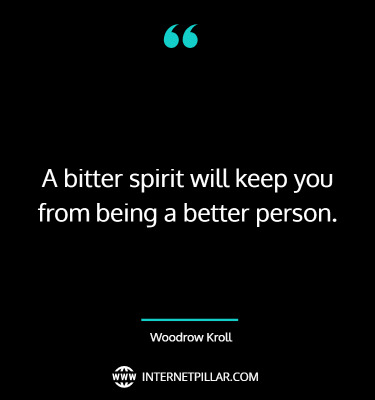 A bitter spirit will keep you from being a better person. ~ Woodrow Kroll.
I am sorry to think that you do not get a man's most effective criticism until you provoke him. Severe truth is expressed with some bitterness. ~ Henry David Thoreau.
I will speak in the anguish of my spirit; I will complain in the bitterness of my soul. ~ Unknown.
I am sorry to think that you do not get a man's most effective criticism until you provoke him. Severe truth is expressed with some bitterness. ~ Henry David Thoreau.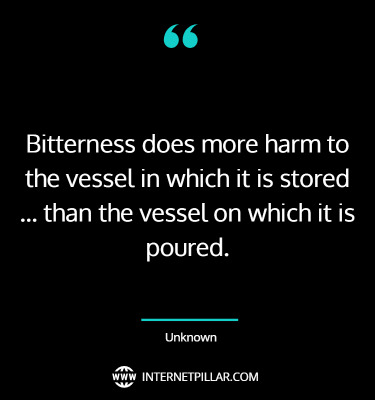 Bitterness does more harm to the vessel in which it is stored … than the vessel on which it is poured. ~ Unknown.
Bitter experience has taught us how fundamental our values are and how great the mission they represent. ~ Jan Peter Balkenende.
One who gossips usually carries boredom in one hand and bitterness in the other. ~ Suzy Kassem.
It's not worth the anger. Energy is everything. Be careful where you spend your energy – because you won't get that time back. ~ Tony Gaskins.
A person who is too proud in love will suffer from the devastating bitterness in the end. ~ Eraldo Banovac.
Famous Bitterness Quotes
I was lucky enough to make four Bond films. It finished in rather shambolic fashion, but I have no bitterness, no resentment. ~ Pierce Brosnan.
If you set your aim too high and don't fulfill it, then your enthusiasm turns to bitterness. Try for a goal that's reasonable, and then gradually raise it. ~ Emil Zatopek.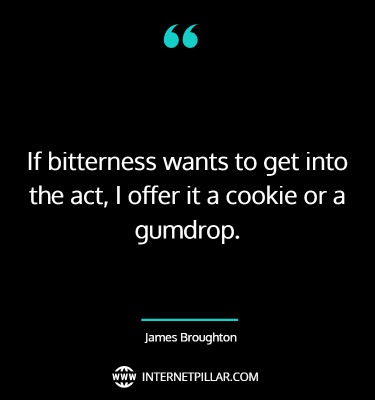 If bitterness wants to get into the act, I offer it a cookie or a gumdrop. ~ James Broughton.
Fighting bitterness can be a full-time job. Ira Sachs We must reject the easy impulses of bitterness and rancor and embrace the difficult work, but the important work, the vital work of finding a path forward together. ~ Loretta Lynch.
You will never hold grudges when you know that your blessings are better than your bitterness. ~ Thandazo Perfect Khumalo.
Beware of those who criticize you when you deserve some praise for an achievement, for it is they who secretly desire to be worshiped. ~ Suzy Kassem.
If only there was a vaccine to end meanness. ~ Karen Salmansohn.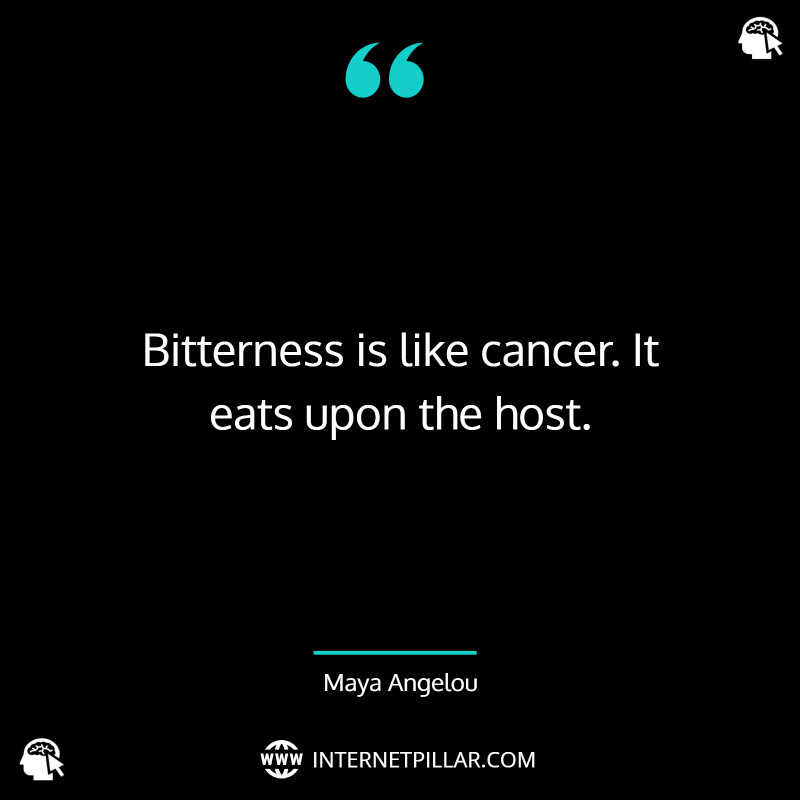 Bitterness is like cancer. It eats upon the host. ~ Maya Angelou.
He who gives away shall have real gain. He who subdues himself shall be free; he shall cease to be a slave of passions. The righteous man casts off evil, and by rooting out lust, bitterness, and illusion do we reach Nirvana. ~ Buddha.
Never trust your tongue when your heart is bitter. ~ Samuel Johnson.
Related Quotes: Bitter People Quotes to Overcome Bitterness and Resentment and Character Quotes and Sayings on Building Reputation
Popular Bitterness Quotes
Hurt leads to bitterness, bitterness to anger, travel too far that road and the way is lost. ~ Terry Brooks.
The roots of education are bitter, but the fruit is sweet. ~ Aristotle.
If you're betrayed, release disappointment at once. By that way, the bitterness has no time to take root. ~ Toba Beta.
When you harbor bitterness, happiness will dock elsewhere. ~ Andy Rooney.
It's better to get busy then to stay bitter. ~ Charles F. Glassman.
If you have been harboring anger or bitterness or jealousy in your heart toward someone – a parent, an ex-spouse, a boss – hand it over to Christ, and ask Him to help you let it go. ~ Billy Graham.
Don't be bitter. Everybody suffers. If you can accept your suffering then you will understand other people better. Be grateful for pain. Love life. ~ Stephen Colbert.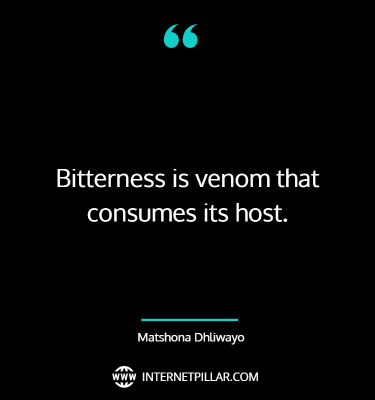 Bitterness is venom that consumes its host. ~ Matshona Dhliwayo.
Life is like that… sometimes you have to peel off the bitterness in order to get to the part that is sweet. ~ Ken Poirot.
Only courageous hearts can endure the bitterness of truth. ~ Michael Bassey Johnson.
Whenever one finds oneself inclined to bitterness, it is a sign of emotional failure. ~ Bertrand Russell.
There is no disappointment so numbing…as someone no better than you achieving more. ~ Joseph Heller.
A bitter feeling is death to the heart. ~ Zulu.
From the heart of the fountain of delight rises a jet of bitterness that tortures us among the very flowers. ~ Lucretius.
As I walked out the door toward the gate that would lead to my freedom, I knew if I didn't leave my bitterness and hatred behind, I'd still be in prison. ~ Nelson Mandela.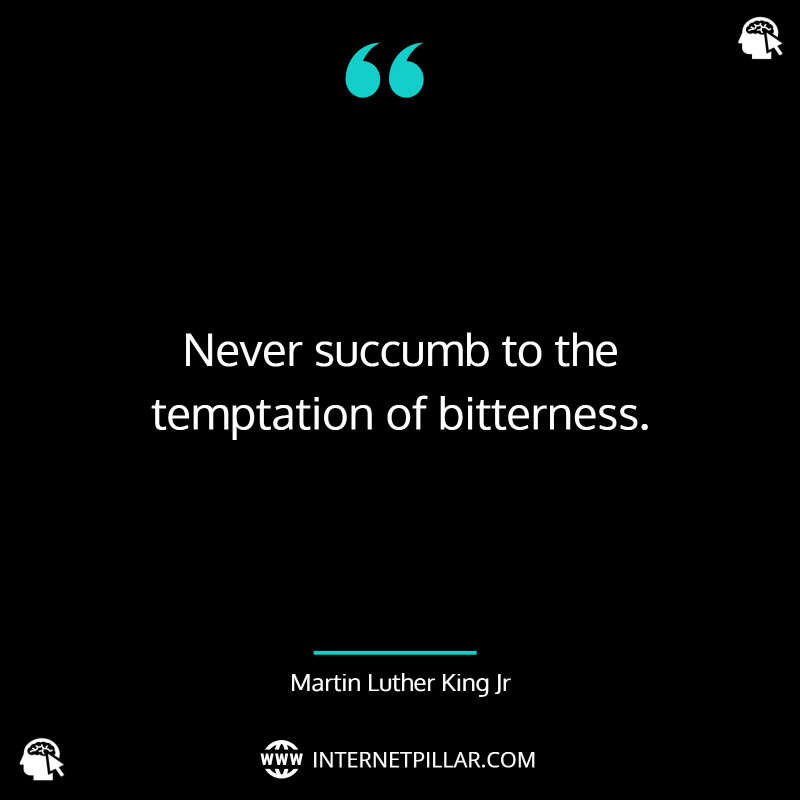 Never succumb to the temptation of bitterness. ~ Martin Luther King Jr.
Bitterness is the outcome of a wrong mental movement – the attempt to force external events to conform to internal fantasy. The cure is to see fantasy as fantasy, which will reveal it as neither necessary nor rewarding. ~ Vernon Howard.
Bitterness never draws us closer to God. Bitterness is a nonproductive, toxic, emotion, usually resulting from resentment over unmet needs. ~ Craig Groeschel.
It is a simple but sometimes forgotten truth that the greatest enemy to present joy and high hopes is the cultivation of retrospective bitterness. ~ Robert G. Menzies.
Short Bitterness Quotes
Bitterness and unforgiveness block the flow of God's blessing in your life and actually hinder your prayers. ~ Victoria Osteen.
What was bitter to endure is sweet to remember. ~ German Proverb.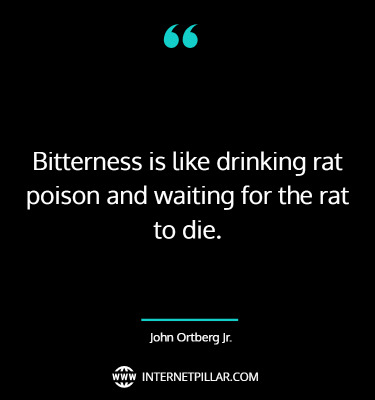 Bitterness is like drinking rat poison and waiting for the rat to die. ~ John Ortberg Jr.
Growth in wisdom may be exactly measured by decrease in bitterness. ~ Friedrich Nietzsche.
Bitterness is how we punish ourselves for other people's sins. ~ Matshona Dhliwayo.
A foolish son is a grief to his father and bitterness to her that bore him. ~ Unknown.
Bitterness kills the soul. ~ Anthony Ray Hinton.
Satire is focused bitterness. ~ Leo Rosten.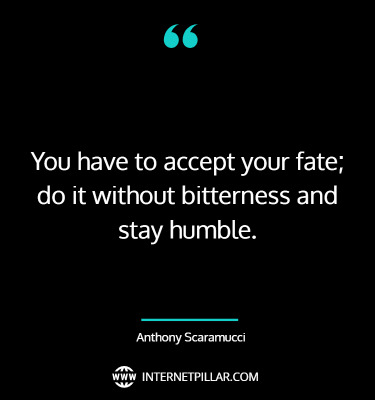 You have to accept your fate; do it without bitterness and stay humble. ~ Anthony Scaramucci.
Never trust your tongue when your heart is bitter. ~ Samuel J. Hurwitt.
Anger and bitterness – whatever the cause – only end up hurting us. Turn that anger over to Christ! ~ Billy Graham.
I know from personal experience how damaging it can be to live with bitterness and unforgiveness. I like to say it's like taking poison and hoping your enemy will die. And it really is that harmful to us to live this way. ~ Joyce Meyer.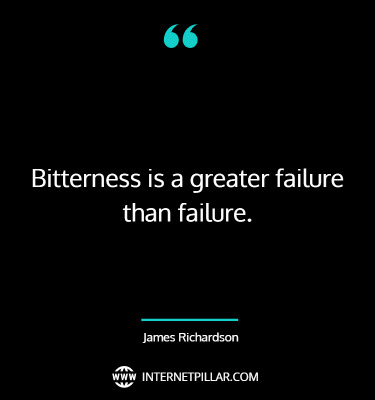 Bitterness is a greater failure than failure. ~ James Richardson.
There's no such thing as a bitter person who keeps the bitterness to himself. ~ Erwin W. Lutzer.
Words can be said in bitterness and anger, and often there seems to be an element of truth in the nastiness. And words don't go away, they just echo around. ~ Jane Goodall.
I don't feel bitterness, I don't feel anger towards anybody. Fighting is never emotional to me. ~ Conor McGregor.
Surely if we knew what bitterness fate held in store, we would shrink back in fear and let the cup of life pass us by untasted. ~ Jacqueline Carey.
The worst thing in life is not to die but to live with bitterness. ~ Vitor Belfort.
Top Bitterness Quotes
Bitterness is so ugly. I don't want to go there. ~ Amy Heckerling.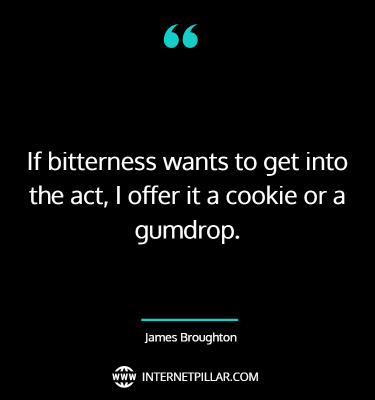 If bitterness wants to get into the act, I offer it a cookie or a gumdrop. ~ James Broughton.
What seems to us as bitter trials are often blessings in disguise. ~ Oscar Wilde.
Money brings jealousy and bitterness. ~ Phil Taylor.
Bitterness and resentment only hurt one person, and it's not the person we're resenting – it's us. ~ Alana Stewart.
You will be better if you leave bitter behind. ~ Christine E. Szymanski.
Patriotism is not enough. I must have no hatred or bitterness toward anyone. ~ Edith Cavell.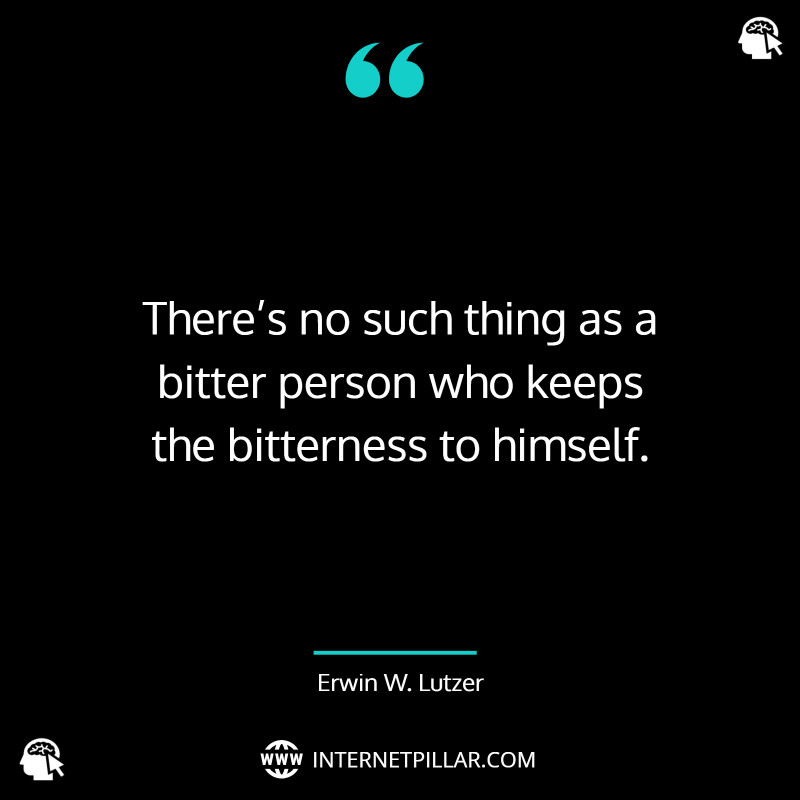 There's no such thing as a bitter person who keeps the bitterness to himself. ~ Erwin W. Lutzer.
Hate and bitterness are the only weapons wielded by the blade. ~ Thomas Gregory.
I've purged myself of bitterness and anger and remained open to love. ~ Tatum O'Neal.
Many people say that time heals all wounds, but that simply is not true. People can become more bitter, arrogant and spiteful with age. ~ Gudjon Bergmann.
---
So these were the 78 quotes about Bitterness.
If these quotes and sayings connect with you, check out our other posts on bridge quotes and unwind quotes.