Are you looking for the best Claude Cahun quotes? I've rounded up some of the famous Claude Cahun quotes, sayings, captions for Instagram, and status messages for you.
Claude Cahun was a surrealist photographer, sculptor, and writer who lived in France.
Cahun is most known for his work as a writer and self-portraitist who took on a number of alter egos.
Cahun's art is political as well as personal. In Disavowals, she writes: "Masculine? Feminine? It depends on the situation. Neuter is the only gender that always suits me."
Cahun also worked as a resistance fighter and propagandist during World War II.
Cahun's creative output, several personae, and odd personal life have made him a source of inspiration and fascination for many subsequent artists.
You will find below a curated collection of the popular 'Claude Cahun' quotes that you can read and share with others.
---
Best Claude Cahun Quotes
If I vibrate with vibrations other than yours, must you conclude that my flesh is insensitive? ~ Claude Cahun.
Under this mask, another mask. I will never be finished removing all these faces. ~ Claude Cahun.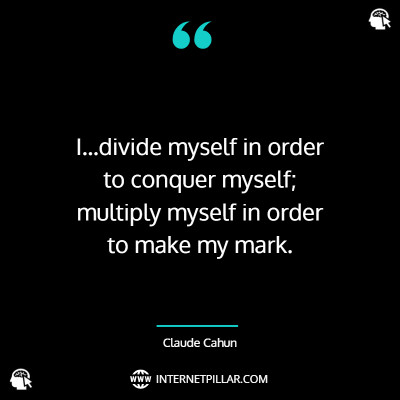 I…divide myself in order to conquer myself; multiply myself in order to make my mark. ~ Claude Cahun.
The blood orange has its admirer, who suck it smugly. Cooks stalk it; they'd like to put it in some tartare sauce. However, some, like me, turn their noses up. In silence they mould bits of bread into balls, delighting in their work, then chuck them in God's face. ~ Claude Cahun.
Famous Claude Cahun Quotes
Although I had a lot of time to get acquainted with myself, my knowledge about me is fragmentary. I could tell you all about my life, but all you would get would be a mere reference to my person. I am both subject and object of my history. ~ Claude Cahun.
Individualism? Narcissism? Of course. It is my strongest tendency, the only intentional constancy [fidelity] I am capable of…. Besides, I am lying; I scatter myself too much for that. ~ Claude Cahun.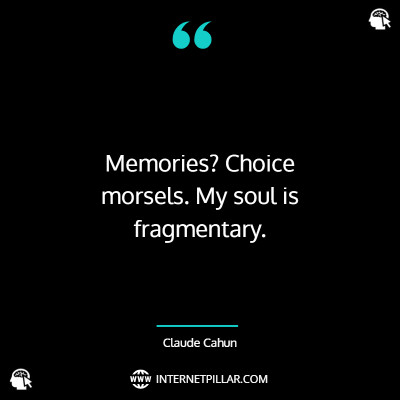 Memories? Choice morsels. My soul is fragmentary. ~ Claude Cahun.
You have told me to write a confession because you know only too well that this is currently the only literary task that might seem to me first and foremost realizable, where I feel at ease, permit myself a direct link, contact with the real world, with the facts. ~ Claude Cahun.
If there is horror, it is for those who speak indifferently of the next war. If there is hate, it is for hateful qualities, not nations. If there is love, it is because this alone kept me alive. ~ Claude Cahun.
Top Claude Cahun Quotes
Shuffle the cards. Masculine? Feminine? It depends on the situation. Neuter is the only gender that always suits me. ~ Claude Cahun.
Until I see everything clearly, I want to hunt myself down, struggle with myself. ~ Claude Cahun.
Realities disguised as symbols are, for me, new realities that are immeasurably preferable. I make an effort to take them at their word. To grasp, to carry out the diktat of images to the letter. ~ Claude Cahun.
I'm obsessed with the exception. I see it as bigger than nature. It's all I see. The rule interests me only for its leftovers with which I make my swill. In this way, I deliberately downgrade myself. Too bad for me. ~ Claude Cahun.
---
So these were the 15 top Claude Cahun quotes and sayings.
Tell me in the comments section, which Claude Cahun quotes were your favorite?
If you like these quotes and sayings, then you can also read my other posts on Ava Gardner quotes and Maria Sabina quotes.
You are welcome to share these quotes and sayings with your family and friends on WhatsApp, Facebook, Twitter, Instagram, and Pinterest and inspire them to take their life to the next level and achieve greatness and success!