Giving someone a hug is a good way to comfort them.
These are some of the best comforting quotes to make you feel better during hard times.
A comforting hug, a heartfelt word or a moving quote can bring solace during challenging times.
I have compiled a list of best 73 comforting quotes that will help you to navigate through difficult times and find the light at the end of the tunnel.
These comformting quotes can serve as reminders of strength and resilience whenever you're feeling low.
I recommend saving your favorite ones and even using them as phone or desktop wallpapers, or sharing them on social media to spread comfort and encouragement.
This curated list of quotes that I found especially motivating and relevant to our current struggles.
I hope these quotes offer you the same inspiration and motivation they brought to me amidst these hard times.
---
Table of Contents
Comforting Quotes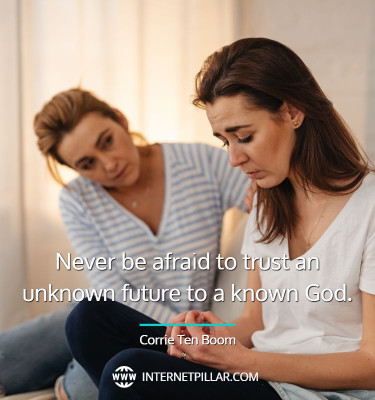 Never be afraid to trust an unknown future to a known God. ~ Corrie Ten Boom.
Where there is no struggle, there is no strength. ~ Oprah Winfrey.
If you look at what you have in life, you'll always have more. ~ Oprah Winfrey.
Rainy days should be spent at home with a cup of tea and a good book. ~ Bill Watterson.
A hero is an ordinary individual who finds the strength to persevere and endure in spite of overwhelming obstacles. ~ Christopher Reeve.
Let us always meet each other with smile, for the smile is the beginning of love. ~ Mother Teresa.
When things don't go according to your plan it doesn't mean that things are not going according to God's plan. ~ Karen Tripp.
Death ends a life, not a relationship. ~ Mitch Albom.
Even the smallest tender mercy can bring peace when recognized and appreciated. ~ Richelle E. Goodrich.
Accept responsibility for your life. Know that it is you who will get you where you want to go, no one else. ~ Les Brown.
One of the most important things you can do on this earth is to let people know they are not alone. ~ Shannon L. Alder.
Related Quotes: Kindness Quotes and Healing quotes.
Best Comforting Quotes
Sometimes our light goes out, but is blown again into instant flame by an encounter with another human being. ~ Albert Schweitzer.
Problems are not stopped signs; they are guidelines. ~ Robert Schuller.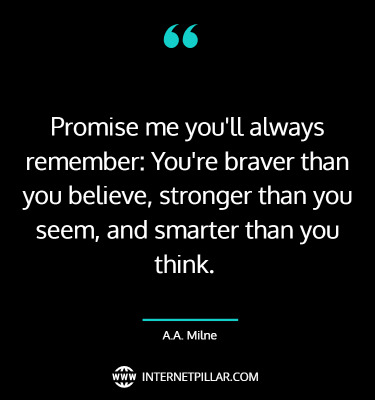 Promise me you'll always remember: You're braver than you believe, stronger than you seem, and smarter than you think. ~ A.A. Milne.
There isn't always an explanation for everything. ~ Ernest Hemingway.
When you get lost in a really strange place, nothing is more comforting than found your friend whom you trust and can show the way. ~ Toba Beta.
The pain you feel today is the strength you feel tomorrow. For every challenge encountered, there is opportunity for growth. ~ Unknown.
Just as despair can come to one only from other human beings, hope, too, can be given to one only by other human beings. ~ Elie Wiesel.
Do not be afraid and do not be discouraged. The Lord God Almighty himself is with you now and forever. ~ Karen Tripp.
There is no normal life that is free of pain. It's the very wrestling with our problems that can be the impetus for our growth. ~ Fred Rogers.
Great Comforting Quotes
I can't change the direction of the wind, but I can adjust my sails to always reach my destination. ~ Jimmy Dean.
Find a place inside where there's joy, and the joy will burn out the pain. ~ Joseph Campbell.
You are today where your thoughts have brought you; you will be tomorrow where your thoughts take you. ~ James Allen.
The gem cannot be polished without friction, nor man perfected without trials. ~ Chinese Proverb.
Out of suffering have emerged the strongest souls; the most massive characters are seared with scars. ~ Khalil Gibran.
All things grow with time, except grief. ~ English Proverb.
In three words I can sum up everything I've learned about life. It goes on. ~ Robert Frost.
Famous Comforting Quotes
To be good, and to do good, is all we have to do. ~ John Adams.
The past is gone, the future is not here, now I am free of both. Right now, I choose joy. ~ Deepak Chopra.
What we have once enjoyed deeply we can never lose. All that we love deeply becomes a part of us. ~ Helen Keller.
You are not a drop in the ocean. You are the entire ocean in one drop. ~ Rumi.
Even though I walk through the darkest valley, I will fear no evil, for you are with me; your rod and your staff, they comfort me. ~ Psalm 23:4
Though no one can go back and make a brand new start, anyone can start from now and make a brand new ending. ~ Carl Bard.
Don't be discouraged. It's often the last key in the bunch that opens the lock. ~ Unknown.
I'd rather regret the things I've done than regret the things I haven't done. ~ Lucille Ball.
Unable are the loved to die. For love is immortality. ~ Emily Dickenson.
For now, I just want things all safe and familiar. My life may not be perfect, but it is what I have known. ~ Ann M. Martin.
Quotes about Comforting
Obstacles don't have to stop you. If you run into a wall, don't turn around and give up. Figure out how to climb it, go through it, or work around it. ~ Michael Jordan.
Don't cry when the sun is gone because the tears won't let you see the stars. ~ Violeta Para.
The world offers you comfort. But you were not made for comfort. You were made for greatness. ~ Pope Benedict XVI.
Cure sometimes, treat often, comfort always. ~ Hippocrates.
Yesterday is not ours to recover, but tomorrow is ours to win or lose. ~ Lyndon B. Johnson.
One way to get comfort is to plead the promise of God in prayer, show him his handwriting; God is tender of his Word. ~ Thomas Manton.
It was such a relief to be able to sob and have someone know all the reasons why. ~ Rachel Hawkins.
Walk on, walk on with hope in your heart and you'll never walk alone. ~ Rodgers and Hammerstein.
Sometimes it's okay if the only thing you did today was breathe. ~ Yumi Sakugawa.
Whatever you're facing right now, there's a way out. ~ Paul Jukes.
Top Comforting Quotes
I will love the light for it shows me the way, yet I will endure the darkness for it shows me the stars. ~ Og Mandino.
We're here for a reason. I believe a bit of the reason is to throw little torches out to lead people through the dark. ~ Whoopi Goldberg.
The greater the difficulty, the more glory in surmounting it. Skillful pilots gain their reputation from storms and tempests. ~ Epictetus.
Tomorrow is always fresh, with no mistakes in it yet. ~ L. M. Montgomery.
Believe that life is worth living and your belief will help create the fact. ~ William James.
There are no great people in this world, only great challenges which ordinary people rise to meet. ~ William Frederick Halsey Jr.
There are darknesses in life, and there are lights, and you are one of the lights, the light of all lights. ~ Bram Stroker.
In three words I will add up everything I've learned regarding life. It goes on. ~ Robert Frost.
Use what you've been through as fuel, believe in yourself and be unstoppable. ~ Yvonne Pierre.
Our dead are never dead to us, until we have forgotten them. ~ George Eliot.
Deep Comforting Quotes
Time makes fools of us all. Our only comfort is that greater shall come after us. ~ E. T. Bell.
Learn how to be happy with what you have while you pursue all that you want. ~ Jim Rohn.
To live in hearts we leave behind is not to die. ~ Thomas Campbell.
The greatest glory in living lies not in never failing, but in rising every time we fail. ~ Nelson Mandela.
The greatest happiness of life is the conviction that we are loved; loved for ourselves, or rather, loved in spite of ourselves. ~ Victor Hugo.
It's not exactly like you thought it would be, you think it's a failure. What about the spectrum of colors in between. ~ Sara Evans.
Profound Comforting Quotes
There's no way for them to take away my sadness, but they can make sure I am not empty of all the other feelings. ~ David Levithan.
Life's challenges are not supposed to paralyze you; they're supposed to help you discover who you are. ~ Bernice Johnson Reagon.
If you don't like something change it; if you can't change it, change the way you think about it. ~ Mary Engelbreit.
Love is the only force capable of transforming an enemy into a friend. ~ Martin Luther King, Jr.
Sometimes, the best way to help someone is just to be near them. ~ Veronica Roth.
I may not have gone where I intended to go, but I think I have ended up where I needed to be. ~ Douglas Adams.
---
So these were the 73 quotes about Comforting.
If you like these quotes and sayings, then you can also read my other popular blog posts on the topics of Compassion quotes and Spiritual Healing quotes.