A cowboy is an animal herder who frequently works on ranch-related tasks in addition to tending to cattle on ranches in North America while riding a horse.
A cowboy represents a man of substance, valor, strength, and courage.
Cowboys are most often associated with a specific set of values and cultural traits such as independence, toughness and a love for nature and outdoors.
---
Top 10 Cowboy Quotes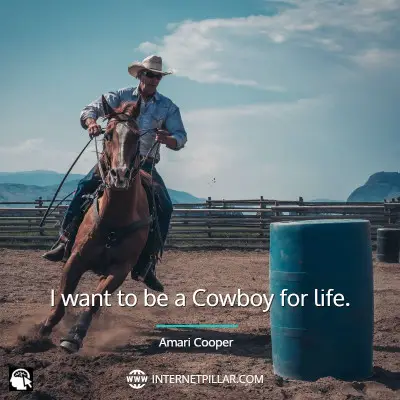 I want to be a Cowboy for life. ~ Amari Cooper.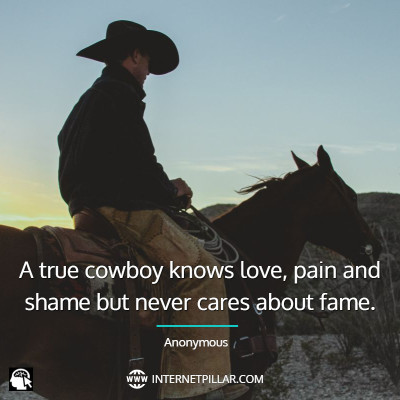 A true cowboy knows love, pain and shame but never cares about fame. ~ Anonymous.
True cowboys are the ones who aren't afraid to get dirty. ~ Lane Frost.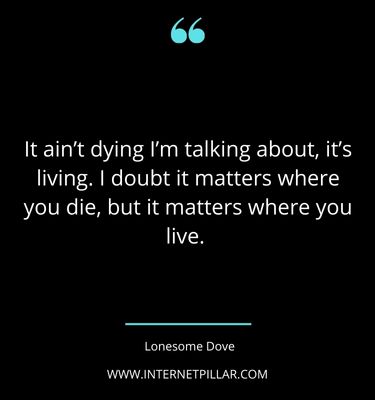 It ain't dying I'm talking about, it's living. I doubt it matters where you die, but it matters where you live. ~ Lonesome Dove.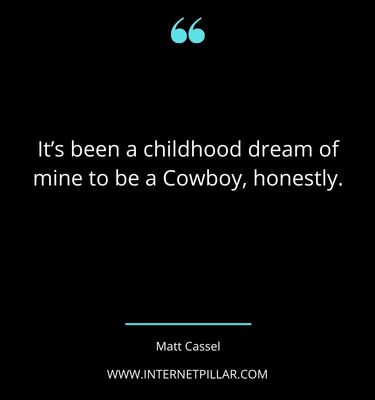 It's been a childhood dream of mine to be a Cowboy, honestly. ~ Matt Cassel.
Sometimes a cowboy isn't perfect but you got to love him anyway. ~ Jennie Marts.
If a cowboy can't ride his pony, what's the point? ~ Anne Caryl.
No hour of life is wasted that is spent in the saddle. ~ Winston Churchill.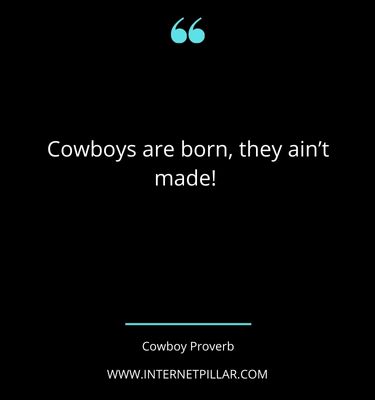 Cowboys are born, they ain't made! ~ Cowboy Proverb.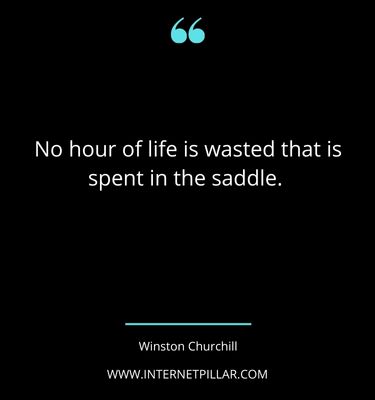 No hour of life is wasted that is spent in the saddle. ~ Winston Churchill.
Other Topics Quotes: 38 Cowgirl Quotes and Sayings for Country Girls and 61 Small Town Quotes and Sayings to Love Your Community
Famous Cowboy Quotes
That'll be the day. ~ John Wayne.
I used to go to a dude ranch which is when you spend your holiday on a ranch so I became a bit of cowboy. ~ Mary J. McCoy Dressel.
Cowboys need nothin' more than a hat, horse, and the will to ride. ~ Anonymous.
When you're young and you fall off a horse, you may break something. When you're my age, you splatter. ~ Roy Rogers.
Could I be jealous of the way he was touching my horse? Yep…I was. ~ Carly Kade.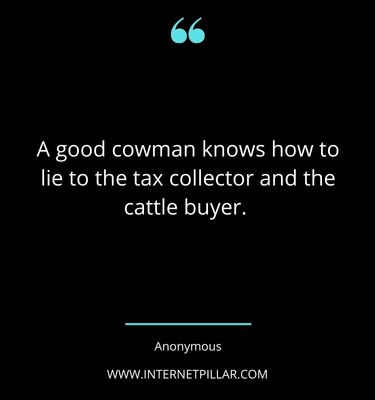 A good cowman knows how to lie to the tax collector and the cattle buyer. ~ Anonymous.
You're gonna have to hold on tight, because this rodeo is just getting started. ~ Joya Ryan.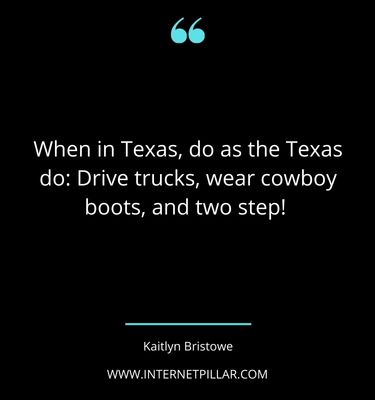 When in Texas, do as the Texas do: Drive trucks, wear cowboy boots, and two step! ~ Kaitlyn Bristowe.
Real cowboys are gentlemen. ~ Bill Pieper.
First buy a cowboy hat and boots. Then you're on your way to being a Texan. ~ James A. Michener.
If I'm going to become the first cowboy in history to win seven all-around world titles, I have to bear down. I have to ride this bull. ~ Ty Murray.
Put 'Cowboy' on every card. I'd be ready to go. ~ Donald Cerrone.
I just fell in love with the cowboy way of life. ~ Donald Cerrone.
You can take the boy out of the country, but you can't take the country out of the boy. ~ Arthur Baer.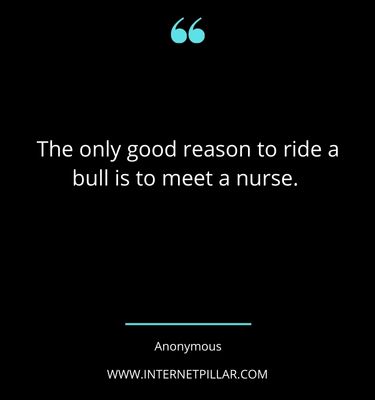 The only good reason to ride a bull is to meet a nurse. ~ Anonymous.
Funny how women are ashamed of their inner fairy whereas men are forever proudly displaying their inner cowboy or fireman. ~ Unknown.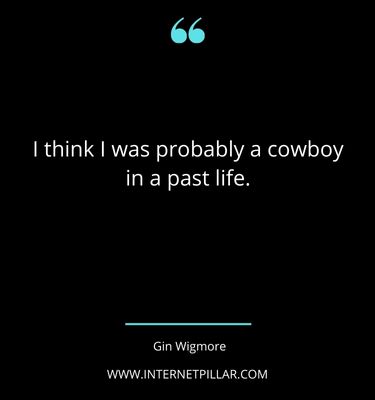 I think I was probably a cowboy in a past life. ~ Gin Wigmore.
Unique Cowboy Quotes
The horse is a mirror to your soul. And sometimes you might not like what you see in the mirror. ~ Buck Brannaman.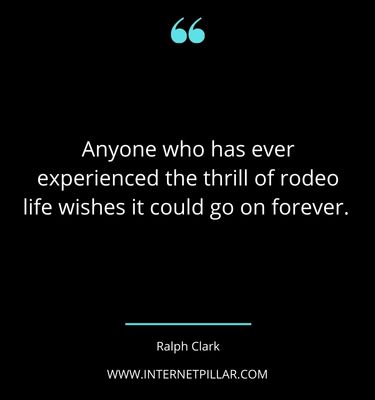 Anyone who has ever experienced the thrill of rodeo life wishes it could go on forever. ~ Ralph Clark.
When my time comes, just skin me and put me up there on Trigger, just as though nothing had ever changed. ~ Roy Rogers.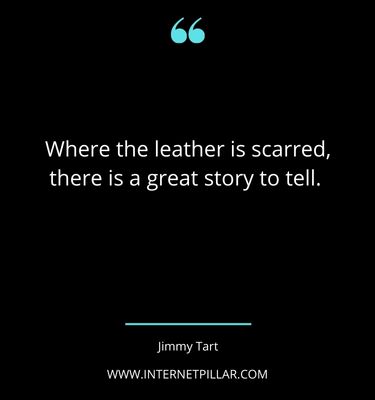 Where the leather is scarred, there is a great story to tell. ~ Jimmy Tart.
Learn this well, the last ride is never the last ride. And the end is not the end. ~ Richard Rowland.
Rope'em, tie'em, hold'em down and ride'em! Giddy up Cowboy. ~ Cowboy Proverb.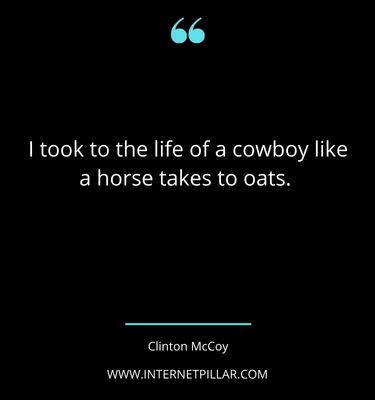 I took to the life of a cowboy like a horse takes to oats. ~ Clinton McCoy.
Bonner and Casey lived in different worlds. City and country. ~ Cat Johnson.
Boots, chaps and cowboy hats. Nothing else matters. ~ Anonymous.
Popular Cowboy Quotes
Champions arise through a combination of luck, hard work, and heartache. ~ Carly Kade.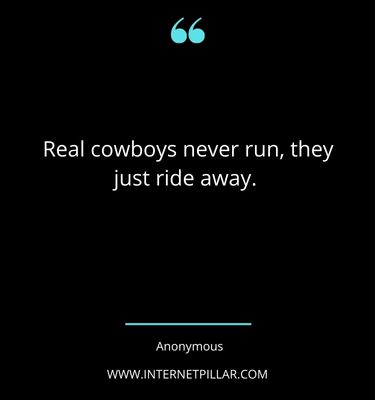 Real cowboys never run, they just ride away. ~ Anonymous.
Cowboy is a breed tougher than nails and strong as steel. ~ Unknown.
It's a lot like nuts and bolts if the rider's nuts, the horse bolts! ~ Nicholas Evans.
Never slap a man who's chewing tobacco. ~ Will Rogers.
No cowboy was ever faster on the draw than a grandparent pulling a baby picture out of a wallet. ~ Unknown.
The cowboy must never shoot first, hit a smaller man or take unfair advantage. ~ Anonymous.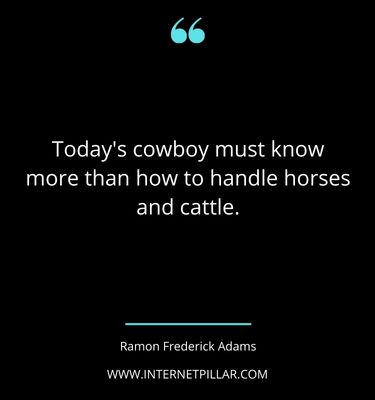 Today's cowboy must know more than how to handle horses and cattle. ~ Ramon Frederick Adams.
Inspiring Cowboy Quotes
Some cowboys have too much tumbleweed in their blood to settle down. ~ Ken Alstad.
I have horses, I drive a truck, and I wear cowboy boots. First I'm a Texan. ~ Henry Thomas.
Take my man, stay away from my horse. ~ Cowboy Proverb.
Ain't nuthin' like ridin' a fine horse in new country. ~ Agustus MacCrae.
Cowboys come in many different shapes and sizes but all cowboys must be able to ride horses. ~ Meg Clibbon.
If you climb in the saddle, be ready for the ride. ~ Unknown.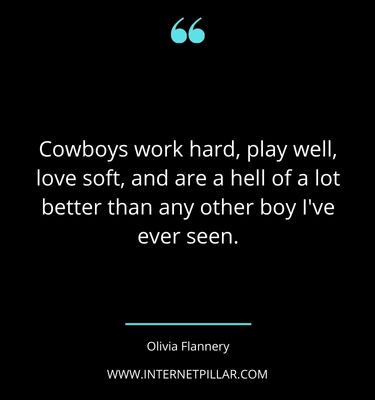 Cowboys work hard, play well, love soft, and are a hell of a lot better than any other boy I've ever seen. ~ Olivia Flannery.
When you're a cowboy, life isn't all about horses and rodeos. It's about mud and dirt, and cowboy boots. ~ Unknown.
A decent cowboy does not take what belongs to someone else and if he does he deserves to be strung up and left for the flies and coyotes. ~ Judge Roy Bean.
That was the trouble with explaining with words. If you explained with gunpowder, people listened. ~ Dean F. Wilson.
If you think bull riding' isn't intense, come sit on his back and try on my saddle. This ain't for tenderfoots. ~ Clancy Jean Driscoll.
Inspirational Cowboy Quotes
Courage is being scared to death…and saddling up anyway. ~ John Wayne.
A cowboy is a man with guts and a horse. ~ William James.
There never was a horse that couldn't be rode; never was a cowboy who couldn't be throwed. ~ Cowboy saying.
It doesn't matter if a Cowboy lives in the mountains or in the flats, as long as it's warm and there is a place to lay his hat. ~ Anonymous.
Whoever said a horse was dumb, was dumb. ~ Will Rogers.
The cowboy has been called America's folk hero. ~ Charles W. Harris.
A cowboy is a gentleman with or without his hat and boots. ~ Unknown.
There is no better place to heal a broken heart than on the back of a horse. ~ Missy Lyons.
It ain't the clothes that make the cowgirl, it's the attitude and heart. ~ Anonymous.
Let him ride a horse. He's a cowboy ain't he. ~ Nathanael West.
Now you are thinking like a thief. Fewer guns and more exits. We'll cure your cowboy ways yet. ~ Richard Kadrey.
Best Cowboy Quotes
Any cowboy can carry a tune. The trouble comes when he tries to unload it. ~ Anonymous.
Cowboys they are all so tough on the outside, but so sweet and soft on the inside. ~ Amber.
The best bulls in rodeo are unpredictable. Trying to outsmart them can lead cowboys to outsmart themselves. ~ Ty Murray.
You can tell a true cowboy by the type of horse that he rides. ~ Anonymous.
No man should have cowboys boots in his wardrobe. That's fair enough, isn't it? Unless you're a cowboy, of course. ~ Paul Weller.
Cowboys don't go around breaking hearts. ~ Missy Lyons.
You can't cover up the swagger of a cowboy. ~ Jaycee Ford.
It ain't where, it's how you live. We weren't raised to take, but we were raised to give the shirt off our back to anyone in need. ~ Brantley Gilbert.
---
So these were the 75 top Cowboy quotes, sayings, captions and words.
If you like these quotes and sayings, then you can also read my other posts on Cuddle quotes and Hurt Feelings quotes.
---
Sources: