A cowgirl is a woman who rides a horse and takes care of the cows or horses.
Cowgirls embody power, independence, hard work and perseverance.
The below cowgirl quotes and sayings are going to provide you with inspiration and encouragement.
---
Cowgirl Quotes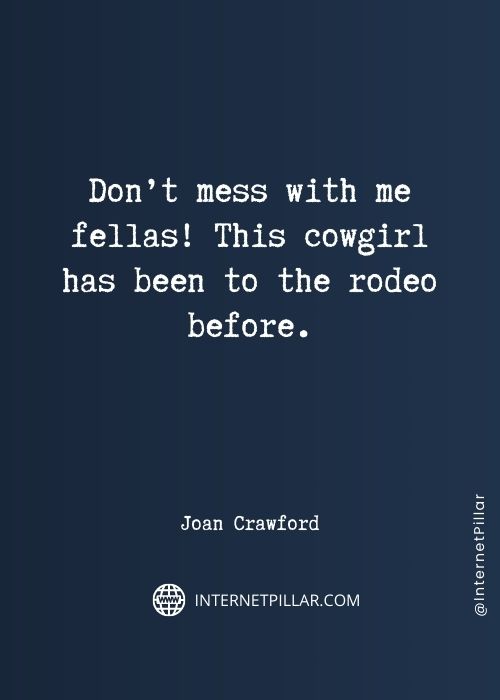 Don't mess with me fellas! This cowgirl has been to the rodeo before. ~ Joan Crawford.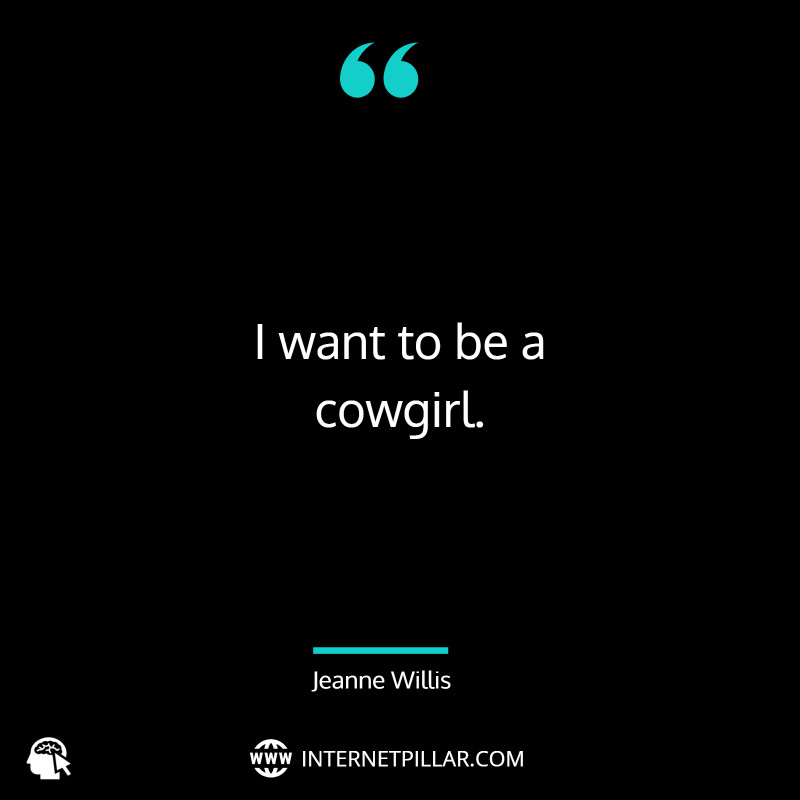 I want to be a cowgirl. ~ Jeanne Willis.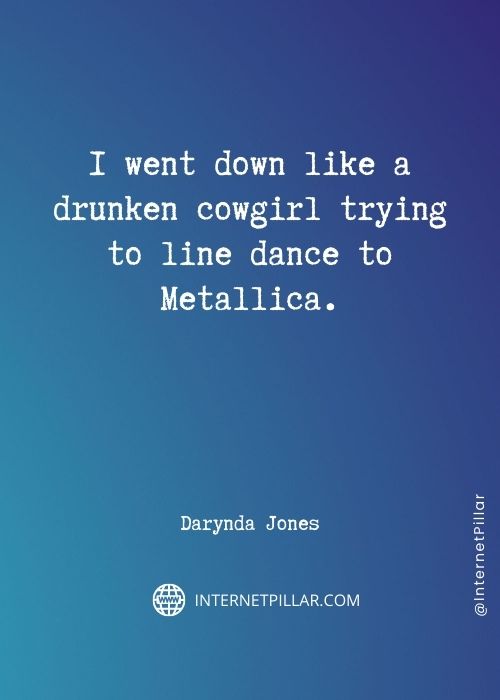 I went down like a drunken cowgirl trying to line dance to Metallica. ~ Darynda Jones.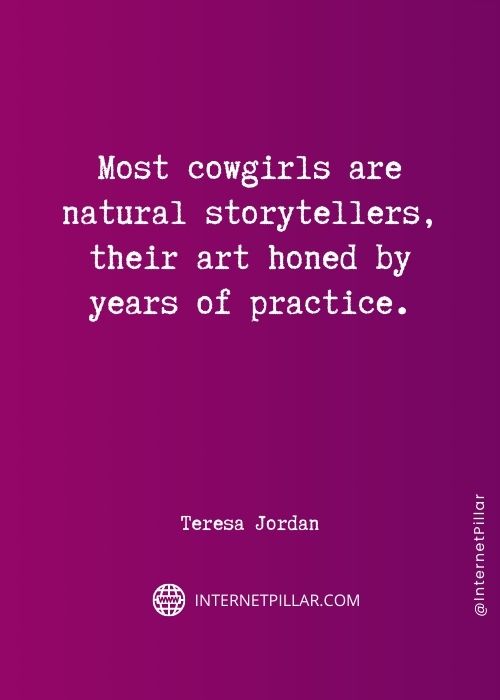 Most cowgirls are natural storytellers, their art honed by years of practice. ~ Teresa Jordan.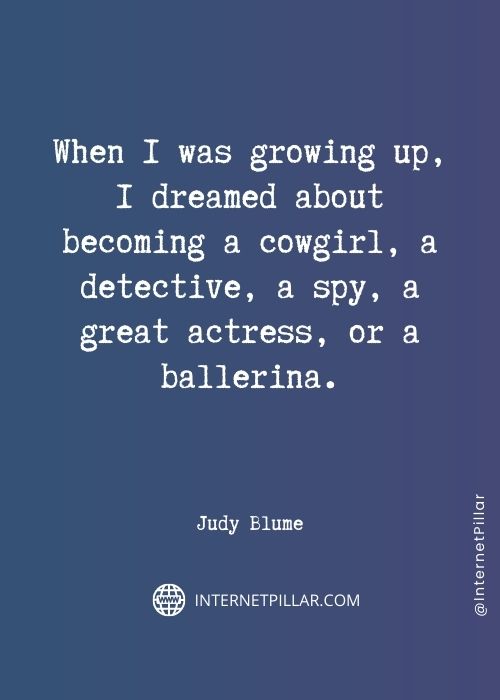 When I was growing up, I dreamed about becoming a cowgirl, a detective, a spy, a great actress, or a ballerina. ~ Judy Blume.
Never accept 'because you are a woman' as a reason for doing or not doing anything. ~ Chimamanda Ngozi Adichie.
If you fall off a horse, you get back up. I am not a quitter. ~ Olivia Wilde.
When I see your horse I see you too. It shows me everything you are, everything about the horse. ~ Ray Hunt.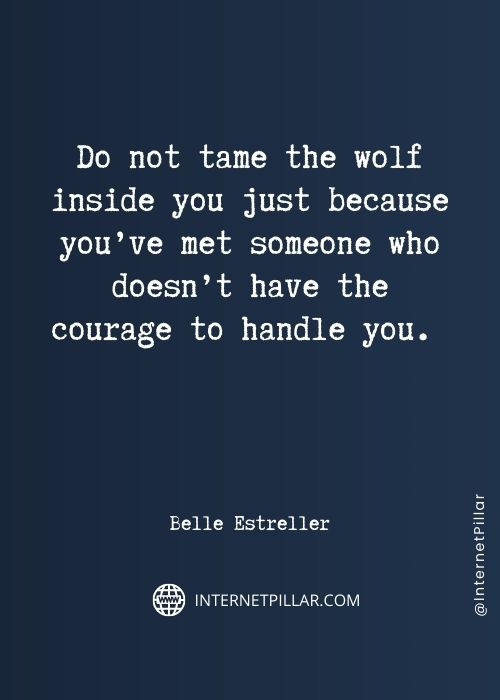 Do not tame the wolf inside you just because you've met someone who doesn't have the courage to handle you. ~ Belle Estreller.
In riding a horse we borrow freedom. ~ Helen Thomson.
I've known a lot of cowboys and a few cowgirls. They're, by and large, some of the smartest, funniest, most courteous, generous, and hardest-working people you'd ever want to know. ~ Nancy Pickard.
She is whiskey in a teacup. ~ Dean Brody.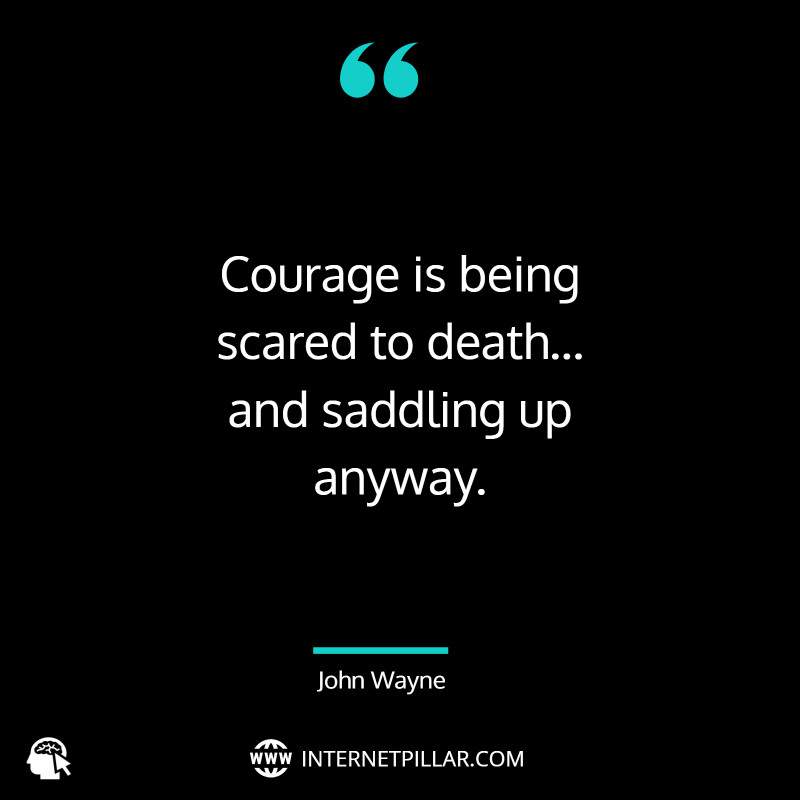 Courage is being scared to death… and saddling up anyway. ~ John Wayne.
Other Topic Quotes: 75 Best Cowboy Quotes, Captions, Sayings and Words and 75 Country Quotes on Country Living, Music and Love
Best Cowgirl Quotes
Cowgirl is an attitude, really; a pioneer spirit, a special American brand of courage. ~ Dale Evans.
She is a queen. Her soul is royalty. ~ Adrian Michael.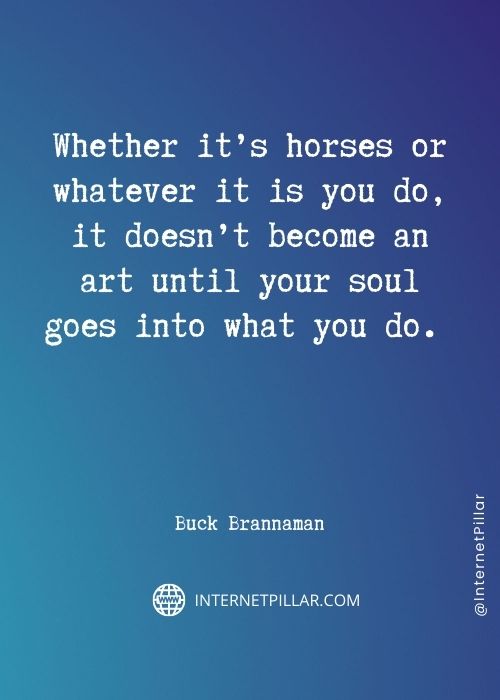 Whether it's horses or whatever it is you do, it doesn't become an art until your soul goes into what you do. ~ Buck Brannaman.
Equestrian art is the perfect understanding and harmony between horse and rider. ~ Nuno Oliveira.
The horse is a mirror to your soul… and sometimes you might not like what you see in the mirror. ~ Buck Brannaman.
Boots, class and a li'll sass, that's what cowgirls are made of. ~ Candice Nicoles.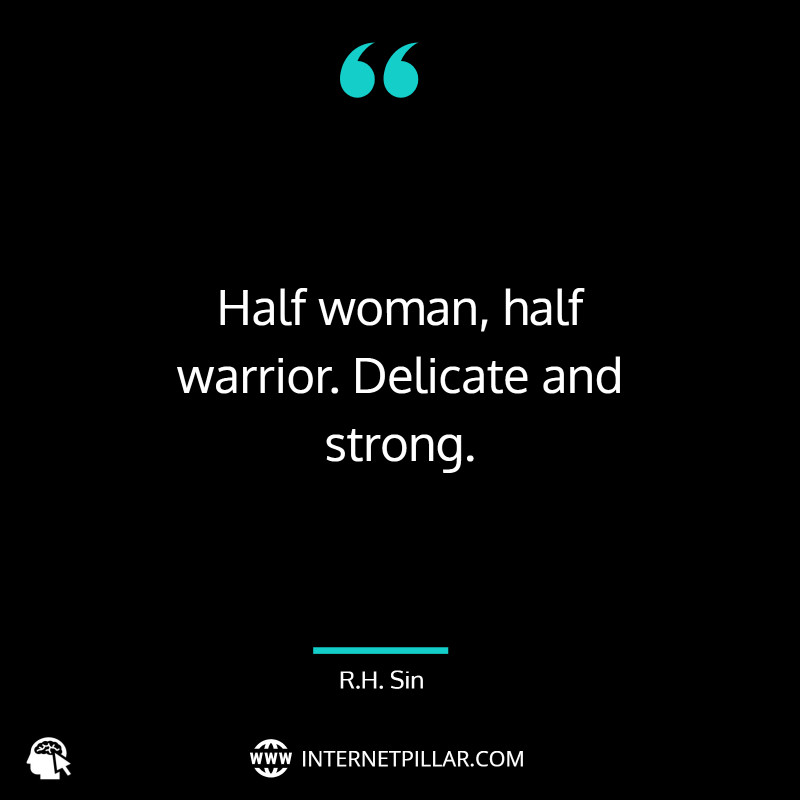 Half woman, half warrior. Delicate and strong. ~ R.H. Sin.
Look like a girl, act like a lady, think like a man and work like a dog. ~ Caroline Simon.
It's the way you ride the trail that counts. ~ Dale Evans.
What doesn't kill you makes you stronger. Except cowgirls, cowgirls will kill you. ~ Ray Cole.
Top Cowgirl Quotes
Horses make a landscape look beautiful. ~ Alice Walker.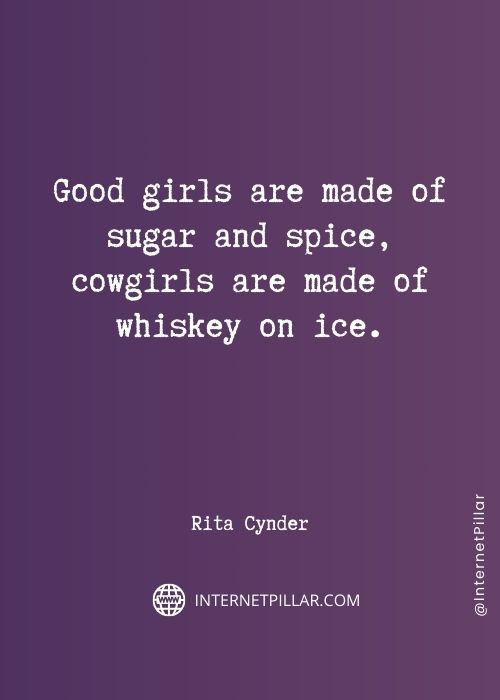 Good girls are made of sugar and spice, cowgirls are made of whiskey on ice. ~ Rita Cynder.
Dirt is cowgirl glitter. ~ Fallon Taylor.
Under an orchard tree, dropping with cherries, cowgirls lay in the shade. ~ Tom Robbins.  
We're down to our last pair of cowgirl boots. ~ Jessica Simpson.
I wanted to be a cowgirl. ~ Susan Isaacs.
They tried to burn her not knowing she was a flame. ~ R.H. Sin.
The essential joy of being with horses is that it brings us in contact with the rare elements of grace, beauty, spirit and freedom. ~  Sharon Ralls Lemon.
A horse can lend its rider the speed and strength he or she lacks. ~ Pam Brown.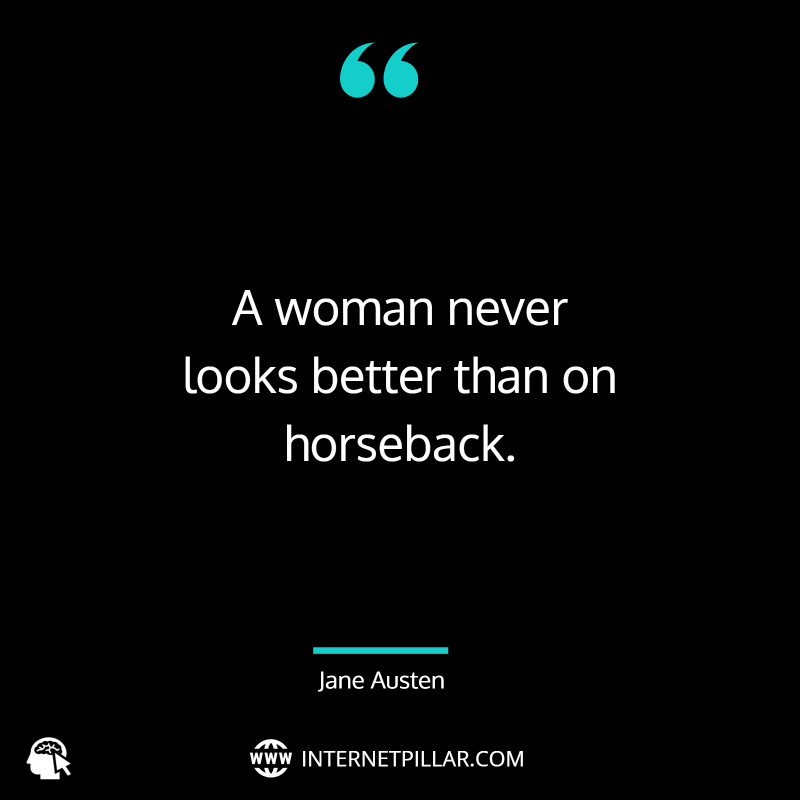 A woman never looks better than on horseback. ~ Jane Austen.
Short Cowgirl Quotes
Speak your mind, but ride a fast horse. ~ Texas Bix Bender.
Storms make trees take deeper roots. ~ Dolly Parton.
Don't be like the rest of them, darling. ~ Grace Kelly.
Be happy with what you have while working for what you want. ~ Helen Keller.
What separates a winner from the rest of the pack is not raw talent or physical ability, it is the drive and dedication to work hard every single day and the heart to go after your dream. ~ Linda Mastandrea.
God intended women to be outside as well as men, and they do not know what they are missing when they stay cooped up in the house. ~ Annie Oakley.
---
Other Articles
---
References and Sources: