Burning bridges is often seen as a bad thing because it means that we are purposely hurting relationships or opportunities.
In other circumstances, though, it may be vital to go ahead and forge a new route for ourselves.
Burning bridges may bring closure and a new start, whether we are leaving a harmful job, terminating a toxic relationship, or just moving on from a chapter in our lives.
---
Burning Bridges Quotes
When one burns one's bridges, what a very nice fire it makes. ~ Dylan Thomas.
Never burn a bridge unless your foe is on it, captain. ~ Phil Foglio.
The hardest thing in life to learn is which bridge to cross and which to burn. ~ David Russell.
If the bridge to your past is burned behind you, then you have no choice but to travel the path into a successful future. ~ John Di Lemme.
Sometimes you get the best light from a burning bridge. ~ Don Henley.
Stop telling me not to burn bridges. Some bridges are meant to be burned; some roads are never meant to be traveled again. ~ Steve Maraboli.
Unless you work in demolition, don't burn bridges. ~ Harvey Mackay.
I'm grateful for every scar, some pages turned, some bridges burned, but there were lessons learned. ~ Carrie Underwood.
Don't dwell on what went wrong. Instead, focus on what to do next. Spend your energies on moving forward toward finding the answer. ~ Denis Waitley.
We cross our bridges when we come to them and burn them behind us, with nothing to show for our progress except a memory of the smell of smoke, and a presumption that once our eyes watered. ~ Tom Stoppard.
Never burn your bridges till you come to them. ~ Clayton Rawson.
I never wanted to set the world on fire. So I never had to burn any bridges behind me. ~ Dinah Shore.
Also Read: Seasons of Life Quotes to Move Forward and People Come and Go Quotes to Move Forward
Best Burning Bridges Quotes
It's all about people. It's about networking and being nice to people and not burning any bridges. Your book is going to impress, but in the end it is people that are going to hire you. ~ Mike Davidson.
You know the hardest thing to do in Hollywood is burn bridges. There is usually some sucker who still likes me. There is usually some sucker who will still work with me. ~ Terry Gilliam.
Bridges are meant for burning, when the people and memories they join aren't the same. ~ Jim Croce.
Until you let go of all the toxic people in your life, you will never be able to grow into your fullest potential. Let them go so you can grow. ~ DLQ.
When you regret of burning the bridges, pray that it would light the ways. ~ Amit Kalantri.
You know, the thing about burned bridges is, they can be rebuilt. ~ Tim Kring.
Top Burning Bridges Quotes
Many of us are guilty of burning our bridges before we cross them. ~ John H. Hayes.
I'm not a wilting flower. I'm honest, so I pick a lot of fights. I've burned a lot of bridges. ~ Scott Thompson.
Mend fences, build bridges, forgive trespasses, grieve losses and let toxic grudges go. Then move on. ~ Unicahija Tamano.
Every new beginning comes from some other beginning's end. ~ Seneca.
Respect yourself enough to walk away from anything that no longer serves you, grows you, or makes you happy. ~ Robert Tew.
Decisions are like making a choice between which bridge to cross and which bridge to burn. ~ Frank Motobo.
Burning bridges behind you is understandable. It's the bridges before us that we burn, not realizing we may need to cross, that brings regret. ~ Anthony Liccione.
You don't have to worry about burning bridges, if you're building your own. ~ Kerry E Wagner.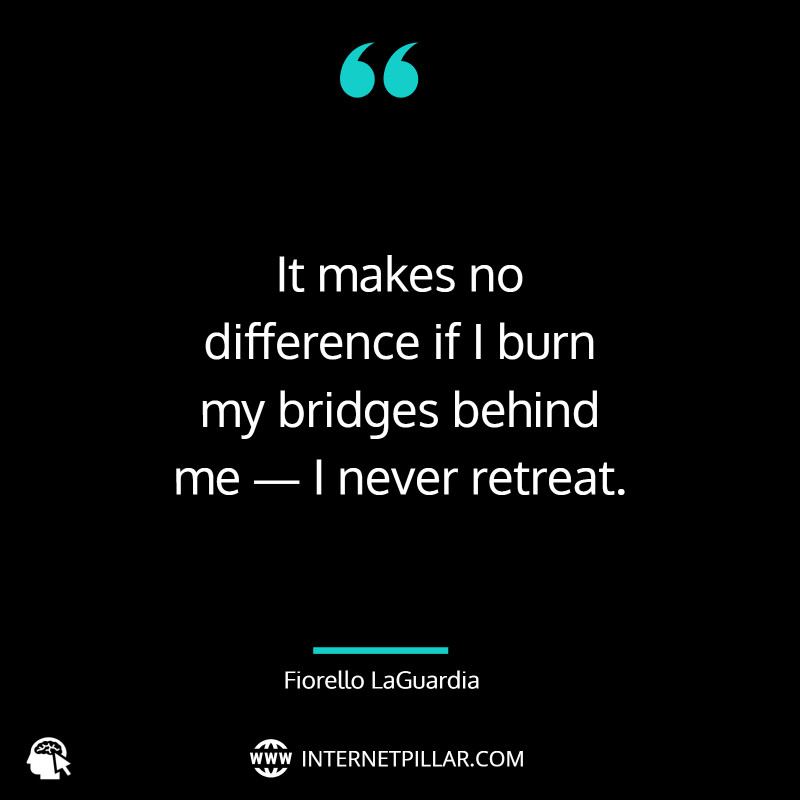 It makes no difference if I burn my bridges behind me ― I never retreat. ~ Fiorello LaGuardia.
Short Burning Bridges Quotes
I demolish my bridges behind me ― then there is no choice but to move forward. ~ Fridtjof Nansen.
Building walls, burning bridges. ~ Roger Zea.
Never burn bridges. If it's a faulty bridge then close it off and let it fall on its own. ~ Gregor Collins.
---
Other Articles
References and Sources: