David Gelernter is an American computer scientist, artist, and writer.
David Gelernter is a computer scientist who invented the "Lifestream" concept and the "Concealed Information Filter" (CIF). He is also a professor of computer science at Yale University.
Gelernter's work in computer science has led to some of the most important advances in the field in the past few decades. His invention of the Lifestream concept, for example, changed the way people think about computing and information storage.
You will find below a curated collection of the best 'David Gelernter' quotes that you can read and share with others.
---
Best David Gelernter Quotes
Abolishing the book is like abolishing the symphony, or sonata form, or the sonnet, or the wall painting. ~ David Gelernter.
If this is the Information Age, what are we so informed about? ~ David Gelernter.
The stronger your grasp of every second of your life, including the paradoxical experience at the bottom of the spectrum, the stronger you are. ~ David Gelernter.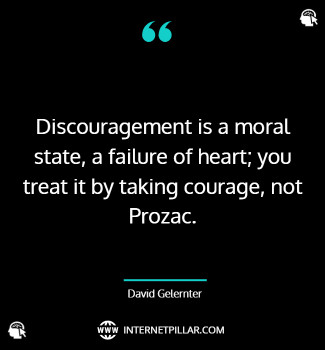 Discouragement is a moral state, a failure of heart; you treat it by taking courage, not Prozac. ~ David Gelernter.
Computers make people stupid. ~ David Gelernter.
Superb group of mind-mindful novelists at work today: Philip Roth and Martin Amis, Cynthia Ozick, Jenny Erpenbeck, John Banville, V. S. Naipaul, and J. M. Coetzee – to start. ~ David Gelernter.
I think the print media have failed to make the most of their opportunity. They may all disappear because they are approaching things in the wrong way. ~ David Gelernter.
Object-oriented programming as it emerged in Simula 67 allows software structure to be based on real-world structures, and gives programmers a powerful way to simplify the design and construction of complex programs. ~ David Gelernter.
We can't share the earth with pure evil anymore than we can share the earth with smallpox. ~ David Gelernter.
Famous David Gelernter Quotes
We still have books because they are so brilliantly suited to the way human beings absorb information and at their best, they are among the most beautiful things we have. ~ David Gelernter.
If we were forced to choose just one, there would be no way to deny that Judaism is the most important intellectual development in human history. ~ David Gelernter.
The best computer scientists are…technologists who crave beauty. ~ David Gelernter.
There are certain subjects which seem to me can be taught very effectively online, although they aren't. ~ David Gelernter.
At the same time, on the networks, there are thousands of groups that are building lifestreams, or lifestreaming for themselves in their own way. We'd love to see this activity. ~ David Gelernter.
Top David Gelernter Quotes
The book is a form in which some of the greatest masterpieces that mankind has ever achieved are expressed. ~ David Gelernter.
I would love to see writing taught online because at university like Yale, there are not enough teachers who are able to teach writing well, or in some cases, there are none. ~ David Gelernter.
The book is a unit and is such a brilliant ergonomic unit. ~ David Gelernter.
Readable text and authority so that readers know how to spend – no matter how much information there is, I have the same number of minutes in my day, and I need to look to sources that I trust. ~ David Gelernter.
I think the universities as we know them will be dead in a future years. I'd like to see them replaced by something better, instead of something worse, and it's not clear which way it will go. ~ David Gelernter.
Beauty is the ultimate defense against complexity. ~ David Gelernter.
The "paperless office" is a bad idea because paper is one of the most useful and valuable media ever invented. "On paper" is a good place for information you want to use; a bad place for information you want to store. ~ David Gelernter.
Beauty is more important in computing than anywhere else in technology because software is so complicated. Beauty is the ultimate defense against complexity. ~ David Gelernter.
Experience is a body of memories we use (on purpose or implicitly) to guide us. But we don't experience an event merely by living through it. To experience an event, we must live through and remember it. ~ David Gelernter.
While we bemoan the decline of literacy, computers discount words in favor of pictures and pictures in favor of video. While we fret about the decreasing cogency of public debate, computers dismiss linear argument and promote fast, shallow romps across the information landscape. While we worry about basic skills, we allow into the classroom software that will do a student's arithmetic or correct his spelling. ~ David Gelernter.
Popular David Gelernter Quotes
The first step is always to succeed in becoming surprised – to notice that there is something funny going on. ~ David Gelernter.
Software unification. So that I no longer care what computing device I pick up, whether it's a laptop or desktop, whether it's one I own or one in a public place, whether it has a small screen or a large screen. ~ David Gelernter.
There are great science books that were conceived as books. Feynman's famous introductory lectures in physics, which have a beginning and an end, which are written with style. ~ David Gelernter.
Really good ideas are always good beyond what you anticipated originally. ~ David Gelernter.
The future was and remains the quintessential American art form. Other nations sit back and let their futures happen; we construct ours. We can let the future happen, or take the trouble to imagine it. We can imagine it dark or bright – and in the long run, that's how it will be. ~ David Gelernter.
For years, computer scientists were treating operating systems design as sort of an open-research issue, when the field's direction had been decided by commercial operations. Computer science has become completely cut off from reality. ~ David Gelernter.
Good programmers know what's beautiful and bad ones don't. ~ David Gelernter.
In principle the first thing on the stream would be my birth certificate, a little electronic version of that, my parents would put my school records, health records, whatever of their child onto the stream. And the stream continues to flow forward through time. ~ David Gelernter.
---
So these were the 35 top quotes about David Gelernter.
Tell me in the comments section, which "David Gelernter" quotes were your favorite?
If you like these quotes and sayings, then you can also read my other posts on Carrie Nation quotes and Ian Watson quotes.
You are welcome to share these quotes, sayings and phrases with your friends and family on Facebook, Twitter, Instagram, WhatsApp, and Pinterest and inspire them to take their life to the next level and achieve success and greatness!