Dean Martin, born Dino Paul Crocetti, was a famed American singer and actor whose career blossomed from a comedy partnership with Jerry Lewis into successful solo endeavors.
Born in Steubenville, Ohio in 1917, Martin initially worked in local steel mills, became a prizefighter and sang in local nightspots before being discovered by bandleader Sammy Watkins.
His casual onstage interactions with comedian Jerry Lewis in 1946 sparked a popular comedy duo, culminating in 16 joint Hollywood films.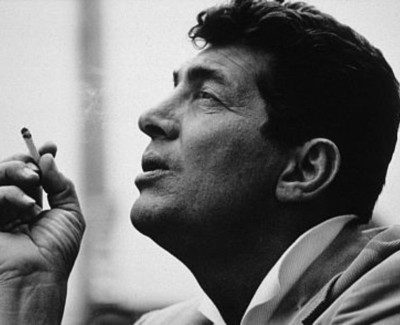 After the partnership dissolved in 1956, Martin flourished solo, recording hit songs like "That's Amore", "Memories Are Made of This" and "Everybody Loves Somebody", while maintaining his acting career in acclaimed films such as "The Young Lions" and "Rio Bravo".
He also collaborated with Rat Pack members in films like "Ocean's Eleven". Martin was a television staple, hosting "The Dean Martin Show" and "The Dean Martin Comedy Hour".
Related: Andy Grammer Quotes from the American Singer and Charlie Daniels Quotes from American Singer & Songwriter
His seemingly intoxicated performances, insisted to be part of his act, became his signature style.
I have selected some of the top quotes from Dean Martin for you.
---
Best Dean Martin Quotes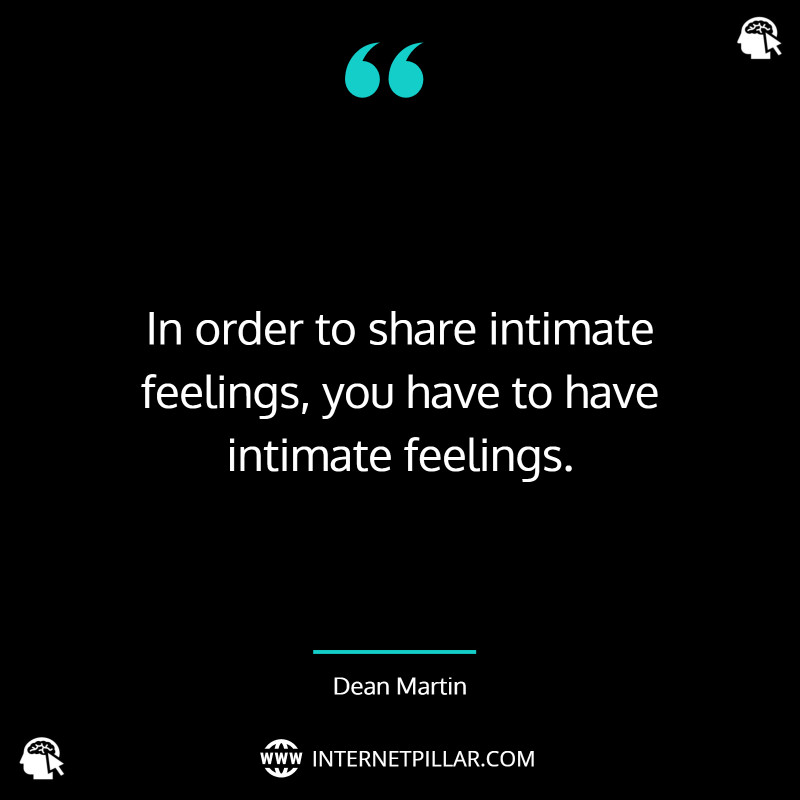 In order to share intimate feelings, you have to have intimate feelings. ~ Dean Martin.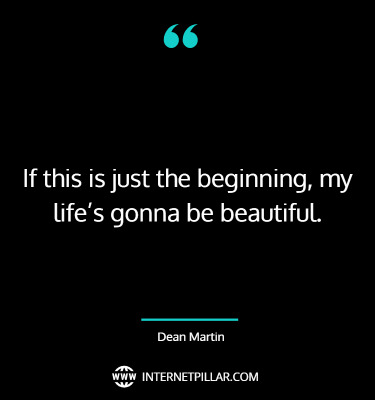 If this is just the beginning, my life's gonna be beautiful. ~ Dean Martin.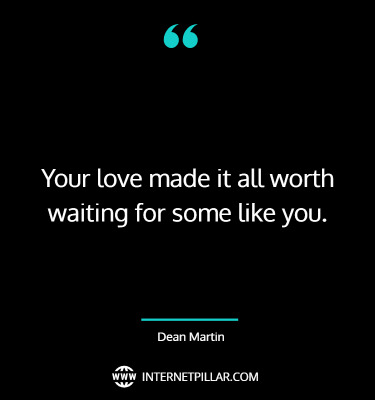 Your love made it all worth waiting for some like you. ~ Dean Martin.
If you drink, don't drive. Don't even putt. ~ Dean Martin.
I take the juice of two bottles of whisky. ~ Dean Martin.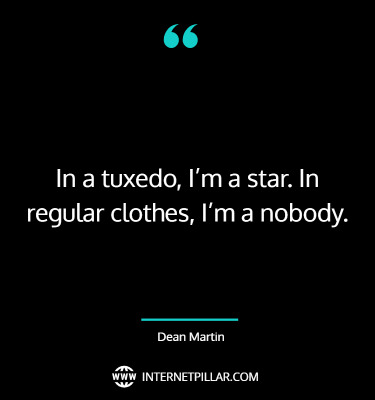 In a tuxedo, I'm a star. In regular clothes, I'm a nobody. ~ Dean Martin.
The thing I notice first about a woman is her walk. A beautiful woman is like a race horse-slim, sleek and with a beautiful carriage. ~ Dean Martin.
Return to me, for my heart wants you only. Hurry home, hurry home, won't you please hurry home to my heart. ~ Dean Martin.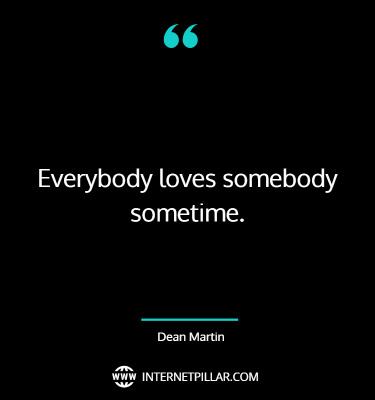 Everybody loves somebody sometime. ~ Dean Martin.
Brother, you can't go to jail for what you're thinking, or that look in your eye, just standing on the corner watching all the girls go by. ~ Dean Martin.
I once shook hands with Pat Boone and my whole right side sobered up. ~ Dean Martin.
I feel sorry for people who don't drink. When they wake up in the morning, that's as good as they're going to feel all day. ~ Dean Martin.
Top Dean Martin Quotes
I'm no singer. I can carry a tune and I have an easy style. But we crooners get by because we're fairly painless. ~ Dean Martin.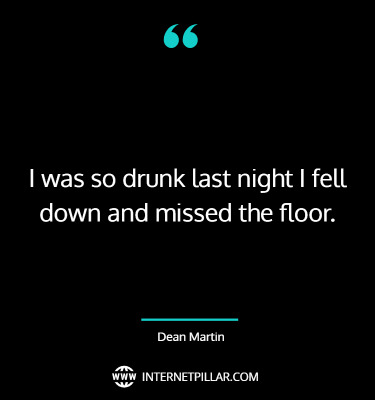 I was so drunk last night I fell down and missed the floor. ~ Dean Martin.
Haven't got a girl, but I can wish. So I'll take me down to Main Street and that's where I'll select my imaginary dish. ~ Dean Martin.
I want to be remembered as a damn good entertainer, nothing spectacular. A good entertainer who made people enjoy themselves and made them laugh a little. I want them to think He was a nice guy. He did pretty good and we loved him. ~ Dean Martin.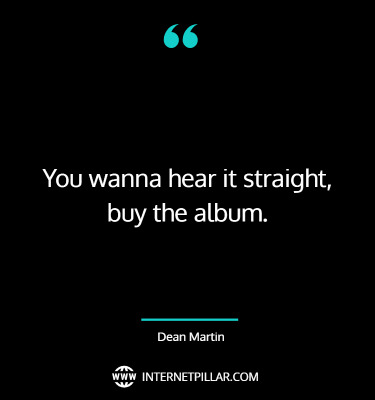 You wanna hear it straight, buy the album. ~ Dean Martin.
I've got seven kids. The three words you hear most around my house are hello, goodbye and I'm pregnant. ~ Dean Martin.
Somewhere there's a someone for me. Though I may be lonely now, I'll see it through somehow, to somebody's heart I know I hold the key. ~ Dean Martin.
Wise Dean Martin Quotes
How long have I been on? ~ Dean Martin.
I know it's the gentlemanly thing to let the wife file. But, then, everybody knows I'm no gentleman. ~ Dean Martin.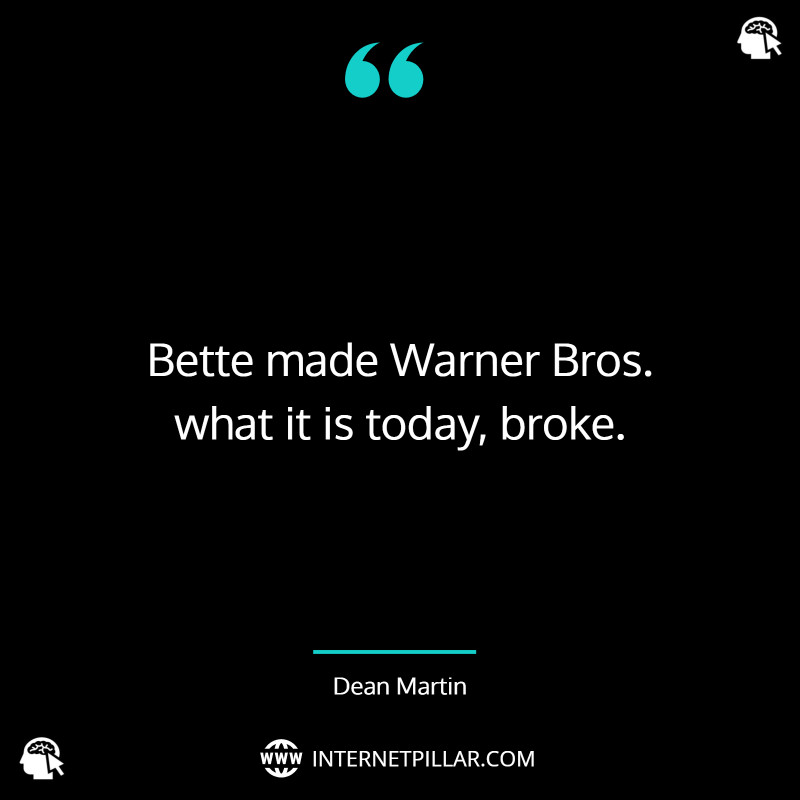 Bette made Warner Bros. what it is today, broke. ~ Dean Martin.
Motivation is a lotta crap. ~ Dean Martin.
With his blessings from above, serve it generously with love. One man, one wife, one love, through life. ~ Dean Martin.
Popular Dean Martin Quotes
Love is a flower that blooms so tender, each kiss a dew drop of sweet surrender. Love is a moment of life enchanting, let's take that moment that tonight is granting. ~ Dean Martin.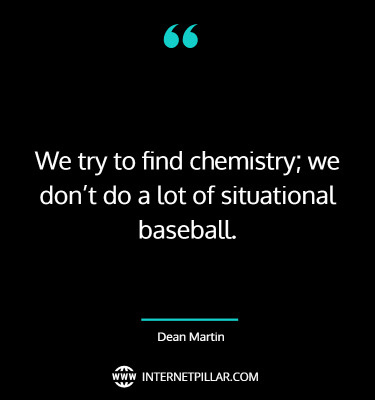 We try to find chemistry; we don't do a lot of situational baseball. ~ Dean Martin.
When Jerry Lewis and I were big, we used to go to parties, and everybody thought I was big-headed and stuck up, and I wasn't. It was because I didn't know how to speak good English, so I used to keep my mouth shut. ~ Dean Martin.
Your lips and mine, two sips of wine, memories are made of this. ~ Dean Martin.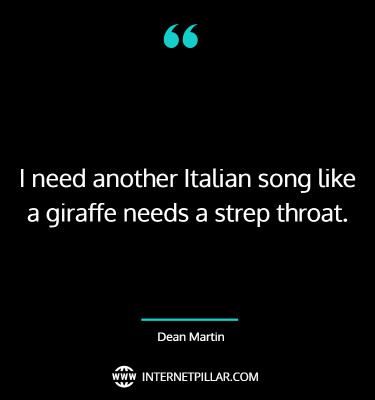 I need another Italian song like a giraffe needs a strep throat. ~ Dean Martin.
The world is the same, you never change it, as sure as the stars shine above. Well, you're nobody til somebody loves you, so find yourself somebody to love. ~ Dean Martin.
I'd hate to be a teetotaler. Imagine getting up in the morning and knowing that's as good as you're going to feel all day. ~ Dean Martin.
Famous Dean Martin Quotes
You're not drunk if you can lie on the floor without holding on. ~ Dean Martin.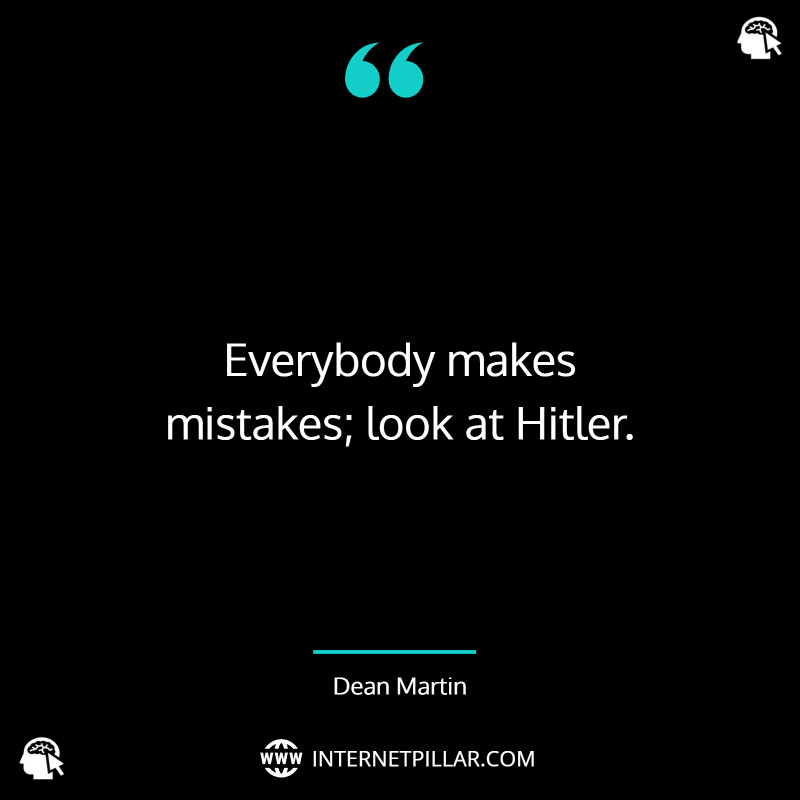 Everybody makes mistakes; look at Hitler. ~ Dean Martin.
If people want to think I get drunk and stay out all night, let'em. That's how I got here you know I drink because my body craves, needs alcohol. I don't drink, my body's a drunk. ~ Dean Martin.
There's a statue of Jimmy Stewart in the Hollywood Wax Museum, and the statue talks better than he does. ~ Dean Martin.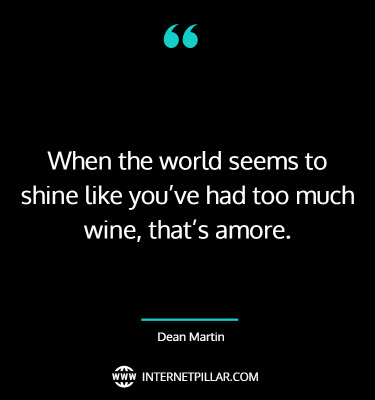 When the world seems to shine like you've had too much wine, that's amore. ~ Dean Martin.
The whole world is drunk and we're just the cocktail of the moment. Someday soon, the world will wake up, down two aspirin with a glass of tomato juice, and wonder what the hell all the fuss was about. ~ Dean Martin.
The reason I drink is because when I'm sober I think I'm Eddie Fisher. ~ Dean Martin.
---
So these were the 38 top Dean Martin Quotes on Love and Life "The King of Cool".
If you like these quotes and sayings, then you can also read my other posts on Duncan Trussell quotes and William Saroyan quotes.