Many successful people attribute their achievements to the pursuit of their dreams and passions.
Those on the quest for joy and achievement are often counseled to engage in what they truly love.
To aid in this endeavor, I've put together a collection of quotes that urge you to chase your passions.
Defying the notion that a job is merely a means to an end, your career actually occupies a considerable portion of your life, underscoring the importance of choosing work that you truly enjoy.
Individuals who find love in their work are more prone to experience happiness. Therefore, I've collected a series of 'do what you love' quotes to inspire you to embrace what you love.
Many mistakenly believe that the primary aim is to secure any job, a mindset that often results in a longing for the weekend and resentment for the weekdays.
I fervently discourage settling for a job that you can just bear; life is too fleeting not to be spent on your true passion.
---
Table of Contents
Do What You Love Quotes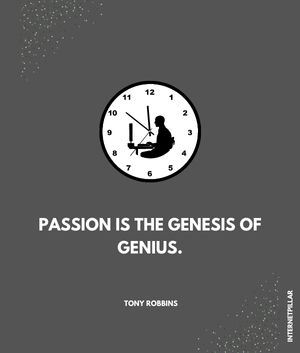 Passion is the genesis of genius. ~ Tony Robbins.
Follow your heart. Do what you love. ~ Maz Jobrani.
Just do what you love. ~ Caleb Shomo.
Just be, and enjoy being. ~ Eckhart Tolle.
Work without love is slavery. ~ Mother Teresa.
Rest in reason; move in passion. ~ Khalil Gibran.
Pleasure in the job puts perfection in the work. ~ Aristotle.
Love the life you live. Live the life you love. ~ Bob Marley.
If you don't love something, then don't do it. ~ Ray Bradbury.
Related: Mental Toughness Quotes and You Are Amazing Quotes.
Inspiring Do What You Love Quotes
You serve the best by doing what you love the most. ~ Maria Bello.
Life's too short to get stuck at a job you hate. ~ Kathryn Minshew.
Nobody can be successful unless he loves his work. ~ David Sarnoff.
God sells us all things at the price of labor. ~ Leonardo da Vinci.
It is never too late to be what you might have been. ~ George Eliot.
The best way to predict the future is to create it. ~ Abraham Lincoln.
When love and skill work together, expect a masterpiece. ~ John Ruskin.
You alone are enough. You have nothing to prove to anyone. ~ Maya Angelou.
Do what you love and the necessary resources will follow. ~ Peter McWilliams.
If you do what you love, you'll never work a day in your life. ~ Marc Anthony.
Best Do What You Love Quotes
What we fear doing most is usually what we most need to do. ~ Timothy Ferriss.
The most powerful weapon on earth is the human soul on fire. ~ Ferdinand Foch.
Doing what you love is freedom. Loving what you do is happiness. ~ Lana Del Rey.
A mind troubled by doubt cannot focus on the course to victory. ~ Arthur Golden.
Hard work is a prison sentence only if it does not have meaning. ~ Malcolm Gladwell.
If you want something new, you have to stop doing something old. ~ Peter F. Drucker.
We make a living by what we get. We make a life by what we give. ~ Winston Churchill.
Too many of us are not living our dreams because we are living our fears. ~ Les Brown.
I like work; it fascinates me. I can sit and look at it for hours. ~ Jerome K. Jerome.
Choose a job you love, and you will never have to work a day in your life. ~ Confucius.
Do What You Love Quotes to Follow Your Dreams
I like to build things, I like to do things. I am having a lot of fun. ~ Walter Chrysler.
Nothing is really work unless you would rather be doing something else. ~ James M. Barrie.
Doing what you love is the cornerstone of having abundance in your life. ~ Dr. Wayne Dyer.
If you don't love what you do, you won't do it with much conviction or passion. ~ Mia Hamm.
The artist is nothing without the gift, but the gift is nothing without work. ~ Emile Zola.
I enjoy my work so much that I have to be pulled away from my work into leisure. ~ Ralph Nader.
I'd rather be a failure at something I love than a success at something I hate. ~ George Burns.
Also Read: Challenge Yourself Quotes and Finish Strong Quotes.
Do What You Love Quotes to Inspire You
To be successful, the first thing to do is fall in love with your work. ~ Sister Mary Lauretta.
Develop a passion for learning. If you do, you will never cease to grow. ~ Anthony J. D'Angelo.
Do what you love, and do it well – that's much more meaningful than any metric. ~ Kevin Systrom.
Your work is to discover your work and then with all your heart to give yourself to it. ~ Buddha.
Hide not your talents, they for use were made, what's a sundial in the shade? ~ Benjamin Franklin.
When something is important enough, you do it even if the odds are not in your favor. ~ Elon Musk.
The major value in life is not what you get. The major value in life is what you become. ~ Jim Rohn.
We become what we behold. We shape our tools, and thereafter our tools shape us. ~ Marshall McLuhan.
Enthusiasm is the mother of effort, and without it nothing great was ever achieved. ~ Ralph Waldo Emerson.
Quotes about Do What You Love
The two most important days in your life are the day you are born and the day you find out why. ~ Mark Twain.
Passion will move men beyond themselves, beyond their shortcomings, beyond their failures. ~ Joseph Campbell.
Nothing is as important as passion. No matter what you want to do with your life, be passionate. ~ Jon Bon Jovi.
Do what you love. Know your own bone; gnaw at it, bury it, unearth it, and gnaw it still. ~ Henry David Thoreau.
Passion kept one fully in the present, so that time became a series of mutually exclusive 'nows.' ~ Sue Halpern.
Far and away the best prize that life offers is the chance to work hard at work worth doing. – Theodore Roosevelt.
Everyone has been made for some particular work, and the desire for that work has been put in every heart. ~ Rumi.
There is no such thing as work-life balance. Everything worth fighting for unbalances your life. ~ Alain de Botton.
If we resist our passions, it is more through their weakness than from our strength. ~ Francois de la Rochefoucauld.
Motivational Do What You Love Quotes
Never work just for money or for power. They won't save your soul or help you sleep at night. ~ Marian Wright Edelman.
There is joy in work. There is no happiness except in the realization that we have accomplished something. ~ Henry Ford.
I found out it is just as hard to make a movie that you are not proud of as it is to make one you love. ~ Craig Ferguson.
Make no little plans; they have no magic to stir men's blood… Make big plans; aim high in hope and work. ~ Daniel Burnham.
If you have to support yourself, you had bloody well better find some way that is going to be interesting. ~ Katherine Hepburn.
You are what you do. If you do boring, stupid, monotonous work, chances 
are you'll end up boring, stupid, and monotonous. ~ Bob Black.
The big secret in life is that there is no big secret. Whatever your goal, you can get there if you're willing to work. ~ Oprah Winfrey.
When you're following your energy and doing what you want all the time, the distinction between work and play dissolves. ~ Shakti Gawain.
The man who does not work for the love of work but only for money is not likely to make money nor find much fun in life. ~ Charles Schwab.
There is no passion to be found playing small–in settling for a life that is less than the one you are capable of living. ~ Nelson Mandela.
Happiness is not in the mere possession of money; it lies in the joy of achievement, in the thrill of creative effort. ~ Franklin D. Roosevelt.
I believe you are your work. Don't trade the stuff of your life, time, for nothing more than dollars. That's a rotten bargain. ~ Rita Mae Brown.
Just don't give up trying to do what you really want to do. Where there's love and inspiration, I don't think you can go wrong. ~ Ella Fitzgerald.
Without ambition one starts nothing. Without work one finishes nothing. The prize will not be sent to you. You have to win it. ~ Ralph Waldo Emerson.
People work better when they know what the goal is and why. It is important that people look forward to coming to work in the morning and enjoy working. ~ Elon Musk.
If a man is called to be a street sweeper, he should sweep the streets as Michelangelo painted, or Beethoven composed music, or Shakespeare wrote poetry. ~ Martin Luther King.
Whatever you make, base it upon that which is most important to you. Only then will it have depth and meaning, and only then will it resonate with others. ~ Christopher Paolini.
Hard work is painful when life is devoid of purpose. But when you live for something greater than yourself and the gratification of your own ego, then hard work becomes a labor of love. ~ Steve Pavlina.
---
I hope this great collection of quotes on do what you love that will help you to follow your dreams.
If these quotes motivated and inspired you, then you are requested to share them with others as well.