Expectations, inherent to human nature, pervade every aspect of life.
They can serve as a driving force towards evolution or, when overly ambitious, a source of disappointment.
At times, we find ourselves on the receiving end of expectations, which can be a catalyst for personal growth or a burdensome strain if they're unmanageable. Balancing expectations with acceptance is key to leading a fulfilling life.
Famous quotes about expectations can serve as valuable insights into handling life's unpredictability.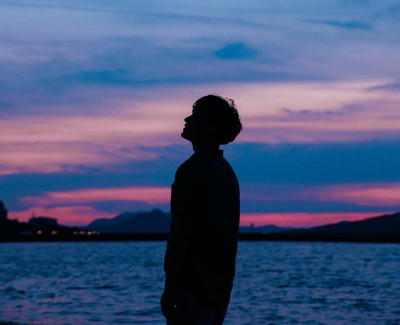 They encourage setting realistic expectations to avoid disappointment and stress the importance of acceptance and strategic planning in response to outcomes.
High expectations can lead to hurt; hence, it is wise to temper them.
These insightful expectation quotes are meant to inspire readers and can be shared with friends, family and loved ones to provide them with guidance on managing expectations and embracing acceptance.
---
Top 10 Expectation Quotes
Hope is a great expectancy. ~ Lailah Gifty Akita.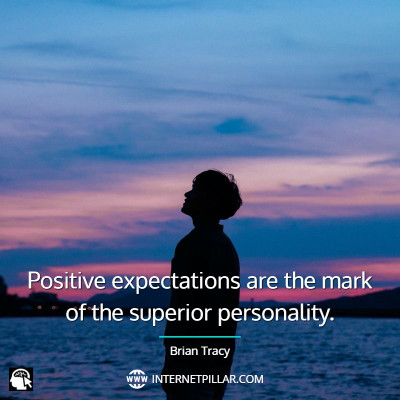 Positive expectations are the mark of the superior personality. ~ Brian Tracy.
If you expect nothing, you can never be disappointed. ~ Tonya Hurley.
Holding onto anger is like drinking poison and expecting the other person to die. ~ Buddha.
Blessed is he who expects nothing, for he shall never be disappointed. ~ Alexander Pope.
Expectation is the mother of all frustration. ~ Antonio Banderas.
Whatever it is you're seeking won't come in the form you're expecting. ~ Haruki Murakami.
You can't expect everyone to have the same dedication as you. ~ Jeff Kinney.
Maybe my expectations for honesty are too high. ~ Kelley Armstrong.
I am afraid I shall disappoint people's expectations dreadfully. ~ Jude Morgan.
Expect everything so that nothing comes unexpected. ~ Norton Juster.
Related: Chase Your Dreams Quotes to Blow Your Mind and Hope Quotes to Lift Your Soul and Spirits
Famous Expectation Quotes
Expecting an apple from a peach tree is and will always lead to disappointment. As simple as that. ~ Sarvesh Jain.
We can't go on a journey of discovery where everything is as we expect. ~ Karl Forehand.
It is easier to make our wishes conform to our means than to make our means conform to our wishes. ~ Robert E. Lee.
I can't imagine going on when there are no more expectations. ~ Edith Evans.
If you want to give yourself a fair chance to succeed, never expect too much too soon. ~ Po Bronson.
I hope you do not let anyone else's expectations direct the course of your life. ~ Julianne Donaldson.
A wonderful gift may not be wrapped as you expect. ~ Jonathan Lockwood Huie.
My expectations were reduced to zero when I was 21. Everything since then has been a bonus. ~ Stephen Hawking.
Look. I have a strategy. Why expect anything? If you don't expect anything, you don't get disappointed. ~ Patricia McCormick.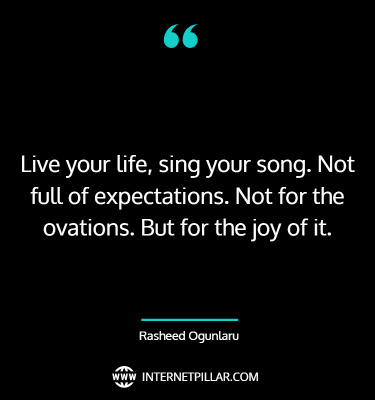 Live your life, sing your song. Not full of expectations. Not for the ovations. But for the joy of it. ~ Rasheed Ogunlaru.
Set the standard! Stop expecting others to show you love, acceptance, commitment, & respect when you don't even show that to yourself. ~ Steve Maraboli.
Our desires always disappoint us; for though we meet with something that gives us satisfaction, yet it never thoroughly answers our expectation. ~ Elbert Hubbard.
Best No Expectation Quotes
The trouble you're expecting never happens; it's always something that sneaks up the other way. ~ George R. Stewart.
What I have since realized is that if people expect you to be brave, sometimes you pretend that you are, even when you are frightened down to your very bones. ~ Sharon Creech.
Be realistic with your expectations. I'd really like to cuddle a unicorn, but it aint going to happen. ~ India Knight.
There is no joy involved in following others' expectations of yourself. ~ Miriam Toews.
We must rediscover the distinction between hope and expectation. ~ Ivan Illich.
A big desire is not enough to meet the expectations of lost dreams. ~ Dejan Stojanovic.
That was the thing about the world: it wasn't that things were harder than you thought they were going to be, it was that they were hard in ways that you didn't expect. ~ Lev Grossman.
I'd rather be pleasantly surprised than fatally disappointed. ~ Julia Glass.
Persons appear to us according to the light we throw upon them from our own minds. ~ Laura Ingalls Wilder.
Thought-Provoking Expectation Quotes
Often expecting immediate returns for goodness in this world is a sign of a normal human being. ~ Adil Adam Memon.
I'm not in this world to live up to your expectations and you're not in this world to live up to mine. ~ Bruce Lee.
You can devise all the plans in the world, but if you don't welcome spontaneity; you will just disappoint yourself. ~ Abigail Biddinger.
If you were easier on yourself, you wouldn't be so tough on everyone else. ~ Kate McGahan.
I kept my expectations low, which is one of the secrets of life. ~ Anne Lamott.
If you expect nothing from somebody you are never disappointed. ~ Sylvia Plath.
Unhappiness lies in that gap between our talents and our expectations. ~ Sebastian Horsley.
Wise Expectation Quotes
Our brightest blazes of gladness are commonly kindled by unexpected sparks. ~ Samuel Johnson.
I wasn't disappointed. My expectations had been met. ~ John Green.
If you expect great things of yourself and demand little of others, you'll keep resentment far away. ~ Confucius.
You are one of the rare people who can separate your observation from your perception. You see what is, where most people see what they expect. ~ Tsitsi Dangarembga.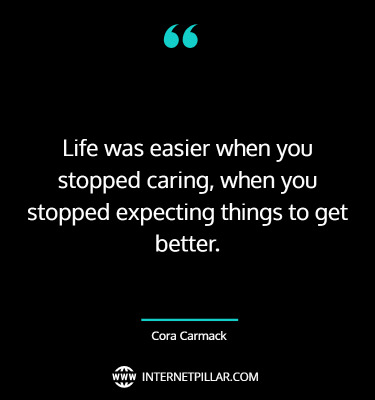 Life was easier when you stopped caring, when you stopped expecting things to get better. ~ Cora Carmack.
He was swimming in a sea of other people's expectations. Men had drowned in seas like that. ~ Robert Jordan.
If you're going to say what you want to say, you're going to hear what you don't want to hear. ~ Roberto Bolaño.
Expectations were like fine pottery. The harder you held them, the more likely they were to crack. ~ Brandon Sanderson.
Popular Expectation Quotes
Never expect anything from anyone, if you want to live a happy life. ~ Rashid Jorvee.
To wish was to hope, and to hope was to expect. ~ Jane Austen.
The key in letting go is practice. Each time we let go, we disentangle ourselves from our expectations and begin to experience things as they are. ~ Sharon Salzberg.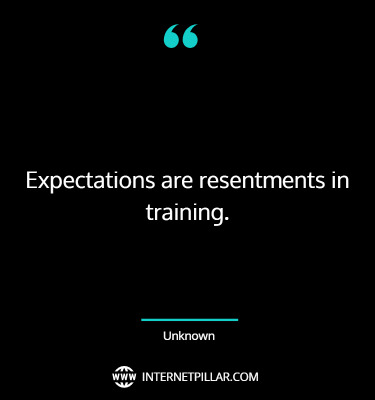 Expectations are resentments in training. ~ Unknown *
Expectation wasn't just about what people expected of you. It was about what you expected of yourself. ~ Brandon Sanderson.
Know that everything is in perfect order whether you understand it or not. ~ Valery Satterwhite.
The secret self knows the anguish of our attachments and assures us that letting go of what we think we must have to be happy is the same as letting go of our unhappiness. ~ Guy Finley.
Great Expectation Quotes
It's fun to expect nothing, to stumble blindly into the unknown. ~ Marty Rubin.
There were two ways to be happy: improve your reality, or lower your expectations. ~ Jodi Picoult.
It's the weight of expectation that's the hardest to deal with, really, from my point of view. ~ Kevin Pietersen.
We live in a world where expectation exceeds inspiration. ~ Louise Philippe Dulay.
You are your own worst enemy. If you can learn to stop expecting impossible perfection, in yourself and others, you may find the happiness that has always eluded you. ~ Lisa Kleypas.
Positive expectations are the mark of a superior personality. ~ Brian Tracy.
---
So these were the 67 top quotes about Expectation.
If you like these quotes and sayings, then you can also read my other posts on Destiny quotes and Parents quotes.