Our eyes have been referred to as the "windows to the soul" because they provide us with the special ability to see the world around us.
They allow us to see and appreciate our planet's incredible splendor from the majesty of a mountain range to the delicate bloom of a flower.
Our eyes are powerful communicators and are capable of conveying deep-seated emotions, thoughts and even secrets that words cannot.
They can reveal realities about a person's emotional condition providing insights into their deepest emotions and thoughts.
In this context, we've compiled a fantastic collection of eye quotes and sayings.
These eyes quotes are intended to stimulate, inspire and provide new insights into the power and depth of our visual experience.
Let's dive in and let these quotes open your eyes to the beauty and depth of human life.
---
Best Eyes Quotes and Sayings
I shut my eyes and all the world drops dead; I lift my eyes and all is born again. ~ Sylvia Plath.
The eyes of our souls only then begin to see when our bodily eyes are closing. ~ William Law.
Shut your eyes and see. ~ James Joyce.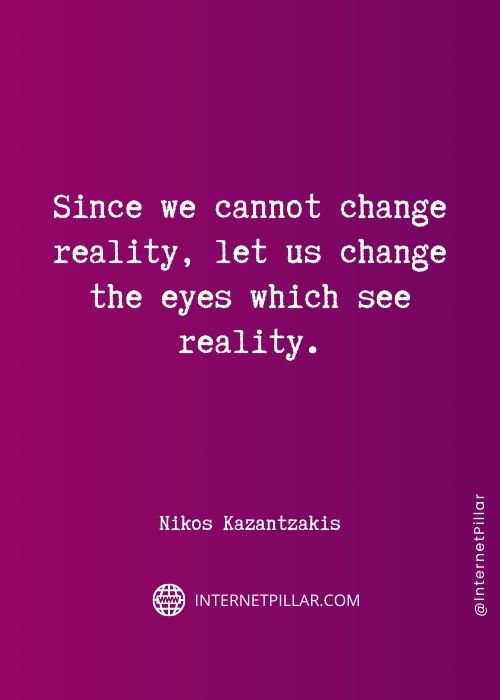 Since we cannot change reality, let us change the eyes which see reality. ~ Nikos Kazantzakis.
You can close your eyes to reality but not to memories. ~ Stanislaw Jerzy Lec.
A lover's eyes will gaze an eagle blind. ~ William Shakespeare.
The beauty of a woman must be seen from in her eyes, because that is the doorway to her heart, the place where love resides. ~ Audrey Hepburn.
You believe what your eyes want to believe! ~ Santosh Kalwar.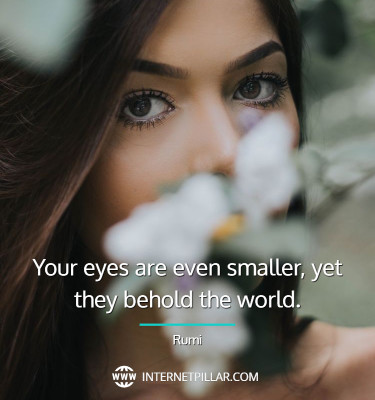 Your eyes are even smaller, yet they behold the world. ~ Rumi.
The eye sees a thing more clearly in dreams than the imagination awake. ~ Leonardo da Vinci.
You are most beautiful when your eyes are glowing with kindness and joy. ~ Debasish Mridha.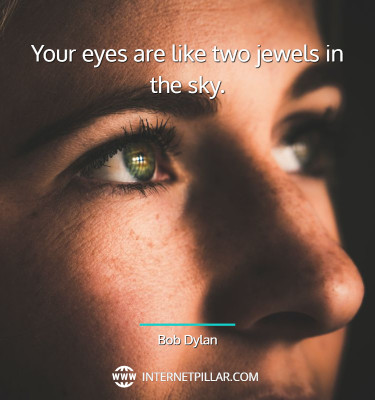 Your eyes are like two jewels in the sky. ~ Bob Dylan.
Look at their eyes. If their eyes are shining, you know you're doing it. ~ Benjamin Zander.
Related Quotes: 20 Hazel Eyes Quotes and Sayings to Mesmerize You and 30 Brown Eyes Quotes and Sayings to Captivate You
Top Eyes Quotes
The eyes are hungry but often satiated before they see. ~ Otl Aicher.
His eyes have made love to me all evening. ~ Marguerite Gautier.
Open your eyes and see what you can with them before they close forever. ~ Anthony Doerr.
Anyone can look at others' eyes, but Lovers can see into each others' souls through the eyes. ~ Larry Latta.
Our eyes are full of terrible confessions. ~ Anne Sexton.
I shut my eyes in order to see. ~ Paul Gauguin.
Many eyes go through the meadow, but few see the flowers in it. ~ Ralph Waldo Emerson.
The eyes are the landing strip to the heart. ~ Stan Dale.
Eyes that have never wept cannot comprehend sorrow. ~ Harriet Beecher Stowe.
Popular Eyes Quotes
If you close your eyes to see the view, you miss everything surrounding you. ~ David Archuleta.
A woman's eyes cut deeper than a knife. ~ Robert Jordan.
You can't depend on your eyes when your imagination is out of focus. ~ Mark Twain.
The eye is the jewel of the body. ~ Henry David Thoreau.
The eyes have one language everywhere. ~ George Herbert.
The voice of your eyes is deeper than all roses. ~ E.E. Cummings.
Children listen best with their eyes. What you do is what they hear. ~ Richard Carlson.
If your eyes are blinded with your worries, you cannot see the beauty of the sunset. ~ Jiddu Krishnamurti.
When a woman is talking to you, listen to what she says with her eyes. ~ Victor Hugo.
Look deep inside the eyes of a woman, see the man you want to be. ~ Tim McGraw.
If you see with innocent eyes, everything is divine. ~ Federico Fellini.
Powerful Eyes Quotes and Sayings
They seemed to be staring at the dark, but their eyes were watching God. ~ Zora Neale Hurston.
Where words are restrained, the eyes often talk a great deal. ~ Samuel Richardson.
Eyes will not see when the heart wishes them to be blind. ~ Seneca The Younger.
The world only exists in your eyes. You can make it as big or as small as you want. ~ F. Scott Fitzgerald.
You can tell a lot from someone's eyes. ~ Lorne Michaels.
When you close your eyes to tragedy, you close your eyes to greatness. ~ Stephen Vizinczey.
The eyes of men love to pluck the blossoms from the faded flowers they turn away. ~ Sophocles.
Beautiful eyes are those that show the beautiful thoughts that burn below. ~ Ellen Palmer Allerton.
Eyes are more accurate witnesses than ears. ~ Heraclitus.
Every closed eye is not sleeping, and every open eye is not seeing. ~ Bill Cosby.
Our eyes are always blind when they view the future. ~ Kelly Link.
Famous Eyes Quotes
It took me a long time not to judge myself through someone else's eyes. ~ Sally Field.
The eyes see only what the mind is prepared to comprehend. ~ Henri Bergson.
When the eyes of the flesh are shut, the eyes of the spirit are open. ~ Willa Cather.
Eyes are the window to the soul. ~ Proverb.
When the tongue lies, the eyes tell the truth. ~ George Horace Lorimer.
An animal's eyes have the power to speak a great language. ~ Martin Buber.
There's a light in a woman's eyes that speaks louder than words. ~ Arthur Conan Doyle.
If my eyes could show my soul, everyone would cry when they saw me smile. ~ Kurt Cobain.
The eyes are not responsible when the mind does the seeing. ~ Publilius Syrus.
Love is in the eyes, and one woman knows when another woman is in love. ~ David Gemmell.
My eyes make pictures when they are shut. ~ Samuel Taylor Coleridge.
The ear tends to be lazy, craves the familiar and is shocked by the unexpected; the eye, on the other hand, tends to be impatient, craves the novel and is bored by repetition. ~ W. H. Auden.
Tears are nature's lotion for the eyes. The eyes see better for being washed by them. ~ Christian Nevell Bovee.
Inspiring Eyes Quotes
The eyes are the pioneers that first announce the soft tale of love. ~ Sextus Propertius.
When the heart is full, the eyes overflow. ~ Sholom Aleichem.
The eyes are the windows of a woman's heart; you may enter that a way! ~ Eugene Sue.
Your eyes show the strength of your soul. ~ Paulo Coehlo.
Fix your eyes on what you believe and not what you see. ~ Chris Burkmenn.
It is often said that before you die your life passes before your eyes. It is in fact true. It's called living. ~ Terry Pratchett.
Through the eyes of the brave, the future makes past tense perfect sense. ~ Auliq Ice.
Profound Eyes Quotes and Sayings
The eyes indicate the antiquity of the soul. ~ Ralph Waldo Emerson.
It is in their eyes that their magic resides. ~ Arthur Symons.
Open your eyes, look within. Are you satisfied with the life you're living? ~ Bob Marley.
The eyes see everything through the heart. ~ Katherine Center.
There are many things that can only be seen through eyes that have cried. ~ Oscar Romero.
He who closes his eyes sees nothing, even in the full light of day. ~ Leopold Trepper.
---
So these were the 70 quotes about Eyes.
If these quotes and sayings connect with you, check out our other posts on motivation quotes and life lessons quotes.
---
Sources: