Every family has a drama of its own.
Every family has its own brand of madness – it can be fighting amongst siblings, other family members. mother fighting with father.
---
Best Family Drama Quotes
All happy families are alike. Every unhappy family, however, is unhappy in its own way. ~ Leon Tolstoy.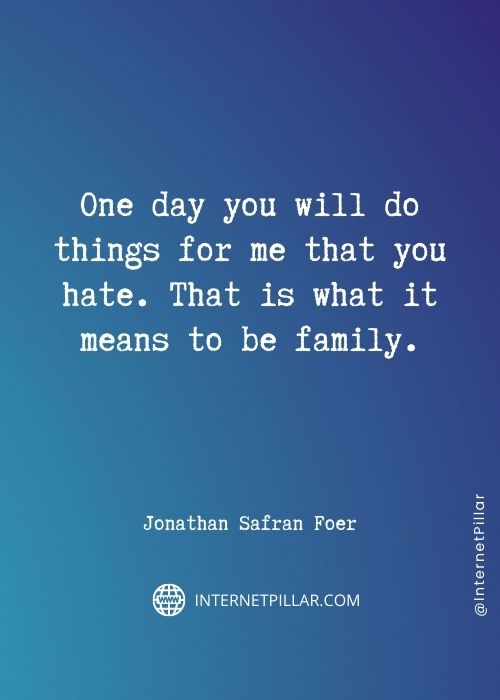 One day you will do things for me that you hate. That is what it means to be family. ~ Jonathan Safran Foer.
Bringing up a family should be an adventure, not an anxious discipline in which everybody is constantly graded for performance. ~ Milton R. Saperstein.
With family dramas, it's hard to keep those stories alive. ~ Emily Vancamp.
Sometime your own family ain't really family at time .. it's sad too. ~ Shaneika Marie.
Other things may change us, but we start and end with family. ~ Anthony Brandt.
The family is a haven in a heartless world. ~ Christopher Lasch.
Families living in dysfunction seldom have healthy boundaries. Dysfunctional families have trouble knowing where they stop and others begin. ~ David W. Earle.
A family without a black sheep is not a typical family. ~ Heinrich Boll.
In families you can find the source of every human drama. It is interesting because the cell of a society, the cell of a country, the cell of humanity – everything lies in the family. ~ Alejandro Gonzalez Inarritu.
Famous Family Drama Quotes
One of the greatest things drama can do, at it's best, is to redefine the words we use every day such as love, home, family, loyalty and envy. Tragedy need not be a downer. ~ Ben Kingsley.
Family is supposed to be our safe heaven. Very often, it's the place where we find the deepest heartache. ~ Iyanla Vanzant.
Feelings of worth can flourish only in an atmosphere where individual differences are appreciated, mistakes are tolerated, and communication is open, and rules are flexible – the kind of atmosphere that is found in a nurturing family. ~ Virginia Satir.
A man that raises a large family does, indeed, while he lives to observe them, stand a broader mark for sorrow; but then he stands a broader mark for pleasure too. ~ Benjamin Franklin.
I love playing a dad. It's hard to find family dramas that are genuinely funny. ~ Peter Gallagher.
Families always have these unspoken dramas, and at holidays, everyone is supposed to sit down and pretend that none of that is going on. ~ Richard LaGravenese.
Family quarrels have a total bitterness unmatched by others. Yet it sometimes happens that they also have a kind of tang, a pleasantness beneath the unpleasantness, based on the tacit understanding that this is not for keeps; that any limb you climb out on will still be there later for you to climb back. ~ Mignon McLaughlin.
Top Family Drama Quotes
The greatest legacy one can pass on to one's children and grandchildren is not money or other material things accumulated in one's life, but rather a legacy of character and faith. ~ Billy Graham.
Don't waste words on people who deserve your silence. Sometimes the most powerful thing you can say is nothing at all. ~ Mandy Hale.
At the end of the day, a loving family should find everything forgivable. ~ Mark V. Olsen.
Families are the compass that guides us. They are the inspiration to reach great heights, and our comfort when we occasionally falter. ~ Brad Henry.
To put the world right in order, we must first put the nation in order; to put the nation in order, we must first put the family in order; to put the family in order, we must first cultivate our personal life; we must first set our hearts right. ~ Confucius.
Nothing like watching your relatives fight, I always say. ~ Rick Riordan.
Popular Family Drama Quotes
Think of your family today and every day thereafter, don't let the busy world of today keep you from showing how much you love and appreciate your family. ~ Josiah.
A family is a risky venture, because the greater the love, the greater the loss… that's the trade-off. But I'll take it all. ~ Brad Pitt.
A man should never neglect his family for business. ~ Walt Disney.
You don't get to see all my family drama, you don't get in my relationships, and you don't get to live inside my personal life. But if you don't pick at me, I'm pretty open to just let you in. ~ Miley Cyrus.
Many times, the decisions we make affect and hurt your closest friends and family the most. I have a lot of regrets in that regard. But God has forgiven me, which I am very thankful for. It has enabled me to forgive myself and move forward one day at a time. ~ Lex Luger.
Family quarrels are bitter things. They don't go according to any rules. They're not like aches or wounds, they're more like splits in the skin that won't heal because there's not enough material. ~ F. Scott Fitzgerald.
Profound Family Drama Quotes
To each other, we were as normal and nice as the smell of bread. We were just a family. In a family even exaggerations make perfect sense. ~ John Irving.
In the process of letting go you will lose many things from the past, but you will find yourself. ~ Deepak Chopra.
I think many of us live in a rut. Stuck in a groove we can't get out of, whether it's our job, family drama or the little frustrations of everyday life. ~ Brian Pinkerton.
I can't help detesting my relations. I suppose it comes from the fact that none of us can stand other people having the same faults as ourselves. ~ Oscar Wilde.
I don't think anyone has a normal family. ~ Edward Furlong.
Family life is a bit like a runny peach pie – not perfect but who's complaining? ~ Robert Brault.
For all the drama we all have with our families and all the tension and hostility, I couldn't have done this without my family. Being the people that they are – they're crazy – made it possible for me to be crazy and to live a lifestyle of my own design. ~ Dan Colen.
Thoughtful Family Drama Quotes
The more dysfunctional, the more some family members seek to control the behavior of others. ~ David W. Earle.
The secret of a happy home life is that members of the family learn to give and receive love. ~ Billy Graham.
To us, family means putting your arms around each other and being there. ~ Barbara Bush.
The strength of a nation derives from the integrity of the home. ~ Confucius.
Conflict is drama, and how people deal with conflict shows you the kind of people they are. ~ Stephen Moyer.
Family is not an important thing, it's everything. ~ Michael J. Fox.
When you look at your life, the greatest happinesses are family happinesses. ~ Joyce Brothers.
The bond that links your true family is not one of blood, but of respect and joy in each other's life. Rarely do members of one family grow up under the same roof. ~ Richard Bach.
Powerful Family Drama Quotes
We get married to have an ally against our family. ~ Jonathan Tropper.
No one have a perfect family, but my family is perfect for Me. Beta Metani'Marashi.
It didn't matter how big our house was; it mattered that there was love in it. ~ Peter Buffett.
I love all genres. The only thing I get stymied by is the Family Drama. I don't necessarily know how to approach that. ~ Joss Whedon.
Sometimes our hearts get tangled, and our souls a little off kilter. Friends and family can set us right, and help guide us back to the light. ~ Sera Christann.
Families ties are cherished things, forged in childhood days, by love of parents, deep and true, and sweet familiar ways. ~ Terri Burritt.
Sometimes it can be bad to have too much family. Everybody gets involved in your problems, giving their opinion, gossiping, and making drama. But when bad things happen, they will be there to support you. ~ Sofia Vergara.
---
So these were the 53 top quotes about Family Drama.
If you like these quotes and sayings, then you can also read my other posts on Keeping It Real quotes and Choose Me quotes.