Finding a work-life balance is a constant struggle for many people.
We have to set reasonable deadlines and boundaries with regards to work and life to live a fulfilling life.
---
Top 10 Work Family Quotes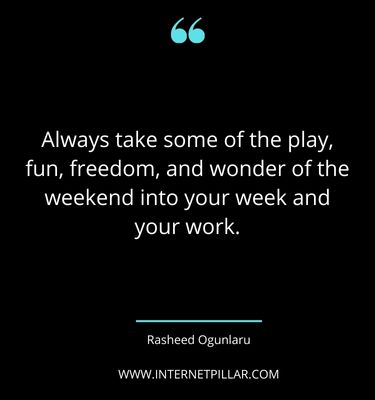 Always take some of the play, fun, freedom, and wonder of the weekend into your week and your work. ~ Rasheed Ogunlaru.
No one on his deathbed ever said, 'I wish I had spent more time at the office. ~ Paul Tsongas.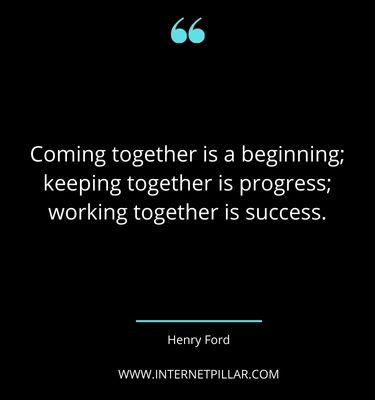 Coming together is a beginning; keeping together is progress; working together is success. ~ Henry Ford.
There is no such thing as work-life balance. Everything worth fighting for unbalances your life. ~ Alain de Botton.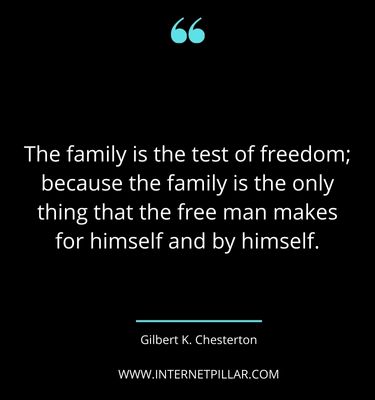 The family is the test of freedom; because the family is the only thing that the free man makes for himself and by himself. ~ Gilbert K. Chesterton.
We need to do a better job of putting ourselves higher on our own 'to do' list. ~ Michelle Obama.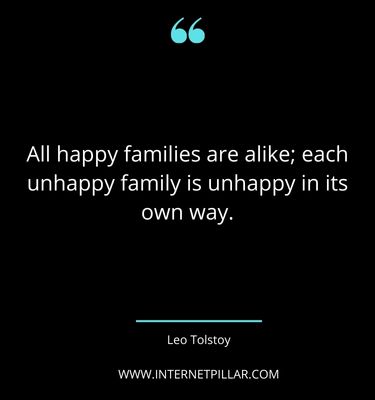 All happy families are alike; each unhappy family is unhappy in its own way. ~ Leo Tolstoy.
All my kids have worked in the family business. I've been successful at that. My family knows how to work. ~ Alex Spanos.
Balance is not better time management, but better boundary management. Balance means making choices and enjoying those choices. ~ Betsy Jacobson.
Don't get too busy making a living that you forget to make a life. ~ Paul Bear Bryant.
Famous Work Family Quotes
Time is really the only capital that any human being has, and the only thing he can't afford to lose. ~ Thomas Edison.
Tradition is like a bow. The more we stretch the bowstring, the farther we can throw the arrows of modernity and innovation. ~ Giovanni Ferrero.
In every aspect of my life – building businesses, raising my family, embarking upon adventures – I try to do things for the first time every day. ~ Richard Branson.
You can't truly be considered successful in your business life if your home life is in shambles. ~ Zig Ziglar.
Time is the coin of your life. It is the only coin you have, and only you can determine how it will be spent. Be careful lest you let other people spend it for you. ~ Carl Sandburg.
Be moderate in order to taste the joys of life in abundance. ~ Epicurus.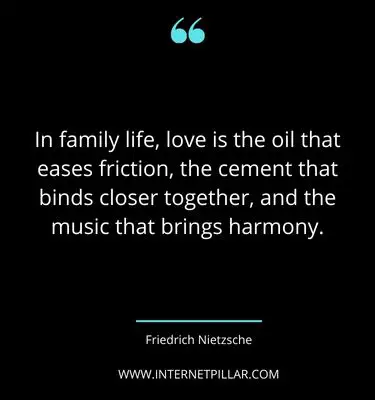 In family life, love is the oil that eases friction, the cement that binds closer together, and the music that brings harmony. ~ Friedrich Nietzsche.
Wise Work Family Quotes
The greatest thing in family life is to take a hint when a hint is intended-and not to take a hint when a hint isn't intended. ~ Robert Frost.
The most successful people I know create superior results yet still maintain a balance among work, family, and recreation in their lives. ~ Jack Canfield.
I wish I had not been in a hurry to get on to the next things: dinner, bath, book, bed. ~ Anna Quindlen.
What is a work-life imbalance? It's: I feel safe at home, I don't feel safe at work. That's the imbalance. And no amount of yoga or vacation time is going to fix that. ~ Simon Sinek.
Nothing is better than going home to family and eating good food and relaxing. ~ Irina Shayk.
What can you do to promote world peace? Go home and love your family. ~ Mother Teresa.
All people have is hope. That's what brings the next day and whatever that day may bring… A hope grounded in the real world of living, friendship, work, family… ~ Bruce Springsteen.
You will never feel truly satisfied by work until you are satisfied by life. ~ Heather Schuck.
Everyone needs a house to live in, but a supportive family is what builds a home. ~ Anthony Liccione.
Popular Work Family Quotes
Either you run the day, or the day runs you. ~ Jim Rohn.
A family is a risky venture, because the greater the love, the greater the loss… That's the trade-off. But I'll take it all. ~ Brad Pitt.
The most important thing a father can do for his children is to love their mother. ~ Theodore Hesburgh.
Sometimes it feels like today, we are all just thinking of numbers and spreadsheets. At times, we forget that instinct is just as important. ~ Alberto Pirelli.
Family and work. Family and work. I can let them be at war, with guilt as their nuclear weapon and mutually assured destruction as their aim, or I can let them nourish each other. ~ Ellen Gilchrist.
One of the greatest ways to lead your family is to be vulnerable enough to show your emotion. This doesn't mean you need to be out of control, but it does require you to be authentic. ~ Jerrad Lopes.
The love of family and the admiration of friends are much more important than wealth and privilege. ~ Charles Kuralt.
A man should never neglect his family for business. ~ Walt Disney.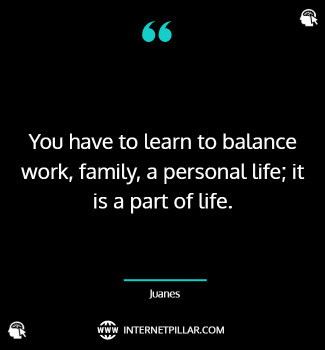 You have to learn to balance work, family, a personal life; it is a part of life. ~ Juanes.
You can escape completely, seeking an alternative life, or you can play the game and go absent without leave. How you do it is up to you. ~ Fennel Hudson.
Best Work Family Quotes
Work is a rubber ball. If you drop it, it will bounce back. The other four balls – family, health, friends, integrity – are made of glass. If you drop one of these, it will be irrevocably scuffed, nicked, perhaps even shattered. ~ Gary W. Keller.
It's hard to have a hereditary system that produces the competencies required to meet the demands of the public and the organization. ~ J. Mark Baiada.
I have so much admiration for women who are mothers, who balance family and work. ~ Beyonce.
Strive not to be a success, but rather to be of value. ~ Albert Einstein.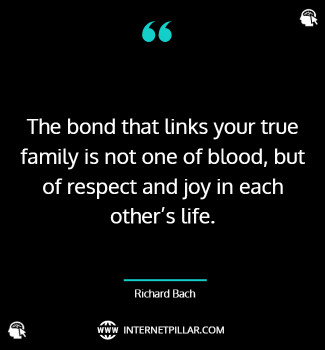 The bond that links your true family is not one of blood, but of respect and joy in each other's life. ~ Richard Bach.
Striving for excellence motivates you; striving for perfection is demoralizing. ~ Harriet Braiker.
Call it a clan, call it a network, call it a tribe, call it a family: Whatever you call it, whoever you are, you need one. ~ Jane Howard.
Powerful Work Family Quotes
The informality of family life is a blessed condition that allows us all to become our best while looking our worst. ~ Marge Kennedy.
However important business is, family always comes first. ~ Richard Branson.
The only way to be truly satisfied is to do what you believe is great work. ~ Steve Jobs.
Working hard for something we don't care about is called stress: Working hard for something we love is called passion. ~ Simon Sinek.
We have to collect our thoughts and desires and expectations for the business and share those with one voice instead of 100 different voices. ~ Stacy Mello.
If the family were a boat, it would be a canoe that makes no progress unless everyone paddles. ~ Letty Cottin Pogrebin.
Families are the first in our lives, as we grow we drift a bit but always returning to those who love, encourage, and support us the most, our family. ~ Catherine Pulsifer.
Meaningful Work Family Quotes
Burnout is about resentment. Preventing it is about knowing yourself well enough to know what it is you're giving up that makes you resentful. ~ Marissa Mayer.
We think, mistakenly, that success is the result of the amount of time we put in at work, instead of the quality of time we put in. ~ Arianna Huffington.
It is halfway true that if you are involved in a family coffeehouse you don't have a life. ~ Robin McKinley.
Be steady and well-ordered in your life so that you can be fierce and original in your work. ~ Gustave Flaubert.
Family is the most important thing in the world. ~ Princess Diana.
Families are the compass that guides us. They are the inspiration to reach great heights, and our comfort when we occasionally falter. ~ Brad Henry.
---
So these were the 60 famous quotes about Work Family.
If you like these quotes and sayings, then you can also read my other popular blog posts on the topics of Time is Precious quotes and No One is Perfect quotes.