"Family love" encompasses affection, respect, commitment and a strong connection among family members.
Each shared moment carries significance, whether it's the joy of dining together, the laughter that fills the room, or the expression of affection in unique ways.
These moments can involve longing conveyed through a phone call, a visit, or even the sending of a heartfelt quote.
Regardless of the method chosen to express love, it will undoubtedly be cherished.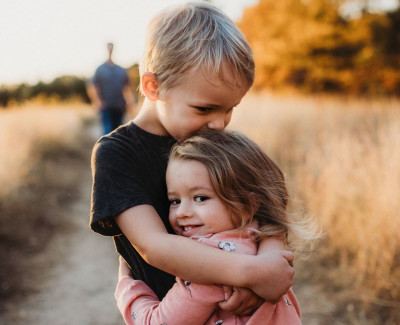 When you desire to demonstrate your deep affection and appreciation to your loved ones, consider sharing an inspirational quote.
This serves as a beautiful reminder of your enduring love and gratitude.
Let's dive into the 75 Family Love Quotes to Share With Your Relatives.
---
Best Family Love Quotes
The love of family and the admiration of friends is much more important than wealth and privilege. ~ Charles Kuralt.
Strong, stable, and healthy families are the foundation and building blocks of our society. ~ Cathy McAleese.
If one is desperate for love, I suggest looking at one's friends and family and see if love is all around. If not, get a new set of friends, a new family. ~ Jasmine Guy.
Love makes a family. ~ Gigi Kaeser.
At the end of the day, a loving family should find everything forgivable. ~ Mark V. Olsen.
The love of a family is life's greatest blessing. ~ Unknown.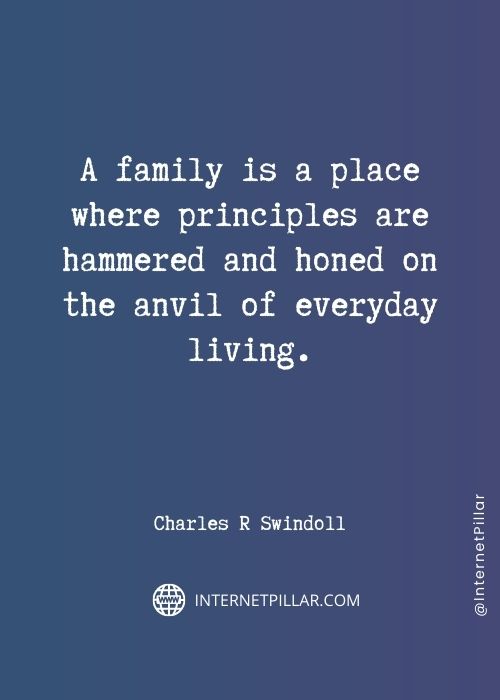 A family is a place where principles are hammered and honed on the anvil of everyday living. ~ Charles R Swindoll.
The most important thing a father can do for his children is to love their mother. ~ Henry Ward Beeche.
I find the family the most mysterious and fascinating institution in the world. ~ Amos Oz.
There's no vocabulary for love within a family, love that's lived in but not looked at, love within the light of which all else is seen, the love within which all other love finds speech. This love is silent. ~ T S Eliot.
There's nothing I value more than the closeness of friends and family, a smile as I pass someone on the street. ~ Willie Stargell.
To us, family means putting your arms around each other and being there. ~ Barbara Bush.
The family is one of nature's masterpieces. ~ George Santayana.
Our family is a circle of strength and love.Our family with every birth and every union the circle grows, our family is a circle of strength every crisis faced together makes the circle stronger. ~ Harriet Morgan.
Famous Family Love Quotes
The greatest thing in family life is to take a hint when a hint is intended-and not to take a hint when a hint isn't intended. ~ Robert Frost.
Because I had my family, I felt like I could be a bird and fly and experience and do. Because I had roots somewhere, I knew that they would love me no matter what, and I could always go back home and they were going to love me. ~ Gisele Bundchen.
Families are about love overcoming emotional torture. ~ Matt Groening.
Families are the compass that guides us. They are an inspiration to reach great heights and our comfort when we occasionally falter. ~ Beck Martin.
The love of the family, the love of the person can heal. It heals the scars left by a larger society. A massive, powerful society. ~ Maya Angelou.
Everyone needs a house to live in, but a supportive family is what builds a home. ~ Anthony Liccione.
A loving family provides the foundation children need to succeed, and strong families with a man and a woman – bonded together for life – always have been, and always will be, the key to such families. ~ Jim Bunning.
A family can develop only with a loving woman as its center. ~ Karl Wilhelm Friedrich Schlegel.
Every family is unique and every family has its own set of challenges, failures, joys, and successes. ~ Rachel Lynette.
Family shouldn't leave family. I'll always love you. ~ Greg Berlanti.
Popular Family Love Quotes
Power, that's one thing, but love of family and of siblings is more important, is more powerful than any other power – at least earthly power, at least earthly power. ~ Sander Levin.
Family means no one gets left behind or forgotten. ~ David Ogden Stiers.
The only rock I know that stays steady, the only institution I know that works, is the family. ~ Lee lacocca.
Please stay. There's nothing better than a happy family. ~ Jay Sommers.
The foundation of family – that's where it all begins for me. ~ Faith Hill.
In family life, love is the oil that eases friction, the cement that binds closer together, and the music that brings harmony. ~ Eva Burrows.
There is no friendship, no love, like that of the parent for the child. ~ Henry Ward Beecher.
The bond that links your true family is not one of blood, but of respect and joy in each other's life. ~ Beck Martin.
When trouble comes, it's your family that supports you. ~ Guy Lafleur.
There is no poverty in life when you have a loving, peaceful, happy family. They are a gift which cannot be bought nor traded for gold. ~ Ryan Dunn.
Families are great! They may not all look the same. But the people all love one another. ~ Diana Kenney.
Strong family ties based on sound moral values is the very foundation for a healthy society, healthy adults and healthy children. ~ Bob Weinstein.
Home is where you are loved the most and act the worst. ~ Marjorie Pay Hinckley.
Family love is messy, clinging, and of an annoying and repetitive pattern, like bad wallpaper. ~ Friedrich Nietzsche
It didn't matter how big our house was; it mattered that there was love in it. ~ Peter Buffett.
Related: Family Time Quotes, Sayings and Captions on Quality Time and Bonding Quotes on Friends, Family and Loved Ones
Top Family Love Quotes
It all comes down to family, love, and forgiveness, and respect. ~ Bert Marcus.
To maintain a joyful family requires much from both the parents and the children. Each member of the family has to become, in a special way, the servant of the others. ~ Pope John Paul II.
Being a family means you are a part of something very wonderful. It means you will love and be loved for the rest of your life. ~ Lisa Weed.
Family isn't about sharing the same genetics. That being said, Family is when you love someone to death, and You would do anything for them. You trust them, Take care of them, And in Return they do the same. It's the type of bond you hold together. ~ Tanya Bianco.
Family values may have declined over the last century, but we still help our families when we can. You're family, Will. ~ Bryan Fuller.
There is no such thing as fun for the whole family. ~ Jerry Seinfeld.
Without a family, man, alone in the world, trembles with the cold. ~ Andre Maurois.
Happy is said to be the family which can eat onions together. They are, for the time being, separate from the world, and have a harmony of inspiration. ~ Charles Dudley Warner.
That's how you know that your family loves you, when they feel free to scream at you. ~ Steven Levitan.
Spend some time this weekend on home improvement; improve your attitude toward your family. ~ Bo Bennett.
I think togetherness is a very important ingredient to family life. ~ Barbara Bush.
Call it clan, call it a network, call it a tribe, call it a family: Whatever you call it, whoever you are, you need one. ~ Jane Howard.
Don't let the fire of love ever go out for your family. Stay strong and be a provider, give as much as you can and love them with all your heart. ~ Paul Kipling.
Your family and your love must be cultivated like a garden. Time, effort, and imagination must be summoned constantly to keep any relationship flourishing and growing. ~ Jim Rohn.
Family is people who love us a lot. They are a special gift from God. ~ Fiona Poojara.
You leave home to seek your fortune and, when you get it, you go home and share it with your family. ~ Anita Baker.
Short Family Love Quotes
One of the things that binds us as family is a shared sense of humor. ~ Ralph Fiennes.
The world, we'd discovered, doesn't love you like your family loves you. ~ Louis Zamperini.
The only people that you really have, that I learned, are your family, because they love you no matter what. ~ Miley Cyrus.
A woman can take care of the family. It takes a man to provide structure, to provide stability. ~ Tom DeLay.
One's family is the most important thing in life. I look at it this way: One of these days I'll be over in a hospital somewhere with four walls around me. And the only people who'll be with me will be my family. ~ Robert Byrd.
Creating a beautiful family culture is to be proactive. ~ Rashid Rashad.
Families are ever changing in today's society. This shows that all families should be embraced and celebrated. ~ Dee Dee Walter-Goodspeed.
A home with a loving and loyal husband and wife is the supreme setting in which children can be reared in love and righteousness and in which the spiritual and physical needs of children can be met. ~ David A. Bednar.
Every family loves differently. Every love is unique. ~ Bryan Fuller.
Powerful Family Love Quotes
Family comes first. In a world full of unknown faces which do not care, the family comes in with all the love that there is to be found. ~ Timothy Kennedy.
Rejoice with your family in the beautiful land of life. ~ Kevin Marti.
The best of believers in faith is one who is best in manners and soft in their dealings with their family members. ~ Prophet Muhammad.
Families are the compass that guides us. They are the inspiration to reach great heights, and our comfort when we occasionally falter. ~ Brad Henry.
In every conceivable manner, the family is linked to our past, a bridge to our future. ~ Alex Haley.
Happiness is having a large, loving, caring, close-knit family in another city. ~ George Burns.
A happy family is but an earlier heaven. ~ Grorge Bernanrd Shaw.
In every dispute between parent and child, both cannot be right, but they may be, and usually are, both wrong. It is this situation which gives family life its peculiar hysterical charm. ~ Isaac Rosenfield.
---
So these were the 75 quotes about Family Love.
If these quotes and sayings connect with you, check out our other posts on wolves quotes and sad relationship quotes.