Future whose real name is Nayvadius DeMun Wilburn was born on November 20, 1983 in Atlanta, Georgia.
He is a famous American rapper and singer known for his significant contribution to the trap music genre.
He started his music business in 2011 by founding the record label Freebandz Records distributed by Epic Records.
His successful albums include "Pluto" "Honest" "DS2" "Evol" and "The Wizrd" featuring hits like 'Mask Off' and 'Life Is Good.'
Future has collaborated with artists like Drake Young Thug and Lil Uzi Vert and won a Grammy for Best Rap Performance in 2019.
His music often uses Auto-Tune for both rapping and singing.
He's regarded as one of hip hop's most successful and important figures of the decade.
Below are some of the popular quotes by Future.
---
Future Quotes Rapper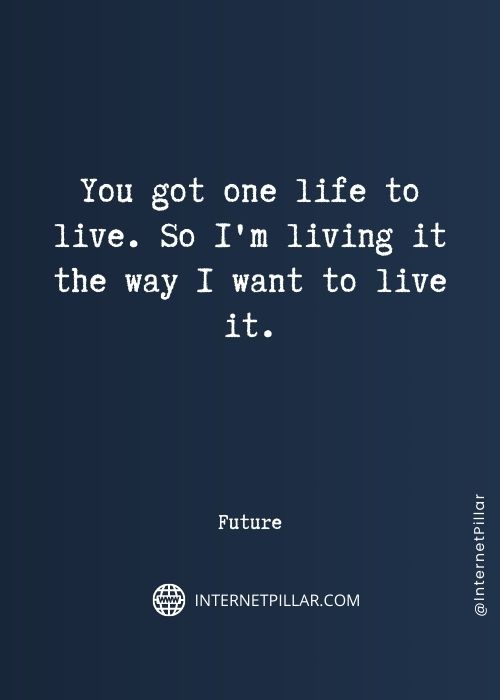 You got one life to live. So I'm living it the way I want to live it. ~ Future.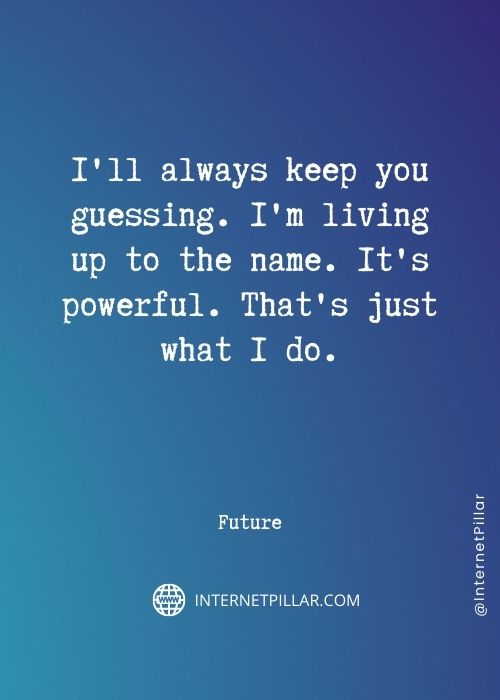 I'll always keep you guessing. I'm living up to the name. It's powerful. That's just what I do. ~ Future.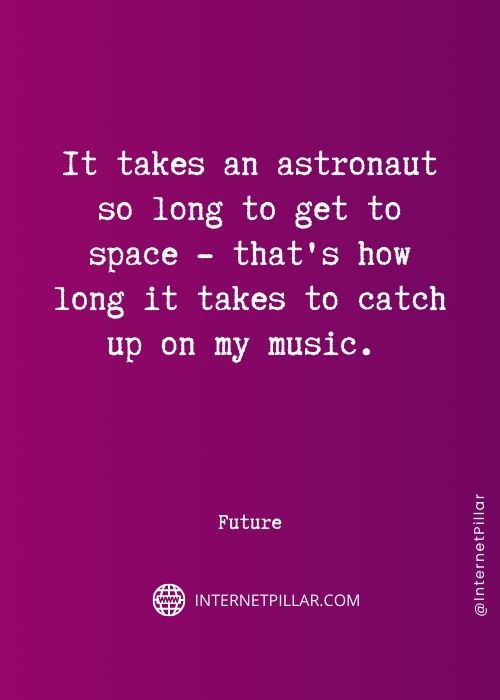 It takes an astronaut so long to get to space – that's how long it takes to catch up on my music. ~ Future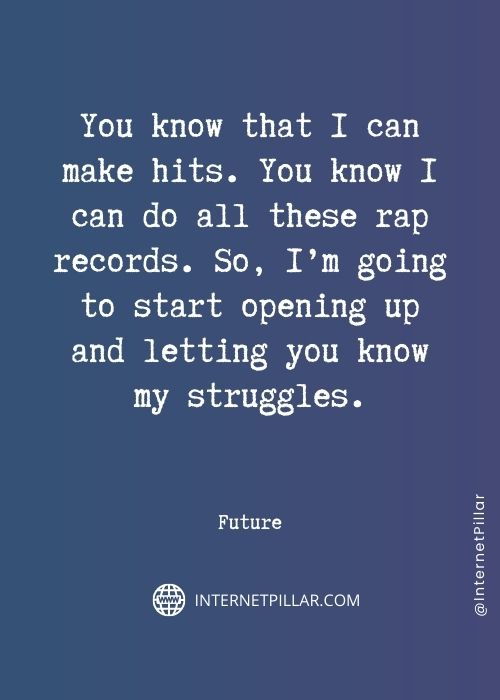 You know that I can make hits. You know I can do all these rap records. So, I'm going to start opening up and letting you know my struggles. ~ Future.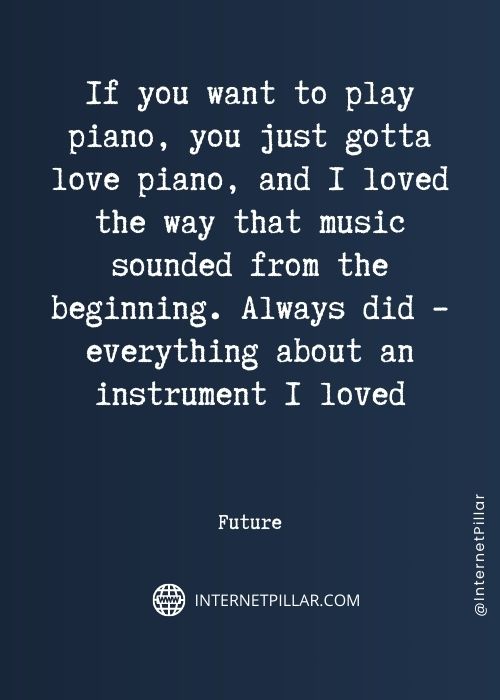 If you want to play piano, you just gotta love piano, and I loved the way that music sounded from the beginning. Always did – everything about an instrument I loved. ~ Future.
When you're a man, you want to make decisions for your family, and sometimes the lady doesn't see what you see. ~ Future.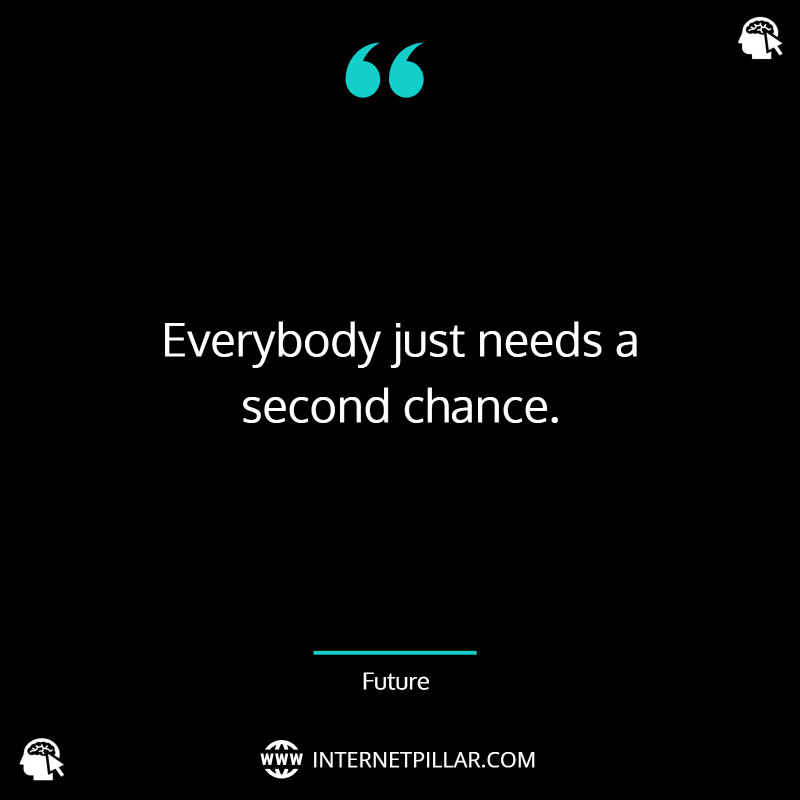 Everybody just needs a second chance. ~ Future.
'I Won' is not a love song. It's just me uplifting women in general. I'm giving women the power to treat themselves as a trophy – to show that and know it in yourself and be confident – because when they do that, whoever they're with is winning. ~ Future.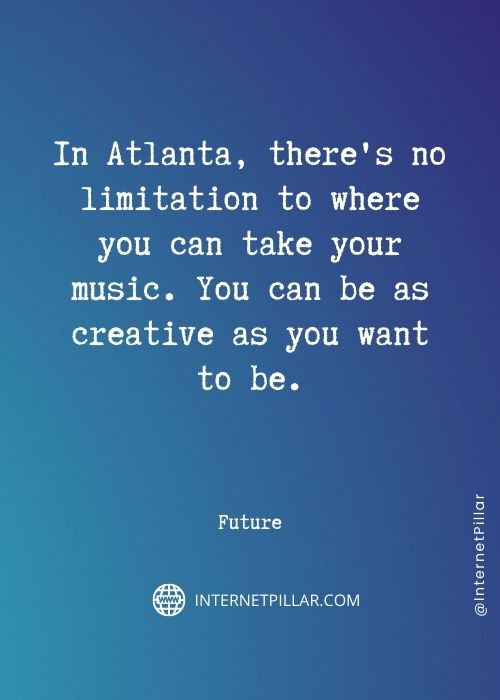 In Atlanta, there's no limitation to where you can take your music. You can be as creative as you want to be. ~ Future.
Best Future Rapper Quotes
Sometimes it's hard to open up about your personal life, your relationship because you always want the music to be in the forefront. You want the music to be the biggest carrier of everything that you represent. ~ Future.
I know I haven't always done things the right way. I'm just trying to reflect on how to make myself better, how to become a better man, a better father, a better person, a better artist. ~ Future.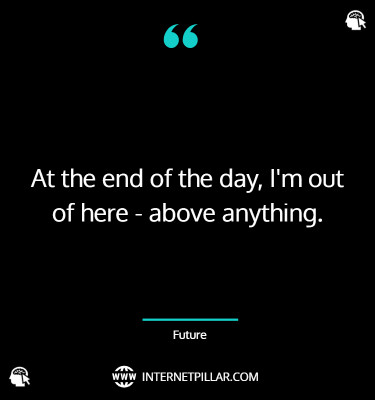 At the end of the day, I'm out of here – above anything. ~ Future.
I've been on the songs of all these rappers that put out an album, and my music is still better. ~ Future.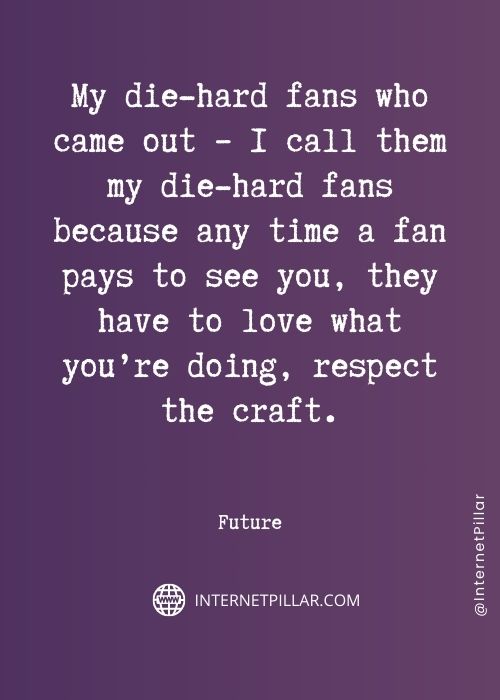 My die-hard fans who came out – I call them my die-hard fans because any time a fan pays to see you, they have to love what you're doing, respect the craft. ~ Future.
Top Future Rapper Quotes
I've always been into fashion since I was a kid. I love fashion. I appreciate it. I just enjoy dressing up and getting all the new sneakers and all the hot exclusive clothes – I did even when I was young. ~ Future.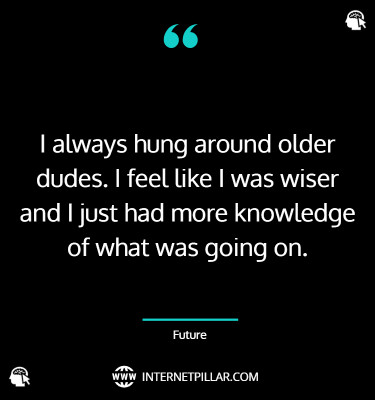 I always hung around older dudes. I feel like I was wiser and I just had more knowledge of what was going on. ~ Future.
When I played football, basketball, and baseball, I was always a starter. I played baseball as the number three or number four-hitter. Playing baseball, I was the third baseman or pitcher. Football, I was the quarterback. I was always versatile. It came to me naturally. It was always easy. ~ Future.
Don't matter if you're rich, poor or whatever, you just want to be able to have your own experiences in life and listen and learn from other people. ~ Future.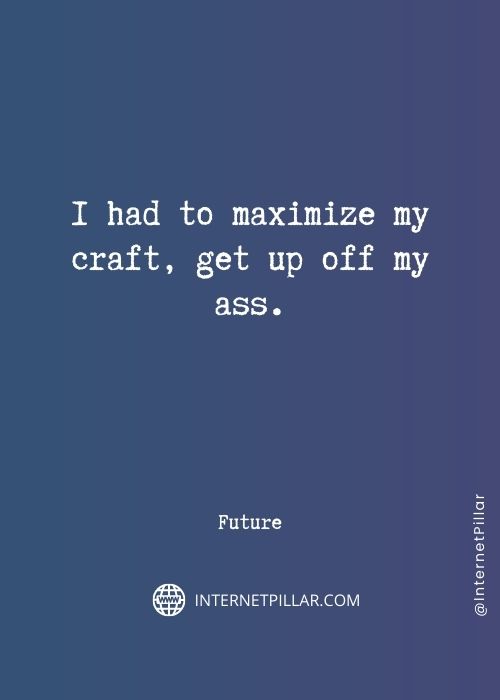 I had to maximize my craft, get up off my ass. ~ Future.
Famous Future Rapper Quotes
I'm just not going to settle for anything, you know? ~ Future.
My hard work finally catching up with perfect timing. ~ Future.
All gigs are good gigs. There's never a bad one. Everything have a reason behind it; you just got to find that reason. ~ Future
Quality is everything to me, and I perfect everything I do. ~ Future.
You get inspiration from craziest places. It's just about being creative. You gotta step outside that box, you know what I'm saying, to reach the people. You never know who can feel it; who it can connect to. ~ Future.
I can't leave home without certain movies. 'The Godfather' is a big one for me. And I've gotta have my beats so I can write new music. ~ Future.
 I've made a lot of mistakes in my life. I wouldn't say musically, though. ~ Future.
Inspiring Future Rapper Quotes
Jupiter, Pluto, pick a planet: we can go there. I just got a bit more work to do in the music industry, and we're going to space, baby. ~ Future.
I want to keep doing what I'm doing and see how far I can go. See when it stops. See what the end is like. I want to make this moment last as long as I can make it. If I miss a day, I'm afraid I'll miss out on a smash record. ~ Future.
I'm not just a hip-hop artist; I feel like I'm a rockstar. ~ Future.
I never get starstruck. ~ Future.
I wouldn't say I'm underrated, but more reserved. Only time will tell, but I've been good so far in being consistent and making hit after hit writing for myself and other artists, from rap to R&B, and being able to make those different records. ~ Future.
I was drawn to love songs, but I was just drawn to great music – no matter if it's hip-hop, pop, R&B or whether it's rock n' roll or country. It could be a Garth Brooks song, and if it's a smash, then I'll love the different wordplay and different melodies. That's what I'm a fan of – great music. ~ Future.
I'm always a fan of good business moves. ~ Future.
I don't write hits for myself, or other artists, or to just be writing it. I write it because I was born to do this, was given this gift and I'm making the most of my opportunity. ~ Future.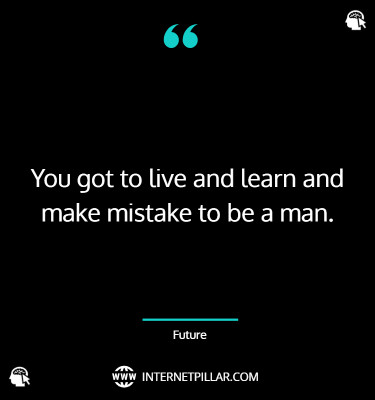 You got to live and learn and make mistake to be a man. ~ Future.
I'm an entrepreneur. This is my life. This my career. This the way I eat. ~ Future.
Big Rube was on my first album and some of my mixtapes. His words are so powerful. I want to speak every word he says into existence. I wanna be a part of that! I wanna be a part of greatness. His wordplay is great to me. ~ Future.
My three wishes are just be respected out the game. I want respect from everybody. And just make a successful clothing line and company. I'm not going to put a number on it. Just to have a great career. ~ Future.
It takes compromise to raise a child, especially with a schedule like mine. ~ Future.
My favorite designer has to be Louis Vuitton. ~ Future.
That's the time that I enjoy: away from the cameras, away from the audience, the scenery of going out to eat and everybody's staring at me. ~ Future.
I like to express myself through the clothes that I wear. ~ Future.
I like all types of women. I accept them as they are when they come into my life… But I'm not a romantic. I'm just up-front. I like to be a part of something real, not make-believe. I tell women to tell me the truth, to just lay it out. Let me be the judge and decide if I want you around or not. Let me have my choice. ~ Future.
Popular Future Rapper Quotes
Don't ask for a million dollars. Ask for the stuff that'll get you a million dollars – your health, your brain, your sanity, wisdom. Prepare me for when I do get that million. Make sure I don't go crazy, make sure I help my family. ~ Future.
I just want to be an inspiration. I'm a rock star, I'm Future Hendrix. ~ Future.
If you behind me, I'm not going to look back and try and figure out what you're doing behind me. ~ Future.
My career choice is my career choice. Just stepping out of that zone, to be able to be a provider. I understand my position as a provider and my role as a dad also… Just being able to be comfortable with it. ~ Future.
My daddy didn't even sign my birth certificate. So I ain't never had his last name. ~ Future.
My favorite rappers are, I can't really say. I like Kanye because he's so creative. He'll just do anything. I like what Kanye's bringing to the game. Lil Wayne. I like Wayne. ~ Future.
At times, I think, 'What would I rather be doing than music?' That's what you have to ask yourself, if you feel like you need to be somewhere else… But there's nothing else I want to do more than music. That's why I stay in the booth. ~ Future.
Even if it comes off natural, everyone has a fashion sense. ~ Future.
When I first used Auto-Tune, I never used it to sing. I wasn't using it the way T-Pain was. I used it to rap because it makes my voice sound grittier. ~ Future.
People respond to something melodic. ~ Future.
My day one fans – my fans from my mix tape days – know my life now. They know where I've been. You don't want to have a disconnection with those fans. You have to give them all of you because they feel like they've known you. ~ Future.
I was shy talking about certain things, and I was shy with being honest because I didn't want people to judge me talking about fatherhood and how somebody should have my child around me. ~ Future.
My obsession with outer space is my way of being different. I make astronaut music. It takes an astronaut so long to get to space – that's how long it takes to catch up on my music. ~ Future.
My fashion sense is relatable but stands out because it's my own. ~ Future.
If you're doing what you think people might like, rather than doing what you like, people will see through it. ~ Future.
I'm just really a free spirit. You gotta be like that. 'Cause life ain't that complicated. It's only that complicated when you make it that way. I just wanna wake up and move with the way it goes. If it's meant to happen, it will happen. ~ Future.
I do everything for my family. ~ Future.
I don't read blogs. I'm living the life they're writing about. So why read about it? ~ Future.
---
Here is a musical video from Future – Wait for U.
---
So these were the 72 quotes from Future Rapper.
If you like these quotes and sayings, then you can also read my other popular blog posts on the topics of Morgan Wallen quotes and Bryson Tiller quotes.