"Good Day" is an expression commonly used as a formal salutation, typically in more ceremonious environments.
It's not just a courteous acknowledgment; it also conveys hope for a favorable day ahead. Having a truly 'good' day necessitates prioritizing self-care.
This implies ensuring a proper night's sleep to lay a solid groundwork for the forthcoming day.
Moreover, nourishing your body with a balanced meal can equip you with the necessary energy to tackle the day's tasks.
We have compiled a list of the most inspiring and intriguing quotes to stimulate and boost your determination to make every day a "good day."
These quotes are designed to act as reminders of the day's inherent splendor as well as its capacity for positivity and accomplishment.
---
Best Good Day Quotes
A good day is a good day. A bad day is a good story. Glennon Melton.
If you don't think every day is a good day, just try missing one. Cavett Robert
I take nothing for granted. I now have only good days or great days. Lance Armstrong.
Leave something good in every day. Dolly Parton.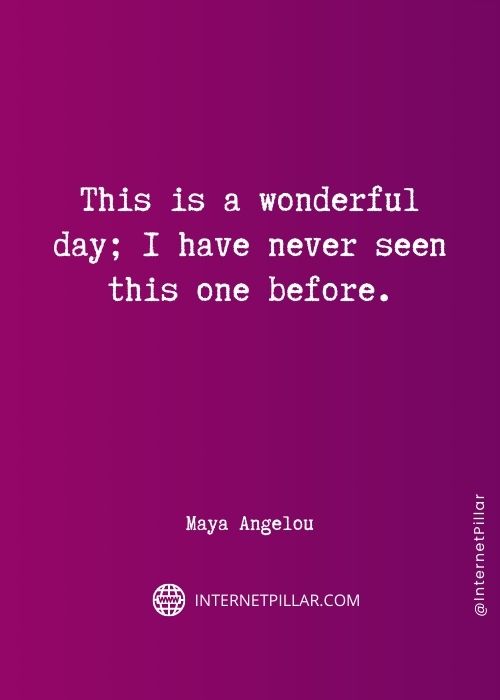 This is a wonderful day; I have never seen this one before. Maya Angelou.
For me, a lovely day is any day I wake up. Bernie Siegel.
It's a great day to be alive. I know the sun's still shining when I close my eyes. Travis Tritt.
Related Quotes: 82 Good Deeds Quotes on Kindness and Helping Others and 44 Good Night Quotes To Wish Sweet Dreams
Top Good Day Quotes
Every day is a good day to be alive, whether the sun's shining or not. Marty Robbins
I wake up every day and I think, 'I'm breathing! It's a good day.' Eve Ensler
Some days are just bad days, that's all. You have to experience sadness to know happiness, and I remind myself that not every day is going to be a good day, that's just the way it is! Dita Von Teese.
What makes a day good? Being content with what you have and setting goals to move forward in the life. Kate Summers.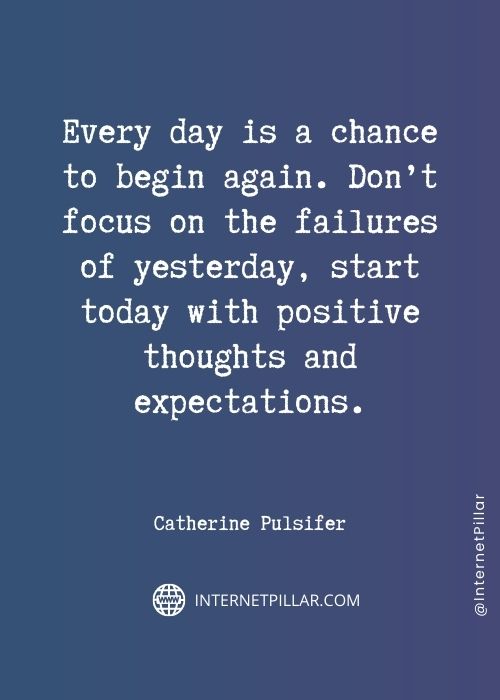 Every day is a chance to begin again. Don't focus on the failures of yesterday, start today with positive thoughts and expectations. Catherine Pulsifer.
Life is a precious gift that we should not waste, live each and every day with passion. Catherine Pulsifer
I believe, I believe every day is a good day when you paint. Bob Ross
Make each day your masterpiece. John Wooden
Every day is a good day when you're floating. Your whole life you spend walking around Earth and then all of a sudden you get to fly like you've dreamed of. Anne McClain
Every day is a good day. There is something to learn, care and celebrate. Amit Ray
Every day that I wake up has to be a good day! Bret Michaels
To create a wonderful day sometimes takes just a slight change in the way you look at it. Be willing to let go of an old, negative way that you look at something, and look at it in a new, positive way. Louise Hay
Inspiring Good Day Quotes
Every day is a new deal. Keep workin', and maybe sump'n'll turn up. Harvey Pekar
Animals praise a good day, a good hunt. They praise rain if they're thirsty. That's prayer. They don't live an unconscious life, they simply have no language to talk about these things. But they are grateful for the good things that come along. Mary Oliver
Every day is a good day above ground, and especially being able to play metal and being able to your craft and everything. You've gotta respect that, because it's something that can be taken away from you really quick. Joey Jordison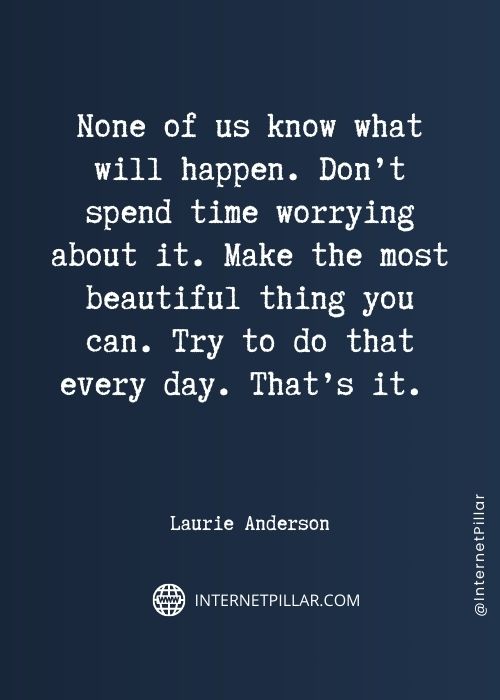 None of us know what will happen. Don't spend time worrying about it. Make the most beautiful thing you can. Try to do that every day. That's it. Laurie Anderson
I love the unknown, and any day that I get to experience someplace new is a good day. Josh Gates Not every day is a good day for me. Megan Thee Stallion
Whenever I don't have to wear makeup, it's a good day. Cameron Diaz
Obviously, maturity helps, knowing that you definitely have to make every day a good day. If not, somebody else is out there putting in the work. Frances Tiafoe
At the end of the day, if I can say I had fun, it was a good day. Simone Biles
You have to remember that the hard days are what make you stronger. The bad days make you realize what a good day is. If you never had any bad days, you would never have that sense of accomplishment! Aly Raisman
I hope everyone that is reading this is having a really good day. And if you are not, just know that in every new minute that passes you have an opportunity to change that. Gillian Anderson
As long as you are winning it is a good day. Per Mertesacker
Inspirational Good Day Quotes
Once you've stared death in the face, every day is a good day. Mike Quigley
Mondays are a good day to make statements, not Friday. Ernie Els
May there be a miracle in YOUR life today and may you have the EYES to see it. Veronica Hay
Ask not what tomorrow may bring, but count as blessing every day that fate allows you. Horace
When you start out on a positive note, it is much easier to have a good day without all those negative thoughts and emotions clouding your perceptions. Catherine Pulsifer
A good day is when no one shows up, and you don't have to go anywhere. Burt Shavitz
Some people go to bed at night thinking, 'That was a good day.' I am one of those who worries and asks, 'How did I screw up today?' Tom Hanks
A bad day for our ego is a great day for our soul. Jillian Michaels
Lovely days don't come to you; you should walk to them. Rumi
I get up every morning and it's going to be a great day. You never know when it's going to be over so I refuse to have a bad day. Paul Henderson
When you're wide awake, say it for goodness sake, it's gonna be a great day. Paul McCartney
We don't "have" a great day, we "make it" a great day! Frosty Westering
Don't count the days, make the days count. Muhammad Ali
Motivational Good Day Quotes
I am grateful for being alive today. It is my joy and pleasure to live another wonderful day. Louise Hay
Today is your day; your mountain is waiting. So get on your way. Dr. Seuss
A day is a day. It's just a measurement of time. Whether it's a good day or a bad day is up to you. It's all a matter of perception. Donald L. Hicks
A well-spent day brings happy sleep. Leonardo da Vinci
Every day above earth is a good day. Ernest Hemingway
Even the worst days have an ending, and the best days have a beginning. Jennifer Coletta
A broken wing simply means you have to find another way to fly. Have a wonderful day, people. Kerry Katona
Every single day is a good day no matter how bright or dark it is, because it always brings an opportunity to start a positive beginning in your life. Edmond Mbiaka
Each day is a very good day simply because God made it. James Jason
To have a good day you need a good night's rest. Allow yourself 8 hours of rest each night, keeping you healthy and bright! Theodore W. Higginsworth
Everyone has highs and lows that they have to learn from, but every morning I start off with a good head on my shoulders, saying to myself, 'It's going to be a good day!'. Lindsay Lohan
Every day should be a good day. People fool themselves that they'll be here forever. Stephen A. Schwarzman
Ultimate Good Day Quotes
If I don't laugh at least 20 times a day – it hasn't been a good day. Jordin Sparks
While you're going through this process of trying to find the satisfaction in your work, pretend you feel satisfied. Tell yourself you had a good day. Walk through the corridors with a smile rather than a scowl. Your positive energy will radiate. If you act like you're having fun, you'll find you are having fun. Jean Chatzky
I make an effort to do something good for somebody every day, whether I know that person or not. Oprah Winfrey
Every day is a good day to be alive, whether the sun's shining or not. Marty Robbins
Make a commitment today to get up, get out, get busy and get things done. You can create the life you long to have. Les Brown
Today, give a stranger one of your smiles. It might be the only sunshine he sees all day. H. Jackson Brown, Jr.
Hey, I've got nothing to do today but smile. Paul Simon
You can't live a perfect day without doing something for someone who will never be able to repay you. John Wooden.
Anyone can have a good day, but you have to be able to perform on a bad day. Jurgen Klopp.
It's a good feeling to know you've had a good day at work. Adam Lallana.
A good day is one where I can not just read a book, but write a review of it. Maybe today I'll be able to do that. I get for some reason somewhat stronger when the sun starts to go down. Dusk is a good time for me. I'm crepuscular. Christopher Hitchens.
I choose to live in the present because when you suffer from chronic illness, you don't have a choice. It's day by day, one foot in front of the other. When there is a good day, you soak up that moment. Those 'good selfie' moments are captured because they're a gift. Yolanda Hadid.
You never think about what life's going to be like five years down the road or 10 – you just go though the day and try to make good decisions. Sometimes you do, sometimes you don't. You just hope this day will be a good day. Jack Harbaugh.
---
---
You Might Like
---
External Sources: