People say "Good morning!" to one another in the morning.
The curated collection of 58 good morning quotes is designed to kickstart your day in the best possible way.
These quotes range from inspirational and motivational to funny, covering a variety of themes including love, spirituality and positivity.
Some are especially crafted for loved ones, while others make perfect social media updates or text messages to friends.
Accompanied by beautiful images, these quotes not only serve as ideal Instagram captions or Facebook statuses, but they can also be used to create quote graphics.
These memorable good morning quotes aim to infuse your mornings with positivity and motivation, setting the tone for a great day ahead.
Start your day off right by immersing yourself in these uplifting words.
---
Best Good Morning Quotes and Sayings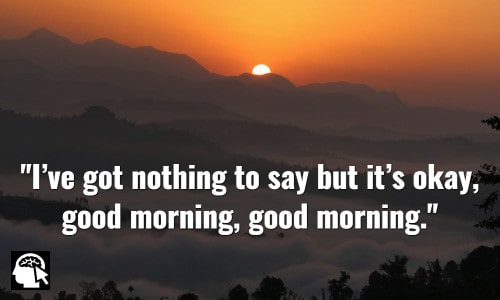 I've got nothing to say but it's okay, good morning, good morning. The Beatles.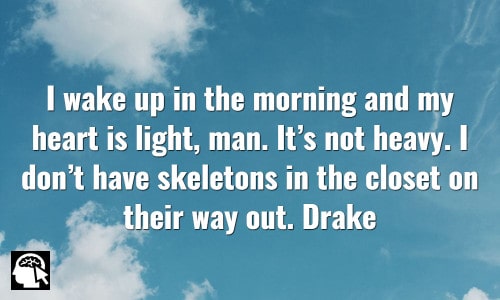 I wake up in the morning and my heart is light, man. It's not heavy. I don't have skeletons in the closet on their way out. Drake.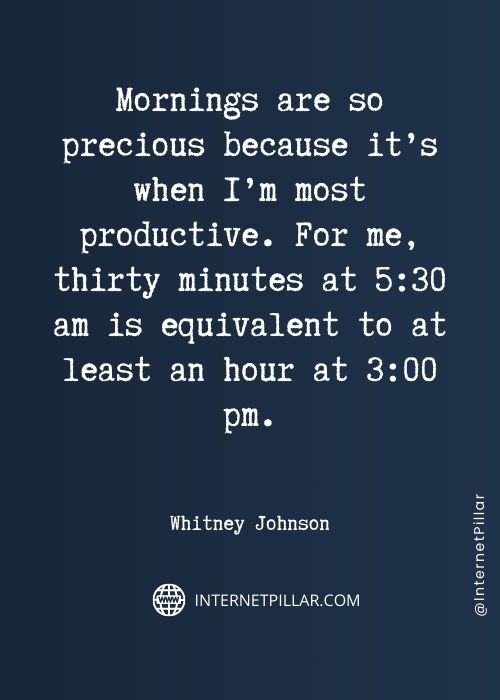 Mornings are so precious because it's when I'm most productive. For me, thirty minutes at 5:30 am is equivalent to at least an hour at 3:00 pm. Whitney Johnson.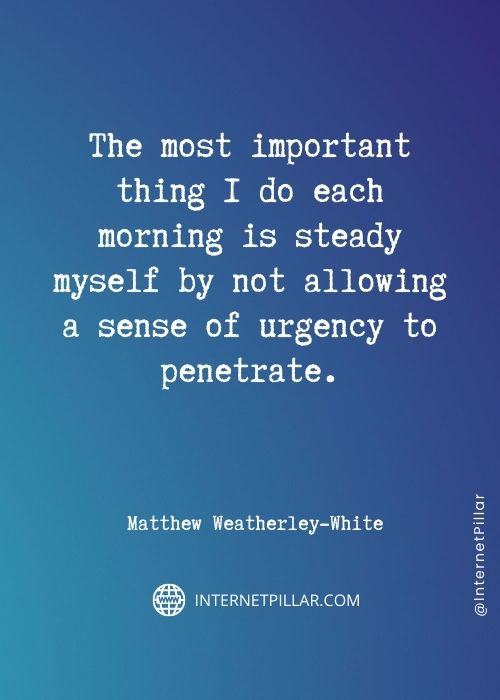 The most important thing I do each morning is steady myself by not allowing a sense of urgency to penetrate. Matthew Weatherley-White.
I wake up every morning at nine and grab for the morning paper. Then I look at the obituary page. If my name is not on it, I get up. Benjamin Franklin
Great Good Morning Quotes
An early-morning walk is a blessing for the whole day. Henry David Thoreau.
Write it on your heart that every day is the best day in the year. Ralph Waldo Emerson
I get up every morning and it's going to be a great day. You never know when it's going to be over, so I refuse to have a bad day. Paul Henderson.
For each new morning let there be flow of love. Let there be light of happiness in every direction. Amit Ray.
Do not shorten the morning by getting up late; look upon it as the quintessence of life, as to a certain extent sacred. Arthur Schopenhauer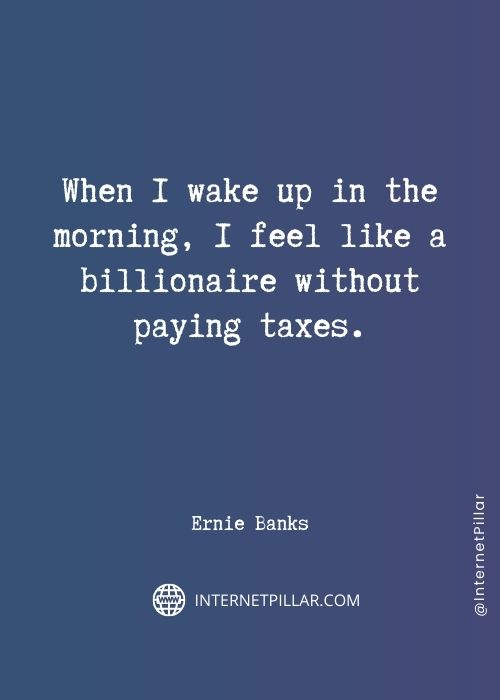 When I wake up in the morning, I feel like a billionaire without paying taxes. Ernie Banks.
Morning is an important time of day, because how you spend your morning can often tell you what kind of day you are going to have. Daniel Handler.
Your morning sets up the success of your day. So many people wake up and immediately check text messages, emails, and social media. I use my first hour awake for my morning routine of breakfast and meditation to prepare myself. Caroline Ghosn.
See also: Respect Quotes and Regret Quotes.
Beautiful Good Morning Quotes
Every sunrise gives you a new beginning and a new ending. Let this morning be a new beginning to a better relationship and a new ending to the bad memories. It's an opportunity to enjoy life, breathe freely, think and love. Be grateful for this beautiful day. Norton Juster.
Waking up this morning, I smile. 24 brand new hours are before me. I vow to live fully in each moment. Thich Nhat Hanh.
If you get up in the morning and think the future is going to be better, it is a bright day. Otherwise, it's not. Elon Musk.
I love the smell of juice boxes in the morning. Robert Duvall.
Good morning is a contradiction of terms. Jim Davis
Because you know what happens when you say 'hello' or 'good morning?' You make a connection. And isn't that what being human is all about? Philip Rosenthal
Every Morning You Have Two Choices: Continue To Sleep With Your Dreams, Or Wake Up and Chase Them. Carmelo Anthony
The sun is a daily reminder that we too can rise again from the darkness, that we too can shine our own light. S. Ajna.
In the morning a man walks with his whole body; in the evening, only with his legs. Ralph Waldo Emerson.
Everybody says 'Good Morning' in Harlem because it's true! And that's lovely. Marcia Gay Harden.
Lovely Good Morning Quotes
Unless I can come in in the morning and smile, walk in the lobby and say, 'Good morning!' – if I am stressed – I am not going to do a good job. Everybody is watching us. They are feeding off of our energy. Angela Ahrendts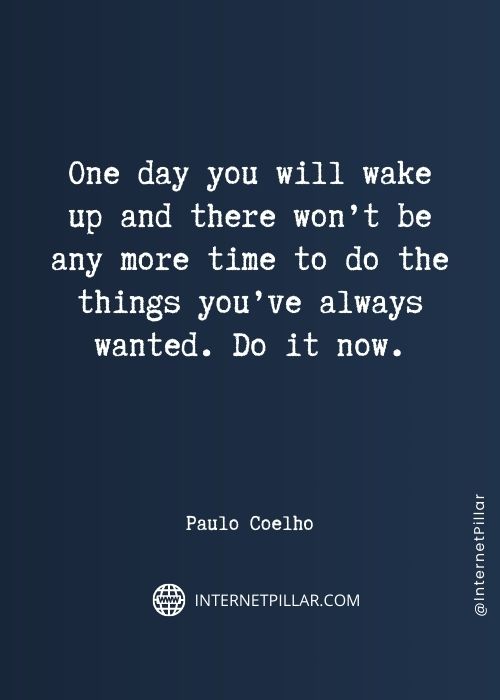 One day you will wake up and there won't be any more time to do the things you've always wanted. Do it now. Paulo Coelho.
Waking up early, connecting with nature, and having my quiet time are priorities to me, and they are non-negotiable. Danette May.
Every morning was a cheerful invitation to make my life of equal simplicity, and I may say innocence, with Nature herself. Henry David Thoreau.
These morning practices are what fuel me; keeping my routine is not about willpower. Jenny Blake.
If you have only one smile in you, give it to the people you love. Don't be surly at home, then go out in the street and start grinning 'Good morning' at total strangers. Maya Angelou.
Love. Fall in love and stay in love. Write only what you love, and love what you write. The key word is love. You have to get up in the morning and write something you love, something to live for. Ray Bradbury.
You have to have a dream so you can get up in the morning. Billy Wilder
When you arise in the morning, think of what a privilege it is to be alive, to think, to enjoy, to love. Marcus Aurelius
The breeze at dawn has secrets to tell you. Don't go back to sleep. Rumi
Every morning, I wake up saying, 'I'm still alive, a miracle.' And so I keep on pushing. Jim Carrey
Top Good Morning Quotes
Smile in the mirror. Do that every morning and you'll start to see a big difference in your life. Yoko Ono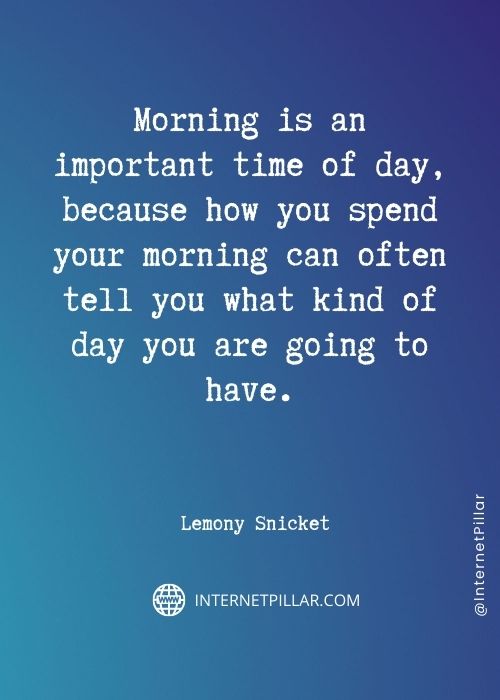 Morning is an important time of day, because how you spend your morning can often tell you what kind of day you are going to have. Lemony Snicket.
Morning comes whether you set the alarm or not. Ursula K. Le Guin.
I'm always thinking about creating. My future starts when I wake up every morning. Every day I find something creative to do with my life. Miles Davis.
I remind myself every morning: Nothing I say this day will teach me anything. So if I'm going to learn, I must do it by listening. Larry King.
The first thing I do after I wake up is a morning meditation. It's just as I awake and before I open my eyes. It's where I'm feeding my gratitude and the love in my heart and opening my heart. A good morning meditation is key. It lasts about 10 to 15 minutes. Then I get out of bed. Tony Gonzalez
You know that feeling when you wake up in the morning and you're excited for the day? That's one of my main goals in life. Kirsten Dunst
Do not say, 'It is morning,' and dismiss it with the name of yesterday. See it for the first time as a newborn child that has no name. Rabindranath Tagore
Lose an hour in the morning, and you will spend all day looking for it. Richard Whately
Be pleasant until ten o'clock in the morning and the rest of the day will take care of itself. Elbert Hubbard
Each morning when I open my eyes I say to myself: I, not events, have the power to make me happy or unhappy today. Groucho Marx
Opportunities are like sunrises. If you wait too long, you miss them. William Arthur Ward
An early-morning walk is a blessing for the whole day. Henry David Thoreau
Nothing is more beautiful than the loveliness of the woods before sunrise. George Washington Carver
Popular Good Morning Quotes
Morning is wonderful. Its only drawback is that it comes at such an inconvenient time of day. Glen Cook
When you rise in the morning, give thanks for the light, for your life, for your strength. Give thanks for your food and for the joy of living. If you see no reason to give thanks, the fault lies in yourself. Tecumseh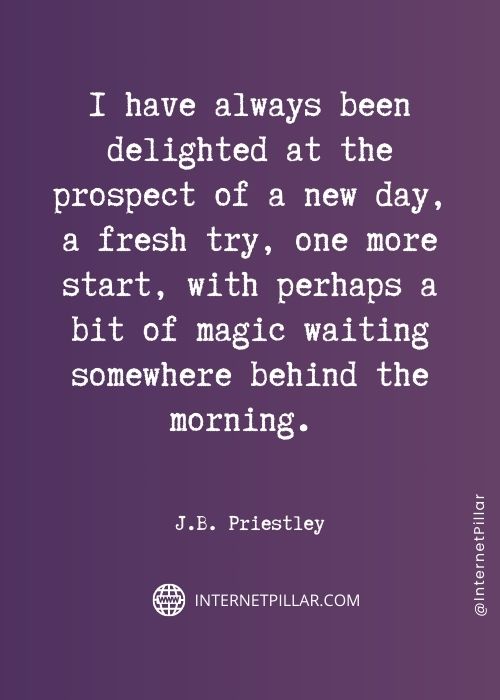 I have always been delighted at the prospect of a new day, a fresh try, one more start, with perhaps a bit of magic waiting somewhere behind the morning. J.B. Priestley
Do you wish me a good morning, or mean that it is a good morning whether I want it or not; or that you feel good this morning; or that it is a morning to be good on? J. R. R. Tolkien
Thank God every morning when you get up that you have something to do that day, which must be done, whether you like it or not. James Russell Lowell
Welcome every morning with a smile. Look on the new day as another special gift from your Creator, another golden opportunity to complete what you were unable to finish yesterday. Og Mandino
Starting my day with exercise gives me a big mood and energy boost throughout the day and makes me feel like I've accomplished something right off the bat. Jake Knapp
There is enormous power in nailing your morning routine, but there's even more power in adapting to it when it doesn't happen as we'd like. Terri Schneider.
You can only come to the morning through the shadows. J.R.R. Tolkien.
Get up in the morning and look at the world in a way that takes nothing for granted. Everything is phenomenal; everything is incredible; never treat life casually. To be spiritual is to be amazed. Abraham Joshua Heschel.
---
---
You Might Like