True love is the most intense kind of romantic love that two people can share.
When someone experiences true love, they feel that nothing else matters in this world but their partner and themselves.
They won't care about anything else, and they'll be more than willing to do anything for their partner.
A lot of people think that love is defined by the way that they feel when they are in love. While it can be a little confusing, there are some definite signs of true love.
Knowing the person inside and out.
Trusting them with anything and everything.
Knowing they will always be there for you no matter what.
Accepting them for everything, good and bad.
Wanting to spend every second with them forever.
Worrying about their well being even more than your own.
Wanting to do everything you can to make them happy.
Thinking about them all the time.
Wanting to hold them and never let go.
Knowing you won't be able to live without them anymore.
Avoid complicated love.
We have picked some of the most famous True Love quotes for you.
---
True Love Quotes for Real Love
You are my today and all of my tomorrows. Leo Christopher.
I love you more than I have ever found a way to say to you. Ben Folds.
You are my sun, my moon, and all of my stars. E.E. Cummings.
True love is like ghosts, which everyone talks about and few have seen. Francois de La Rochefoucauld.
True love is not a strong, fiery, impetuous passion. It is, on the contrary, an element calm and deep. It looks beyond mere externals, and is attracted by qualities alone. It is wise and discriminating, and its devotion is real and abiding. Ellen G. White.
True love stories never have endings. Richard Bach.
Maybe true love isn't out there for me, but I can sublimate my loneliness with the notion that true love is out there for someone. Roxane Gay.
True love is forever. Fabio Lanzoni.
True love brings up everything – you're allowing a mirror to be held up to you daily. Jennifer Aniston.
It can only be true love when you enable your other half to be better, to be the person they're destined to be. Michelle Yeoh.
I love my husband very much. I knew it was real true love because I felt like I could be myself around that person. Your true, true innermost authentic self, the stuff you don't let anyone else see, if you can be that way with that person, I think that that's real love. Idina Menzel
Best True Love Quotes
True love doesn't come to you, it has to be inside you. Julia Roberts
I've been in love. I believe in destiny and true love. Michael Sorrentino
True love, to me, is when she's the first thought that goes through your head when you wake up and the last thought that goes through your head before you go to sleep. Justin Timberlake
The course of true love never did run smooth. William Shakespeare
I want true love, because I don't have so much time, and I want to spend my time with the right girl. Bill Kaulitz
True love is quiescent, except in the nascent moments of true humility. Bryant H. McGill
Only true love can fuel the hard work that awaits you. Tom Freston
Love is a great master. It teaches us to be what we never were. Moliere
Love stretches your heart and makes you big inside. Margaret Walker
Love is when the other person's happiness is more important than your own. H. Jackson Brown, Jr.
Top True Love Quotes
Just because an individual in his 30s hasn't found true love and, yes, there are opportunities to date but it also forces you to be more particular. In so many ways, you become more adamant about finding that right person and not allowing yourself to open up to just anybody. Jeff Garcia.
Life is a game and true love is a trophy. Rufus Wainwright.
True love comes quietly, without banners or flashing lights. If you hear bells, get your ears checked. Erich Segal
True love doesn't happen right away; it's an ever-growing process. It develops after you've gone through many ups and downs, when you've suffered together, cried together, laughed together. Ricardo Montalban
True love is eternal, infinite, and always like itself. It is equal and pure, without violent demonstrations: it is seen with white hairs and is always young in the heart. Honore de Balzac.
True love – that is, deep, abiding love that is impervious to emotional whims or fancy – is a choice. It's a constant commitment to a person regardless of the present circumstances. Mark Manson.
True love cannot be found where it does not exist, nor can it be denied where it does. Torquato Tasso
I believe in true love, and I believe in happy endings. And I believe. Christie Brinkley
True love lasts forever. Joseph B. Wirthlin
The only true love is love at first sight; second sight dispels it. Israel Zangwill.
Famous True Love Quotes
It is so difficult in the world for people to find love, true love. LaToya Jackson
People confuse ego, lust, insecurity with true love. Simon Cowell
Fairy tales are stories of triumph and transformation and true love, all things I fervently believe in. Kate Forsyth
Rare as is true love, true friendship is rarer. Jean de La Fontaine
Nothing can bring a real sense of security into the home except true love. Billy Graham
I keep saying this, and I truly mean this: I think that when you experience true love, it never really goes away. Inbar Lavi
I saw that you were perfect, and so I loved you. Then I saw that you were not perfect and I loved you even more. Angelita Lim.
We waste time looking for the perfect lover, instead of creating the perfect love. Tom Robbins
You know it's love when all you want is that person to be happy, even if you're not part of their happiness. Julia Roberts.
Inspiring True Love Quotes
It may be an old cliché, but I think true love will last; it has no end. But finding the right person is a very difficult thing. Bruce Forsyth
I swear I couldn't love you more than I do right now, and yet I know I will tomorrow. Leo Christopher
All, everything that I understand, I only understand because I love. Leo Tolstoy
I never take any commitment lightly, and I certainly don't take my wife lightly. I never did and I never will. That's permanent. That's true love. John Lydon
Two things you will never have to chase: True friends & true love. Mandy Hale
If only one could tell true love from false love as one can tell mushrooms from toadstools. Katherine Mansfield
True love does not only encompass the things that make you feel good, it also holds you to a standard of accountability. Monica Johnson
The best love is the kind that awakens the soul; that makes us reach for more, that plants the fire in our hearts and brings peace to our minds. That's what I hope to give you forever. The Notebook.
Popular True Love Quotes
True love will triumph in the end – which may or may not be a lie, but if it is a lie, it's the most beautiful lie we have. John Green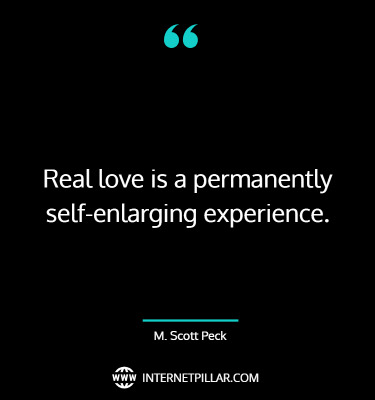 Real love is a permanently self-enlarging experience. M. Scott Peck
The greatest happiness of life is the conviction that we are loved; loved for ourselves, or rather, loved in spite of ourselves. Victor Hugo
Love is a two-way street constantly under construction. Carroll Bryant
The best and most beautiful things in this world cannot be seen or even heard, but must be felt with the heart. Helen Keller
True love is usually the most inconvenient kind. Kiera Cass
Keep love in your heart. A life without it is like a sunless garden when the flowers are dead. Oscar Wilde
Love is not only something you feel, it is something you do. David Wilkerson
Real love means remaining truthful, even when you have all the opportunity in the world to hurt someone. Michael Hayssus
If you live to be a hundred, I want to live to be a hundred minus one day so I never have to live without you. A. A. Milne
True love, especially first love, can be so tumultuous and passionate that it feels like a violent journey. Holliday Grainger
I would rather spend one lifetime with you, than face all the ages of this world alone. Lord of The Rings
True love is the best thing in the world, except for cough drops. William Goldman
I love true love, and I'm a woman who wants to be married for a lifetime. That traditional life is something that I want. Ali Larter.
Love is pure and true; love knows no gender. Tori Spelling
If I had a flower for every time I thought of you… I could walk through my garden forever. Alfred Tennyson
If I had to choose between breathing and loving you I would use my last breath to tell you I love you. Deanna Anderson
My love for you has no depth; its boundaries are ever-expanding. Christina White
I need you like a heart needs a beat. One Republic
Thinking of you keeps me awake. Dreaming of you keeps me asleep. Being with you keeps me alive. Inconnu
A hundred hearts would be too few to carry all my love for you. Henry Wadsworth
To love is nothing. To be loved is something. But to love and be loved, that's everything. T. Tolis.
You don't love someone because they're perfect, you love them in spite of the fact that they're not. Jodi Picoult
---
---
Frequently Asked Questions (FAQs) on True Love
Is True Love rare?
I believe that true love is rare because everyone seems to be in such a rush and some people don't even know who they're really going after.
Even if you tell someone "I want this," the fear of getting their heart broken keeps them from committing fully or otherwise ending up with something less than what was desired by both parties involved at first!
Love should never feel like an obligation but rather celebration for those lucky enough to find each other; yet many still wait too long before taking risks which leads others away instead feeling unfulfilled when things go pear-shaped later on down the line
What True Love feels like?
It would seem we're looking for a love so deep between two people that they can finish one another's sentences or read each other's thoughts without even trying – but what does true love feel like?
A lot of us might take this to mean tremendous infatuation, passionate kisses, fireworks going off every time we get near one another.
But a really meaningful kind of true love feels deeper than any sort of romance. This type of connection comes from a place in which people give freely, with no expectations.
They can be in separate rooms, moving about their days in a way that's similar to how they might if they weren't in a relationship with each other at all but still, there's a sense of security and strength. When you feel this way about someone else, you're bound to them forever.
What True Love really means?
Love is not easy and it doesn't always happen in the time we want it to, in fact love can be hard. When you're in love, you might not have a lot of time for friends or family, your partner may get on your nerves from time to time and there's so much uncertainty about the future.
All of this makes sense because sex, compatibility issues and new priorities are at the heart of every new relationship. In other words, if love were easy everybody would find partners quickly settle down – none of which sounds especially appealing!
Love is not an emotion that everyone feels quite often but when you do find it- it will change your life forever.
Is True Love Forever?
This is a question that has been asked countless times, and everyone always seems to have a different answer from each other.
Love is a battle, a constant struggle of emotions and feelings that can make you crazy at times with your own thoughts, but it can also bring so much joy to your life with just the smallest touch from the one you love.
In our opinion nothing in this world is forever, including relationships with humans. But love, true love is forever. It may not be in the physical world but it will be in your heart and mind for eternity.