Mondays marks the start of the workweek and often bring a sense of reluctance as people transition from a relaxed weekend back to their professional duties.
However, this collection of Monday quotes aims to infuse positivity and motivation into this day.
These quotes, curated from the best minds in history, serve as the perfect remedy to kickstart your week.
Regardless of the general aversion towards Mondays, embracing this day with a positive attitude, a sense of empowerment and a sprinkle of motivation can considerably boost your productivity and success.
Each quote here encourages you to view Mondays not as a burden, but as an opportunity for great things to happen.
Sharing these quotes with colleagues can uplift the overall work environment, transforming Monday from a day of groans to a day of anticipation and enthusiasm for the opportunities the new week brings.
Make Mondays a day to look forward to, filled with positivity and hope.
Here are some quotes that will make you positive for Monday.
Also read: Tuesday Quotes and Wednesday Quotes
---
Best Monday Quotes
1. "You master Monday! You start winning the day! You start winning the week! Then the month! Then the year!" ~ Eric Thomas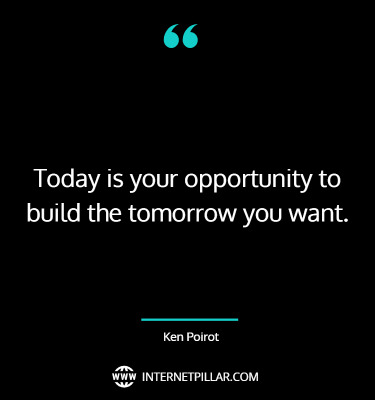 2. Today is your opportunity to build the tomorrow you want. ~ Ken Poirot.
3. Out of difficulties grow miracles. ~ Jean de La Bruyère.
4. If you want to make an easy job seem mighty hard, just keep putting off doing it. ~ Olin Miller.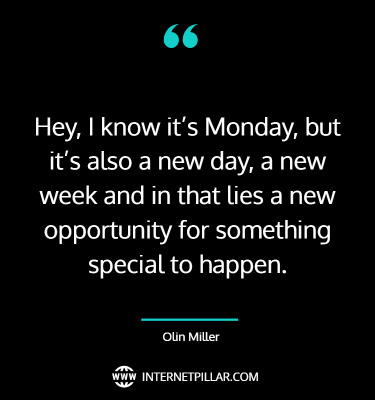 5. "Hey, I know it's Monday, but it's also a new day, a new week and in that lies a new opportunity for something special to happen." ~ Michael Ealy
6. "Every Monday morning is a new hope." ~ Maira Kalman
7. "A vision without a strategy remains an illusion." ~ Lee Bolman
8. "Doing the right thing isn't always easy – in fact, sometimes it's real hard – but just remember that doing the right thing is always right." ~ David Cottrell.
Famous Monday Quotes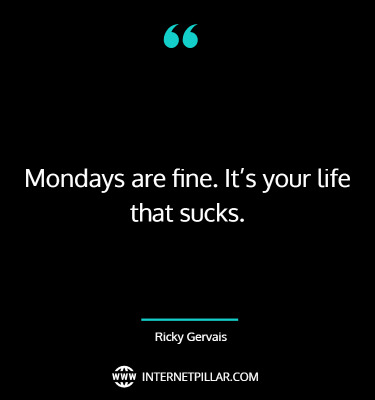 9. "Mondays are fine. It's your life that sucks." ~ Ricky Gervais
10. "I have to be alone very often. I'd be quite happy if I spent from Saturday night until Monday morning alone in my apartment. That's how I refuel." ~ Audrey Hepburn.
11. "To find joy in work is to discover the fountain of youth." ~ Pearl S. Buck
12. "I moved into a nice houseboat in Little Venice when I was 15 years old. I found a girlfriend called Monday and a houseboat called Friday, so I had the week sewn up." ~ Richard Branson
13. "Ideas come from curiosity." ~ Walt Disney.
Inspiring Monday Quotes
14. "Success in business requires training and discipline and hard work." ~ David Rockefeller.
15. "Don't settle for average. You were made for greatness." ~ Victoria Osteen.
16. Turn off your mind, relax and float downstream. ~ John Lennon.
17. So. Monday. We meet again. We will never be friends – but maybe we can move past our mutual enmity toward a more-positive partnership. ~ Julio Alexi Genao.
18. Don't ask if your dream is crazy, ask if it's crazy enough. ~ Lena Waithe.
19. The sun himself is weak when he first rises; and gathers strength and courage as the day goes on. ~ Charles Dickens.
20. Success is to wake up each morning and consciously decide that today will be the best day of your life. ~ Ken Poirot.
21. "You can't be common, the common man goes nowhere; you have to be uncommon." ~ Herb Brooks
22. "I think hell is something you carry around with you, not somewhere you go." ~ Neil Gaiman
23. "This is the real secret of life – to be completely engaged with what you are doing in the here and now. And instead of calling it work, realize it is play." ~ Alan Watts.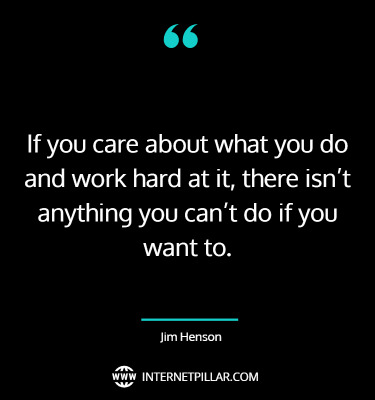 24. "If you care about what you do and work hard at it, there isn't anything you can't do if you want to." ~ Jim Henson.
Inspirational Monday Quotes
25. "The choice to have a great attitude is something that nobody or no circumstance can take from you." ~ Zig Ziglar
26. Change your thoughts and you change your world. ~ Norman Vincent Peale.
27. Monday is for people with a mission. Those who favor vacations, not weekends. ~ Cristina Imre.
28. Mondays are the start of the work week which offer new beginnings 52 times a year! ~ David Dweck.
29. Never wait for tomorrow, what if tomorrow never comes? ~ Elvis Presley.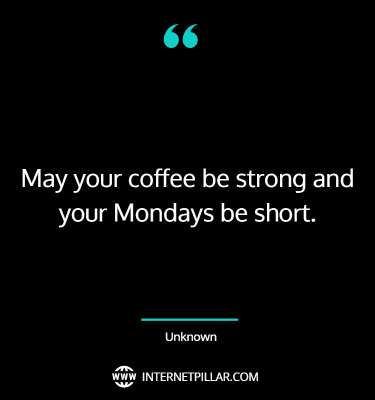 30. May your coffee be strong and your Mondays be short. ~ Unknown.
31. Monday is a good day to have a great day! It's all in your attitude. ~ Unknown.
Popular Monday Quotes
32. "You fight dandelions all weekend, and late Monday afternoon there they are, pert as all get out, in full and gorgeous bloom, pretty as can be, thriving as only dandelions can in the face of adversity." ~ Hal Borland
33. "I hate recording all the shows for the week in one day, because I want to be able to mention current events and pop culture. If Madonna punches Britney in the face today, I want to reference that on 'Wine Library TV' tomorrow. Monday's episode is always the best, because it's hot off the press." ~ Gary Vaynerchuk
34. "I knew I became a professional when I stop paying attention to what time it was." ~ Tom Brady.
35. "I've always been trying to write songs like Lightfoot. A song of mine like 'Come Monday' is a direct result of me trying to write a Gordon Lightfoot song." ~ Jimmy Buffett.
36. "Almost every Monday I have a charity thing. I like that. I do." ~ Yogi Berra.
37. "Morning is wonderful. Its only drawback is that it comes at such an inconvenient time of day." ~ Glen Cook.
38. "Well, people got attached. Once you cut the umbilical cord they attached to the other things. Sight, sound, sex, money, mirages, mothers, masturbation, murder, and Monday morning hangovers." ~ Charles Bukowski.
39. "Really poor children in really poor neighborhoods have no habits of working and have nobody around them who works. So they literally have no habit of showing up on Monday. They have no habit of staying all day. They have no habit of 'I do this and you give me cash' unless it's illegal." ~ Newt Gingrich.
40. "Good morning is a contradiction of terms." ~ Jim Davis.
41. "True joy comes when you inspire, encourage, and guide someone else on a path that benefits him or her." ~ Zig Ziglar
42. "Be so happy that when others look at you, they become happy too." ~ Harbhajan Singh Yogi
43. "Those who move forward "with a" happy spirit will find that things always work out." ~ Gordon B. Hinckley.
Motivational Monday Quotes
44. "Monday Night Football. That was everything to me because you get a chance to show everybody what you're capable of. It's only two teams on that Monday night." ~ Jerry Rice
45. "Monday burn Millay, Wednesday Whitman, Friday Faulkner, burn 'em to ashes, then burn the ashes. That's our official slogan." ~ Ray Bradbury.
46. "Make the big time where you are!" ~ Frosty Westering.
47. "Anything goes on any given Sunday, especially Monday Night." ~ Jon Gruden
48. "You may be living under the illusion that when God ignites great things in your life, He'll announce it with a big bang. He might. It's more likely that He won't. So stop waiting around for the big bang. Pay attention to the subtle clues and the still, small voice. God lives in that place too." ~ Steven Furtick
49. "The will to win, the desire to succeed, the urge to reach your full potential… these are the keys that will unlock the door to personal excellence." ~ Confucius.
50. "Peter was the only one who walked on water besides Jesus, but he was also the only one who got out of the boat. Until you make a decision to believe, and then act on it, nothing will happen." ~ Joyce Meyer
51. "You already have everything you need to be content. Your real work is to do whatever it takes to realize that." ~ Geneen Roth
52. "Go big or go home. Because it's true. What do you have to lose?" ~ Eliza Dushku.
53. "Bring your whole self to work. I don't believe we have a professional self Monday through Friday and a real self the rest of the time. It is all professional and it is all personal." ~ Sheryl Sandberg
54. "You do your best work if you do a job that makes you happy." ~ Bob Ross
---
So these were the 54 quotes about Monday.
If you like these quotes and sayings, then you can also read my other popular blog posts on the topics of Tuesday quotes and Wednesday quotes.
---
You Might Like