Helen Oyeyemi is a British novelist and short story writer born on 10 December 1984 in Nigeria.
She moved to Lewisham, South London at the age of four. Remarkably, she wrote her first novel, "The Icarus Girl", during her A-levels at Cardinal Vaughan Memorial School and later attended Corpus Christi College, Cambridge.
Oyeyemi has penned several notable works, including "The Opposite House" influenced by Cuban mythology and "White Is for Witching", which was a finalist for the 2009 Shirley Jackson Award and clinched the 2010 Somerset Maugham Award.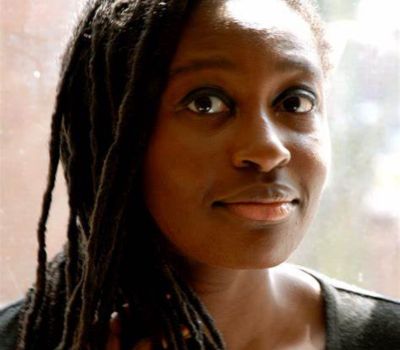 "Mr Fox" and "Boy, Snow, Bird" are among her other novels, with the latter being shortlisted for the 2014 Los Angeles Times Book Prize.
Oyeyemi's collection "What Is Not Yours Is Not Yours" won the 2016 PEN Open Book Award.
She also authored the novels "Gingerbread" (2019) and "Peaces" (2021).
Furthermore, she served as a judge for prestigious literary awards, including the 2015 Scotiabank Giller Prize and 2018 International Booker Prize.
I have compiled the top quotes by Helen Oyeyemi.
---
Best Helen Oyeyemi Quotes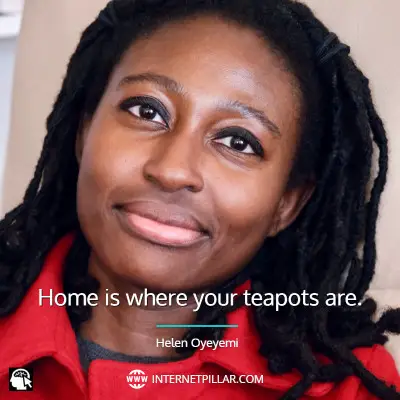 Home is where your teapots are. ~ Helen Oyeyemi.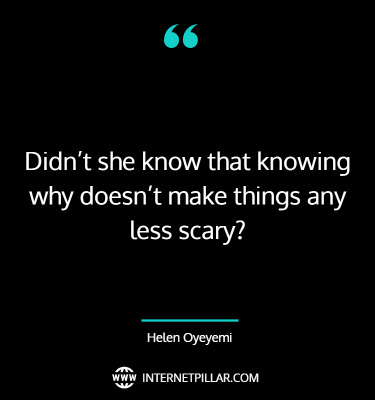 Didn't she know that knowing why doesn't make things any less scary? ~ Helen Oyeyemi.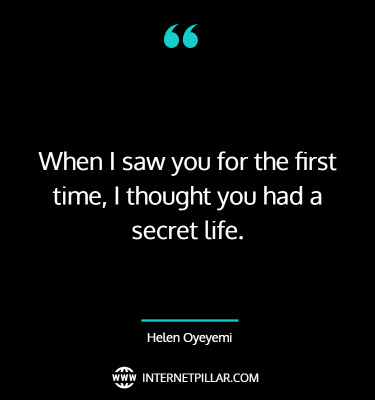 When I saw you for the first time, I thought you had a secret life. ~ Helen Oyeyemi.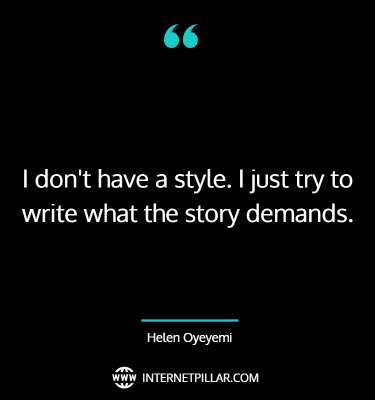 I don't have a style. I just try to write what the story demands. ~ Helen Oyeyemi.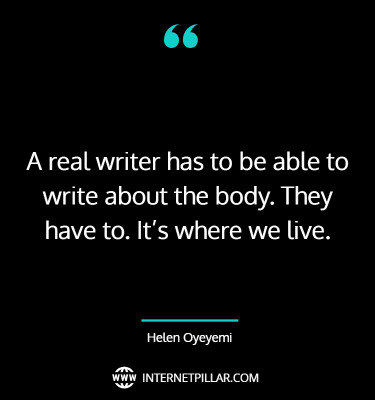 A real writer has to be able to write about the body. They have to. It's where we live. ~ Helen Oyeyemi.
A song called 'Earth Angel' played in her head all morning – also three trumpets and a piano. ~ Helen Oyeyemi.
If you wish to be truly free, you must love no one. But of course if you take that path you may also find that in the end you're unloved. ~ Helen Oyeyemi.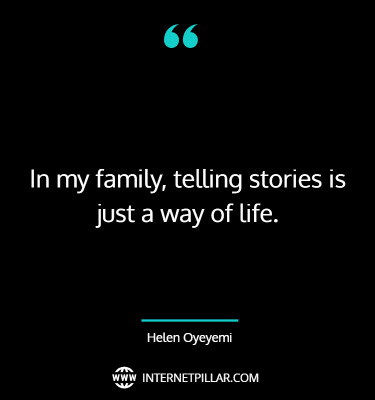 In my family, telling stories is just a way of life. ~ Helen Oyeyemi.
I know of witches who whistle at different pitches, calling things that don't have names. ~ Helen Oyeyemi.
Because things grow. Wherever there is air and light and open space, things grow. ~ Helen Oyeyemi.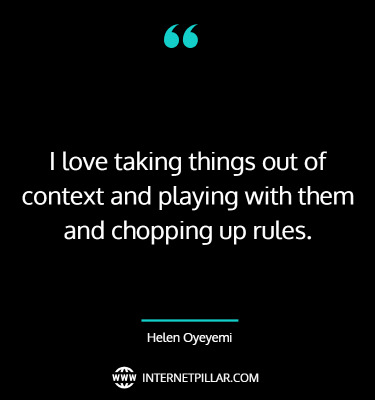 I love taking things out of context and playing with them and chopping up rules. ~ Helen Oyeyemi.
I can recommend wearing blue mascara whilst writing. I'm telling you, it really adds something. ~ Helen Oyeyemi.
I was so jealous it burned, and I knew I had to let it alone or I'd break something inside me. ~ Helen Oyeyemi.
The first coffee of the morning is never, ever, ready quickly enough. You die before it's ready and then your ghost pours the resurrection potion out of the moka pot. ~ Helen Oyeyemi.
More than friends, eh? More than friends… You know, my mother once told me that half of the hatred that springs up between people is rooted in this mistaken belief that there's any human relationship more sacred than friendship. ~ Helen Oyeyemi.
Famous Helen Oyeyemi Quotes
She wants to see good hearts and good brains put to proper use, but I'm not convinced that everybody ought to live like that, or even that everybody can. ~ Helen Oyeyemi.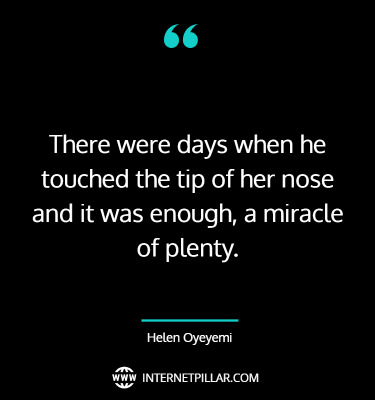 There were days when he touched the tip of her nose and it was enough, a miracle of plenty. ~ Helen Oyeyemi.
What I mean to say is that a whole lot of technically impossible things are always trying to happen to us, appear to us, talk to us, show us pictures, or just say hi, and you can't pay attention to all of it, so I just pick the nearest technically impossible thing and I let it happen. ~ Helen Oyeyemi.
You don't return people's smiles – it's perfectly clear to you that people can smile and smile and still be villains. ~ Helen Oyeyemi.
Solitary people, these book lovers. I think it's swell that there are people you don't have to worry about when you don't see them for a long time, you don't have to wonder what they do, how they're getting along with themselves. You just know that they're all right, and probably doing something they like. ~ Helen Oyeyemi.
The general advice is always be yourself, be yourself, which only makes sense if you haven't got an attitude problem. ~ Helen Oyeyemi.
Last summer I spent almost an hour blowing dandelions off their stems towards him, so that he had a chance to wish for everything he wanted. ~ Helen Oyeyemi.
She was a daughter of the Virgin of Montserrat, and she felt instinctively and of course heretically that the Virgin herself was only a symbol of a yet greater sister-mother who was carefree and sorrowful all at once, a goddess who didn't guide you or shield you but only went with you from place to place and added her tangible presence to your own when required. ~ Helen Oyeyemi.
Her heart was heavy because it was open, and so things filled it, and so things rushed out of it, but still the heart kept beating, tough and frighteningly powerful and meaning to shrug off the rest of her and continue on its own. ~ Helen Oyeyemi.
She was only fifteen. At that age embarrassment is something you can actually die of. ~ Helen Oyeyemi.
If you're about to fall to the ground like a frail creature in need of smelling salts, you owe it to yourself to at least say something vicious beforehand. ~ Helen Oyeyemi.
Great Helen Oyeyemi Quotes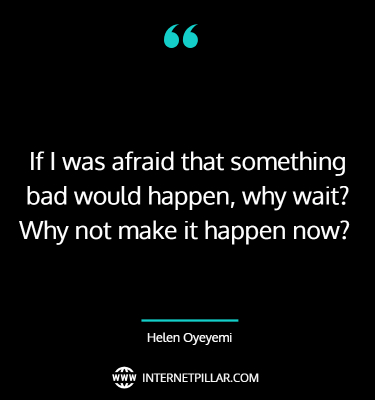 If I was afraid that something bad would happen, why wait? Why not make it happen now? ~ Helen Oyeyemi.
She smiled with a scary energy, as if she had been told to at gunpoint. ~ Helen Oyeyemi.
Wanderer, there is no road, the road is made by walking. The poem tells me it's no big deal that I'm not like Snow. I can be another thing; I'm meant to be another thing. ~ Helen Oyeyemi.
Whenever they were together they couldn't let sixty of their minutes pass without asking each other what time it was; as if time was a volatile currency that they either possessed or did not possess, when in fact time was more of a fog that rose inexorably over all their words and deeds so that their were either forgotten or misremembered. ~ Helen Oyeyemi.
So many times I've encountered people who are just kind of like, 'Yeah, Nigeria,' and, you know, thump their chest and seem very sure of, like, being Nigerian. And I'm just kind of, like, I wish I could be that sure. ~ Helen Oyeyemi.
I wish there was someone I could have written to after that, someone I could have written to explain how awful it was to have someone touch you, then look at you properly and change his mind. ~ Helen Oyeyemi.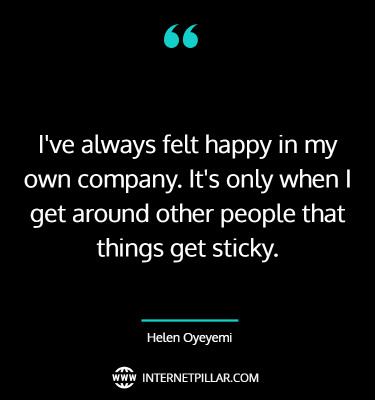 I've always felt happy in my own company. It's only when I get around other people that things get sticky. ~ Helen Oyeyemi.
That's the ideal meeting…once upon a time, only once, unexpectedly, then never again. ~ Helen Oyeyemi.
I feel like an old lady; my hero is Miss Marple. ~ Helen Oyeyemi.
And she walked away, and she walked away, and that was that, and that was that. ~ Helen Oyeyemi.
In Narnia a girl might ring a bell in a deserted temple and feel the chime in her eyes, pure as the freeze that forces tears. Then when the sound dies out, the White Witch wakes. It was like, I want to touch you, and I can touch you, now what next, a dagger? ~ Helen Oyeyemi.
I love character and voice, and my favourite books have been the ones in which I've become completely absorbed. ~ Helen Oyeyemi.
She is a double danger – there is the danger of meeting her, and the danger of becoming her. Does the nightmare of her belong to everyone, or just to me? ~ Helen Oyeyemi.
If you should find yourself in a place that is indifferent to you and there is someone there that your spirit stretches to, then that person is kin. ~ Helen Oyeyemi.
All that happens when you grow up is that your ethics get completely compromised and you do extremely dodgy things you never imagined doing, apparently for the sake of others. Plus, growing up isn't in my job description. ~ Helen Oyeyemi.
Fairy tales, because they have a very clear structure, are easier to interfere with. Also they have this really weird logic: the kind of logic that you only really experience when you're not feeling very well, or as a child. ~ Helen Oyeyemi.
The whole thing was so intense, so full of hurt that when I look back at it I squint. I want it forgotten. ~ Helen Oyeyemi.
Top Helen Oyeyemi Quotes
There are people who are drawn to secrets as ants are to jam. Fausta's one of them. She searches out all things unspoken and unseen-not to make them known, but to destroy them so that nobody knows they ever existed. That's what makes her heart beat faster, the destruction of invisible foundations. Why? Because she finds it funny. ~ Helen Oyeyemi.
Honoring delicacy over full disclosure only comes back to haunt you in the end. ~ Helen Oyeyemi.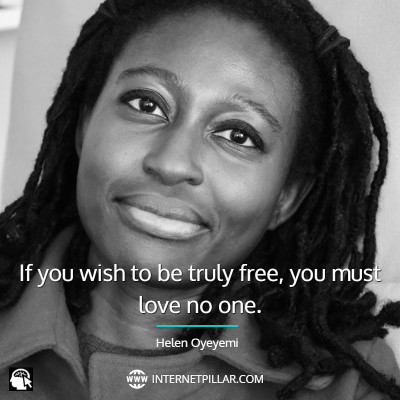 If you wish to be truly free, you must love no one. ~ Helen Oyeyemi.
She never was able to surrender a feeling without a review of its peaks and low points. ~ Helen Oyeyemi.
White is for witching, a colour to be worn so that all other colours can enter you, so that you may use them. At a pinch, cream will do. ~ Helen Oyeyemi.
To the naked eye Boudicca is a haze of noxious green that lurks among fronds of seaweed looking exactly like the aftermath of a chemical spill. ~ Helen Oyeyemi.
The way I live now is that I only write, which means that I'm very poor but very happy. Everything in my life is the way I want it to be. ~ Helen Oyeyemi.
School is one long illness with symptoms that switch every five minutes so you think it's getting better or worse. But really it's the same thing for years and years. ~ Helen Oyeyemi.
This was a little house, with a ceiling that kept getting higher and higher, a hot place with no windows. This was anger. ~ Helen Oyeyemi.
That inability to discover whether you jumped or were pushed brings about a deadened gaze and a downfall all it's own. ~ Helen Oyeyemi.
It occurred to me that I was unhappy. And it didn't feel so very terrible. No urgency, nothing. I could slip out of my life on a slow wave like this – it didn't matter. I don't have to be happy. All I have to do is hold on to something and wait. ~ Helen Oyeyemi.
Powerful Helen Oyeyemi Quotes
She was poised and sympathetic, like a girl who'd just come from the future but didn't want to brag about it. ~ Helen Oyeyemi.
There was such an interesting exchange rate in this woman's mind… whenever she remembered anyone giving her anything, they only gave a very little and kept the lion's share to themselves. But whenever she remembered giving anyone anything she gave a lot, so much it almost ruined her. ~ Helen Oyeyemi.
I've come to think that there's an age beyond which it is impossible to lift a child from the pervading marinade of an original country, pat them down with a paper napkin and then deep-fry them in another country, another language like hot oil scalding the first language away. ~ Helen Oyeyemi.
A library at night is full of sounds: the unread books can't stand it any longer and announce their contents, some boasting, some shy, some devious. ~ Helen Oyeyemi.
I think the soul must be heavy and smooth, Myrna: I deduce this from the buoyant, jerky movements of puppets, which lack souls. ~ Helen Oyeyemi.
I am here, reading with you. I am reading this over your shoulder. I make your home home, I'm the Braille on your wallpaper that only your fingers can read – I tell you where you are. Don't turn to look at me. I am only tangible when you don't look. ~ Helen Oyeyemi.
According to Stendhal it takes about a year and a month to fall in love, all being well. ~ Helen Oyeyemi.
She doesn't want to see anyone. She's happy like that, I think. Always relieved at the end of a visit. ~ Helen Oyeyemi.
Life has changed a lot, you know. You didn't used to get all this food inside food inside food when I was a girl. The other day I was eating a mushroom and found it had been stuffed with prawns. I've got so many misgivings over this craze, Boy. It's flying in the face of nature. ~ Helen Oyeyemi.
I've read that madness is present when everything you see and hear takes on an equal significance. A dead bird makes you cry, and so does a doorknob. ~ Helen Oyeyemi.
When the hysteric saw what the suffragists had done – the way that en masse they'd turned starvation onto its side – she must have been surprised. Her shock must have brought her close to speech. ~ Helen Oyeyemi.
It's true that writing can give new forms to concepts that existed previously with far less clarity, but in terms of the other half of a story's story – the way a story is received and interpreted and used – the audience plays a part in that too. ~ Helen Oyeyemi.
Not some sham family, politely avoiding having to care about one another, but people who would share a surname and the task of weaving a collective meaning into that name. People would support and protect and staunchly cherish one another. ~ Helen Oyeyemi.
It was the usual struggle between one who loves by accepting burdens and one who loves by refusing to be one. ~ Helen Oyeyemi.
Consent is a downward motion, I think – a leap or a fall – and whether they'll admit it or not, even the most decisive people can find themselves unable to tell whether or not their consent was freely given. That inability to discover whether you jumped or were pushed brings about a deadened gaze and a downfall all its own. ~ Helen Oyeyemi.
She had to quickly pop back to the fifteenth century to find a word for how beautiful he was. The boy was makeless. ~ Helen Oyeyemi.
His eyes were very bright; they'd been like that since he'd begun talking about his subject. He looked like someone in love. Well, in love the way people were in old movies. ~ Helen Oyeyemi.
In a psychomantium glass topples darkness. Things appear as they really are, people appear as they really are. Visions are called from a point inside the mirror, from a point inside the mind. ~ Helen Oyeyemi.
Most of the people who say beauty fades say it with a smirk. Fading is more than just expected, it's what they want to see. I don't. ~ Helen Oyeyemi.
I hate that my life is teaching me that I can only be loved if I put my love out of reach and just drift above people until they love my remoteness. ~ Helen Oyeyemi.
Imagine having a mother who worries that you read too much. The question is, what is it that's supposed to happen to people who read too much? How can you tell when someone's crossed the line. ~ Helen Oyeyemi.
However awful the storm of my disappointment, it's a response that belongs to me. It's my heart, after all. My territory, my kingdom. And since I'm the only one with the authority to surrender it, I can also take it back. ~ Helen Oyeyemi.
The night passes slowly, as it must when your wish is that another's won't come true. ~ Helen Oyeyemi.
I collected pictures and I drew pictures and I looked at the pictures by myself. And because no one else ever saw them, the pictures were perfect and true. They were alive. ~ Helen Oyeyemi.
---
So these were the 81 top Helen Oyeyemi quotes and sayings.
If you like these quotes and sayings, then you can also read my other posts on Joji quotes and Henrik Lundqvist quotes.