Have you ever been in a situation where you know it's time to let go but simply can't seem to let go?
A toxic relationship, a dead-end career, or even a nasty habit might be the culprit.
Whatever the case may be, stepping away might be one of the most difficult things to do.
Nevertheless, it is also one of the most courageous and powerful choices you can make.
We've gathered a compilation of walk away quotes and sayings to help you discover the strength and courage to go on.
Walk Away Quotes
I truly loved you, but now I'm walking away. ~ Jonny Lang.
Most of us need something not to walk away from. ~ Josh Stern.
You don't walk away if you love someone. You help the person. ~ Hillary Clinton.
Anyone or anything that is negative, you should walk away from. Make room for all the positives. ~ Wendy John.
Happiness is letting go of what you think your life is supposed to look like and celebrating it for everything that it is. ~ Mandy Hale.
Sometimes you have to walk away from people, not because you don't care, but because they don't. ~ Melchor Lim.
If it's dead, don't go digging it up every five minutes to check if there's a pulse. It's dead; walk away. ~ Richard Templar.
Also Read: Pushing Me Away Quotes That Are Worth Reading and Inspiring Walk Alone Quotes to Survive and Bounce Back
Best Walk Away Quotes
There are moments when you have to just walk away and cry. ~ Lou Angeli.
Your courage makes me very proud. But there's some battles you have to walk away from. ~ Josh Schwartz.
You can walk away and say "We don't need this." but something in your eyes says "We can beat this. ~ Taylor Swift.
When they treat you unkind and attempt to ruin your day, Stop, pray and walk away. ~ Charmaine J. Forde.
It takes faith to walk away from anything that keeps you away from the face of God. ~ Gift Gugu Mona.
The moment you feel like you have to prove your worth to someone is the moment to absolutely and utterly walk away. ~ Alysia Harris.
It is love that walks away and yet we have terrible mouths and soft milk hands. We worry with like. We walk away like love. ~ Anne Sexton.
Accept yourself, love yourself, and keep moving forward. If you want to fly, you have to give up what weighs you down. ~ Roy T. Bennett.
Some people feel like they don't deserve love. They walk away quietly into empty spaces, trying to close the gaps of the past. ~ Sean Penn.
Top Walk Away Quotes
I just can't walk away from something I've done all my life. it's part of me. ~ Chuck Jordan.
When trust is broken how can you repair it? Sometimes you just have to walk away. ~ Hattie Lou.
Forgiveness enables me to walk away from that pain, the loneliness and suffering. ~ Sharon E. Rainey.
Just pick up your courage and walk away. Don't waste time. The longer one drags on, the amount of pain accumulates. ~ Dick Hirayama.
To let go is to release the images and emotions, the fears, the clingings and disappointments of the past that bind our spirit. ~ Jack Kornfield.
Some of us think holding on makes us strong, but sometimes it is letting go. ~ Herman Hesse.
Trust yourself and walk away from situations and people that don't have your best interest at heart. ~ Ben Ruston.
Learning to walk away is hard but staying to suffer is harder. ~ Mariel Avila.                                                        
Letting go means to come to the realization that some people are a part of your history, but not a part of your destiny. ~ S. Maraboli.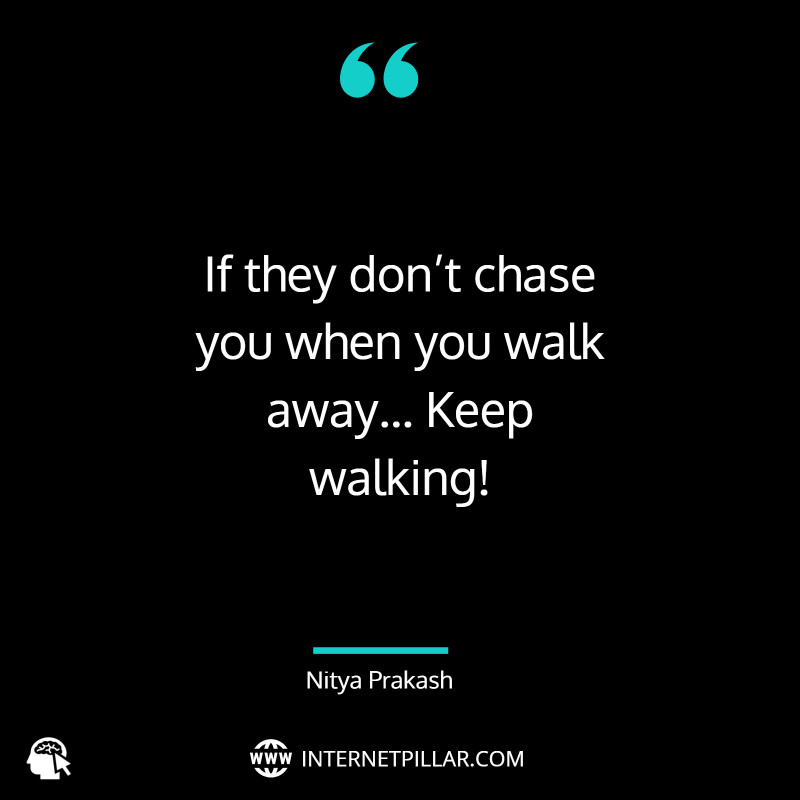 Emotional Walk Away Quotes
If they don't chase you when you walk away… Keep walking!~ Nitya Prakash.
How'd you manage to walk away unscarred? I'm covered in scars. ~ Bryan Fuller.
I am good at walking away. Rejection teaches you how to reject. ~ Jeanette Winterson.
---
Other Articles
References and Sources: