Hristo Botev was a Bulgarian poet and revolutionary. He was born in 1848, and died fighting for Bulgarian independence in 1876. He is a national hero in Bulgaria.
Botev wrote poems about the beauty of his homeland, and about the fight for Bulgarian independence. He is considered one of the most important Bulgarian poets of all time.
You will find below a curated collection of the best 'Hristo Botev' quotes that you can read and share with others.
---
Best Hristo Botev Quotes
Know that it is impossible for a man to love his Motherland if he doesn't love his wife and children. ~ Hristo Botev.
Знайте, че който не обича родителите си, жена си и децата си, той не обича своето отечество!
Only the one who has lived, cried and struggled with his own nation – only he can truly understand the people and help them. ~ Hristo Botev.
Само онзи, който е живял, страдал и плакал с народа си – само той може да го разбере и да му помогне.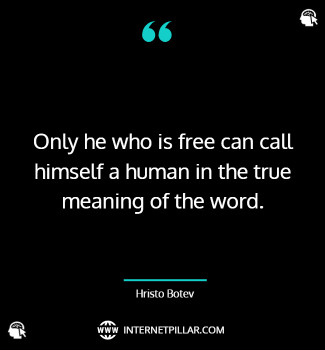 Only he who is free can call himself a human in the true meaning of the word. ~ Hristo Botev.
Само онзи, който е свободен, само той може да се нарече човек в пълния смисъл на думата.
In the period of 8 years I met each one of our national heroes and came to the conclusion that the big guys do small things, while the small people contribute to the biggest things. ~ Hristo Botev.
В продължение на 8 години аз видях всички наши герои и патриоти и виждам, че големи хора вършат малки работи, а големите работи се вършат от малки хора. 
To love with hate and passion. ~ Hristo Botev.
Силно да любят и мразят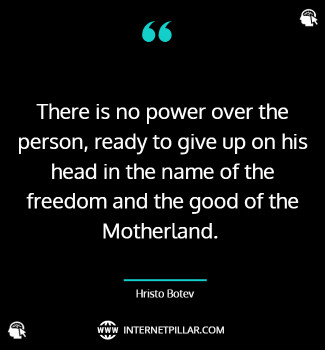 There is no power over the person, ready to give up on his head in the name of the freedom and the good of the Motherland. ~ Hristo Botev.
How should they know? I can't reveal to a single friend what my soul conceals, whom I'm in love with or what I believe – my dreams, my thoughts – or why I grieve. ~ Hristo Botev.
Bulgarians regard Botev as a symbolic historical figure and national hero.
---
So these were the 7 top quotes about Hristo Botev.
Tell me in the comments section, which "Hristo Botev" quotes were your favorite?
If you like these quotes and sayings, then you can also read my other posts on Carrie Nation quotes and David Gelernter quotes.
You are welcome to share these quotes, sayings and phrases with your friends and family on Facebook, Twitter, Instagram, WhatsApp, and Pinterest and inspire them to take their life to the next level and achieve success and greatness!