John Prine, an American country-folk singer-songwriter, was active as a composer, recording artist and live performer from the early 1970s until his death in 2020.
Born on October 10, 1946, in Maywood, Illinois, Prine was taught to play guitar at 14 and attended classes at Chicago's Old Town School of Folk Music.
Rising on the Chicago folk scene in the late 1960s, he introduced a humorous style of original music marked by protest and social commentary.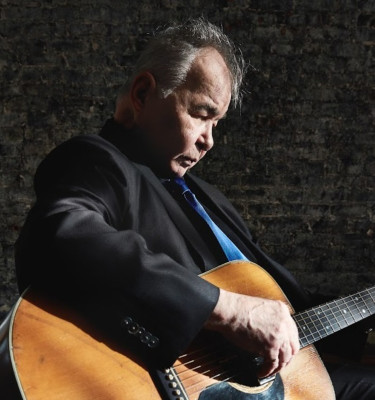 His debut album "John Prine" was released in 1971, which included songs that became his signature.
Over his career, he continued to release albums, perform live and in 2020, he received the Grammy Lifetime Achievement Award.
Related: Pete Seeger Quotes from the American Folk Singer and Cody Johnson Quotes from American Country Singer
Prine was married three times; his final marriage was to Fiona Whelan Prine.
On April 7, 2020, he died from COVID-19 complications at the age of 73 in Nashville, Tennessee.
I have selected the top quotes from John Prine for you.
---
Table of Contents
Best John Prine Quotes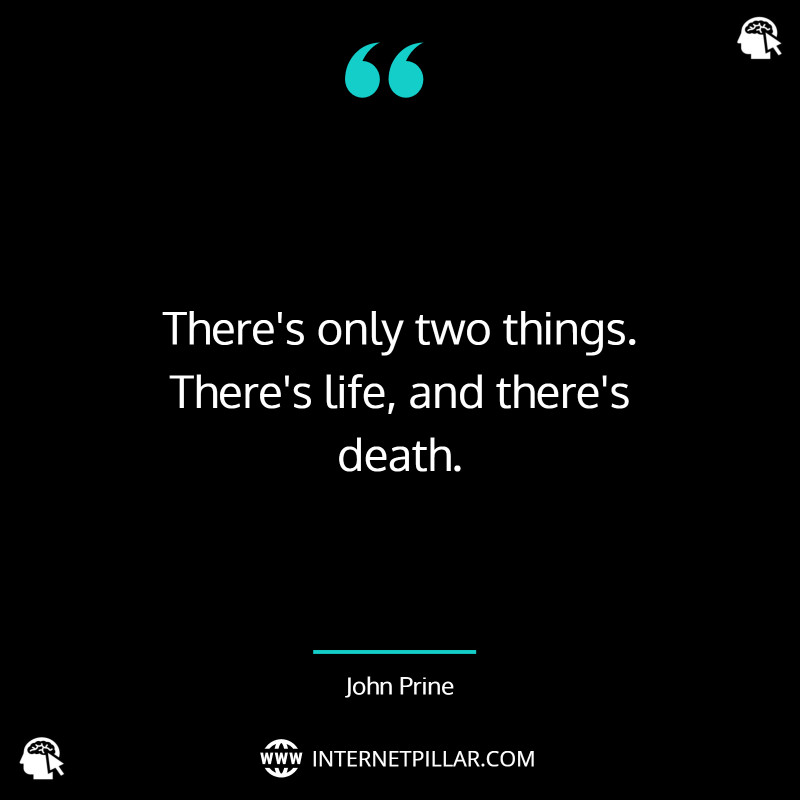 There's only two things. There's life, and there's death. ~ John Prine.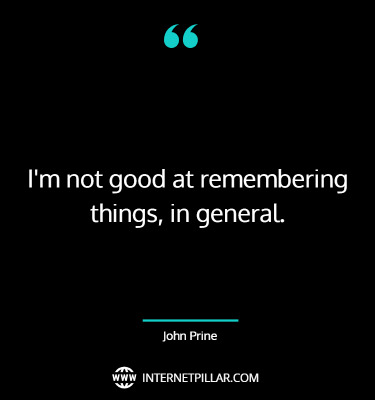 I'm not good at remembering things, in general. ~ John Prine.
I think it shows when you have to work too hard on a song. ~ John Prine.
If somebody tells me to work or exercise, I go the other way. I'll come up with an excuse. ~ John Prine.
Johnny Cash was like Abraham Lincoln to me. ~ John Prine.
If some part of the review is true, those are the ones that sting. ~ John Prine.
There's nothing I hate more than canceling shows. ~ John Prine.
Jesus was a good guy, he didn't need this shit. ~ John Prine.
I'm kind of like the Lone Ranger or Batman. I can just go to my mansion and jump out in my uniform and sing on weekends. ~ John Prine.
I try to write about things that actually happened so that I know it's real before I put it down on paper. ~ John Prine.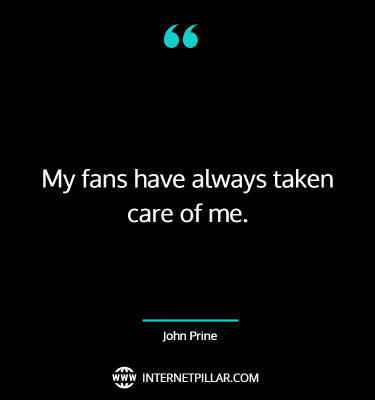 My fans have always taken care of me. ~ John Prine.
Bowl of oatmeal tried to stare me down… and won. ~ John Prine.
I wrote most of 'Hello in There' in a relay box, which looks like a mailbox, only bigger. Sometimes, it was so cold and windy on my mail route that I'd go inside the relay box and eat a sandwich, just to get away from the wind. I remember working on 'Hello in There' inside the relay box. ~ John Prine.
Along the way, we have had some wonderful adventures and have met thousands of dedicated fans – indeed, many of them feel like family to us now. ~ John Prine.
I think of the Bible as an unauthorized biography. ~ John Prine.
I have to have something that really excites me in order to write about it. ~ John Prine.
I hate to admit it to my wife, but I only wear two outfits on the road, and then a third one during the day, but I carry about 20. ~ John Prine.
Writing songs used to be my hobby; it used to be my getaway. ~ John Prine.
I never fit in with straight country. I never really fit in with rock n' roll. I've always been somewhere in between all this stuff. ~ John Prine.
I started out in the folk music world only because of the way my songs were written and performed, with just an acoustic guitar, but I always related to the rock n' roll lifestyle. ~ John Prine.
Man, I hated school. I'd stare at the buttons on the teacher's shirt the whole class. ~ John Prine.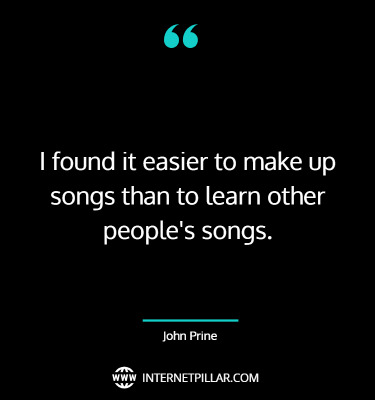 I found it easier to make up songs than to learn other people's songs. ~ John Prine.
I think the best duets are those where there's a dialogue back and forth, and then the two singers go into a thing together. ~ John Prine.
I never gave up on 'Archie.' I started picking up 'Archie' comics when I was in my thirties, and then I started subscribing to them. ~ John Prine.
The more producers I talked to, the more I got looked at like I was crazy for wanting to make a live-sounding album. ~ John Prine.
The best way to write a song is to think of something else and then the song kind of creeps in. ~ John Prine.
Top John Prine Quotes
It was always difficult for me to listen to my singing voice for the first 20 years or so. I mean, I really enjoyed singing, and I enjoyed doing live shows, but being in a recording studio and having to hear my voice played back to me would really drive me up the wall. ~ John Prine.
People thought we were crazy for starting a record company. They really thought I was shooting myself in the foot. ~ John Prine.
I don't like to be caught without a pick. ~ John Prine.
There is a certain comedy and pathos to trouble and accidents. Like when a driver has parked his car crookedly and then wonders why he has the bad luck of being hit. ~ John Prine.
I can blame a lot of things for not writing songs, but cancer isn't one of them. ~ John Prine.
I used to read a lot of Steinbeck, and I admired Roger Miller and Bob Dylan. ~ John Prine.
I embraced loneliness as a kid. I know what loneliness is. When you're at the end of your rope. I never forget those feelings. ~ John Prine.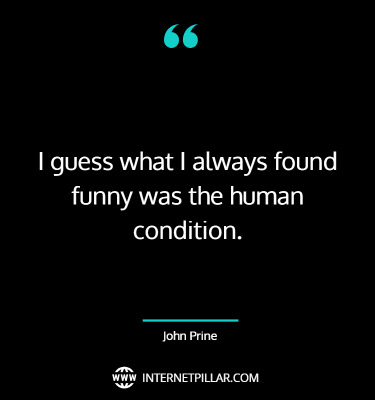 I guess what I always found funny was the human condition. ~ John Prine.
Bewildered, bewildered, you have no complaint. You are what you are, and you ain't what you ain't. ~ John Prine.
I just like a good, sad song. The sadder, the better. It moves me. ~ John Prine.
After cancer, I ain't scared of nothing. ~ John Prine.
I was kind of thrown into – I didn't expect to do this for a living, being a recording artist. I was just playing music for the fun of it and writing songs. That was kind of my escape, you know, from the humdrum of the world. ~ John Prine.
In my songs, I try to look through someone else's eyes, and I want to give the audience a feeling more than a message. ~ John Prine.
Famous John Prine Quotes
I grew up in Chicago, but I spent a lot of time down in Kentucky, and Kentucky was about 20 years behind the life that was in Chicago. ~ John Prine.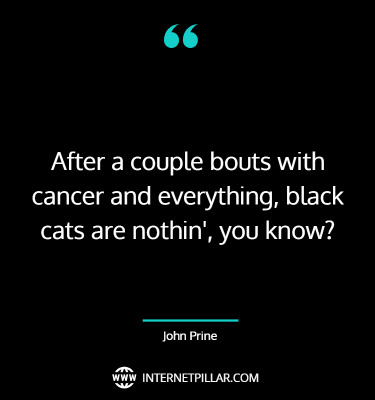 After a couple bouts with cancer and everything, black cats are nothin', you know? ~ John Prine.
I like doing chores. ~ John Prine.
For me, there's nothing like performing. ~ John Prine.
I think I've finally, after 72 years, gotten used to my voice, and it sounds like a friend now instead of an enemy. ~ John Prine.
I still enjoy the heck out of getting up there to play shows every night. ~ John Prine.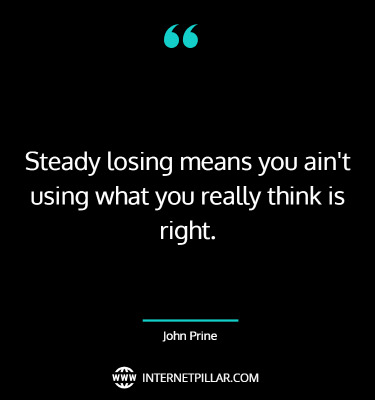 Steady losing means you ain't using what you really think is right. ~ John Prine.
I had a year-round Christmas tree with nothing but colored vinyl 45s hanging on it, like, old Elvis records and stuff. ~ John Prine.
I could never teach a class on songwriting. I'd tell them to goof off and find a good hideout. ~ John Prine.
If dreams were thunder and lightning was desire this old house would have burned down a long time ago. ~ John Prine.
I did three club tours before I started playing concert halls, and the clubs were half full the first time around. ~ John Prine.
In high school, I was a poor student. ~ John Prine.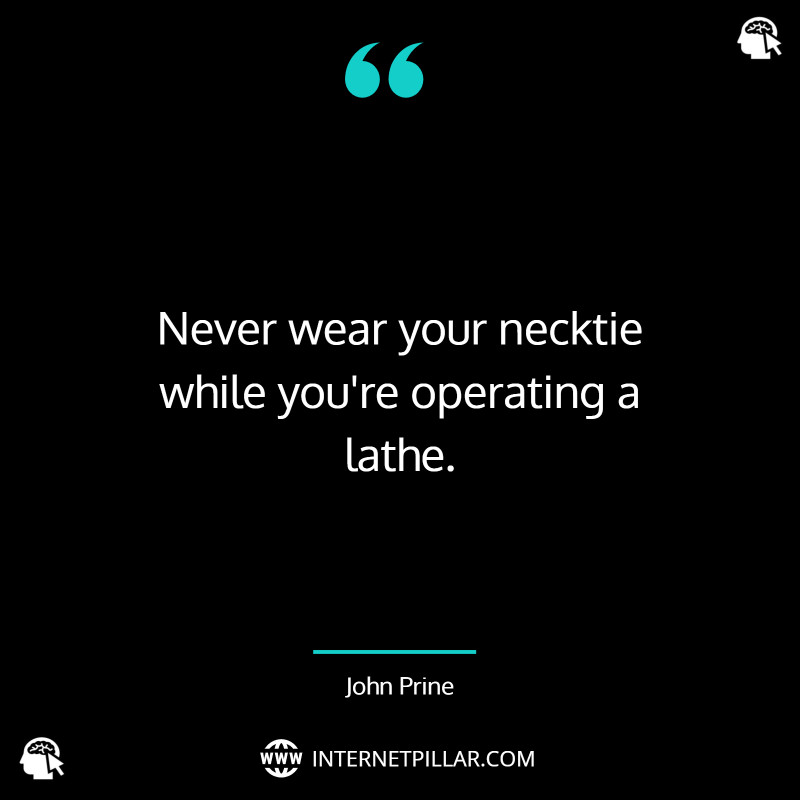 Never wear your necktie while you're operating a lathe. ~ John Prine.
It doesn't hit you until you pull up to the hospital, and you see 'cancer' in big letters, and you're the patient. Then it all kind of comes home. ~ John Prine.
My music has been called so many different things over the years. I figure as long as it's selling, call it what you want. ~ John Prine.
I don't concern myself with where I fit in. I just keep my head down and keep doing whatever it is I'm going. ~ John Prine.
If I can make myself laugh about something that I should be crying about, that's pretty good. ~ John Prine.
When I'm writing a lyric, things can only get so serious before they start becoming humorous. ~ John Prine.
Popular John Prine Quotes
I don't like to see Christmas trees torn down. ~ John Prine.
As far as guitar picking, if I make the same mistakes at the same time every day, people will start calling it a style. ~ John Prine.
If heartaches was commercials, we'd all be on TV. ~ John Prine.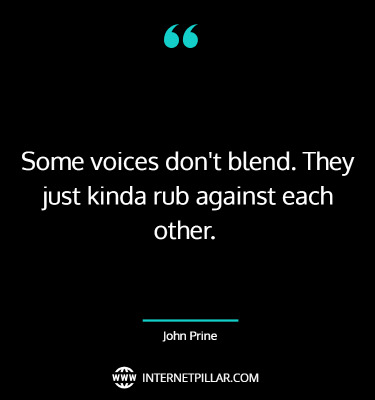 Some voices don't blend. They just kinda rub against each other. ~ John Prine.
When you're singing somebody else's songs, it's just pure joy to me. ~ John Prine.
I always feel like every song is the last song. ~ John Prine.
I was a mailman walking in the snow six days a week, 12-hour days. Every two weeks, I'd get a check for $228. ~ John Prine.
I feel basically good about my career because it's remained constant. What I do has never been especially in vogue or gotten high on the charts. At the same time, I haven't had to stop performing any of my music because it aged in style. ~ John Prine.
When I was a boy, my family used to watch a lot of Laurel and Hardy. ~ John Prine.
Yeah, early '71 is when I got my record contract. I had a record come out by August of '71. Things happened really fast. ~ John Prine.
My first Grammy nomination? I was 24 – I was nominated for best new artist of the year. ~ John Prine.
I just tried to come up with some honest songs. What I was writing about was real plain stuff that I wasn't sure was going to be interesting to other people. But I guess it was. ~ John Prine.
When I'm making my own record, it's real work for me. ~ John Prine.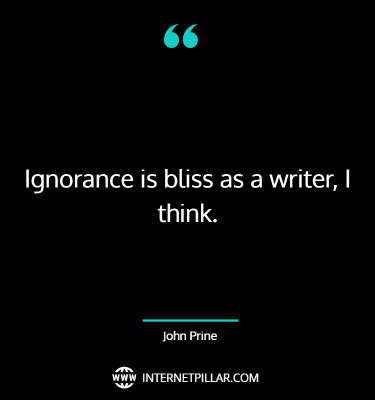 Ignorance is bliss as a writer, I think. ~ John Prine.
I sound like that old guy down the street that doesn't chase you out of his apple tree. ~ John Prine.
Ultimate John Prine Quotes
One time, I went to school, and they asked us all to find out where our roots were. It's goin' around the class, and the kids were going, 'I'm Swedish-German' or 'I'm English-Irish.' They got to me and I said, 'Pure Kentuckian.' ~ John Prine.
When I was a mailman, writing songs was my escape from the regular world, and now writing songs is my job. And I've always been one to avoid my job. ~ John Prine.
Writing is about a blank piece of paper and leaving out what's not supposed to be there. ~ John Prine.
'Sam Stone' is a song about futility. ~ John Prine.
People keep inventing all these new machines, and producers and recording engineers keep wanting to use them. ~ John Prine.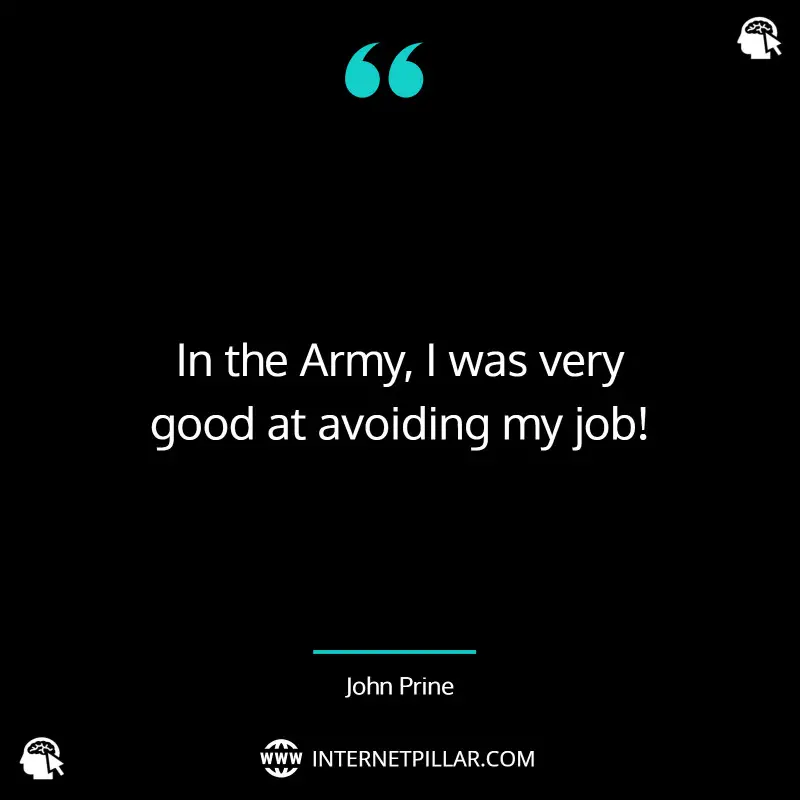 In the Army, I was very good at avoiding my job! ~ John Prine.
You can fool some of the people part of the time in a rock and roll song, fifty million Elvis Presley fans can't be all wrong. ~ John Prine.
I'd rather get a hot dog or a doughnut than write a song. ~ John Prine.
The only time I ever think about getting old is when I look in the mirror. I feel pretty good about it, actually. ~ John Prine.
The scientific nature of the ordinary man is to go out and do the best you can. ~ John Prine.
My sense of humor has saved me more than a couple of times in my life. ~ John Prine.
---
So these were the 85 top John Prine quotes on music, life and love.
Tell me in the comments section, which John Prine quotes were your favorite?
If you like these quotes and sayings, then you can also read my other posts on Patti Smith and Sarah Silverman quotes.