Kansas is known as "The Sunflower State".
Kansas Quotes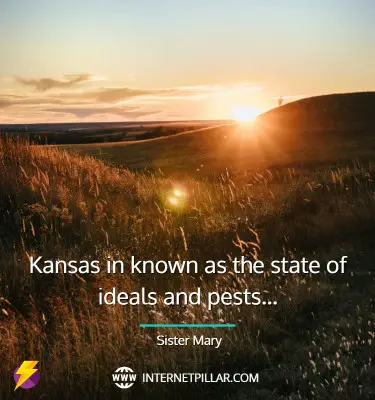 Kansas in known as the state of ideals and pests… ~ Sister Mary.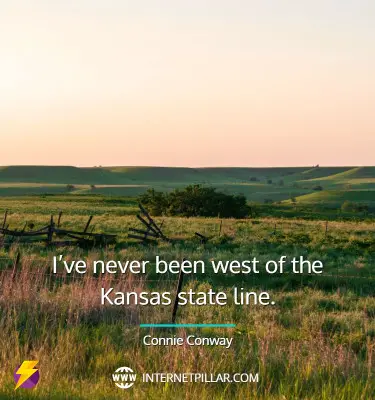 I've never been west of the Kansas state line. ~ Connie Conway.
Toto, I have a feeling we're not in Kansas anymore. ~ L. Frank Baum.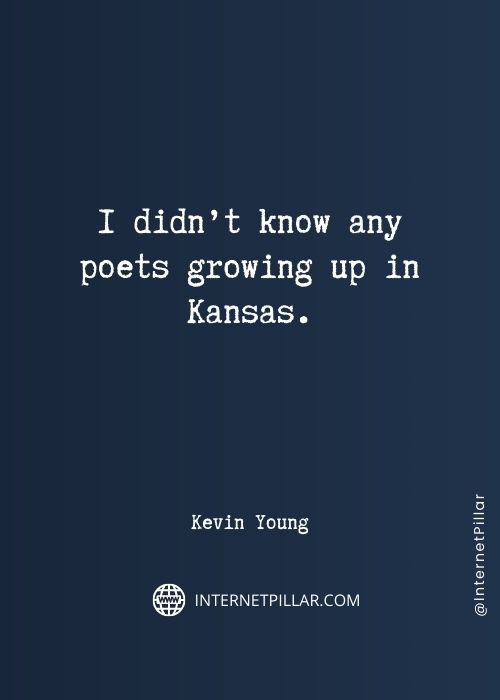 I didn't know any poets growing up in Kansas. ~ Kevin Young.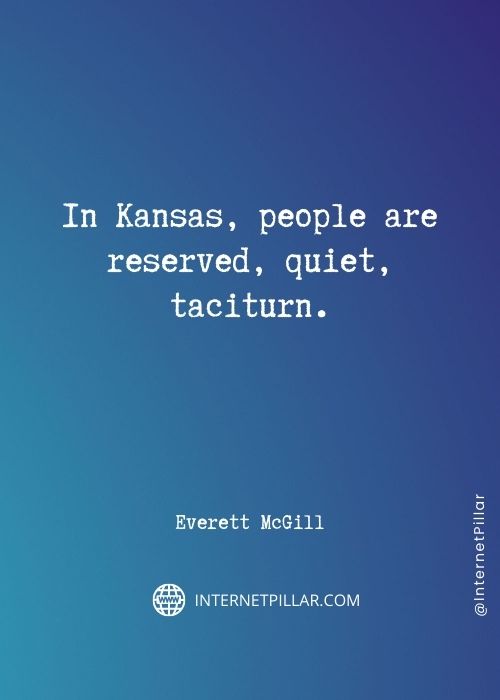 In Kansas, people are reserved, quiet, taciturn. ~ Everett McGill.
Books – where if people suffered, they suffered in beautiful language, not in monosyllables, as we did in Kansas. ~ Langston Hughes.
She called me Kansas, she said that I reminded her of home. ~ Aaron Lines.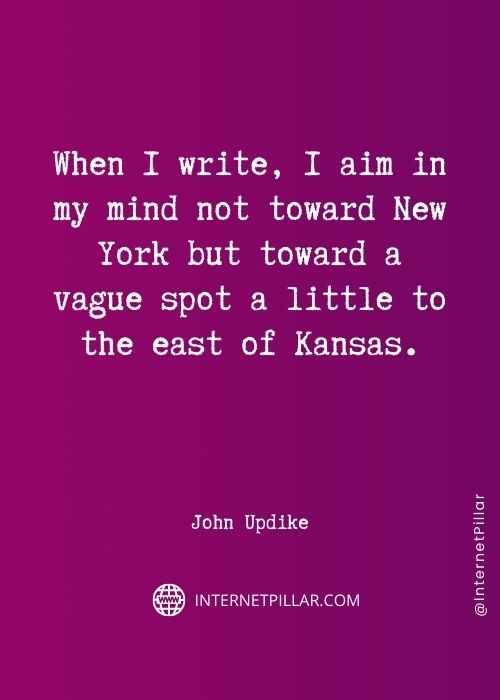 When I write, I aim in my mind not toward New York but toward a vague spot a little to the east of Kansas. ~ John Updike.
We actually had a Kansa band softball team. ~ Phil Ehart.
He's a full-fledged housewife from Kansas with all the prejudices. ~ Gore Vidal.
Best Kansas Quotes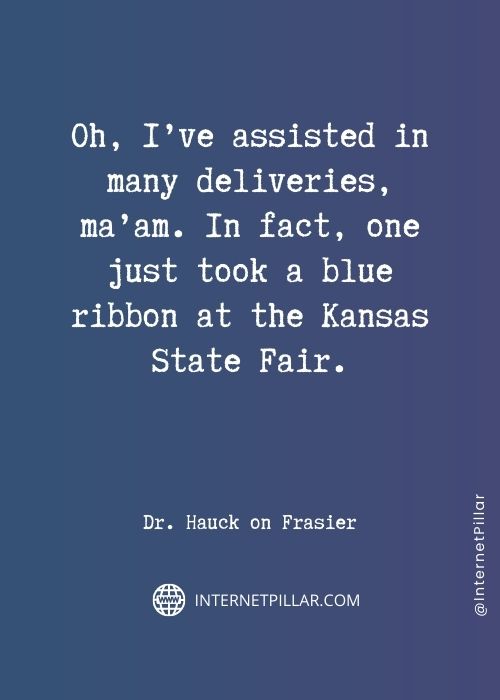 Oh, I've assisted in many deliveries, ma'am. In fact, one just took a blue ribbon at the Kansas State Fair. ~ Dr. Hauck on Frasier.
One time, when I was in my teens, jamming in a Kansas City club, I was doing all right until I tried doing double tempo on 'Body and Soul.' Everybody fell out laughing. I went home and cried and didn't want to play again for three months. ~ Charlie Parker.
Whenever I'm in Kansas City, I think back to all the jazz-blues greats who played the blues here – like Count Basie, Charlie Parker and Jay McShann. I watched those guys jam in different places and heard a lot of things – but I couldn't do what they did. They were too good. ~ B. B. King.
Like every other place, I guess, Kansas City was quite a different city when I was a youngster there. They had quite a few clubs, and we had what we used to call jam sessions every night. ~ Ben Webster.
I really like Amelia Earhart. She's from Kansas. She disappeared, so I have to take her place. I want to be Dorothy. I want to be Amelia Earhart… I want to do it all. ~ Lindsey Wixson.
Famous Kansas Quotes
Had I been able to formulate my first impressions of the United States, I might have said that there was a place in America called Kansas, where people could find a magic land at the heart of a cyclone. ~ Azar Nasifi.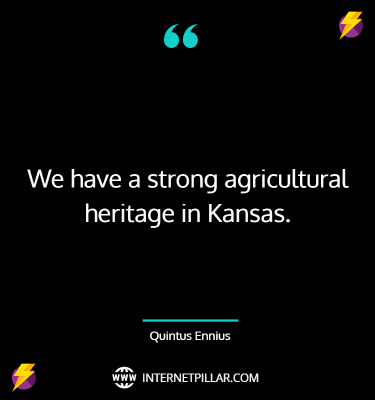 We have a strong agricultural heritage in Kansas. ~ Jim Ryun.
I grew up in conservative rural Kansas in the 1950s when it was expected that girls would not have a life outside the home, so educating them was a waste of time. ~ Sarah Paretsky.
The fact remains: if you are willing to work, you need never despair of getting a livelihood in Kansas. ~ Percy G. Ebbut.
Andy, after we broke up, he told me he was going to Kansas to climb mountains. So, I don't really know where he is. ~ Ann on Parks and Recreation.
Kansas was all golden and smelled like sunshine. ~ The Outlaw Josey Whales.
When you leave, everything you experience outside of Kansas will be measured against all you know here. And none of it will make any sense. ~ P.S. Baber.
Great Kansas Quotes
Kansas had better stop raising corn and begin raising hell. ~ Mary Elizabeth Lease.
I believe we all agree that, for the health of Kansas, nothing is more important than education. ~ Kathleen Sebelius.
Although I grew up in London, I spent summers in Missouri, where my dad lived. It's quite a liberal town, Kansas City. You'd be surprised. ~ Hayley Atwell.
This is just good, old-fashioned Kansas cornbread. ~ Jess in New Girl.
If I went West, I think I would go to Kansas. ~ Abraham Lincoln.
I was born and raised in Kansas. The worst things are the locusts, mosquitos, the flatness, the humidity. The greatest things are the simplicity of life, watching the thunderheads building on the horizon, and running through cornfields. ~ Erin Brockovich.
I love hats! I collect vintage ones – I find them at antique shops in Kansas. ~ Lindsey Wixson.
Tornado or no tornado, a girl from Kansas doesn't let much get to her. ~ Danielle Paig.
Kansas is very religious, very Republican, and very straight-laced. I needed to get away from that. ~ Colton Haynes.
Top Kansas Quotes
Nothing is eternally stable, and even Kansas isn't really in Kansas anymore. The earth is in a constant state of flux. ~ Simon Winchester.
No matter where you go, no matter where you live, a Kansas fan is a Kansas fan: implacable, insufferable and perfectly happy to stay that way. ~ Paul Shirley.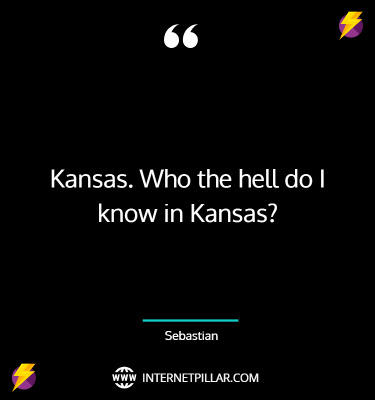 Kansas. Who the hell do I know in Kansas? ~ Sebastian.
There's a reason why my mom chose to stay and raise my brothers and me in Kansas – it's a great place to live, work, and raise a family. ~ Sharice Davids.
If there's anything better than life – it's life in Kansas. ~ Chamber of Commerce 1930.
Kansas is all right for men and dogs, but it's pretty hard on women and horses. ~ Santa Fe Trail.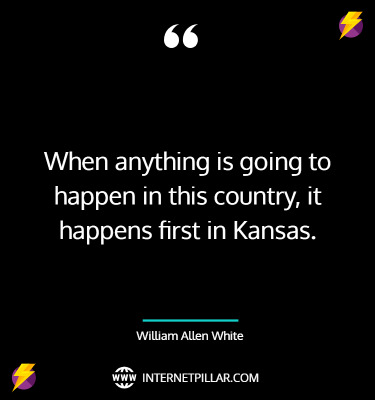 When anything is going to happen in this country, it happens first in Kansas. ~ William Allen White.
I'm a kid from Kansas, so J.C. Penney was where I got all my clothes from kindergarten to around 7th grade. ~ Nick Wooster.
She had the personality of a ZIP code in Kansas. ~ Bowfinger.
It's always Kansas, that's where I always break down ~ Fred Eaglesmith.
Popular Kansas Quotes
I would love to be in Kansas. ~ Paul Reubens.
It isn't necessary to have relatives in Kansas City in order to be unhappy. ~ Groucho Marx.
Who could imagine that they would freak out somewhere in Kansas. ~ Frank Zappa.
This is Lawrence. This is Lawrence, Kansas. Is anybody there? Anybody at all? ~ The Day After.
If there should prove to be one real, living Free State Democrat in Kansas, I suggest that it might be well to catch him and stuff and preserve his skin as an interesting specimen of that soon-to-be-extinct variety of the genus Democrat. ~ Abraham Lincoln.
It means fasten your seat belt Dorothy, 'cause Kansas is going bye-bye. ~ The Matrix.
When you take over at Kansas, they've always won, so you're expected to win. ~ Jim Boeheim.
The Wizard of Oz is my favorite. It explains what life on this planet is about. Although Dorothy reaches Oz, she finds she had what she needed to go back to Kansas all along, but the Good Witch tells her that she had to learn it for herself. All of the answers to the meaning of life are there. ~ RuPaul.
My understanding is that Kansas, Massachusetts, they've been more pioneers on the special education side. ~ Margaret Spellings.
Profound Kansas Quotes
As a young girl, I saw commitment in my grandmother, who helped Grandpa homestead our farm on the Kansas prairie. Somehow they outlasted the Dust Bowl, the Depression, and the tornadoes that terrorize the Great Plains. ~ Sheri L. Dew.
Was there a twister in Kansas? 'Cause, there's a house in my driveway. ~ Phil on Modern Family.
You know what? I've also been ejected. Flume ride, Topeka, Kansas. ~ Scully.
Kansas is indispensable to the joy, the inspiration, and the improvement of the world. ~ John J. Ingalls.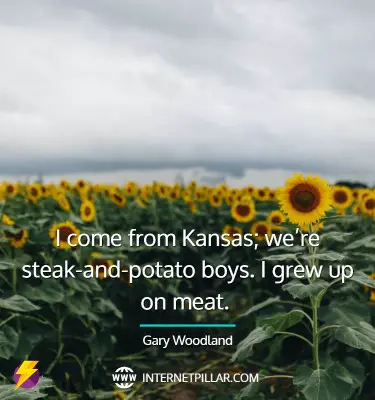 I come from Kansas; we're steak-and-potato boys. I grew up on meat. ~ Gary Woodland.
Kansas?…Big state in the middle of the country. Fulla corn, Republicans, and Bible salesmen, and not much else. ~ Libba Bray.
I would like Kansas be a place that future generations feel comfortable staying here. ~ Laura Kelly.
---
So these were the 60 quotes about Kansas state of United States.
If you like these quotes and sayings, then you can also read my other popular blog posts on the topics of Idaho quotes and Illinois quotes and Indiana quotes and Iowa quotes.