Iowa is known as "The Hawkeye State".
---
Iowa Quotes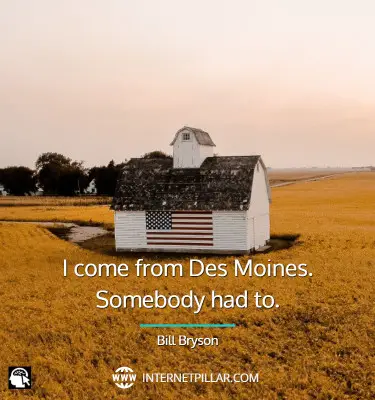 I come from Des Moines. Somebody had to. ~ Bill Bryson.
I was born in Hawaii, but I was raised in Iowa. ~ Jason Momoa.
I'm from Iowa, we don't know what cool is! ~ Ashton Kutcher.
I have never understood the Iowa caucus. ~ Larry King.
It is true that I was born in Iowa, but I can't speak for my twin sister. ~ Pauline Phillips.
I hope I am the Tim Tebow of the Iowa caucuses. ~ Rick Perry.
Iowa's small businesses are the lifeblood of our communities and the engine behind our economy. ~ Kim Reynolds.
If you want to be a comedian, go out. Do a week in Des Moines, Iowa. Try to make those people laugh. ~ Nick Swardson.
As the 29th state to join the United States of America, it is our turn to show the nation what represents Iowa. Our commitment to quality education, hard work, and small-town values are all represented in the Iowa quarter. ~ Leonard Boswell.
Best Iowa Quotes
Yeah, I was born in Fort Dodge, Iowa. My parents lived in a little town called Eagle Grove. My mom taught high school and my dad was an instructor at the community college. ~ Katie Porter.
For graduate school I ended up going to the University of Iowa, which is, of course, the best graduate writing program in the country. ~ Elin Hilderbrand.
I bought a bar because we got banned from playing everywhere else. We were too nuts, and everyone was scared of us. It was Des Moines, Iowa, remember. ~ Shawn Crahan.
I truly think you can get a great meal in most cities around the world now. I credit the internet for making it possible for a kid in Iowa to see what a great chef in Paris is doing and emulate it. ~ Philip Rosenthal.
Every Christmas should begin with the sound of bells, and when I was a child mine always did. But they were sleigh bells, not church bells, for we lived in a part of Cedar Rapids, Iowa, where there were no churches. ~ Paul Engle.
Hollywood is a place where people from Iowa mistake each other for stars. ~ Fred Allen.
I've still got the same friends that I grew up with, I still go to the same places that I used to go to when I was younger, and it's just a very special place to me. I'm still very proud to call Iowa home. ~ Corey Taylor.
Famous Iowa Quotes
I grew up in a small town in Iowa, town of about 500 people. ~ Kim Reynolds.
Where I grew up, in Des Moines, Iowa, there is hardly any downtown economic activity now. Everybody shops in malls – you don't find a sense of community in malls. ~ Bill Bryson.
What I will stand up for is what I think is right and for the best interests of the citizens of the state of Iowa. ~ Patty Judge.
History is full of decapitations, and Iowa is no exception. ~ Andrew Smith.
An awful lot of England is slowly eroding, in ways that I find really distressing, and an awful lot of it is the hedgerows… We're reaching the point where a lot of the English countryside looks just like Iowa – just kind of open space. ~ Bill Bryson.
When I did play team sports, I was into soccer and hockey. I loved hockey. And then rock climbing became the thing that got me out of Iowa, and I traveled the world for rock climbing. I really loved the, I guess you would say, dirtbag lifestyle of not eating much and traveling the world and slipping into different cultures and just observing. ~ Jason Momoa.
Iowa Sayings
Certainly I'm not going to sit on the Internet all day and read what Sam from Iowa is saying about me. But I'm a sponge. I've always been a sponge. ~ Eminem.
I have a soft spot for Iowa. ~ Lee Corso.
I'm from Iowa Falls, Iowa. My dad was a small-town lawyer, and my mom was a pharmacist. She worked at Swartz Drug. I have five older brothers. ~ Patrick Whitesell.
We want Iowa to remain red. We have worked so hard to get here. We will not be a purple state: we will be a red state. ~ Joni Ernst.
Our family was very fond of the University of Iowa. We thought it was a good place to go. ~ James Van Allen.
Each state in the Union is honored in the order of when it ratified the Constitution and became a part of the United States. This September it is Iowa's turn. Iowa became the 29th state to be admitted to the union on December 28, 1846. ~ Leonard Boswell.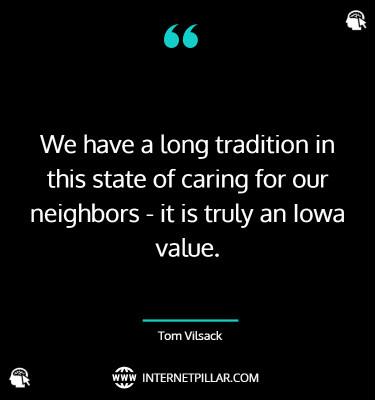 We have a long tradition in this state of caring for our neighbors – it is truly an Iowa value. ~ Tom Vilsack.
I think women bring a different perspective and that we tend to be more collaborative in our approach. I served in the Iowa Senate back in the '90s, when there weren't a lot of us. At the time, I think there were five or six women, and two or three of them were Republicans and two or three were Democrats. ~ Patty Judge.
I get nostalgic about having lived in Ames, Iowa, even though being a vegetarian in Iowa is not fun. But I really love Durham more than any place I've ever been; some small towns can be really provincial and strangling, but Durham is the best city in the world. ~ John Darnielle.
Quotes about Iowa
My mother is white. My biological father is black. When my mother was 17, she got pregnant. They lived in Waterloo, Iowa, which at the time in 1971 was a very segregated society. ~ Israel Houghton.
One of the first things I bought when I made 'Roseanne Show' money was a farm in Iowa. ~ Roseanne Barr.
Iowa is home to teachers, farmers, lawyers, factory workers, and many others who work hard every day to provide the best for their families and their future. ~ Leonard Boswell.
Each day, we're sharpening Iowa's competitive edge in education and expanding our workplace partnerships with job-ready, STEM savvy, lifelong learners. ~ Kim Reynolds.
I got to work for some great administrators at great institutions, and I had an opportunity to coach great players. Iowa is no different. ~ Steve Alford.
Iowa voters are intelligent enough to make up their minds. ~ Terry Branstad.
I've still not written as well as I want to. I want to write so that the reader in Des Moines, Iowa, in Kowloon, China, in Cape Town, South Africa, can say, 'You know, that's the truth. I wasn't there, and I wasn't a six-foot black girl, but that's the truth.' ~ Maya Angelou.
Top Iowa Quotes
I'm happy wherever I go, whatever I do. I'm happy in Iowa, I'm happy here in California. ~ Ashton Kutcher.
My mother – who's from Iowa – owns and runs her own day-care centre, while my father's a developer. And my musical influences, I think, came from my father's side of the family. ~ Keri Hilson.
I grew up in small towns in Iowa and the Midwest. ~ George Kittle.
When I was 12, I was living in Iowa, and I emailed so many wrestling schools, and one of them was actually in Boston. I joined it at 18 – the New England Pro Wrestling Academy. They were doing a fantasy camp. I was 17 about to turn 18. I told my mom, 'I'm 18 now. I just signed these papers by myself, and I'm going to do this.' ~ Sasha Banks.
In Iowa, we take care of people. That's all I think I need to say. ~ Steve King.
I want to caucus in Iowa. I'll caucus all over the state. I don't caucus in California. You don't caucus where you live. It doesn't look good. ~ Pat Paulsen.
So many things that I was excited about as a kid were about proximity. The idea that somebody could grow up in rural Iowa and be into break dancing because of YouTube – that was a really simple, profound idea. ~ Ben Silbermann.
Popular Iowa Quotes
Iowa City is okay as Midwestern cities go, but there's no food, no culture, no ocean. ~ Elin Hilderbrand.
I think the only real knowledge I had before I went to Iowa was what I learned from 'Food Inc'. But once I got there and developed these extensive relationships with the farmers, I realized that we're basically made of corn. ~ Zac Efron.
Everything I need to know, I learned in Iowa. I grew up here in Iowa. ~ Michele Bachmann.
I started out as a farm girl in Iowa, and I dreamed of being an astronaut and an explorer. And I made it. ~ Peggy Whitson.
---
So these were the 53 quotes about Iowa state of United States.
If you like these quotes and sayings, then you can also read my other popular blog posts on the topics of Hawaii quotes and Idaho quotes and Illinois quotes and Indiana quotes.