Are you looking for the best Keep Calm quotes and sayings? I've rounded up some of the famous 'Keep Calm' quotes, sayings, captions for Instagram, and status messages for you.
Experts say that keeping calm is all about managing your thoughts and emotions.
In our fast-paced world, it's easy to get caught up in the hustle and bustle of daily life.
We often forget the importance of taking a step back and relaxing, and instead put stress on ourselves to hurry up and get things done.
This can be detrimental to both our mental and physical health, causing us to become overwhelmed and exhausted.
It's important to keep calm and take some time for ourselves in order to recharge and stay healthy.
It's not about suppressing them or pretending they don't exist, but rather learning how to deal with them in a healthy way.
This can be done through things like mindfulness meditation, journaling, and positive self-talk.
You will find below a curated collection of the popular 'Keep Calm' quotes that you can read and share with others.
---
Best Keep Calm Quotes
Learn to be calm and you will always be happy. ~ Paramahansa Yogananda.
Calm your mind, life becomes more crystal clear. ~ Unknown.
You are the sky. Everything else – it's just the weather. ~ Pema Chödrön.
Whoever's calm and sensible is insane! ~ Jalaluddin Rumi.
The ability to remain calm before, during, and after the storm reveals one's true strength of character. ~ Christine E. Szymanski.
Quiet mind, quiet soul. ~ Lailah Gifty Akita.
Famous Keep Calm Quotes
Keep calm because pain makes you stronger, fear makes you braver and heartbreak makes you wiser. ~ Ritu Ghatourey.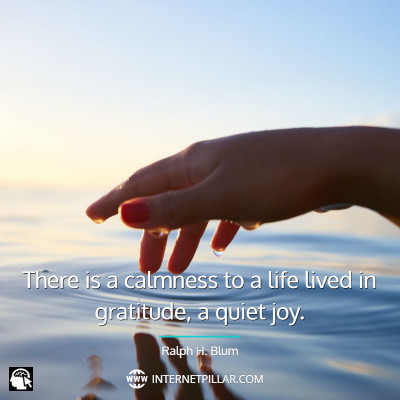 There is a calmness to a life lived in gratitude, a quiet joy. ~ Ralph H. Blum.
Nothing conquers the chaos around me like the calm assurance that I am at peace with God. ~ Ron Brackin.
Happiness depends upon ourselves. ~ Aristotle.
Set peace of mind as your highest goal, and organize your life around it. ~ Brian Tracy.
Keep calm and carry on. ~ Unknown.
Top Keep Calm Quotes
Confident spirit, calm strength. ~ Lailah Gifty Akita.
Be calm like a calm lake, then you will look beautiful like a beautiful calm lake! ~ Mehmet Murat ildan.
Calmness is the cradle of power. ~ Josiah Gilbert Holland.
When one tunes in into nature's frequency, life becomes change, change becomes hope! ~ Aniekee Tochukwu Ezekiel.
Learn to calm down the winds of your mind, and you will enjoy great inner peace. ~ Remez Sasson.
Keep cool; anger is not an argument. ~ Daniel Webster.
The only order in the universe is just a cycle of calm and chaos. ~ Toba Beta.
Popular Keep Calm Quotes
Make peace with mind, it's your best ally. ~ Unknown.
Let's accept it that dead people are in position for relaxing and watching. ~ Deyth Banger.
You don't have to control your thoughts. You just have to stop letting them control you. ~ Dan Millman.
A samurai must remain calm at all times even in the face of danger. ~ Chris Bradford.
We seek peace, knowing that peace is the climate of freedom. ~ Dwight D. Eisenhower.
Peace is the result of retraining your mind to process life as it is, rather than as you think it should be. ~ Wayne Dyer.
Whenever something bad happens, keep calm, take a few deep breaths and shift the focus to something positive. ~ Roy T. Bennett.
Deep Keep Calm Quotes
Everyone propels at different stages of their life. Just keep calm, work on it and wait on your right moment! ~ Hopal Green.
They sicken of the calm who know the storm. ~ Dorothy Parker.
The ideal of calm exists in a sitting cat. ~ Jules Renard.
Stay at peace with everyone you meet and hold no grudge with anyone for any reason. ~ Israelmore Ayivor.
The nearer a man comes to a calm mind the closer he is to strength. ~ Marcus Aurelius.
Keep calm and keep learning. ~ Lailah Gifty Akita.
Profound Keep Calm Quotes
To forgive is the highest, most beautiful form of love. In return, you will receive untold peace and happiness. ~ Robert Muller.
Peace is not made at the council table or by treaties, but in the hearts of men. ~ Herbert Hoover.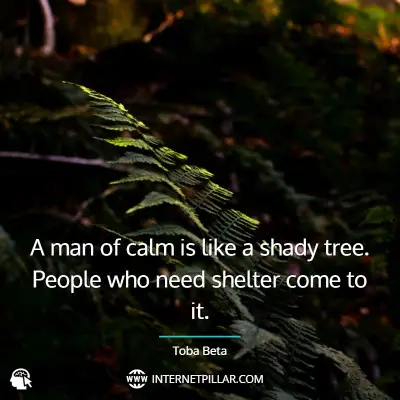 A man of calm is like a shady tree. People who need shelter come to it. ~ Toba Beta.
They might make you feel you are useless or incomplete. Don't let it affect you. Keep calm and let your future prove that they were wrong. ~ Amen Muffler.
He is happiest, be he king or peasant, who finds peace in his home. ~ Johann Wolfgang von Goethe.
---
So these were the 40 top quotes about Keep Calm.
Tell me in the comments section, which "Keep Calm" quotes were your favorite?
If you like these quotes and sayings, then you can also read my other posts on Save Wildlife quotes and Native American quotes.
You are welcome to share these quotes and sayings with your family and friends on WhatsApp, Facebook, Twitter, Instagram, and Pinterest and inspire them to take their life to the next level and achieve greatness and success!