"Take a Deep Breath" is an important practice that aids individuals in managing stress, anxiety and other emotional challenges.
Regardless of the intensity of current adversities, a deep breath can provide the resilience needed to persevere.
This is highlighted in our curated collection of 63 quotes encouraging the practice of deep breathing.
While breathing is predominantly an automatic function, dedicating time throughout the day for mindful breathing can transform your health, perspective and decision-making process.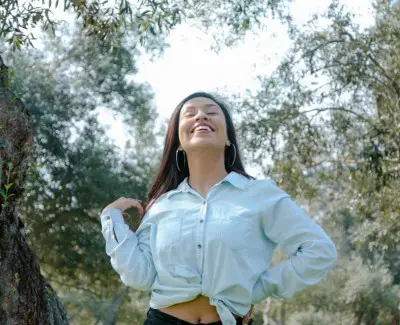 The quotes and sayings included in this collection underscore the profound power embodied in the simple act of deep, mindful breathing.
---
Top 10 Take a Deep Breath Quotes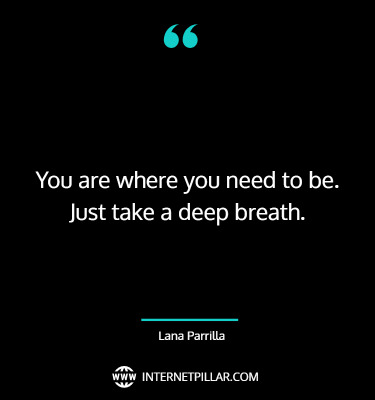 You are where you need to be. Just take a deep breath. ~ Lana Parrilla.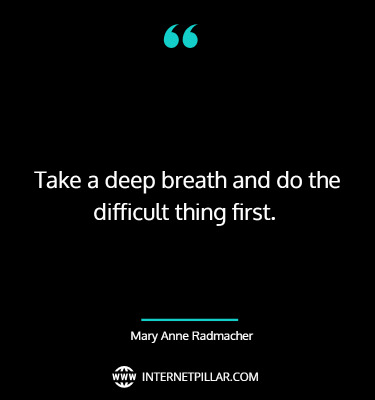 Take a deep breath and do the difficult thing first. ~ Mary Anne Radmacher.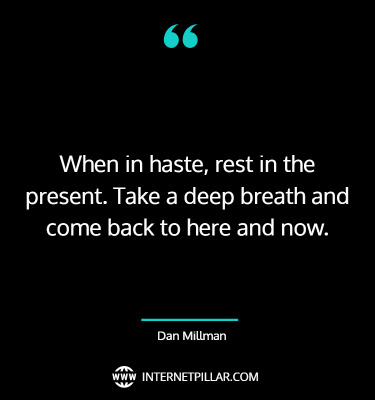 When in haste, rest in the present. Take a deep breath and come back to here and now. ~ Dan Millman.
Take a deep breath and tell us your deepest, darkest secret, so we can wipe our brow and know that we're not alone. ~ Alan Watts.
Take a deep breath. It's just a bad day, not a bad life. ~ Unknown.
If you should encounter angry or unkind actions today, take a deep breath, reach deep within and greet the lack of love with love. ~ Iyanla Vanzant.
Take a deep breath and pause for one minute without doing anything! There did you feel the magic? ~ Avijeet Das.
Don't spin your wheels and stress. Take a deep breath, center yourself and make a plan. ~ Douglas Adams.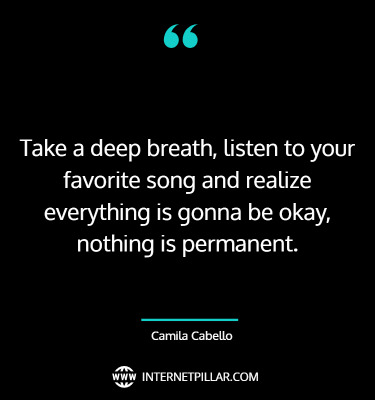 Take a deep breath, listen to your favorite song and realize everything is gonna be okay, nothing is permanent. ~ Camila Cabello.
Take a deep breath. Inhale peace. Exhale happiness. ~ A.D. Posey.
Famous Take a Deep Breath Quotes
I'm for the fracking. I think it's an opportunity for Ohio to really get a lot of jobs. But we have to do it right. We have to really take a deep breath, do it right, make sure the public is protected, make sure our land is protected. ~ Mike DeWine.
It's always nice when you do something and it's well received as opposed to the other way which God knows happens to everybody. When the good times come around, you take a deep breath, appreciate it, but not take it too seriously. ~ Laura Linney.
The night is given to us to take breath, to pray, to drink deep at the fountain of power. ~ Florence Nightingale.
I laugh maniacally, then take a deep breath and touch my chest- expecting a heart to be thumping quickly, impatiently, but there's nothing there, not even a beat. ~ Bret Easton Ellis.
Positive Take a Deep Breath Quotes
Take a deep breath, pick yourself up, dust yourself off, and start all over again. ~ Frank Sinatra.
Okay, take a deep breath, I told myself. Don't go all hormonal. Get the facts straight. Have a mental doughnut. ~ Janet Evanovich.
Take a deep breath and try to see how you can make things work. ~ Tom Welling.
I've never been obsessed with celebrity or star-struck or anything. I met Penelope Cruz when we were in Toronto, who I think is a goddess and an unbelievable actress, and she introduced herself. As she walked away from the table I had to take a deep breath, which was strange because I've never had that with anyone. ~ Carey Mulligan.
Whenever I have a stubborn position on something, I take a deep breath and swallow myself. ~ Nick Offerman.
Look at your own life. Has it become overly complex? Have you found yourself burdened by too many possessions or responsibilities? Take a deep breath and ask yourself: "What steps can I take to reduce the clutter so that I may live simply and joyously?" ~ Douglas Bloch.
Take a deep breath and take this to heart; God has nothing to do with broken promises. When He says, I promise, mark it down it's going to happen. ~ James MacDonald.
What about the rat race in the first place? Is it worthwhile? Or are you just buying into someone else's definition of success? Only you can decide that, and you'll have to decide it over and over and over. But if you think it's a rat race, before you drop out, take a deep breath. Maybe you picked the wrong job. Try again. And then try again. ~ Sheryl Sandberg.
See also: Breathing Quotes and Sayings to Live Well and Deep Life Quotes to Make You Think
Popular Take a Deep Breath Quotes
Take a deep breath. Get present in the moment and ask yourself what is important this very second. ~ Greg McKeown.
In a quiet place, close your eyes, take a deep breath, and go inward. Place your attention on your heart, in the center of your chest. Sit quietly and easily let your attention remain there. ~ Deepak Chopra.
I took a deep breath and listened to the old bray of my heart. I am. I am. I am. ~ Sylvia Plath.
Sometimes you just have to take a deep breath, relax, and let things go. Focus on what matters to you and who matters in your life. The rest will work itself out. Just take it one step at a time. ~ Unknown.
If I feel frustrated in a situation, I take a deep breath and walk away. ~ Iman Abdulmajid.
During a panic attack, I remember that today is just today and that is all that it is. I take a deep breath in and I realize that in this moment I am fine and everything is okay. More importantly, I am reminded that my A.P.C. jeans are so perfectly worn in that they are appropriate for any season and I am suddenly at ease. ~ Max Greenfield.
Inspiring Take a Deep Breath Quotes
It is a very busy mission: every day has some major goals that we have to get through, but my experience before has been that at least in the evening, you kind of take a deep breath and look around where you are and have some downtime. ~ Linda M. Godwin.
I don't care who you are, you're going to choke in certain matches. You get to a point where your legs don't move and you can't take a deep breath. You start to hit the ball about a yard wide, instead of inches. ~ Arthur Ashe.
Love sets your heart free. Be not afraid: dig deep, Take a deep breath And reach for the sky In your lover's heart. ~ Laura Ramirez.
Take a deep breath, relax and imagine yourself exactly as you wish to be. ~ Brian Tracy.
When I walk down the runway, my main goal is to not think about the people watching. The idea of all eyes on me would make me too uncomfortable. As I step on the runway, I take a deep breath, focus on a point in the distance, and go! ~ Gisele Bundchen.
I get upset over a bad shot just like anyone else. But it's silly to let the game get to you. When I miss a shot I just think what a beautiful day it is. And what pure fresh air I'm breathing. Then I take a deep breath. I have to do that. That's what gives me the strength to break the club. ~ Bob Hope.
Just Take a Deep Breath Quotes
Take a deep breath. It calms the mind. ~ Regina Brett.
Certainly in the Capitol you do get moments where you sort of take a deep breath and think of all the historic figures who have been in that building, like Abraham Lincoln, who have stood right in those same rooms to make the landmark decisions. ~ Kevin Yoder.
Listen, are you breathing just a little and calling it a life? ~ Mary Oliver.
Take a deep breath and exhale slowly. Mentally picture all tiredness, tension, and fatigue leaving you. Visualize that a wave of golden light is entering you at the top of your head and passing throughout your entire body. ~ Frederick Lenz.
I take a deep breath and sidestep my fear and begin speaking from the place where beauty and bravery meet – within the chambers of a quivering heart. ~ Terry Tempest Williams.
A deep breath is a technique with which we minimize the number of instances where we say what we do not mean … or what we really think. ~ Mokokoma Mokhonoana.
Take a deep breath every morning; say thank you for your health. The alternative is unbelievably tough. ~ Gary Jobson.
Profound Take a Deep Breath Quotes
Take a deep breath and think of the three things you are grateful for, right in this moment. ~ M. J. Ryan.
Right where you are is where you need to be. Don't fight it! Don't run away from it! Stand firm! Take a deep breath. And another. And another. Now, ask yourself: Why is this in my world? What do I need to see? ~ Iyanla Vanzant.
I just want people to take a step back, take a deep breath and actually look at something with a different perspective. But most people will never do that. ~ Brian McKnight.
There really is a kind of insane beauty around us all the time. It's just a question of learning to slow down, take a deep breath and meet the moment. ~ Graham Nash.
You can talk yourself into a good emotional state. I stop for a second, take a deep breath, and think about something that's beautiful. A beautiful thought for me is cutting the umbilical cord for my child. I can guarantee you that your emotional state will change. ~ Montel Williams.
In life you are going to make mistakes, you're going to fall down, but it's the getting up that counts. Just like in baseball: you'll get a few hits, but most likely, you'll strike out more than you'll get on base. But don't quit. Find your focus, relax, take a deep breath and give it a good swing. ~ Dave Pelzer.
Deep Take a Deep Breath Quotes
I grew up bar-singing and saw all kinds of ways people tried to outrun their emotional pain. It doesn't work. You end up with the original pain, as well as new pain added on top of it from the tactics you used trying to avoid it in the first place. It's best to take a deep breath, bolster yourself, and walk through it. ~ Jewel.
Take a deep breath and focus on what's really important. ~ Wayne Dyer.
The next time you get the urge to shut somebody up because they don't see the world exactly the same way you do, take a deep breath, get out your Bill of Rights, and count to the ten amendments. ~ Dennis Miller.
We all need to take a deep breath and think about being a Bush daughter and having that cross to bear. I'd go out and have a couple of drinks too. ~ Julia Roberts.
That's a tumor. It goes across my liver, up through my lungs, all the way around my heart. And when they were done trying to cut it out, nuke it out with radiation and chemotherapy it out, it left so much scar tissue that when I walk outside now in cold weather and take a deep breath, it feels like someone is stabbing me. ~ Eric Massa.
Every moment allows you the opportunity to take a deep breath in and be grateful for the fact that you can take in a breath. ~ John Assaraf.
When confronted by conflict and confusion, another practice is to take a deep breath, pause and ask: 'Where is the gift in this? ~ Diane Dreher.
Thought-Provoking Take a Deep Breath Quotes
I definitely have an alter ego that can come out and get me out of situations where I'm having social anxiety. I can take a deep breath and create a bubble so I can perform in some way. ~ Lindy Booth.
Leaving a great organization and a lucrative contract is not easy, but it allows me to take a deep breath and work on things that can make me a better driver and a better person. ~ Kurt Busch.
My mother had no end of tragedy in her life. She would make herself get up and take a deep breath and go out and do laundry. Hang up sheets. ~ Patti Smith.
Are you a stingy breather? Well, don't be. Be extravagant with your breathing and come fully alive. ~ Ron Fletcher.
Sometimes when I hear criticism of my husband, I want to come out of my seat and clock somebody. But you learn to take a deep breath. ~ Ann Romney.
---
So these were the 63 top quotes about Take a Deep Breath.
If you like these quotes and sayings, then you can also read my other posts on Better Off Alone quotes and Be the Best Version of You quotes.