The lavender plant is part of the mint family, is revered for its sweet floral fragrance, spiritual symbolism and healing properties.
Lavender termsis derived from the Latin word 'lavare' meaning 'wash', epitomizes spirituality, purity, serenity and grace.
Historically, it was used in Persia, Rome and Ancient Greece as a bath additive to cleanse the body and mind and brewed into soothing teas.
This compilation explores various lavender quotes from diverse sources including singers, authors, writers, poets, business and medical professionals and celebrities.
These quotes not only showcase how lavender is depicted in artistic creations but also share personal experiences with lavender-based products.
This collection of inspiring lavender quotes aims to elevate spirits and add a touch of brightness to the reader's day.
---
Lavender Quotes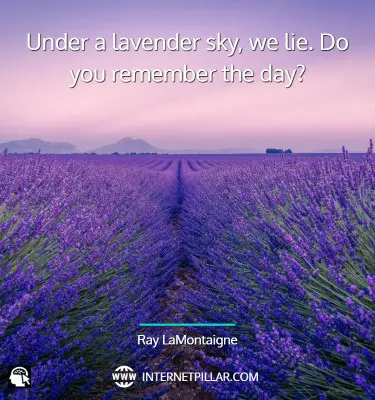 Under a lavender sky, we lie. Do you remember the day? ~ Ray LaMontaigne.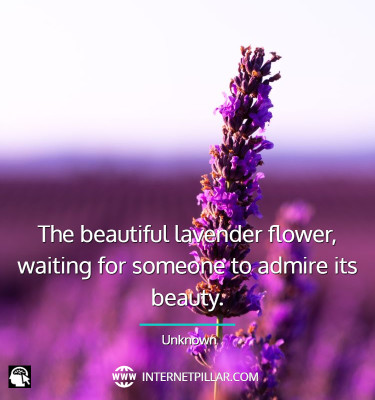 The beautiful lavender flower, waiting for someone to admire its beauty. ~ Unknown.
Lavender is the new pink. I'll never stop wearing pink but I wanted to venture out. ~ Nicki Minaj.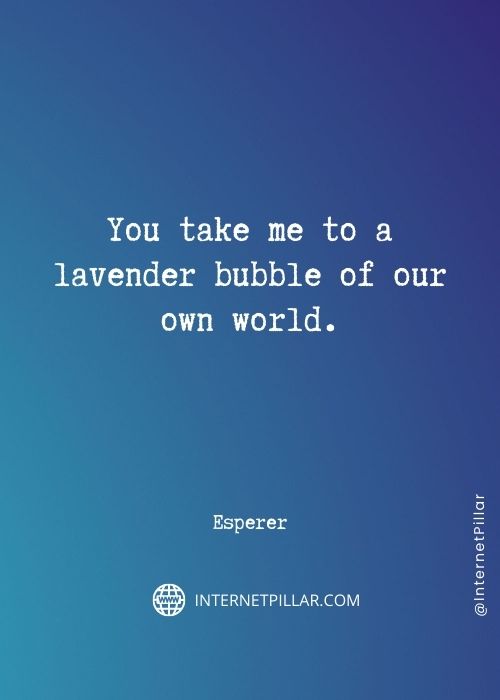 You take me to a lavender bubble of our own world. ~ Esperer.
'La joie de vivre.' The scent of lavender. Forgiveness. Age-old love. ~ Rebecca Rassmusen.
When hope is fleeting, stop for a moment and visualize, in a sky of silver, the crescent of a lavender moon. Imagine it – delicate, slim, precise, like a paper-thin slice from a cabochon jewel. It may not be very useful, but it is beautiful. And sometimes it is enough. ~ Vera Nazarian.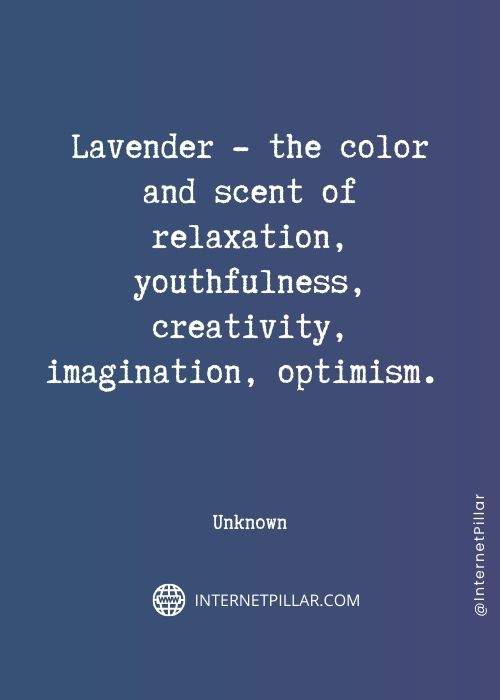 Lavender – the color and scent of relaxation, youthfulness, creativity, imagination, optimism. ~ Unknown.
As a kid, I'd play with homemade recipes, like putting pineapple on my face to exfoliate my skin and doing facial steams with lavender or peppermint oils. I just loved doing stuff like that. It's what motivated me to launch my skin care line. ~ Demi Lovato.
Somewhere, a rattlesnake strike makes the dance begin. Three hawks float in the light blue sky overhead. Crows caw and the sweet seduction of lavender fills my head. And she waltzes through my thoughts. ~ Hunter S. Jones.
To look upon lavender and feel content. ~ Ramya.
Lavenders are colors of relaxation. With an aromatic fragrance, they are a sign of good luck. Their purple color is most attractive in the flowers. It's good for sleep, it's peaceful for our minds. ~ Payel Bagchi.
Sprinkling drops of lavender and clary-sage oil into a bath is a totally simple yet complex pleasure. ~ Isabel Gillies.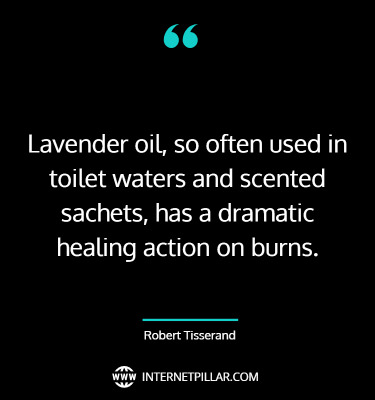 Lavender oil, so often used in toilet waters and scented sachets, has a dramatic healing action on burns. ~ Robert Tisserand.
To make a perfume, take some rose water and wash your hands in it, then take a lavender flower and rub it with your palms, and you will achieve the desired effect. ~ Leonardo da Vinci.
Best Lavender Quotes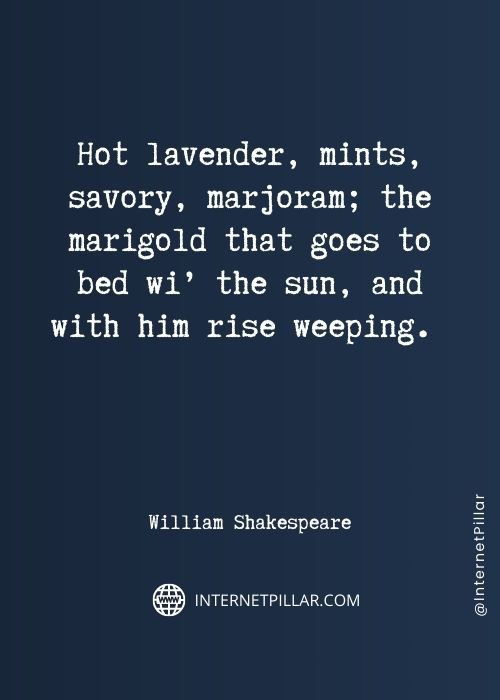 Hot lavender, mints, savory, marjoram; the marigold that goes to bed wi' the sun, and with him rise weeping. ~ William Shakespeare.
Better keep the young on lemons and lavender until they've reached the age of discretion. ~ Henry Miller.
We are to each other as purple is to lavender. ~ Unknown.
Before bed, I read a book or flip on the radio. I'm not picky, I'll just turn it on and see what comes up. I burn a yummy lavender- scented candle. ~ Carrie Underwood.
We lavender folk spray up, spontaneously flowering in the color we had learned as an identifying mark of our culture when it was subterranean and secret. ~ Judy Grahn.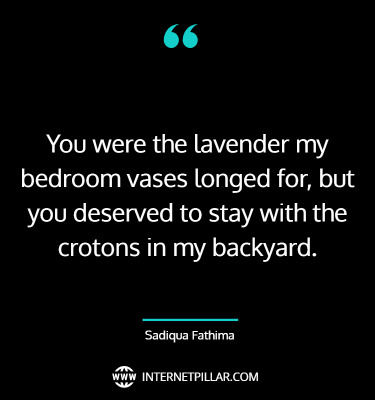 You were the lavender my bedroom vases longed for, but you deserved to stay with the crotons in my backyard. ~ Sadiqua Fathima.
It always seems to me as if the lavender was a little woman in a green dress, with a lavender bonnet and a white kerchief. She's one of those strong, sweet, wholesome people, who always rest you, and her sweetness lingers long after she goes away. ~ Myrtle Reed.
What woman, however old, has not the bridal-favors and raiment stowed away, and packed in lavender, in the inner cupboards of her heart? ~ William Makepeace Thackeray.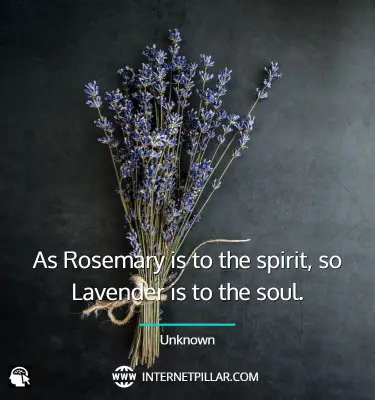 As Rosemary is to the spirit, so Lavender is to the soul. ~ Unknown.
The raindrops played across the coast all through the night, until the soft new day shrugged itself awake, tried on amethyst and lavender for a while, and finally decided on pale yellow. ~ Garry D. Schmidt.
Beautiful Lavender Quotes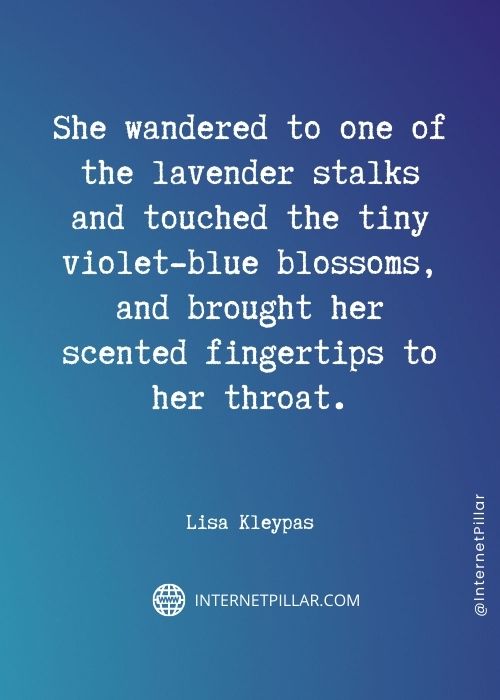 She wandered to one of the lavender stalks and touched the tiny violet-blue blossoms, and brought her scented fingertips to her throat. ~ Lisa Kleypas.
The soothing scent of lavender. It always hits me at the right nerves, helping me to calm my anxiety. The smell which I was initially skeptical to even use as I never wanted to get addicted, now helps me to deal with migraine and tucks me to sleep. ~ Srishti Srivastava.
My favorite name for a color is 'puce.' It's kind of a dried blood color. It's a hideous color. But I love the word. It's so euphonic. But my favorite colors are lavender, purple, periwinkle blue, and white. ~ Elizabeth Taylor.
Abundance is the sharp smell of lavender on a beautiful spring morning. ~ Unknown
Are you Lavender? You must be, for you are all about aroma. ~ Dorji Wangmo
I disappeared last night while sleeping in my bed. A field of lavender beneath my head. ~ Two Door Cinema Club.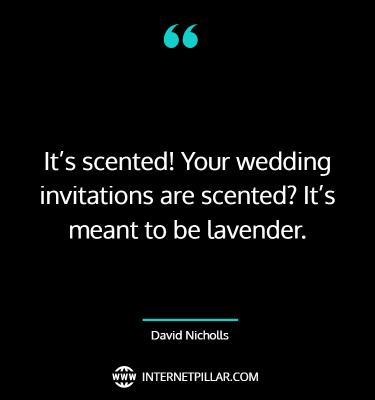 It's scented! Your wedding invitations are scented? It's meant to be lavender. ~ David Nicholls.
I want to be able to breathe and yet, not see the daylight. Like the torn-at-the-edges love letter with the fragrance of a dried lavender. No, it wasn't a rose. It was a lavender. ~ Unknown.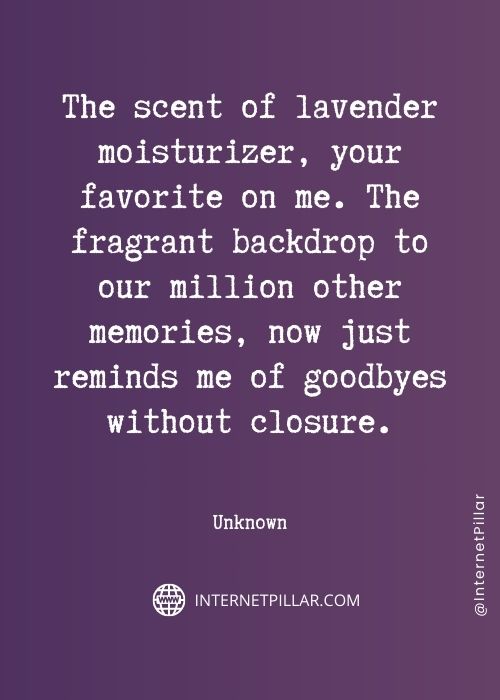 The scent of lavender moisturizer, your favorite on me. The fragrant backdrop to our million other memories, now just reminds me of goodbyes without closure. ~ Unknown.
Related: Lovely Wildflower Quotes to Appreciate Nature's Beauty and Inspiring Flower Quotes to Lift Your Spirits
Soothing Lavender Quotes
Lemon, the flavor of sunshine, and lavender, a most powerful herb. It symbolized feminine beauty and grace, and Nellie could think of nothing better with which to celebrate Martha's recent delivery. ~ Karma Brown.
Your voice calmed me like petals of lavender. ~ Indranil Kumar.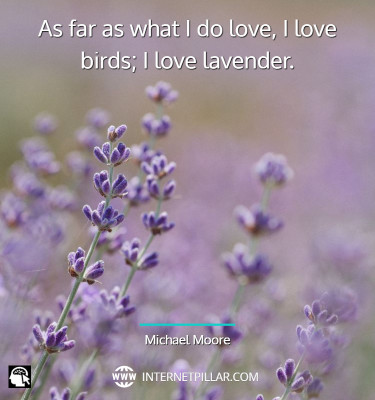 As far as what I do love, I love birds; I love lavender. ~ Michael Moore.
Bursts of gold on lavender melting into saffron. It's the time of day when the sky looks like it has been spray-painted by a graffiti artist. ~ Mia Kirshner.
Be like a lavender flower which symbolizes purity, quietness, elegance, calmness, deluxe, royalty. ~ Nayana D. Biju.
Her love was like lavender, delicate and melancholy. ~ Laura Chouette.
My love for you is like a Florida sunset. Orange, coral, pink, and lavender, it exists to warm your heart through the inevitable darkness. ~ Jarod Kintz.
I love lavender – both the color and the smell, and the sound is quiet so you can hear it. ~ Jarod Kintz.
Famous Lavender Quotes
When the light turns green, you go. When the light turns red, you stop. But what do you do when the light turns blue with orange and lavender spots? ~ Shel Silverstein.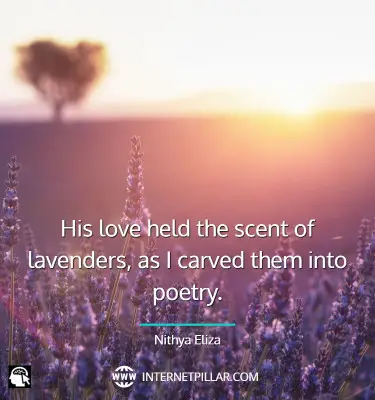 His love held the scent of lavenders, as I carved them into poetry. ~ Nithya Eliza.
Lavender is for lovers true, which evermore be gained; desiring always for to have some pleasure for the pain. ~ Clement Robinson.
Even talking, I'm super-loud. I could never have that kind of meek, little wispy whimsical lavender and lace voice. It comes from my body. There's no way I can fight it. ~ Beth Ditto.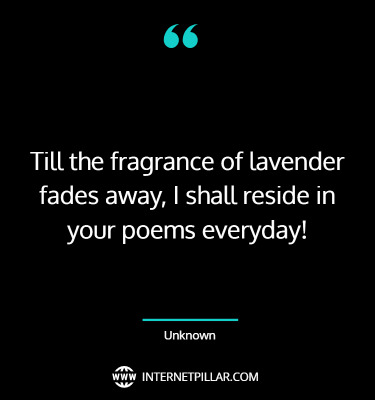 Till the fragrance of lavender fades away, I shall reside in your poems everyday! ~ Unknown.
The air was fragrant with a thousand aromatic herbs, with fields of lavender, and with the brightest roses blushing in tufts all over the meadows. ~ William C. Bryant.
At the door to the shop, a bell tinkled, and moments later they seemed to enter the very flowering of lavender. The scent was all around them; it curled and diffused in the air with a sweet warmth and subtlety, then burst with a peppery, musky intensity. ~ Deborah Lawrenson.
She smells like lavender in whole seasons. ~ Unknown.
Being yourself is just like the fragrance of lavender – calm, centered, fresh, and soul awakening. ~ Unknown.
Lovely Lavender Quotes for Instagram
I love Thieves, it is therapeutic if you're not feeling well. It has a very strong scent but is quite wonderful. I also use lavender. Peppermint, when my stomach is upset. ~ Donna Karan.
The white pure sheet of her life had thunderous and royal purple lavender pride with a golden heart. ~ Dr. Zainab Ansari.
If I were a painting, I wish I would be colored with lavender. ~ Ramya.
Dear God, you must be a lavender for your aroma makes me calm. ~ Unknown.
Lavender in the hut, fertility beads under the mattress, a dreamcatcher by the plunge pool, oyster appetizers every afternoon, and a Michael Bolton love mix. ~ Rachel Van Dyken.
Forgiveness is the fragrance the violet sheds on the heel that has crushed it. ~ Mark Twain.
Like the fragrance of lavender, love cannot be hidden either. ~ Sudipta Das.
Add a drop of lavender to milk, leave town with an orange, and pretend you're laughing at it. ~ Bill Bailey.
Lavender, for excitement? I think there's an old saying that lavender is good for something like that. ~ Rajani LaRocca.
---
---
So these were the 62 quotes about Lavender.
If you like these quotes and sayings, then you can also read my other popular blog posts on the topics of Houseplant quotes and Tulip quotes and Daffodil quotes.