Here is a compilation of exceptional quotes about leaves, an exquisite aspect of nature that comes in diverse shapes and sizes.
Each leaf, an integral part of any plant, holds a unique meaning.
The leaf's intrinsic beauty symbolizes the beauty within each individual and serves as an inspirational tool, fostering courage and hope.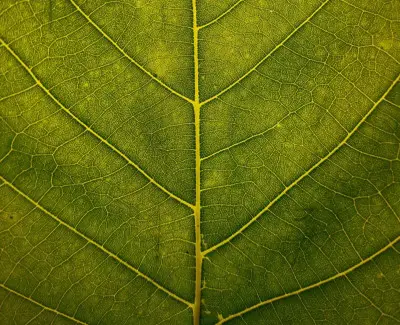 This collection of leaf quotes is a tribute to nature's splendor and its role in uplifting human spirits.
Whether you're an ardent nature lover or just seeking some motivation, these quotes offer a profound reflection of the beauty and significance of leaves in our lives.
---
Top 10 Leaf Quotes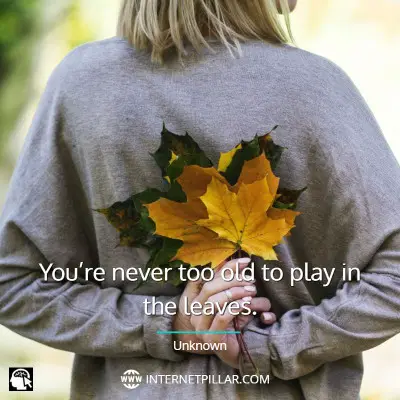 You're never too old to play in the leaves. ~ Unknown.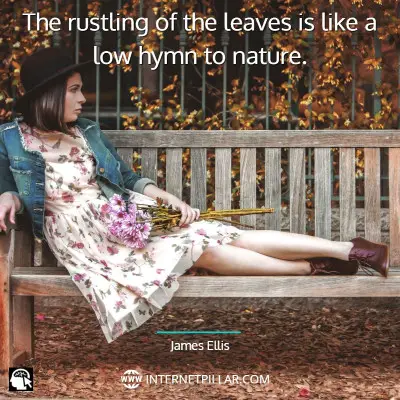 The rustling of the leaves is like a low hymn to nature. ~ James Ellis.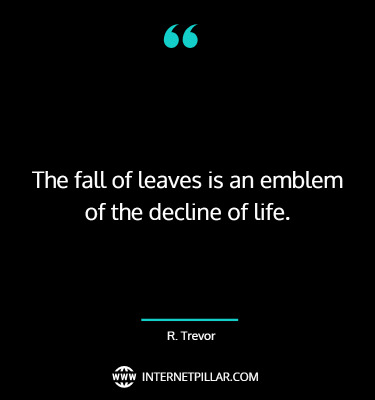 The fall of leaves is an emblem of the decline of life. ~ R. Trevor.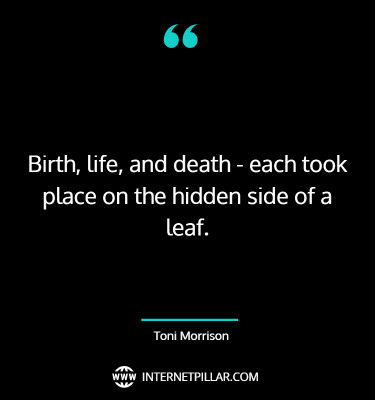 Birth, life, and death – each took place on the hidden side of a leaf. ~ Toni Morrison.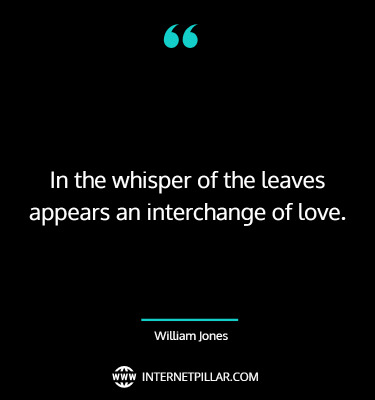 In the whisper of the leaves appears an interchange of love. ~ William Jones.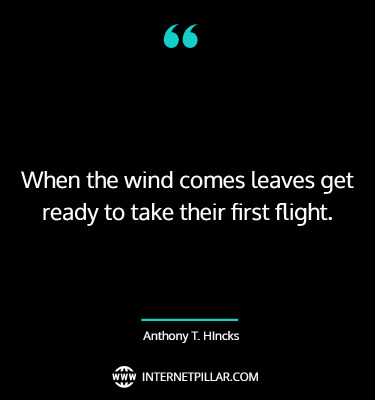 When the wind comes leaves get ready to take their first flight. ~ Anthony T. HIncks.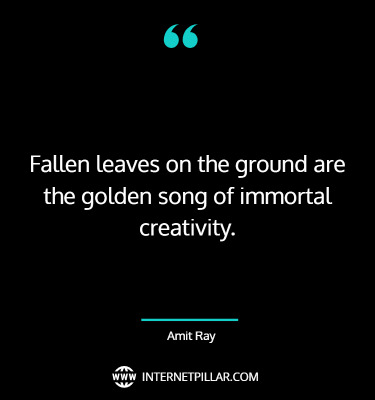 Fallen leaves on the ground are the golden song of immortal creativity. ~ Amit Ray.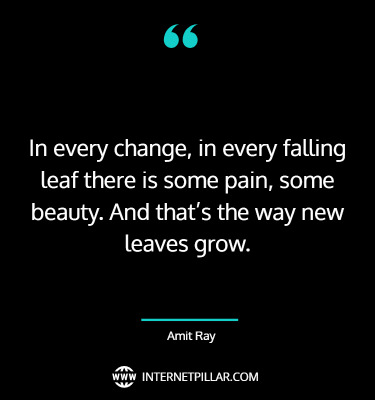 In every change, in every falling leaf there is some pain, some beauty. And that's the way new leaves grow. ~ Amit Ray.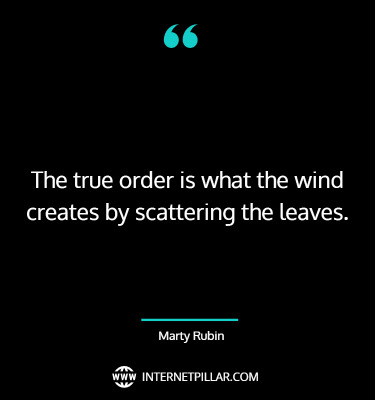 The true order is what the wind creates by scattering the leaves. ~ Marty Rubin.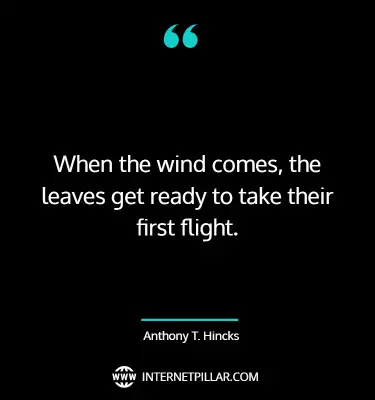 When the wind comes, the leaves get ready to take their first flight. ~ Anthony T. Hincks.
Famous Leaf Quotes
The leaf and his body were one. Neither possessed a separate permanent self. Neither could exist independently from the rest of the universe. ~ Thich Nhat Hanh.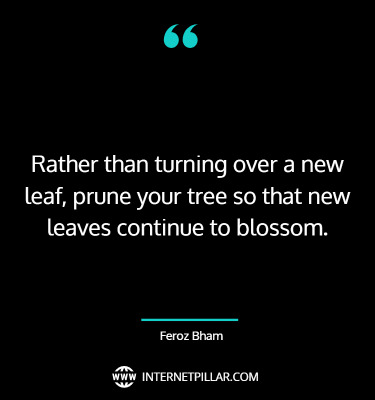 Rather than turning over a new leaf, prune your tree so that new leaves continue to blossom. ~ Feroz Bham.
The leaves are souls begging to turn life on pause. Begging to stop, begging to take a break, hiding under smiles and childish words. ~ Teodora Savu.
Autumn leaves don't fall, they fly. They take their time and wander on this their only chance to soar. ~ Delia Owens.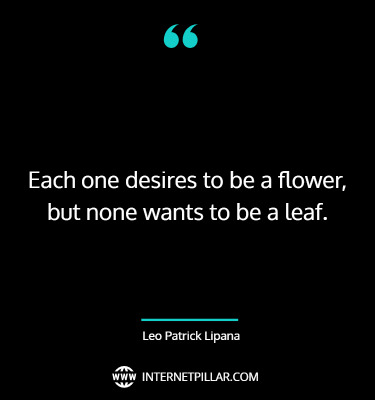 Each one desires to be a flower, but none wants to be a leaf. ~ Leo Patrick Lipana.
Time flies over us, but leaves its shadow behind. ~ Nathaniel Hawthorne.
An unfurling leaf is one of nature's greatest gifts. The present and the wrapping are one. And best of all, itself unwraps slowly revealing its mysterious beauty. ~ Khang Kijarro Nguyen.
Lovely Leaf Quotes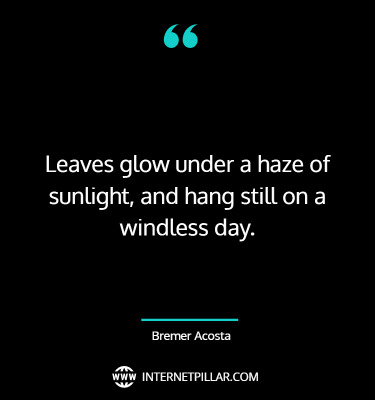 Leaves glow under a haze of sunlight, and hang still on a windless day. ~ Bremer Acosta.
There is another alphabet, whispering from every leaf, singing from every river, shimmering from every sky. ~ Dejan Stojanovic.
The tree leaves rustled like that noise e-books make when you turn the page. ~ Daniel Nayeri.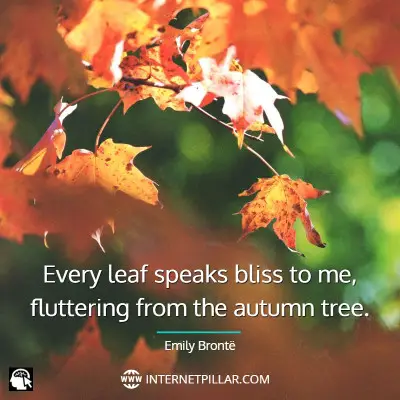 Every leaf speaks bliss to me, fluttering from the autumn tree. ~ Emily Brontë.
Now Autumn's fire burns slowly along the woods and day by day the dead leaves fall and melt. ~ William Allingham.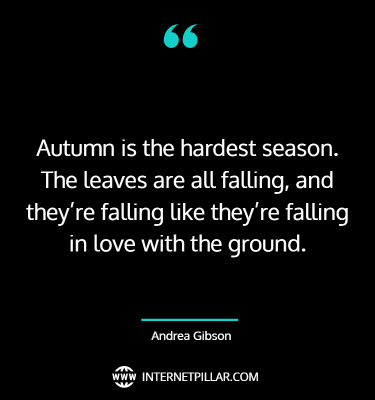 Autumn is the hardest season. The leaves are all falling, and they're falling like they're falling in love with the ground. ~ Andrea Gibson.
There is not a single leaf which is a mere ornament; all contribute to the fruitfulness of the earth and the support of its inhabitants. ~ Christoph Christian Sturm.
Inspiring Leaf Quotes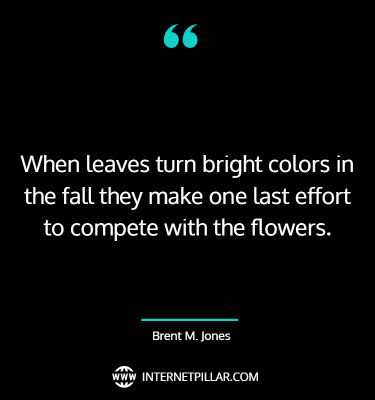 When leaves turn bright colors in the fall they make one last effort to compete with the flowers. ~ Brent M. Jones.
Autumn leaves shower like gold, like rainbows, as the winds of change begin to blow, signaling the later days of autumn. ~ Dan Millman.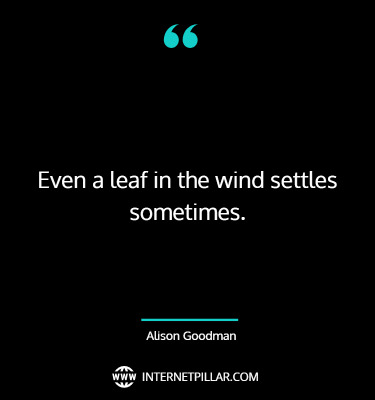 Even a leaf in the wind settles sometimes. ~ Alison Goodman.
One of the great lessons the fall of the leaf teaches is this: do your work well and then be ready to depart when God shall call. ~ Tryon Edwards.
Learn character from trees, values from roots, and change from leaves. ~ Tasneem Hameed.
Though leaves are many, the root is one. ~ William Butler Yeats.
Autumn is the second spring when every leaf is a flower. ~ Albert Camus.
Beautiful Leaf Quotes
The autumn leaves fall faster than the trees grow faster. ~ Charles de Leusse.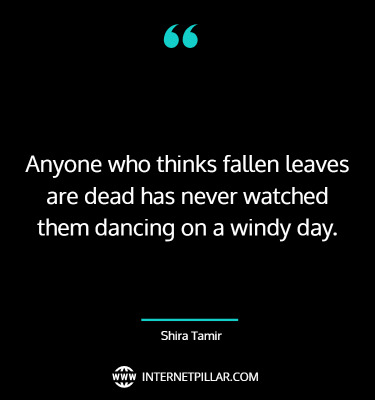 Anyone who thinks fallen leaves are dead has never watched them dancing on a windy day. ~ Shira Tamir.
Anyone can love a rose, but it takes a lot to love a leaf. It's ordinary to love the beautiful, but it's beautiful to love the ordinary. ~ MJ Korvan.
I've seen a million miracles. They're all around. Every green leaf is a miracle. ~ Jimmy Dean.
How beautiful the leaves grow old. How full of light and color are their last days. ~ John Burroughs.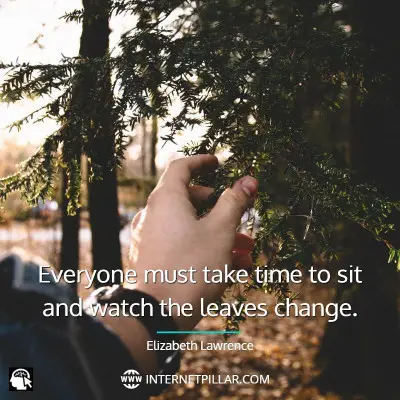 Everyone must take time to sit and watch the leaves change. ~ Elizabeth Lawrence.
Each leaf tells us a story. The story of its struggle. The struggle against the storms that it faces in life. ~ Avijeet Das.
The heart of autumn must have broken here, and poured its treasure upon the leaves. ~ Charlotte Bates.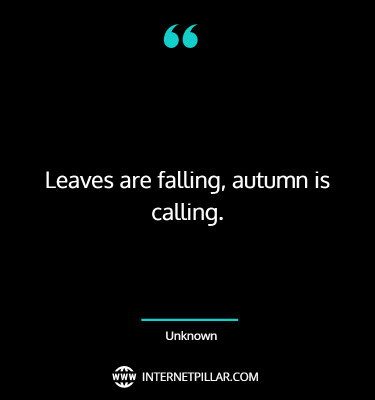 Leaves are falling, autumn is calling. ~ Unknown.
The leaf does not immediately absorb the drop of water falling on it; she slowly drinks with great pleasure! ~ Mehmet Murat İldan.
Relevant Quotes: Tree Quotes and Sayings for Nature Lovers and Houseplant Quotes to Inspire Indoor Gardeners
Best Leaf Quotes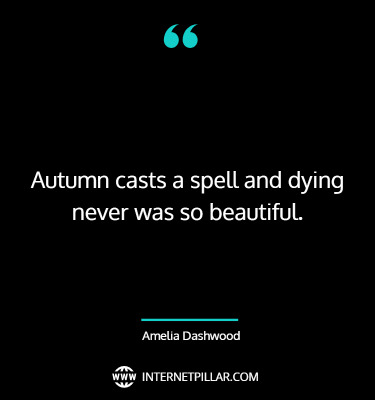 Autumn casts a spell and dying never was so beautiful. ~ Amelia Dashwood.
Every falling leaf reminds me that I too will soon be separated from these trees. Trying to capture freedom is like trying to catch a falling leaf. Occasionally you may grab one out of the air and hold it in your hands, but now what? ~ Daniel J. Rice.
Does a leaf, when it falls from the tree in winter, feel defeated by the cold? The tree says to the leaf: 'that's the cycle of life.' You may think you're going to die, but you live on in me. It's thanks to you that I'm alive because I can breathe. It's also thanks to you that I have felt loved, because I was able to give shade to the weary traveler. Your sap is in my sap; we are one thing. ~ Paulo Coelho.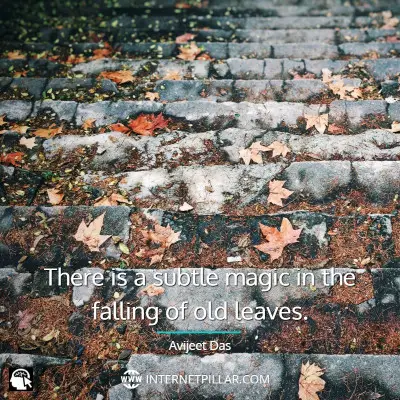 There is a subtle magic in the falling of old leaves. ~ Avijeet Das.
I hope I can be the autumn leaf, who looked at the sky and lived. And when it was time to leave, gracefully it knew life was a gift. ~ Dodinsky.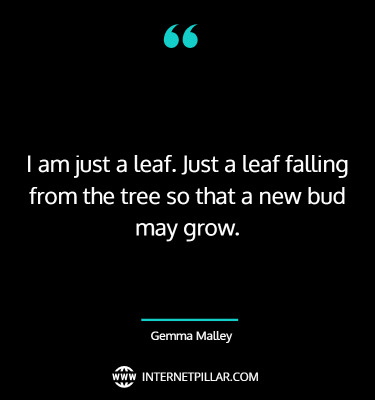 I am just a leaf. Just a leaf falling from the tree so that a new bud may grow. ~ Gemma Malley.
Autumn that year painted the countryside in vivid shades of scarlet, saffron, and russet, and the days were clear and crisp under harvest skies. ~ Sharon Kay Penman.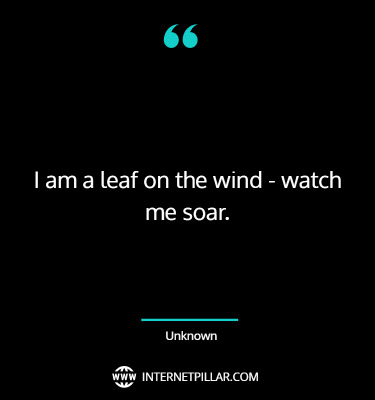 I am a leaf on the wind – watch me soar. ~ Unknown.
The journey may be fraught with challenges, yet it continues, for even the smallest leaf must embrace destiny – persistence is the key. ~ Virginia Alison.
Inspirational Leaf Quotes
Each day is a dry leaf, which never comes back to life again. ~ Shine Syamaladevi.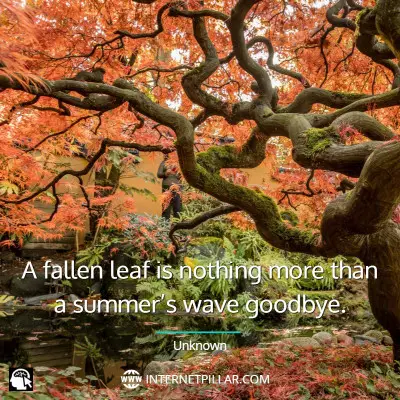 A fallen leaf is nothing more than a summer's wave goodbye. ~ Unknown.
There is an eternal love between the water drop and the leaf. When you look at them, you can see that they both shine out of happiness. ~ Mehmet Murat İldan.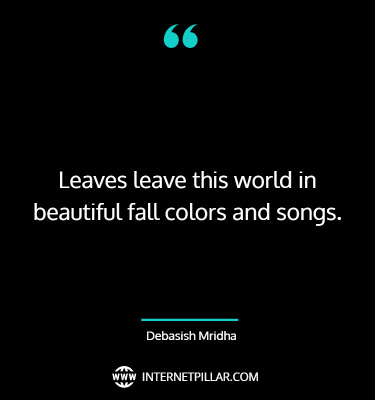 Leaves leave this world in beautiful fall colors and songs. ~ Debasish Mridha.
I can smell autumn dancing in the breeze. The sweet chill of pumpkin, and crisp sunburnt leaves. ~ Ann Drake.
Popular Leaf Quotes
I believe a leaf of grass is no less than a journey-work of the stars. ~ Walt Whitman.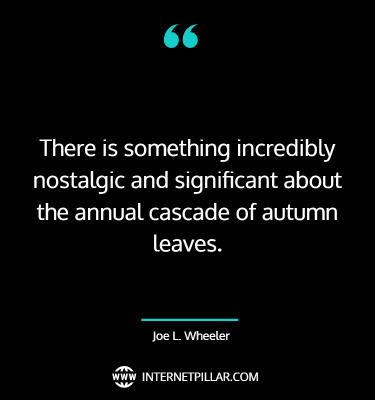 There is something incredibly nostalgic and significant about the annual cascade of autumn leaves. ~ Joe L. Wheeler.
Let your life lightly dance on the edges of time like dew on the tip of a leaf. ~ Rabindranath Tagore.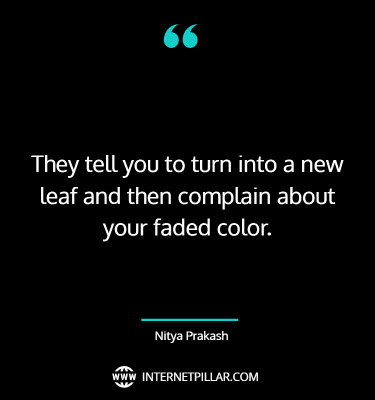 They tell you to turn into a new leaf and then complain about your faded color. ~ Nitya Prakash.
Where the dead leaf fell, there did it rest. ~ John Keats.
---
So these were the 62 top quotes about Leaf.
If you like these quotes and sayings, then you can also read my other posts on Tree quotes and Waterfall quotes.