The saying "Time Flies" is a powerful reminder of how quickly time passes, a phenomena that appears to increase significantly as we become older.
It's a common emotion that captures the ephemeral nature of our life and how swiftly moments become memories.
A single day might seem like an eternity to youngsters, loaded with many events and emotions.
However, as we get older, the days, months and years seem to fly by at an alarming rate.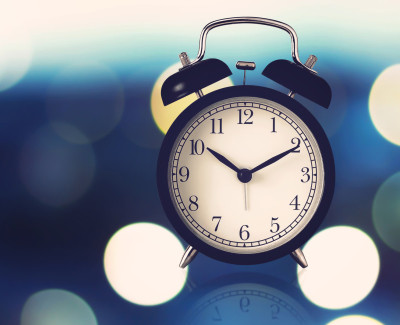 Seasons change, birthdays pass and before we realize it, another year has gone.
This quick passage of time emphasizes the significance of savoring each moment and making the most of our time.
While time does indeed fly, it is up to us to steer it, appreciating each moment and making every second count.
---
Top 10 Time Flies Quotes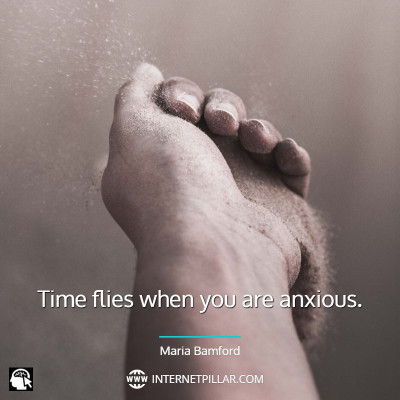 Time flies. One thing which remained constants but you love. ~ Parr Winn.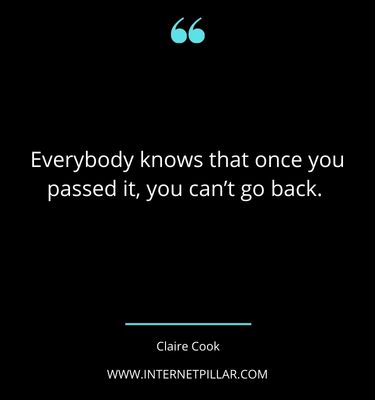 Everybody knows that once you passed it, you can't go back. ~ Claire Cook.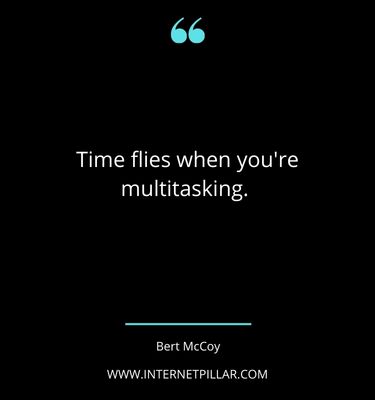 Time flies when you're multitasking. ~ Bert McCoy.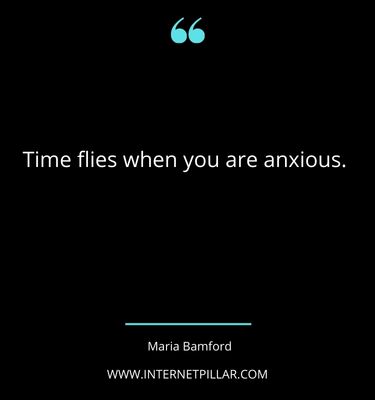 Time flies when you are anxious. ~ Maria Bamford.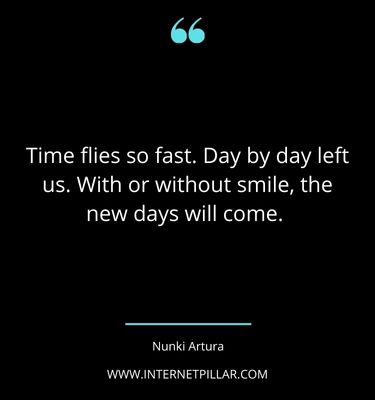 Time flies so fast. Day by day left us. With or without smile, the new days will come. ~ Nunki Artura.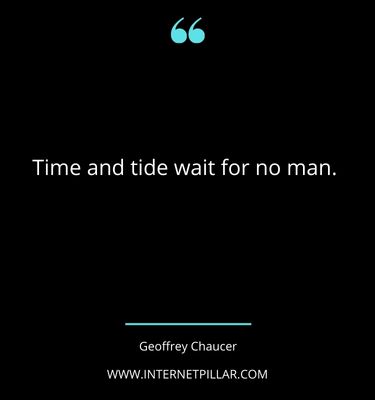 Time and tide wait for no man. ~ Geoffrey Chaucer.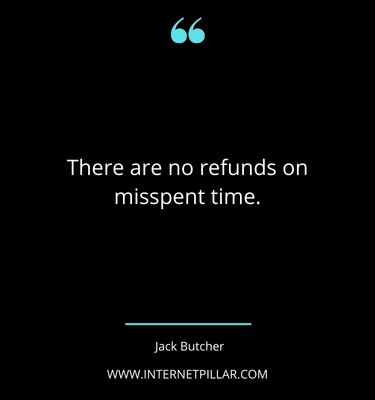 There are no refunds on misspent time. ~ Jack Butcher.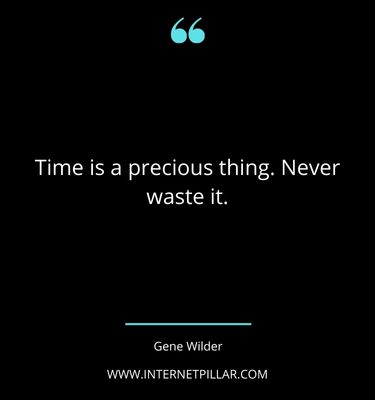 Time is a precious thing. Never waste it. ~ Gene Wilder.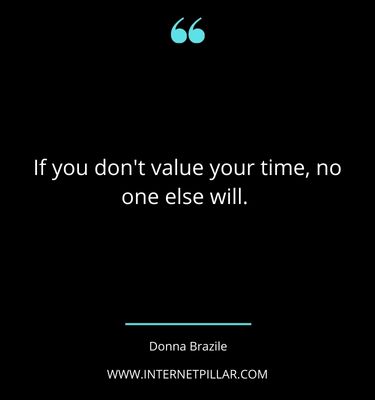 If you don't value your time, no one else will. ~ Donna Brazile.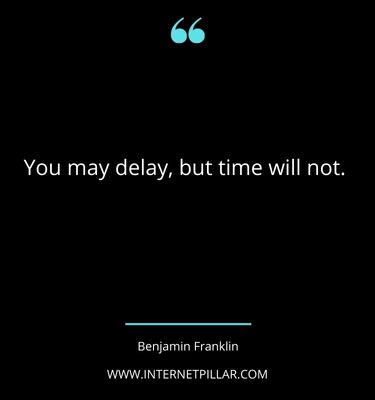 You may delay, but time will not. ~ Benjamin Franklin.
Related Quotes: 40 Breaking Point Quotes to Handle Tough Times and 49 Evening Quotes to Enjoy The Twilight Time
Famous Time Flies Quotes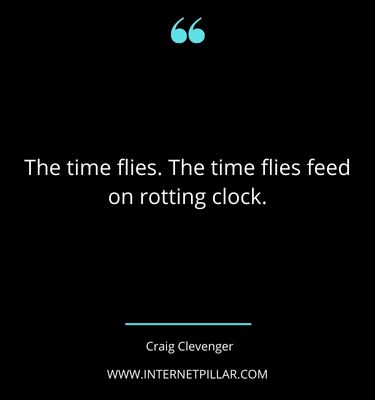 The time flies. The time flies feed on rotting clock. ~ Craig Clevenger.
Make most of the time, it flies away so fast, yet method will teach you to win time. ~ Johann wolfgang Von Gothe.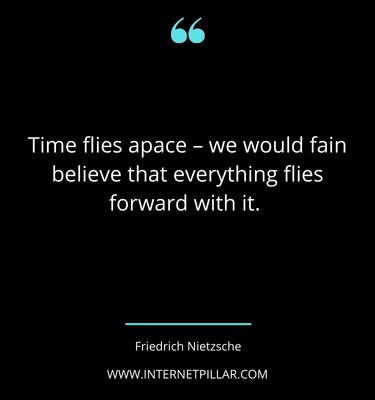 Time flies apace – we would fain believe that everything flies forward with it. ~ Friedrich Nietzsche.
'Time flies? You know, like, time goes really fast and suddenly you're saying goodbye and it's like no time passed at all?' His eyes drifted. He liked it. 'Time flies.' 'With you,' she added. ~ Mitch Albom.
Time meanwhile is flying, flying beyond recall. ~ Virgil.
Our time in this life is limited. And how we respect that time will create a greater possibility for fulfillment. ~ Ruben Papian.
When you kill time, you kill your opportunities for success. ~ Denis Waitley.
Life is short, and it's up to you to make it sweet. ~ Sarah Louise Delan.
Time flies when you're changing the world. ~ Craig Kielburger.
Time flies when you're running out of money. ~ James Cook.
If time flies when you're having fun, it hits the afterburners when you don't think you're having enough. ~ Jeh Mallelt.
Don't use time and words carelessly – neither can be retrieved. ~ Lecrae.
Popular Time Flies Quotes
Time is a gift that most of us take for granted. ~ Cheryl Richardson.
One day, you're 17 and you're planning for someday. And then quietly, without you ever really noticing, someday is today. And then someday is yesterday. And this is your life. ~ Brooke Davies.
Time flies, but not memories. ~ Ika Natassa.
Time flies when you're with me but goes so slow whenever you're away. It's no wonder time they say, is the enemy of love. ~ Sayeed Abdullahi.
The time to relax is when you don't have time for it. ~ Sydney J. Harris.
It's funny how time flies by. We met, we dated, got engaged and now we are married. It's so fast. ~ Tam Ross.
It's pretty scary to know how quickly time flies. ~ James Wan.
It's strange how time can make a place shrink, make its strangeness ordinary. ~ Veronica Roth.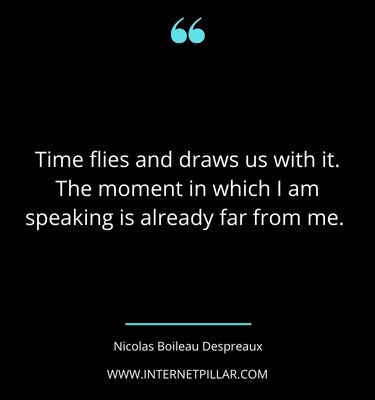 Time flies and draws us with it. The moment in which I am speaking is already far from me. ~ Nicolas Boileau Despreaux.
The most beautiful moments always seemed to accelerate and slip beyond one's grasp just when you want to hold onto them for as long as possible. ~ E.A. Bucchianeri.
Time moves slowly but passes quickly. ~ Alice Walker.
Great Time Flies Quotes
We have been conditioned to see the passing of time as an adversary. ~ Menachem Mendel Schneerson.
Time brings all things to pass. ~ Aeschylus.
Who knows where the time goes? ~ Nina Simone.
Time flies so fast but gives us millions of memories to remember that time. ~ Shital Yadav.
The minutes rushed past, without compassion for my enthusiasm. ~ Nicola Lecca.
Life goes on. Time flies. Memories only stay. ~ Sandeep Sudarashan.
Time flies. Time flies faster every year. Time flies whether you are having fun or not, whether you are reliving your life big or small, whether you surrounded yourself with fear or laughter. ~ Claire Cook.
Your time is limited, so don't waste it living someone else's life. ~ Steve Jobs.
Make use of time, let not advantage slip. ~ William Shakespeare.
Time is a brisk wind, for each hour it brings something new. ~ Paracelsus.
Best Time Flies Quotes
How time flies when one has fun. ~ Samuel Beckett.
Never give up on a dream just because of the time it will take to accomplish it. The time will pass anyway. ~ Earl Nightingale.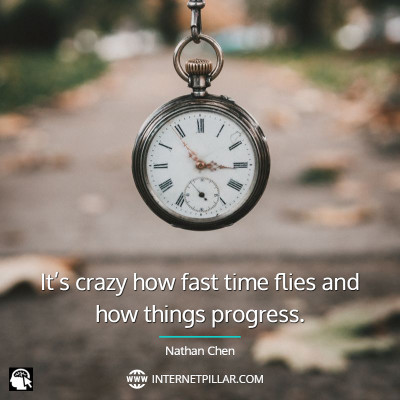 It's crazy how fast time flies and how things progress. ~ Nathan Chen.
Prayer is good; but when used as a substitute for obedience, it is nothing but a blatant hypocrisy. Don't hedge. Time flies. ~ Charles Studd.
Time flies when you're having fun, mad I've been having fun for the last thirty years reflecting on the upcoming 30th anniversary of Apollo 11. ~ Pete Conrad.
We go back and forth between being a time's master and its victim. ~ James Gleick.
We feast on time as time feasts on us. ~ Maria Popova.
Time files. It seems like just yesterday I was playing my first game against Ireland, when I came off the bench, full of energy and flying into tackles. Even though me couldn't tackle back then. ~ Beauden Barrett.
Wise Time Flies Quotes
Flow is being completely involved in an activity for its own sake. The ego falls away. Time flies. Every action, movement, and thought follows inevitably from the previous one, like playing. ~ Mihaly Csikzentmihalyi.
Time flies when you are on an emotional roller costar. ~ Kaitlyn Bristowe.
Time, as he grows old, teaches many lessons. ~ Aeschylus.
Memory is a stopgap for humans, for whom time flies and what is passed is passed. ~ Umberto Eco.
Time flies when you are having fun. ~ Albert Einstein.
Time flies, whether you're wasting it or not. ~ Crystal woods.
You might stop, stay still but the world will keep moving. Seasons change, time flies.
Time flies sometimes like a bird, sometimes crawls like a worm, but a man feels particularly well when he does not even notice that the time flies away. ~ Ivan Turgenev.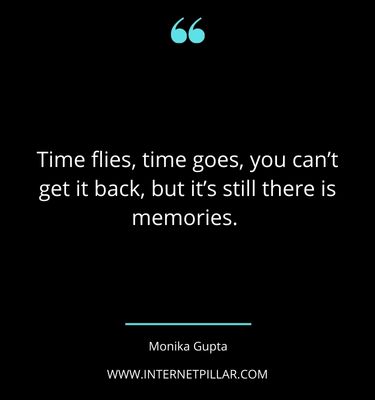 Time flies, time goes, you can't get it back, but it's still there is memories. ~ Monika Gupta.
How Time Flies Quotes
Life is not just the passing of time. Life is the collection of experiences and their intensity. ~ Jim Rohn.
When you are engaged in what you love to do. It's like driving in the fast lane. Time flies by and more roads open up to you, alternate routes you may not have even know existed. ~ T. Harv Eker.
Those who possess time are often not aware of their value. ~ Sunday Adelaja.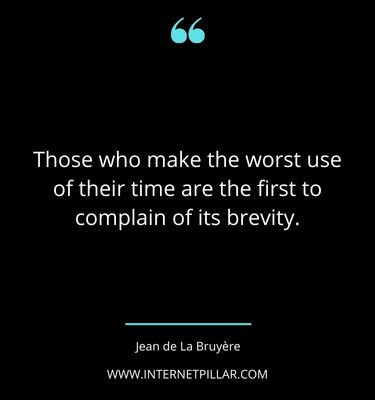 Those who make the worst use of their time are the first to complain of its brevity. ~ Jean de La Bruyère.
Time is more valuable than money. You can get more money, but you cannot get more time. ~ Jim Rohn.
Time flies. It's up to you to be the navigator. ~ Robert Orben.
Time flies so fast because it does not have only guidance. Like the moon in its zenith or the horizon. ~ Asdrubal Cabrera.
Yes, time flies. And where did it leave you? Old too soon…smart too late. ~ Mike Tyson.
We are aboard inside time, as it flies and never wear out. ~ Ronnie Cornelisz.
Time is what we want most, but what we use worst. ~ William Penn.
Powerful Time Flies Quotes
The bad news is time flies. The good news is you're the pilot. ~ Michael Altshuler.
The trouble is you think you have time. ~ Gautama Buddha.
It has been my observation that most people get ahead during the time that others waste. ~ Henry Ford.
It is impossible for me to remember how many days or weeks went by in this way. Time is round, and it rolls quickly. ~ Nikos Kazantzakis.
Time flies when you're having fun is a typeface. I made it out of logos. I've designed over the years. Sometimes you do things just because you can. ~ John Spencer.
After all, life is too short to be anything but happy. ~ Kayla Marx.
---
So these were the 80 top quotes about Time Flies.
If you like these quotes and sayings, then you can also read my other posts on Bitter People quotes and Spiritual Healing quotes.
---
External References: