Without a doubt, a waterfall is one of nature's most breathtaking marvels, emanating an awe-inspiring aura of power and grandeur.
This natural occurrence occurs when a river or stream flows past a cliff or other kind of precipice.
When the water hits this abrupt topographical shift, it is forced to plummet, creating the breathtaking waterfall view.
The water cascades downward in a series of steps or stages, producing a symphony of splashing sounds, a cooling mist and an enthralling display of dazzling spray.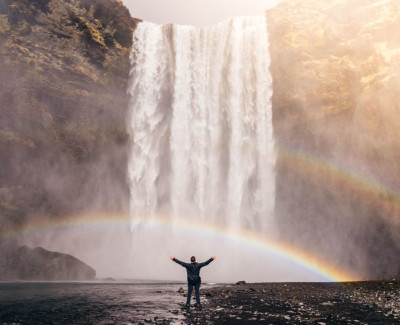 As it falls into the depths below, the waterfall captures the essence of nature's dynamic and uncompromising strength leaving onlookers in awe.
This is the breathtaking sight of a waterfall in all its grandeur, a mesmerizing allure to the natural world's pure beauty and might.
---
Top 10 Waterfall Quotes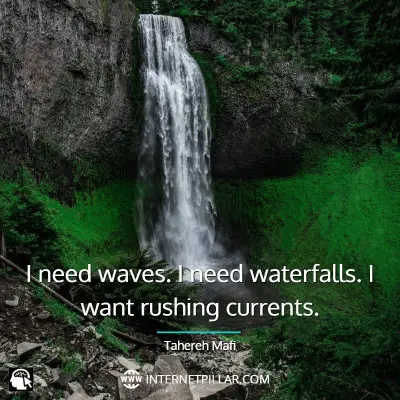 I need waves. I need waterfalls. I want rushing currents. ~ Tahereh Mafi.
I love the sounds and the power of pounding water, whether it is the waves or a waterfall. ~ Mike May.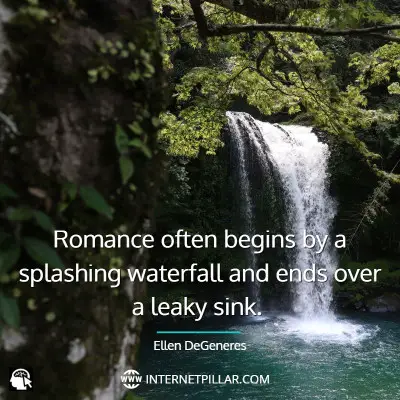 Romance often begins by a splashing waterfall and ends over a leaky sink. ~ Ellen DeGeneres.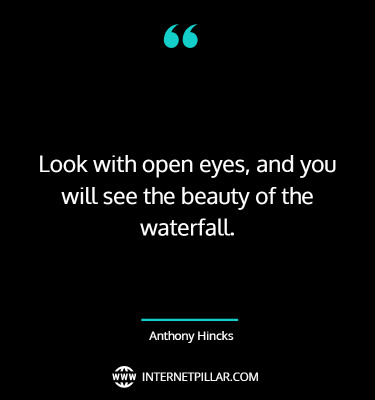 Look with open eyes, and you will see the beauty of the waterfall. ~ Anthony Hincks.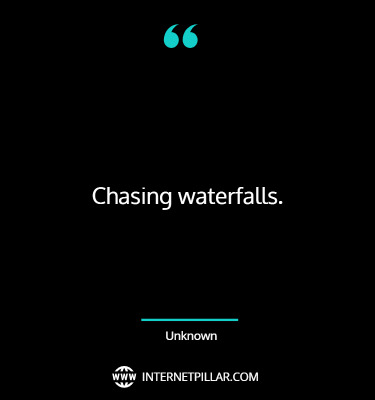 Chasing waterfalls. ~ Unknown.
Many a calm river begins as a turbulent waterfall, yet none hurtles and foams all the way to the sea. ~ Mikhail Lermontov.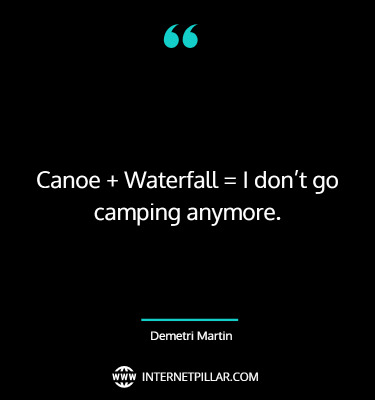 Canoe + Waterfall = I don't go camping anymore. ~ Demetri Martin.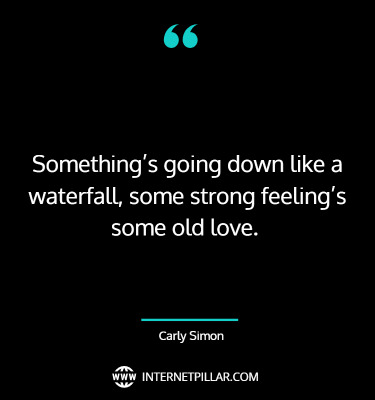 Something's going down like a waterfall, some strong feeling's some old love. ~ Carly Simon.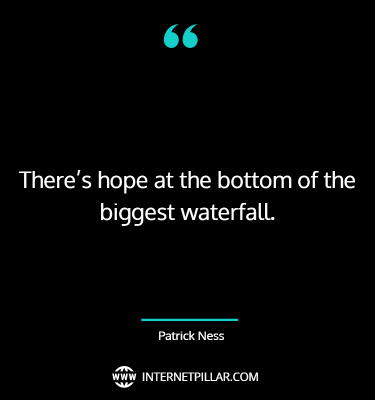 There's hope at the bottom of the biggest waterfall. ~ Patrick Ness.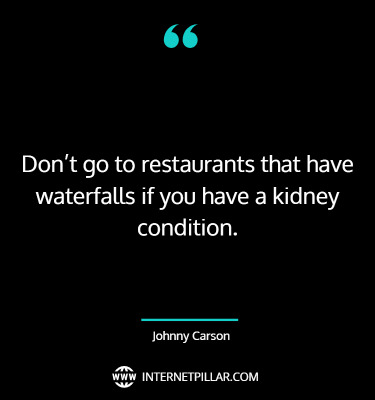 Don't go to restaurants that have waterfalls if you have a kidney condition. ~ Johnny Carson.
Related Topics Quotes: 73 Nature Quotes and Sayings to Inspire Outdoors Lovers and 154 Mountain Quotes and Sayings To Inspire You This Year
Famous Waterfall Quotes
I shift an infinitesimal movement towards him. It is like the leap from a waterfall. I do not know, until then, what I am going to do. ~ Madeline Miller.
Water is the driver of nature. ~ Leonardo Da Vinci.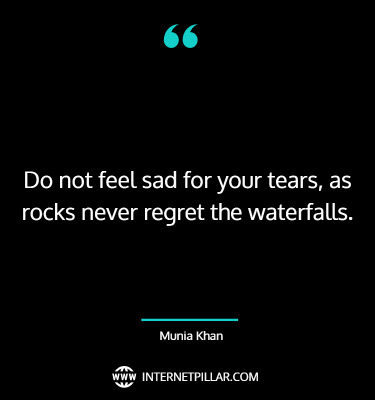 Do not feel sad for your tears, as rocks never regret the waterfalls. ~ Munia Khan.
You don't have the power to make rainbows or waterfalls, sunsets or roses, but you do have the power to bless people by your words and smiles. You carry within you the power to make the world better. ~ Sharon G. Larsen.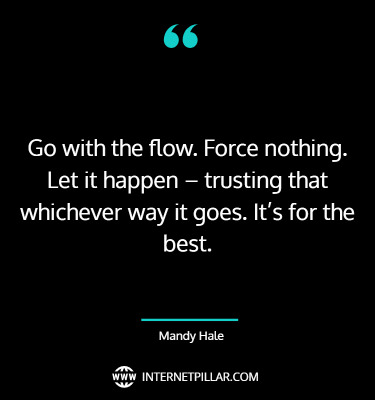 Go with the flow. Force nothing. Let it happen – trusting that whichever way it goes. It's for the best. ~ Mandy Hale.
As the music played over the speakers and the waterfall in the pool filled the silence around us, I knew that without a doubt I had just been ruined. ~ Abbi Glines.
And listen to the faucets, like the rush of a waterfall heard through thick woods just as the birds began to sing early one morning years ago in the hills outside Florence. ~ Kevin Prufer.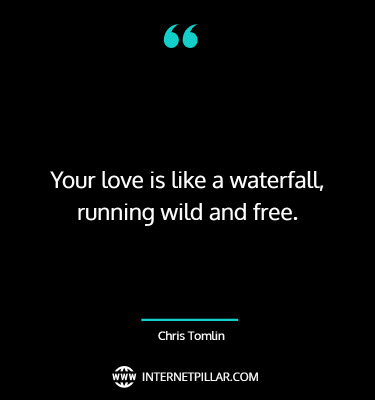 Your love is like a waterfall, running wild and free. ~ Chris Tomlin.
My desert soul erupts with turquoise water, floods and cascades and waterfalls rushing in around my rocky parts, pushing and reshaping and filling every hidden dark spot. ~ Kiersten White.
Lovely Waterfall Quotes
Above them, a waterfall tumbled from a clifftop as high as a church steeple. The water fell in milky blue strands, shooting spray in the air that danced in rainbows of gold, pink, and blue. ~ Martine Bailey.
There's no better place to find yourself than sitting by a waterfall and listening to its music. ~ Roland R. Kemler.
Just as a waterfall grows slower and more lightly suspended as it plunges down, so the great man of action tends to act with greater calmness than his tempestuous desires prior to the deed would lead one to expect. ~ Friedrich Nietzsche.
When you are outpouring your emotion, it is like me trying to climb up a waterfall. To get to you. But if you are calm and have faith in me, I can sail right over to you. On the still waters of your soul. ~ Kate McGahan.
They say that people who live next to waterfalls don't hear the water. ~ Jonathan Foer.
There's no better place to find yourself that sitting by a waterfall and listening to it's music. ~ Roland R. Kemler.
Inspiring Waterfall Quotes
When you're young, there's so much that you can't take in. It's pouring over you like a waterfall. When you're older, it's less intense, but you're able to reach out and drink it. I love bring older. ~ Sigourney Weaver.
A waterfall is concerned only with being itself, not with doing something it considers waterfall-like. ~ Vernon Howard.
Once we have tasted far streams, touched the gold, found some limit beyond the waterfall, a season changes, and we come back changed but safe, quiet, grateful. ~ William Stafford.
Sometimes, it's hard to tell how fast the current's moving until you're headed over a waterfall. ~ Kimberly McCreight.
I keep my gratitude in my smile, a glistening waterfall in the sun. ~ Sanober Khan.
Beautiful Waterfall Quotes
It was more than just the gentle tumble of the waterfall, or the wind or the sound of birds. It was much, much more he knew. He looked about him and he knew he had found what he had been looking for. ~ Michael Delaware.
No one ever steps into the same river twice. ~ Heraclitus.
In America, one sure sign of success is the presence of an unnecessary waterfall in a person's yard. ~ Demetri Martin.
Run wild and free like a waterfall. ~ Anamika Mishra.
There's music in water. Brooks babbling, fountains splashing. Weirs, waterfalls, tumbling, gushing. ~ Julie Andrews.
As long as I live, I'll hear waterfalls and birds and winds sing. I'll interpret the rocks, learn the language of flood, storm, and the avalanche. I'll acquaint myself with the glaciers and wild gardens, and get as near the heart of the world as I can. ~ John Muir.
I am like a waterfall – wild and free. ~ Unknown.
Life is naked. A nude body is the truest and noblest symbol of life. If I draw a mountain as a heap of human forms and paint a waterfall in the shape of tumbling human bodies, it is because I see in the mountain a heap of living things, and in the waterfall a precipitate current of life. ~ Kahlil Gibran.
I can see my rainbow calling me through the misty breeze of my waterfall. ~ Jimi Hendrix.
Waterfall Captions
Be careful crossing the waterfall, it's a fatal spot. ~ Karl Meltzer.
A waterfall cannot be silent, just as wisdom. When they speak, the voice of power speaks. ~ Mehmet Murat Ildan.
My mind is a raging torrent, flooded with rivulets of thought cascading into a waterfall of creative alternatives. ~ Mel Brooks.
Emerald slopes became so tall they touched the clouds, and showers painted diamond waterfalls that sluiced down cliff sides. ~ Victoria Kahler.
Happiness comes in rushes. ~ Unknown.
There is a waterfall in every dream. Cool and crystal clear, it falls gently on the sleeper, cleansing the mind and soothing the soul. ~ Virginia Alison.
Be soft in your practice. Think of the method as a fine silvery stream, not a raging waterfall. ~ Sheng-yen.
And when you hear the sound of the waterfall coming nearer and nearer, tidy up the boat, put on your best tie and hat, and smoke a cigar right up till the moment you go over. That's a triumph. ~ Ray Bradbury.
Breath-Taking Waterfall Quotes
The point is that when I see a sunset or a waterfall or something, for a split second it's so great, because for a little bit I'm out of my brain, and it's got nothing to do with me. ~ Chris Evans.
Just let go – and fall like a little waterfall. ~ Bob Ross.
God is discovered entirely through creation – the brilliance of a sunset, the powerful roar of a waterfall, the symphony of sounds you hear in the heart of the forest, or the vastness of spaces and its countless stars. ~ Benjamin F Sullivan.
The fall of your hair is rushing through my head like elegant waterfalls repeatedly dancing down into an open riverbed. ~ Curtis Tyrone Jones.
Grace is finding a waterfall when you were only looking for a stream. ~ Vanessa Hunt.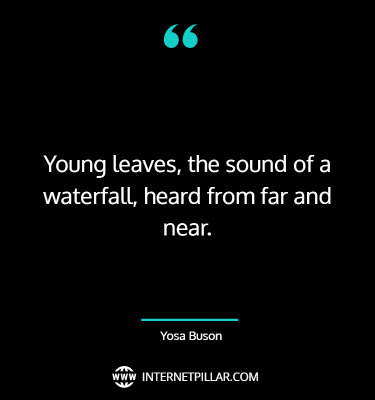 Young leaves, the sound of a waterfall, heard from far and near. ~ Yosa Buson.
The vast waterfall of history pours down, and a few obituarists fill teacups with the stories. ~ Marilyn Johnson.
We would no longer pass sweet breezy days in our sleek tent, in mossy hills and sun, showering in waterfalls. That era was now our memory, a shared dream. ~ Aspen Matis.
Experiencing the present purely is being empty and hollow; you catch grace as a man fills his cup under a waterfall. ~ Annie Dillard.
There is a hidden message in every waterfall. It says, if you are flexible, falling will not hurt you. ~ Mehmet Murat Ildan.
Inspirational Waterfall Quotes
A waterfall cannot be silent, just as the wisdom! When they speak, the voice of power speaks! ~ Mehmet Murat ildan.
The idea is that flowing water never goes stale, so just keep on flowing. ~ Bruce Lee.
If there is magic on this planet, it is contained in water. ~ Loren Eiseley.
I feel like water that transforms from a flowing river to a tranquil lake to a powerful waterfall to a freshwater spring to a meandering creek to a salty sea to raindrops gentle on your face to hard, stinging hail to frost on a mountaintop, and back to a river again. ~ María Farinango.
Valuable lessons can be learned from every waterfall. ~ Unknown.
A river cuts through a rock, not because of its power but because of its persistence. ~ Jim Watkins.
The river plunged down in a long waterfall, plashing into several rocky pools on its way down the cliff. ~ Alison Croggon.
Popular Waterfall Quotes
Do not feel sad for your tears as rocks never regret the waterfalls. ~ Munia Khan.
The waterfall winks at every passerby. ~ Marty Rubin.
All anyone can hope is just a tiny bit of love, like a drop in a cup if you can get it, or a waterfall, a flood, if you can get that too. ~ Edwidge Danticat.
When water falls, it flies. ~ Anthony T. Hincks.
Tell your dream to the waterfall. ~ Sellâle.
When the moonlight and the waterfall come together, all other things fade from the scene! ~ Mehmet Murat Ildan.
I love you like a river that understands that it must learn to flow differently over waterfalls and to rest in the shallows. ~ Paulo Coelho.
---
So these were the 77 top quotes about Waterfalls.
If you like these quotes and sayings, then you can also read my other posts on Mountain quotes and River quotes.
---
Resources: