Life's fragility is primarily attributed to its finite nature and unpredictability.
Our existence on Earth is temporary and the uncertainty of when and how it will end lends to its delicacy.
Life's vulnerability is emphasized by the ease with which we can lose loved ones and face drastic changes that are beyond our control.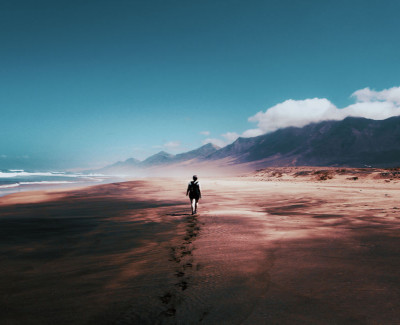 Despite these realities, the fragility of life is also a part of its magnificence. It highlights the importance of appreciating the mundane, embarking on daring endeavors, pursuing our aspirations and making every day count.
The transient and uncertain nature of life allows us to perceive its true beauty, reminding us to live it to the fullest despite its fragility.
---
Top 10 Life is Fragile Quotes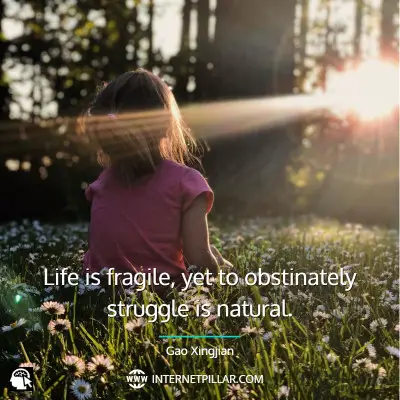 Life is fragile, yet to obstinately struggle is natural. ~ Gao Xingjian.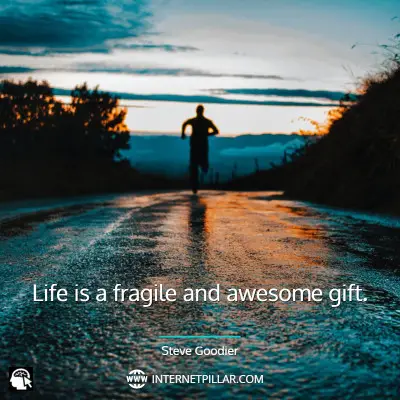 Life is a fragile and awesome gift. ~ Steve Goodier.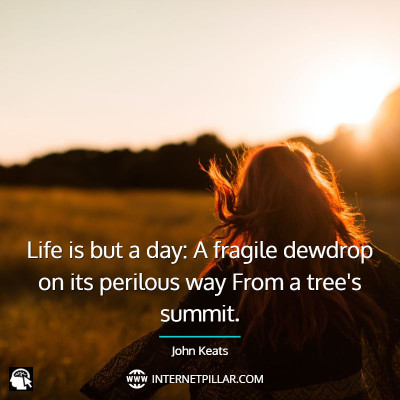 Life is but a day: A fragile dewdrop on its perilous way From a tree's summit. ~ John Keats.
Life is a spell so exquisite that everything conspires to break it. ~ Emily Dickinson.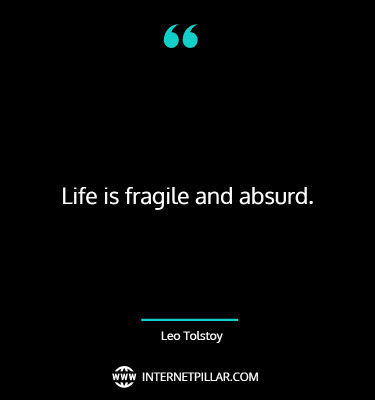 Life is fragile and absurd. ~ Leo Tolstoy.
Life goes on with fragile normalcy. ~ Sara Gruen.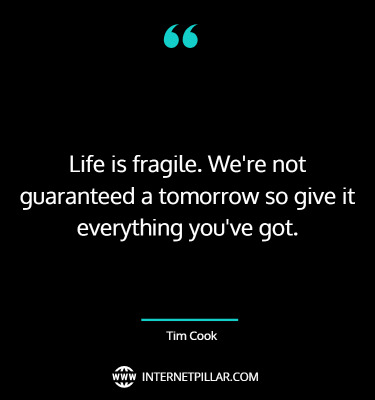 Life is fragile. We're not guaranteed a tomorrow so give it everything you've got. ~ Tim Cook.
Love is the strongest and most fragile thing we have in life. ~ Vanessa Paradis.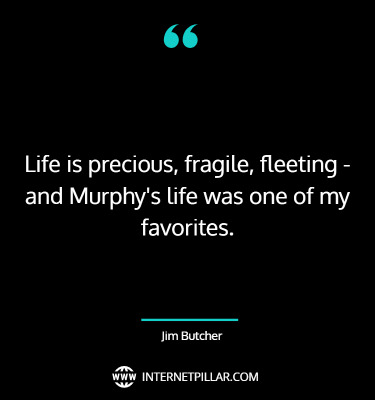 Life is precious, fragile, fleeting – and Murphy's life was one of my favorites. ~ Jim Butcher.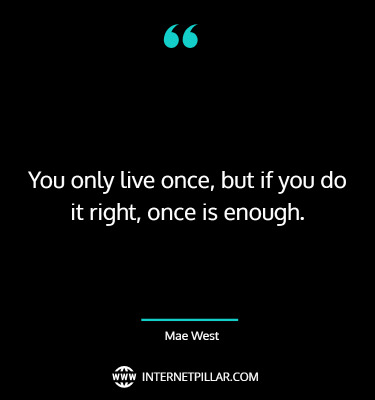 You only live once, but if you do it right, once is enough. ~ Mae West.
Famous Life is Fragile Quotes
I don't like to sit back and gloat, because the world is fragile. Life is fragile, so I never really gloat. ~ Donald Trump.
I broke something and realized I should break something once a week to remind me how fragile life is. ~ Andy Warhol.
Life is sometimes amazingly fragile, but some lives are frighteningly strong. ~ Shin Kyung-sook.
This body is fragile. It is just flesh. Listen to the heartbeat. Life depends on the pumping of a muscle. ~ Stephen Batchelor.
Sometimes fear grips me that these fragile moments of life will fade away. It seems that I write against erasure. ~ Assia Djebar.
We have to remember that no matter how much hardship we go through in our life, there is always going to be that fragile place in our heart. ~ Angie Martinez.
Our stories remind us how precious and fragile life can be – and that we must risk our hearts everyday to know happiness. ~ Luanne Rice.
Life is very fragile and you never know when it is over. Only one instance and then it might be too late to accept God's offer for forgiveness. ~ Chuck Norris.
Why do we argue? Life's so fragile, a successful virus clinging to a speck of mud, suspended in endless nothing. ~ Alan Moore.
Thoughtful Life is Fragile Quotes
Life is more fragile and precious than I can comprehend, but believe me, I'm trying. ~ John O'Callaghan.
It is curious to note how fragile the memory is, even for the important times in one's life. This is, moreover, what explains the fortunate fantasy of history. ~ Marcel Duchamp.
All good things in life are fragile and easily lost. ~ Khaled Hosseini.
It will rain all this night and we will sleep transfixed by the dark water as our blood runs through our fragile life. ~ Charles Bukowski.
Life is short, fragile and does not wait for anyone. There will never be a perfect time to pursue your dreams and goals other than right now. ~ Rachael Bermingham.
I've got over so much. Mum wouldn't want anything to come into my life that would make me fragile again. ~ Tracey Emin.
Profound Life is Fragile Quotes
Respect for the fragility and importance of an individual life is still the mark of an educated man. ~ Norman Cousins.
I would argue that nothing gives life more purpose than the realization that every moment of consciousness is a precious and fragile gift. ~ Steven Pinker.
You realize that life is short and fragile; and when you are facing walls of water, you understand your own mortality can change and how quickly things could change. ~ Larry Ellison.
Death comes suddenly and life is fragile and brief. No one can alter this either by prayers or spells. ~ Lian Hearn.
Everything in my life is a fragile decision that somebody else made. ~ Chris Martin.
Powerful Life is Fragile Quotes
Human life is fragile: we live in the space between one breath and the next. We often try to maintain an illusion of permanence, through what we do, say… how we enjoy ourselves… Yet it is an illusion that is constantly being undermined by change and death. ~ Victoria Finlay.
His own life seemed so solitary, a fragile column supporting nothing amidst the wreckage of the years. ~ Carson McCullers.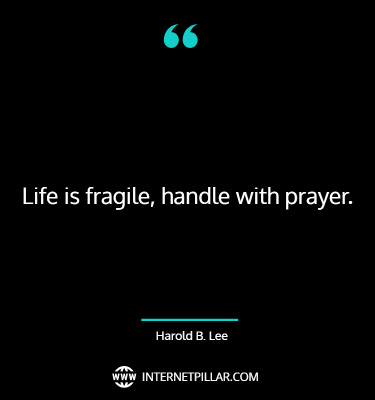 Life is fragile, handle with prayer. ~ Harold B. Lee.
Life is a lot more fragile than we think. So you should treat others in a way that leaves no regrets. Fairly, and if possible, sincerely. ~ Haruki Murakami.
Mindfulness meditation doesn't change life. Life remains as fragile and unpredictable as ever. Meditation changes the heart's capacity to accept life as it is. ~ Sylvia Boorstein.
All I want to say is that life is very fragile. We should live every moment and cherish what we have been given. ~ Li Bingbing.
Thought-Provoking Life is Fragile Quotes
I've got over so much. Mum wouldn't want anything to come into my life that would make me fragile again. ~ Tracey Emin.
War is very sad and small life is pathetically fragile at times. ~ Henry Rollins.
Hope is such a beautiful word, but it often seems very fragile. Life is still being needlessly hurt and destroyed. ~ Michael Jackson.
The older you get, the more fragile you understand life to be. I think that's good motivation for getting out of bed joyfully each day. ~ Julia Roberts.
The rhythm of life is intricate but orderly, tenacious but fragile. To keep that in mind is to build the key to survival. ~ Shirley Hufstedler.
Life is fragile, like the dew hanging delicately on the grass, crystal drops that will be carried away on the first morning breeze. ~ Dilgo Khyentse Rinpoche.
Nature of life is fragile. Uncontrollable events happen all the time in life. ~ Kishore Bansal.
Deep Life is Fragile Quotes
Life is fragile, unless you're in the NFL in which case you'll need to wear padding. ~ Dov Davidoff.
Life is so transient, finite, and fragile that there is no time to hate anyone. ~ Debasish Mridha.
In the end, it's not the years in your life that count. It's the life in your years. ~ Abraham Lincoln.
Life is strong and fragile. It's a paradox… It's both things, like quantum physics: It's a particle and a wave at the same time. It all exists all together. ~ Joan Jett.
Popular Life is Fragile Quotes
You appreciate the little details in life once you realize how fragile it is, You respect the afterlife when you realize how powerful it is. ~ Zak Bagans.
When you see how fragile and delicate life can be, all else fades into the background. ~ Jenna Morasca.
Life is long, and sometimes cruel. Sometimes victims are needed. Someone has to take on that role. And human bodies are fragile, easily damaged. Cut them, and they bleed. ~ Haruki Murakami.
---
So these were the 52 top quotes about Life is Fragile.
If you like these quotes and sayings, then you can also read my other posts on Talk is Cheap quotes and Middle Finger quotes.