Mamma Mia! is a 2008 romantic comedy film directed by Phyllida Lloyd and written by Catherine Johnson, based on her book for the same-named 1999 musical.
The film is based on the songs of the Swedish pop group ABBA, with additional music created by Benny Andersson, an ABBA member.
Christine Baranski, Pierce Brosnan, Dominic Cooper, Colin Firth, Amanda Seyfried, Stellan Skarsgrd, Meryl Streep, and Julie Walters are among the cast members.
The story centres around a young bride-to-be who invites three men to her approaching wedding, one of whom may be her father.
Relativity Media, Playtone, and Littlestar Productions co-produced the picture, which was an international co-production between Germany, the United Kingdom, and the United States.
Here is the best collection of Mamma Mia quotes and sayings. You can read, learn and share these quotes about Mamma Mia with your friends and family members.
---
Best Mamma Mia Quotes
It's about knowing who I am. And I wanted to get married knowing who I am. ~ Sophie.
I will know my father as soon as I see him. ~ Sophie.
I used to have fun. ~ Donna.
The best things in life, the very best things happen unexpectedly. ~ Donna.
Being a grudge holder makes you fat. ~ Ruby.
Little boys who play with fire get their fingers burned. ~ Tanya.
Typical isn't it? You wait 20 years for a dad and then 3 come along at once. ~ Rosie.
I bought her this. It cost me 10 quid, plus my Johnny Rotten T-shirt. Your mother knew quite a rebel. ~ Harry.
I want the perfect wedding, and I want my father to give me away. ~ Sophie.
It's my stag do—my last night of freedom. Which is how some people might see it. But for me, it's the last night before the greatest adventure of my life. ~ Sky.
Hey. Right in time for breakfast. We're serving up the works here. ~ Bill.
Whatever happened to our Donna? Life and soul of the party! ~ Tanya.
All my life, there's been this huge unanswered question, and I don't want any more secrecy. ~ Sophie.
I don't care if you slept with hundreds of men, you're my mom, and I love you so much. ~ Sophie.
Yeah, if you hadn't just dumped my mother and gone off and married somebody else. ~ Sophie.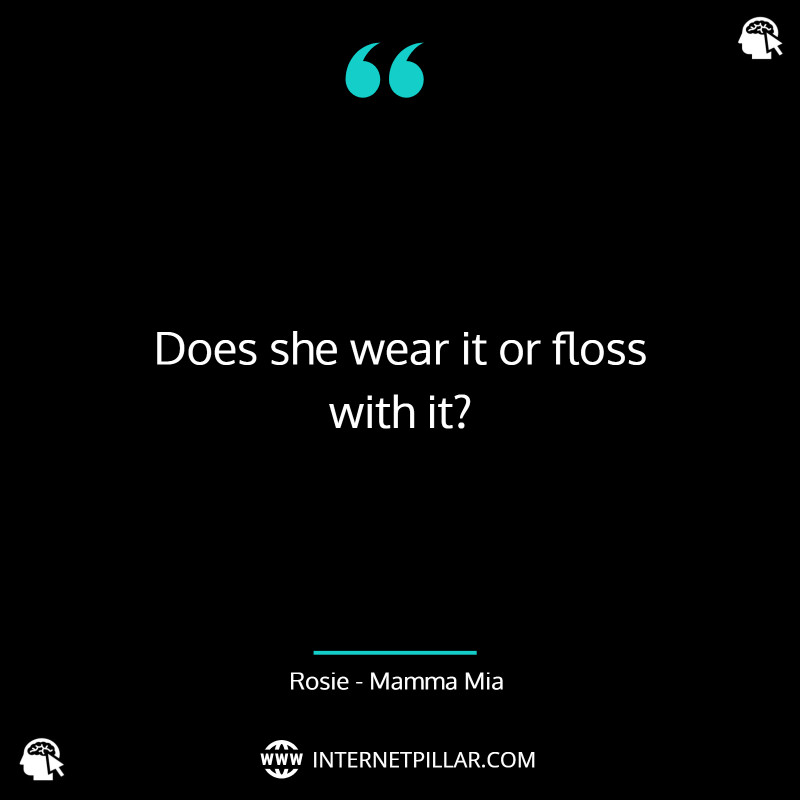 Does she wear it or floss with it? ~ Rosie.
Hey, hey, wait a minute. I had to go home. I was engaged. But I told Lorraine I couldn't marry her and I came right back. ~ Sam.
I feel like there's a part of me missing, and when I meet my dad, everything will fall into place. ~ Sophie.
I better be dreaming, you better not be here. ~ Donna.
Famous Mamma Mia Quotes
I don't know where they are, I don't know why they're here, and I have brought this all on myself because I was a stupid, reckless little slut. ~ Donna.
I've heard all this from my mother, and I think she knows me better than you do. ~ Sophie.
We danced on the beach, and we kissed on the beach, and dot, dot, dot. ~ Sophie.
If she were more like me, she wouldn't be getting married at 20. ~ Donna.
You'd think with all this new technology, they would figure out a machine that would make the beds. ~ Donna.
She's a chip off the old block. ~ Rosie.
It's very Greek. ~ Rosie.
Though my dad drew the line at my third. ~ Tanya.
Oh, because of what you've done. I mean, the Dynamos, raising a kid and running a business, all on your own. ~ Sophie.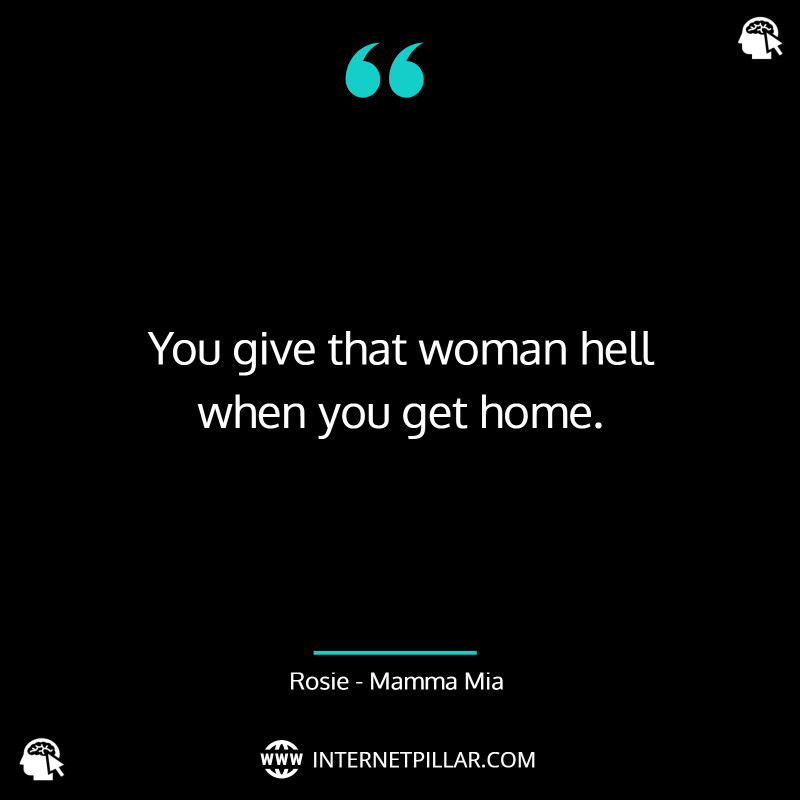 You give that woman hell when you get home. ~ Rosie.
Don't think about it. Come on. Let's go have fun. ~ Donna.
I may look like I'm pondering my securities, but in reality, I'm trekking across some remote corner of the planet. ~ Harry.
It's just, over the years people have tended to be extremely complimentary about my ears. ~ Harry.
When you fall, you fall. And when you've been defeated by love, you're utterly defeated. ~ Harry.
You have the courage of a lion, the passion of a panther, and the wisdom of a flamingo. ~ Fernando.
This is my reality. Hard work and a crippling mortgage. ~ Donna.
There's an island, Kalokairi. People used to think if you sailed on from there, you'd fall off the edge of the world. That sounds like the place for me. ~ Donna.
I don't know what my future holds, but the world is wide and I want to make some memories. ~ Donna.
Top Mamma Mia Quotes
Look at you! God! Stop growing! You sound like you're having fun already. ~ Donna.
Somebody up there has got it in for me. I bet it's my mother. ~ Donna.
You know, your books are a godsend on dull business trips. ~ Harry.
For her, now that her book is a bestseller, and she's got the whole world stuffing, it's time to find Mr. Right! ~ Tanya.
My sentiments exactly. ~ Sam.
Well, you're not going to tell me that you have a twin sister, are you? ~ Bill.
I'm spontaneous. ~ Harry.
Excuse me. Coming through. I have a senior citizen with me. Thank you. My mother needs a perch. ~ Rosie.
May the best of our lives be the best of our lives. ~ Tanya.
I'm just whining, you know me. I don't need to be taken care of. ~ Donna.
And don't get all self-righteous with me, because you have no one but yourself to blame. ~ Donna.
I'll be thinking of you tomorrow. ~ Sky.
The last time I saw your mother, she said she never wanted to see me again. ~ Sam.
Down, boy. Down, boy. No, it takes too much energy. ~ Donna.
You know what to do. You don't have to do anything. ~ Donna.
There's no plan, God knows there's no plan. It looks great, though. ~ Donna.
When you know, you know. ~ Harry.
That doesn't come from finding your father. That comes from finding yourself. ~ Sky.
It's not easy being a mother. If it was, fathers would do it. ~ Donna.
Well, they didn't need to know, did they? I've done a great job with Soph all by myself, and I won't be muscled out by an ejaculation. ~ Donna.
Last night, I discovered something wonderful. It was a wake-up call, a way to look at myself and what I really want out of life. ~ Harry.
Excuse me. Hello. This is a hen party. Women only. Thank you. ~ Rosie.
Nothing focuses the mind like the last minute. ~ Sophie.
In your case, age becomes you as it does a tree, the wine, and cheese. ~ Officer.
Popular Mamma Mia Quotes
I'm so glad you're here because. I have a secret, and I can't tell anybody else. ~ Sophie.
They're supposed to ward off unwanted visitors. ~ Donna.
The earth moved, darling. We're falling apart here. ~ Donna.
It's one of those serendipitous moments in life when three complete strangers share a common thought. ~ Bill.
Do what makes your soul shine. ~ Rosie.
Whatever you dream, we'll make it real. ~ Senor Cienfuegos.
I don't know how to sing about love if I'm not feeling it. ~ Donna.
You always knew how to make an entrance. ~ Sam.
I've done the big white wedding, and believe me, it doesn't always end in 'happy ever after.' ~ Sam.
I have two grown children. I know something about letting go. ~ Sam.
You don't mess with a masterpiece. ~ Barman.
I don't want my children growing up, not knowing who their father is, because it's just, it's crap! ~ Sophie.
I see you kept my bagpipes. ~ Sam.
There's no use climbing the ladder if you're on completely the wrong wall. ~ Harry.
---
If these quotes and sayings connect with you, check out our other posts on Katherine Price quotes and Rafiki quotes.
You are welcome to share these inspiring and motivating quotations with your friends and family on social media platforms such as Facebook, WhatsApp, Twitter, Pinterest, and Instagram to motivate them to improve their lives and achieve success!
---