Mamma Mia is a 2008 popular romantic comedy film directed by Phyllida Lloyd and written by Catherine Johnson.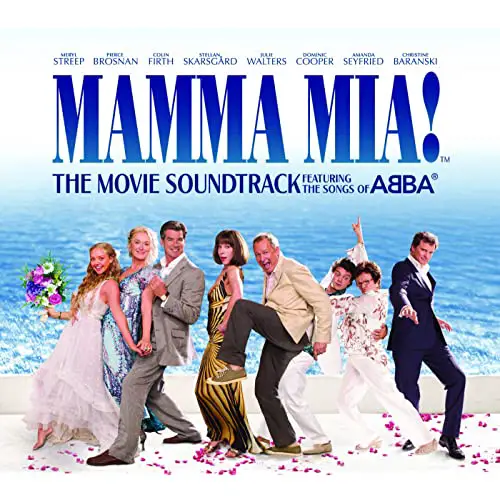 ---
Best Mamma Mia Quotes
It's about knowing who I am. And I wanted to get married knowing who I am. ~ Sophie.
I used to have fun. ~ Donna.
I will know my father as soon as I see him. ~ Sophie.
Being a grudge holder makes you fat. ~ Ruby.
The best things in life, the very best things happen unexpectedly. ~ Donna.
Little boys who play with fire get their fingers burned. ~ Tanya.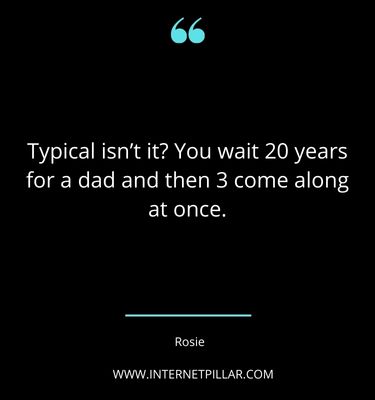 Typical isn't it? You wait 20 years for a dad and then 3 come along at once. ~ Rosie.
I bought her this. It cost me 10 quid, plus my Johnny Rotten T-shirt. Your mother knew quite a rebel. ~ Harry.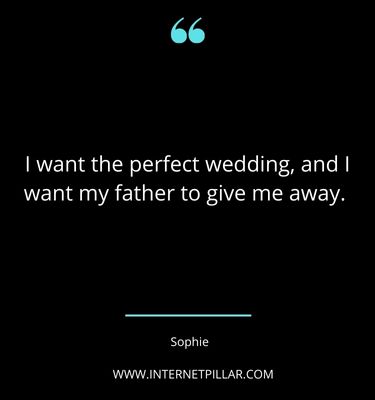 I want the perfect wedding, and I want my father to give me away. ~ Sophie.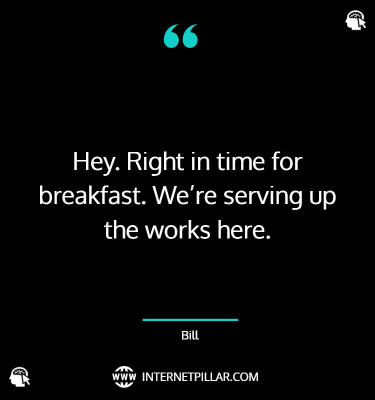 Hey. Right in time for breakfast. We're serving up the works here. ~ Bill.
It's my stag do – my last night of freedom. Which is how some people might see it. But for me, it's the last night before the greatest adventure of my life. ~ Sky.
All my life, there's been this huge unanswered question, and I don't want any more secrecy. ~ Sophie.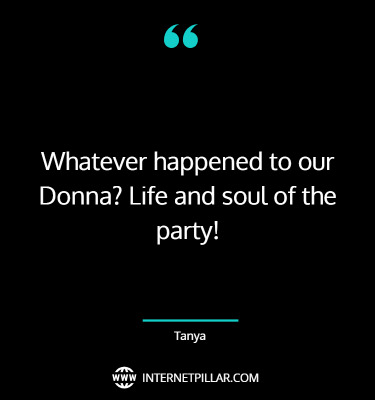 Whatever happened to our Donna? Life and soul of the party! ~ Tanya.
I don't care if you slept with hundreds of men, you're my mom, and I love you so much. ~ Sophie.
Yeah, if you hadn't just dumped my mother and gone off and married somebody else. ~ Sophie.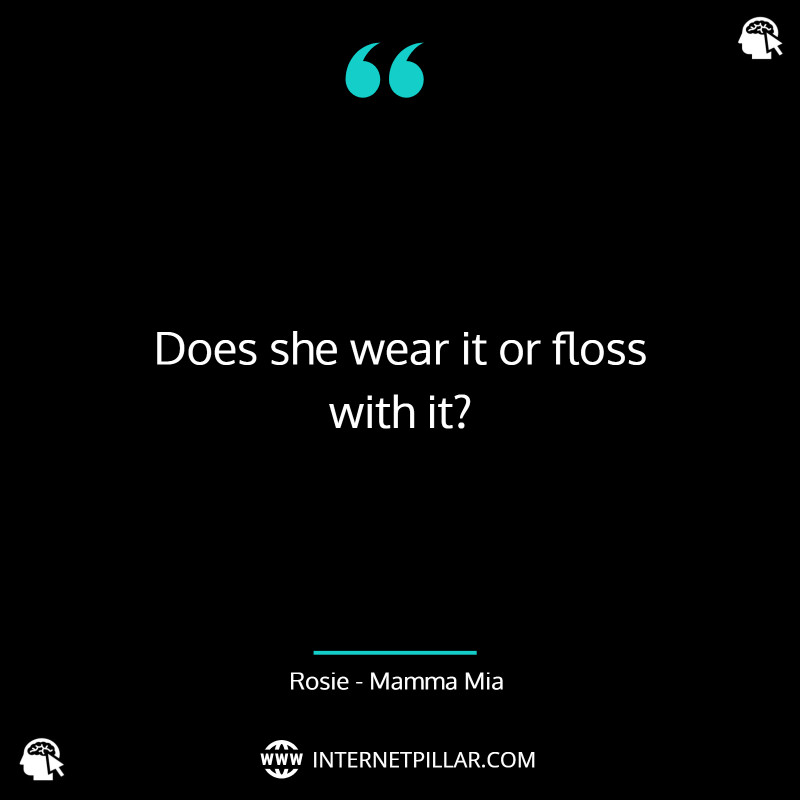 Does she wear it or floss with it? ~ Rosie.
Hey, hey, wait a minute. I had to go home. I was engaged. But I told Lorraine I couldn't marry her and I came right back. ~ Sam.
I feel like there's a part of me missing, and when I meet my dad, everything will fall into place. ~ Sophie.
I better be dreaming, you better not be here. ~ Donna.
Famous Mamma Mia Quotes
I've heard all this from my mother, and I think she knows me better than you do. ~ Sophie.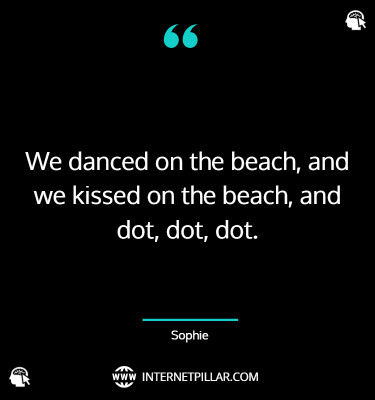 We danced on the beach, and we kissed on the beach, and dot, dot, dot. ~ Sophie.
You'd think with all this new technology, they would figure out a machine that would make the beds. ~ Donna.
She's a chip off the old block. ~ Rosie.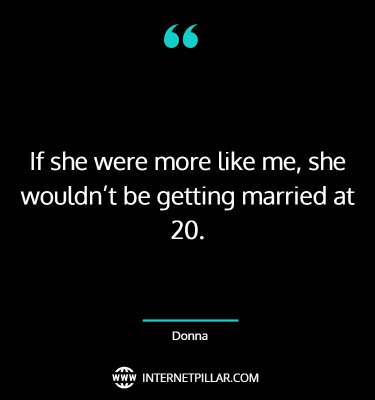 If she were more like me, she wouldn't be getting married at 20. ~ Donna.
It's very Greek. ~ Rosie.
Though my dad drew the line at my third. ~ Tanya.
Oh, because of what you've done. I mean, the Dynamos, raising a kid and running a business, all on your own. ~ Sophie.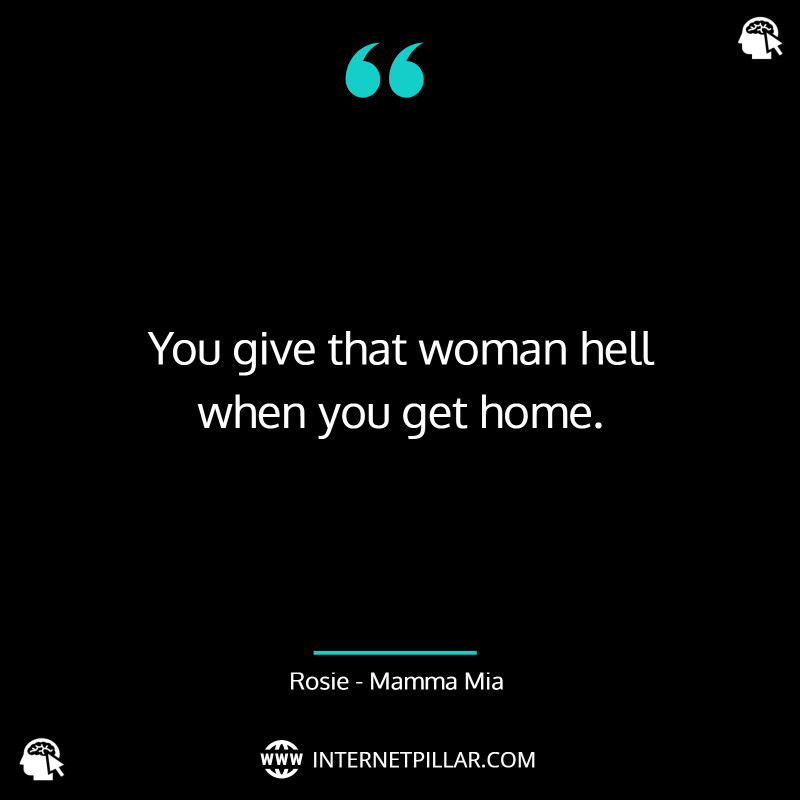 You give that woman hell when you get home. ~ Rosie.
I may look like I'm pondering my securities, but in reality, I'm trekking across some remote corner of the planet. ~ Harry.
It's just, over the years people have tended to be extremely complimentary about my ears. ~ Harry.
Don't think about it. Come on. Let's go have fun. ~ Donna.
When you fall, you fall. And when you've been defeated by love, you're utterly defeated. ~ Harry.
You have the courage of a lion, the passion of a panther, and the wisdom of a flamingo. ~ Fernando.
This is my reality. Hard work and a crippling mortgage. ~ Donna.
There's an island, Kalokairi. People used to think if you sailed on from there, you'd fall off the edge of the world. That sounds like the place for me. ~ Donna.
I don't know what my future holds, but the world is wide and I want to make some memories. ~ Donna.
Top Mamma Mia Quotes
Look at you! God! Stop growing! You sound like you're having fun already. ~ Donna.
Somebody up there has got it in for me. I bet it's my mother. ~ Donna.
For her, now that her book is a bestseller, and she's got the whole world stuffing, it's time to find Mr. Right! ~ Tanya.
Well, you're not going to tell me that you have a twin sister, are you? ~ Bill.
My sentiments exactly. ~ Sam.
May the best of our lives be the best of our lives. ~ Tanya.
I'm spontaneous. ~ Harry.
Excuse me. Coming through. I have a senior citizen with me. Thank you. My mother needs a perch. ~ Rosie.
I'm just whining, you know me. I don't need to be taken care of. ~ Donna.
And don't get all self-righteous with me, because you have no one but yourself to blame. ~ Donna.
I'll be thinking of you tomorrow. ~ Sky.
Down, boy. Down, boy. No, it takes too much energy. ~ Donna.
You know what to do. You don't have to do anything. ~ Donna.
The last time I saw your mother, she said she never wanted to see me again. ~ Sam.
There's no plan, God knows there's no plan. It looks great, though. ~ Donna.
When you know, you know. ~ Harry.
That doesn't come from finding your father. That comes from finding yourself. ~ Sky.
It's not easy being a mother. If it was, fathers would do it. ~ Donna.
Last night, I discovered something wonderful. It was a wake-up call, a way to look at myself and what I really want out of life. ~ Harry.
Excuse me. Hello. This is a hen party. Women only. Thank you. ~ Rosie.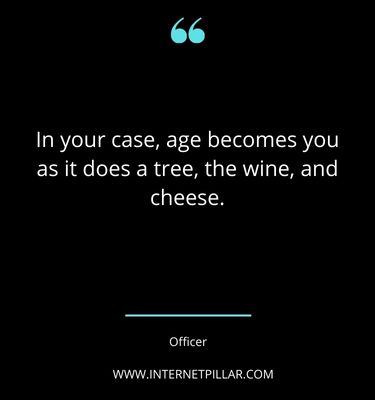 In your case, age becomes you as it does a tree, the wine, and cheese. ~ Officer.
Popular Mamma Mia Quotes
I'm so glad you're here because. I have a secret, and I can't tell anybody else. ~ Sophie.
They're supposed to ward off unwanted visitors. ~ Donna.
The earth moved, darling. We're falling apart here. ~ Donna.
It's one of those serendipitous moments in life when three complete strangers share a common thought. ~ Bill.
Do what makes your soul shine. ~ Rosie.
Whatever you dream, we'll make it real. ~ Senor Cienfuegos.
I don't know how to sing about love if I'm not feeling it. ~ Donna.
You always knew how to make an entrance. ~ Sam.
I have two grown children. I know something about letting go. ~ Sam.
I've done the big white wedding, and believe me, it doesn't always end in 'happy ever after.' ~ Sam.
You don't mess with a masterpiece. ~ Barman.
I don't want my children growing up, not knowing who their father is, because it's just, it's crap! ~ Sophie.
I see you kept my bagpipes. ~ Sam.
There's no use climbing the ladder if you're on completely the wrong wall. ~ Harry.
---
---
So these were the 73 quotes from Mamma Mia for you.
Other Movie Quotes