"53 Monkey Quotes, Sayings and Phrases You Can Relate To" presents a collection of quotes that celebrate the intrigue and charm of monkeys.
Perfect for accompanying your Instagram posts featuring these clever creatures, monkey captions offer a delightful mix of fun and humor.
Whether you're a fan of these playful animals or simply seeking to liven up your social media presence, monkey-themed captions are a unique way to express your personality.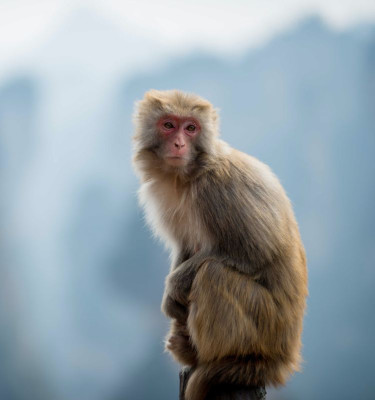 Ranging from funny puns to inspiring quotes, these phrases are designed to captivate your followers' attention and differentiate your content.
See also: Shark quotes and Turtle quotes.
If you're eager to inject a dose of creativity and amusement into your Instagram feed, explore this curated list of the best monkey captions that will undoubtedly make your posts more engaging and memorable.
---
Best Monkey Quotes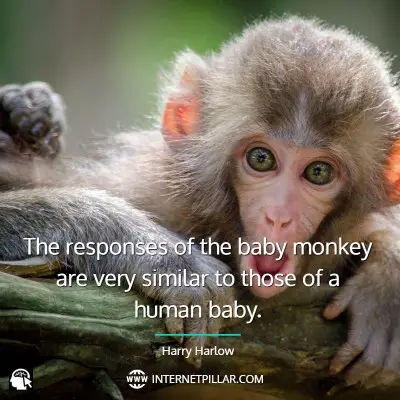 The responses of the baby monkey are very similar to those of a human baby. ~ Harry Harlow.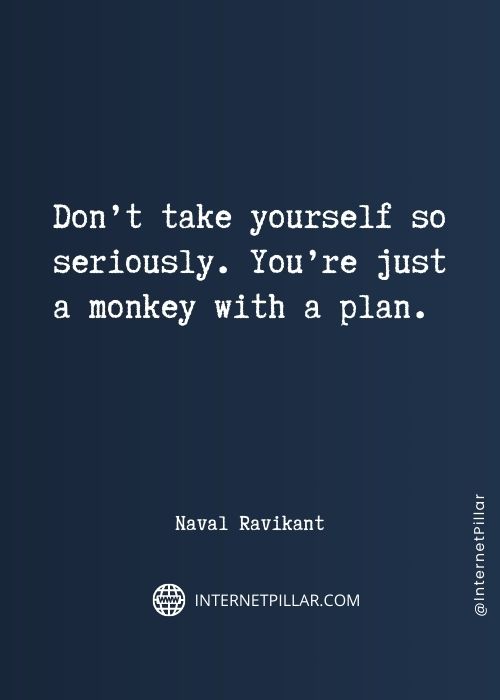 Don't take yourself so seriously. You're just a monkey with a plan. ~ Naval Ravikant.
Monkey see. Monkey do. ~ Unknown.
The higher a monkey climbs, the more you see of its behind. ~ Joseph Stillwell.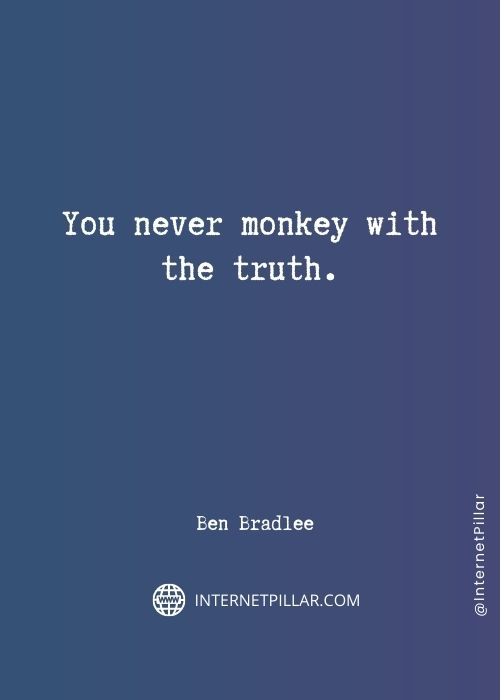 You never monkey with the truth. ~ Ben Bradlee.
A monkey glances up and sees a banana, and that's as far as he looks. A visionary looks up and sees the moon. ~ Eoin Colfer.
I learned the way a monkey learns by watching its parents. ~ Prince Charles.
Monkeys are superior to men in this: when a monkey looks into a mirror, he sees a monkey. ~ Malcolm De Chazal.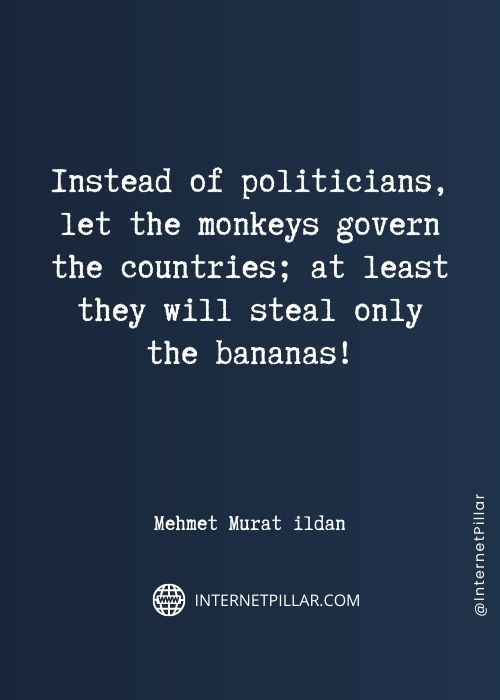 Instead of politicians, let the monkeys govern the countries; at least they will steal only the bananas! ~ Mehmet Murat ildan.
Famous Monkey Quotes
Space. It seems to go on and on forever. Then you get to the end, and a monkey starts throwing barrels at you. ~ Phillip Fry.
I am too much alien and not enough monkey to fit in here. ~ Melissa St. Hilaire.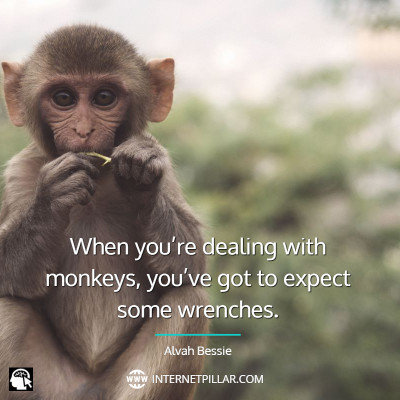 When you're dealing with monkeys, you've got to expect some wrenches. ~ Alvah Bessie.
Instead of saying, not my problem. "Polish people say, not my circus, not my monkey". ~ Unknown.
If money grew on trees… Girls wouldn't mind dating monkeys. ~ Unknown.
The monkey is an organized sarcasm upon the human race. ~ Henry Ward Beecher.
When a monkey nibbles on a weenis, it's funny in any language. ~ Alan Garner.
Monkey can make a long jump with his muscles; and man, with his wisdom. ~ Mehmet Murat ildan.
Top Monkey Quotes
Just cause you got the monkey off your back doesn't mean the circus has left town. ~ George Carlin.
People go to the zoo and they like the lion because it's scary. And the bear because it's intense, but the monkey makes people laugh. ~ Lorne Michaels.
Smile like a monkey with a new banana. ~ Unknown.
The mind is a monkey, hopping around from thought to thought, image to image. Rarely do more than a few seconds go by in which the mind can remain single-pointed, empty. ~ Dani Shapiro.
The only reason why God created man is because he was disappointed with the monkey. ~ Mark Twain.
If you could cross a lion and a monkey, that's what I'd be, because monkeys are funny and lions are strong. ~ Marlon Wayans.
Sometimes I wish I was a Monkey so I could throw bananas at people and it would be legal. ~ Unknown.
What I am interested in with birds, just as I am with spiders or monkeys, is what they do and why they do it. ~ David Attenborough.
Popular Monkey Quotes
If monkeys knew what man was going to be like, I think that they would have stopped evolving. ~ Anthony T. Hincks.
As a child, I loved to climb on the tree, like a monkey. ~ Phan Thi Kim Phuc.
Don't think of yourself as an ugly person, think of yourself as a beautiful monkey. ~ Unknown.
Without pain, without sacrifice we would have nothing. Like the first monkey shot into space. ~ Chuck Palahniuk.
People talk too much. Humans aren't descended from monkeys. They come from parrots. ~ Carlos Ruiz Zafón.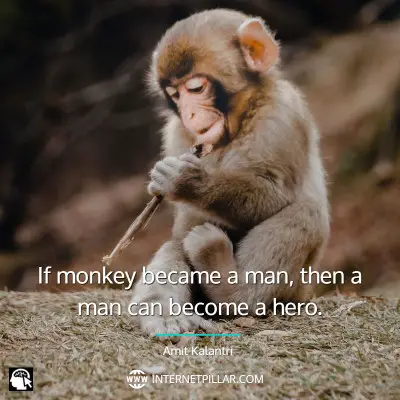 If monkey became a man, then a man can become a hero. ~ Amit Kalantri.
In Kenya you've got the great birds and monkeys leaping through the trees overhead. It's a chance to remember what the world is really like. ~ Joanna Lumley.
Deep Monkey Quotes
If you put Bananas in front of monkeys, monkeys will choose Bananas because monkeys do not know that money can buy a lot of Bananas. In reality, if you offer Job and Business to people, they would choose Job. ~ Jack Ma.
If you look at the monkeys, you can learn many things about the men; if you look at the men, you can learn many things about the madness! ~ Mehmet Murat ildan.
An old monkey never makes a pretty face. ~ Francois Rabelais.
When we were monkeys, we were more human because we were at least not destroying the nature those days! ~ Mehmet Murat ildan.
Never hold discussions with the monkey when the organ grinder is in the room. ~ Winston Churchill.
The monkey says there is nothing better than poverty to unlearn man of his conceit. ~ Ghanaian Proverb.
Guns don't kill people, people kill people, and monkeys do too. ~ Eddie Izzard.
The president is here, strong and firm as a monkey's tail. ~ Jean Claude Duvalier.
Getting over a painful experience is much like crossing monkey bars. You have to let go at some point in order to move forward. ~ C. S. Lewis.
Profound Monkey Quotes
By trying often the monkey learns to jump from the tree. ~ African Proverb.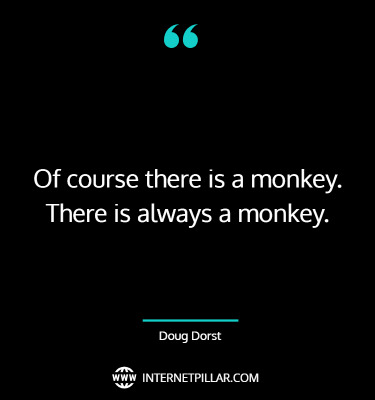 Of course there is a monkey. There is always a monkey. ~ Doug Dorst.
The puma is, with the exception of some monkeys, the most playful animal in existence. ~ William Henry Hudson.
You can't teach a monkey to speak and you can't teach an Arab to be democratic. ~ Moshe Feiglin.
In a world gone mad, we will not spank the monkey, but the monkey will spank us. ~ Unknown.
A gorilla does not budge from a banana thrown at it by a monkey. ~ Suzy Kassem.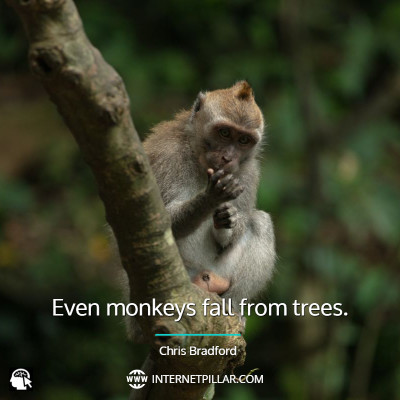 Even monkeys fall from trees. ~ Chris Bradford.
We read our children stories starring elephants and monkeys and bears to teach them about nobility, curiosity and courage, to warn them against selfishness and stubbornness. ~ Lydia Millet.
---
So these were the 53 top quotes about Monkey.