Nacho Libre is a movie about a man named Nacho who becomes a professional wrestler in order to help the orphans in his care.
He wears a mask and wrestles in tournaments in order to earn money to buy food for the orphans.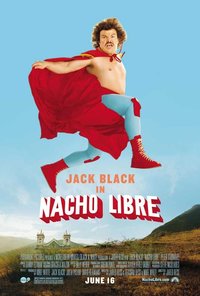 The Jack Black film Nacho Libre is loosely based on the life of Fray Tormenta (Father Storm), a Mexican priest who wrestles in order to raise money for his orphanage. He still wears his mask while performing his priestly duties.
Here is the best collection of Nacho Libre quotes and sayings.
You can read, enjoy and share these quotes about Nacho Libre movie with your friends and family members.
---
Best Nacho Libre Quotes
I don't like the way those guys looked at you. ~ Nacho Libre.
Some people say wrestlers make bad lovers, that they save themselves for the ring. Love you. ~ Nacho Libre.
Those men fight for vanity, for money, for false pride. ~ Nacho Libre.
I don't believe in God. I believe in science! ~ Nacho Libre.
I looked like a fool last night. What took you so long!? ~ Nacho Libre.
I saw a bum here. I saw a bum here, there were two bums actually. And I said to myself, 'Let's talk to these guys about the Gospel.' ~ Nacho Libre.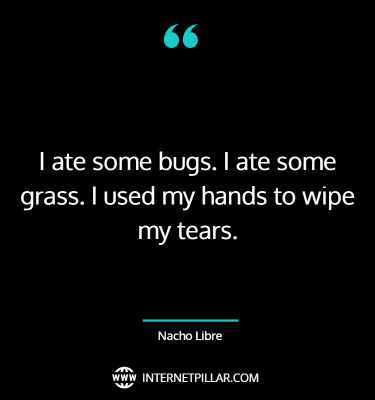 I ate some bugs. I ate some grass. I used my hands to wipe my tears. ~ Nacho Libre.
You can take the stallion, I'll take the pony. ~ Nacho Libre.
Oh, you messed with the wrong guy this time! ~ Nacho Libre.
I smell cookies. ~ Nacho Libre.
Famous Nacho Libre Quotes
Hey! Can't you see this woman's a nun? And if you have a problem with that, then you can just fight me. ~ Nacho Libre.
Tonight, I felt something deeper inside me that I never felt before! ~ Nacho Libre.
Those eggs were a lie, Esqueleto. A lie! They give me no eagle powers! They give me no nutrients! ~ Nacho Libre.
Tonight, I will fight the seven strongest men in town, maybe the world. And I will win because our heavenly father will be in the ring with me. And he and I will win 10,000 pesos. ~ Nacho Libre.
Get that corn outta my face! ~ Nacho Libre.
Would you like to join me in my quarters this evening for some toast? ~ Nacho Libre.
I have given up wrestling. ~ Nacho Libre.
People might get the wrong idea about you, like maybe you are a floozy. ~ Nacho Libre.
Wise Nacho Libre Quotes
In this Nacho Libre movie, Jack Black portrays a monk who becomes a masked wrestler in order to raise money for his orphanage. With great humor and an inspiring story line, this movie is sure to please audiences of all ages.
Okay. Maybe I am not meant for these duties. Cooking duty. Dead guy duty. Maybe it's time for me to get a better duty! ~ Nacho Libre.
Be grateful, Juan Pablo. Today is especially delicious. ~ Nacho Libre.
I mean, yes! They may have the appearance of riches. Beneath the clothes, we find a man. And beneath the man, we find his nucleus. ~ Nacho Libre.
See that guy over there? That is Senior Ramon, he owns all the big arenas. We need to show him that we mean business. That we are ready for the 'big leagues.' ~ Nacho Libre.
Save me a piece of that corn for later. ~ Nacho Libre.
It sucks to be me right now! ~ Nacho Libre.
Eagle powers come to me please. ~ Nacho Libre.
This man lived a good life. He had a wonderful woman, a lush garden and a collection of Russian nesting dolls. May he rest in peace. ~ Nacho Libre.
I get to lay in a bed by myself, all of my life. It's fantastic. ~ Nacho Libre.
Don't you want a little taste of the glory? See what it tastes like? ~ Nacho Libre.
Funny Nacho Libre Quotes
I need professional help. I need Ramses!. He's the best. I must learn his waaaays. ~ Ignacio (Nacho).
I have been here. I have been sleeping. ~ Nacho Libre.
But you're tall and fast like a gazelle, you can do it. Pray to the Lord for strength. ~ Nacho Libre.
My favorite color is light tan. My favorite animal is puppies. I like serving the Lord, hiking, playing volleyball. ~ Nacho Libre.
My life is good, really good. I get to wake up every morning, 5 AM. Make some soup! It's the best! I love it. ~ Nacho Libre.
Hey! Take it easy! ~ Nacho Libre.
I'm not listening to you! You only believe in Science. That's probably why we never win. ~ Nacho Libre.
If you fight for something noble, or for someone who needs your help, only then will God bless you in battle. ~ Nacho Libre.
Inspiring Nacho Libre Quotes
I am the gatekeeper to my own destiny and I will have my glory day in the hot sun. ~ Nacho Libre.
Everyone is dancing at the party, but Ramses is not dancing at the party! ~ Nacho Libre.
In order for you to become empowered by the eagle, you must climb that cliff, find the egg, crack open one of them, and then eat the yolk. ~ Nacho Libre.
So, what you're saying to me is if I can eat this yolk, my moves will become the best in the whole world. ~ Nacho Libre.
You gotta be kidding me. Everything you just said is my favorite thing to do, every day! ~ Nacho Libre.
It was stinky. But these are my recreational clothes. ~ Nacho Libre.
Wrestling is ungodly, Ignacio. People cheer for him and he is a false idol. ~ Nacho Libre.
When the fantasy has ended, and all the children are gone, something good inside of me helps me to carry on. ~ Nacho Libre.
Say it to my face! ~ Nacho Libre.
Inspirational Nacho Libre Quotes
Look. Go away! Read some books. ~ Nacho Libre.
You are crasssssy! ~ Nacho Libre.
But Sister, they are just ninos trying to release their wiggles. ~ Nacho Libre.
Your hands! They are greasy! ~ Nacho Libre.
Do you remember when everyone was shouting my name, and I used my strength to rip my blouse. ~ Nacho Libre.
Did you not tell them they were the Lord's chips? ~ Nacho Libre.
I don't want to get paid to lose! I wanna win! ~ Nacho Libre.
Have you ever had feelings for a nun? ~ Nacho Libre.
I don't see them. They should be coming back. ~ Nacho Libre.
Do you not realize I have had diarrhea since Easters?! ~ Nacho Libre.
Uh, Ramses. I was wondering if the children could have a signature or a picture or something? ~ Nacho Libre.
I'm a little concerned right now about your salvation and stuff. ~ Nacho Libre.
You gave them permission to hurt me like this. ~ Nacho Libre.
This is the worst lunch I ever had. ~ Nacho Libre.
Chancho. When you are a man, sometimes you wear stretchy pants in your room. ~ Nacho Libre.
My father was a deacon in Mexico, and my mother a Lutheran missionary from Scandinavia. ~ Nacho Libre.
I thought you hated all the orphans in the whole world. ~ Nacho Libre.
I like your cow. ~ Nacho Libre.
They tried to convert each other, but got married instead. Then they died. ~ Nacho Libre.
So that end our list of quotes from Nacho Libre movie. Continue reading below for details about this movie.
---
About Nacho Libre Movie
Nacho Libre tells the story of Ignacio, a disillusioned monk played by Jack Black, who has always wanted to be a luchador, a Mexican wrestler.
Movie Release date: June 16, 2006 (USA)
Content rating: PG · TV-PG
Genre: Comedy, Family, Sport
Directed by: Jared Hess
Written by: Jerusha Hess and Mike White
Music by: Danny Elfman
Produced by: Jack Black, David Klawans, Julia Pistor
Production company: Paramount Pictures, Nickelodeon Movies, Black & White Productions, MP Inka.
During the beginning, a young Nacho is shown collecting/stealing various objects in order to make his own wrestling attire.
Unfortunately, he was raised in a Catholic church orphanage and eventually became a monk.
Nacho's aspiration of becoming a wrestler is explored throughout the film, as is his desire to stay in the church.
Ignacio never lost up on his aspirations, and after witnessing a great wrestler named Ramses and the attention he received, he decided to enter the luchador profession in secret.
He can't do it alone, so he teams up with Steven, played by Hector Jimenez, a homeless guy who tried to steal chips supplied to the orphanage by a restaurant. Steven adopts the luchador moniker of Esqueleto.
The film is full with hilarious moments following hilarious moments. Nacho's work in the church, for example, is to prepare the meals.
t's so awful that the priests claim they've been sick for weeks.
There's the wrestling battle in which Nacho and Esqueleto face off against two midgets dressed as devils who proceed to beat the living daylights out of Nacho and Esqueleto.
Then there's the scene where Ignacio arranges for Sister Encarnacion, portrayed by Ana de la Reguera, to go on a fake date with a man and preach the faith to him.
She inquires as to why Ignacio is not dressed in his robe. He claims it was nasty and he had to change into his workout clothes.
He then flinches his b*tt cheeks and informs her that he is a man behind his garments, and his nucleus is beneath the man.
The excellent soundtrack that comes with the film is an added treat. It's a blend of Mexican originals and Danny Elfman and Beck's new work.
The music complements each scene, much like any excellent soundtrack. When Steven is being followed by a woman at a party that he crashed and she is giving him a lusty look, the perfect music comes on.
In the end, Nacho goes from someone who only sought the renown of a luchador to someone who finds meaning in his life and wrestles as part of a sacred mission.
Overall, Nacho Libre is a funny film that will keep you laughing even after you've seen it a few times.
---
So these were the 66 quotes from the Nacho Libre movie.
If these quotes and sayings connect with you, check out our other posts on Joshua Graham quotes and Itachi Uchiha quotes.
You are welcome to share these inspiring and motivating quotations with your friends and family on social media platforms such as Facebook, WhatsApp, Twitter, Pinterest, and Instagram to motivate them to improve their lives and achieve success!