Neymar da Silva Santos Jr., known as Neymar, is a renowned Brazilian football player, recognized as one of his nation's greatest scorers.
Mentored by his father, a former professional footballer, Neymar honed his skills at Santos FC's youth academy.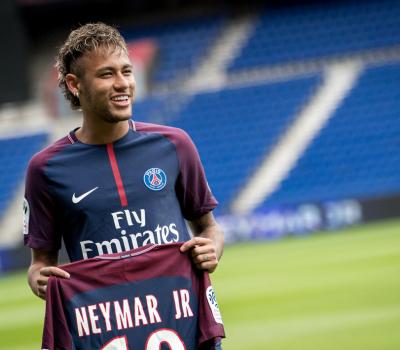 His talents earned him recognition quickly and he made his first-team debut in 2009, winning the South American Footballer of the Year title in 2011 and 2012. In 2013, Neymar moved to FC Barcelona in one of the most expensive soccer transfers ever.
Despite his success at Barcelona, Neymar sought to step out of teammate Lionel Messi's shadow, moving to Paris Saint-Germain (PSG) in 2017 for a record transfer fee, making him the highest-paid player worldwide.
Related: Cristiano Ronaldo Quotes and Lionel Messi Quotes.
Neymar has also excelled on the international stage, representing Brazil in multiple World Cups and scoring crucial goals.
Despite his on-field success, Neymar has faced legal issues off the pitch, with tax evasion and falsification of documents among the charges.
Below are some of the top quotes from Neymar.
---
Inspirational Neymar Quotes for Motivation & Success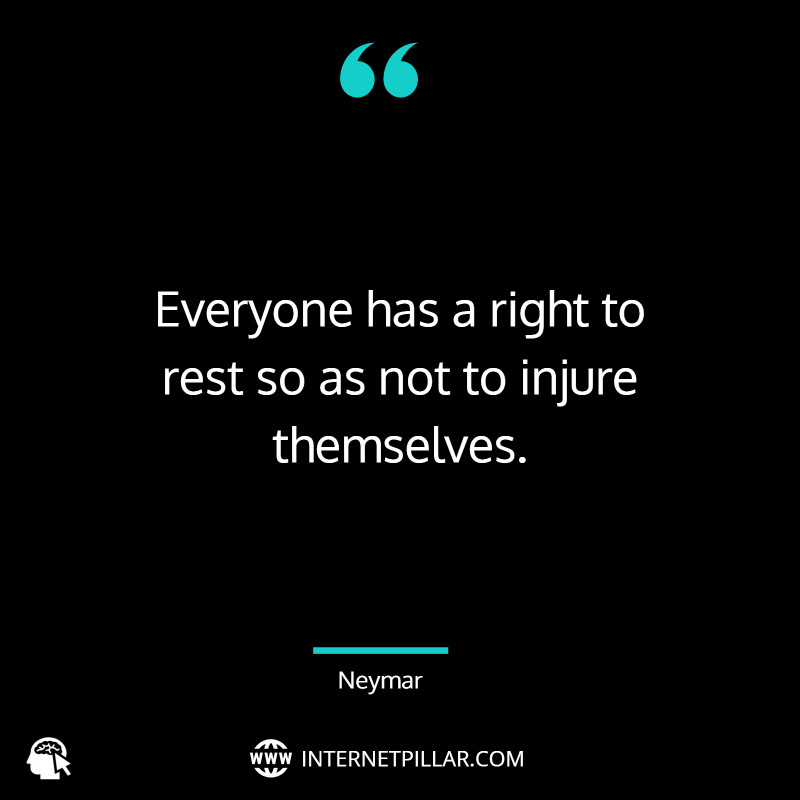 1. "Everyone has a right to rest so as not to injure themselves." ~ (Neymar).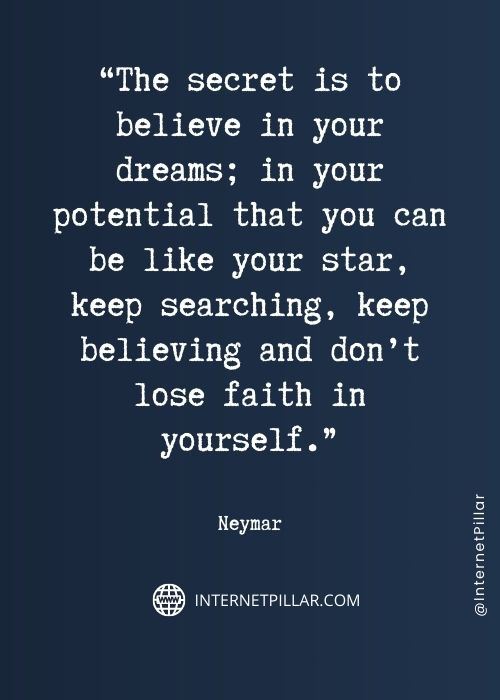 2. "The secret is to believe in your dreams; in your potential that you can be like your star, keep searching, keep believing and don't lose faith in yourself." ~ (Neymar).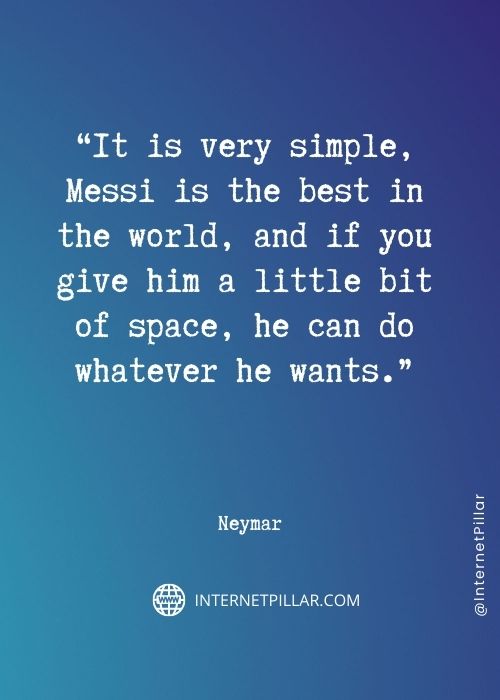 3. "It is very simple, Messi is the best in the world, and if you give him a little bit of space, he can do whatever he wants." ~ (Neymar).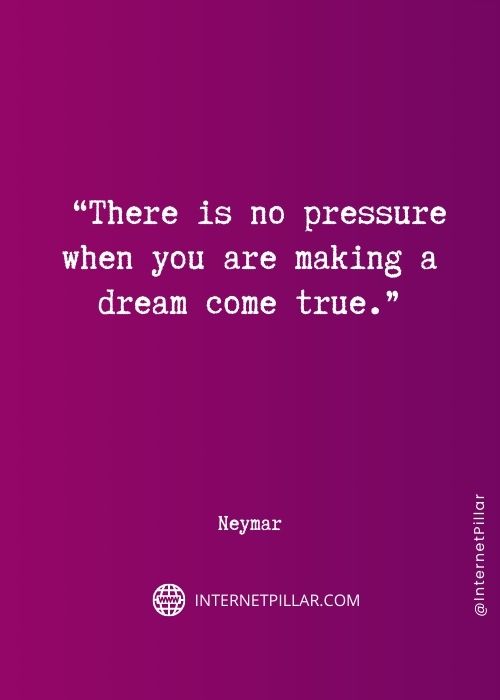 4. "There is no pressure when you are making a dream come true." ~ (Neymar).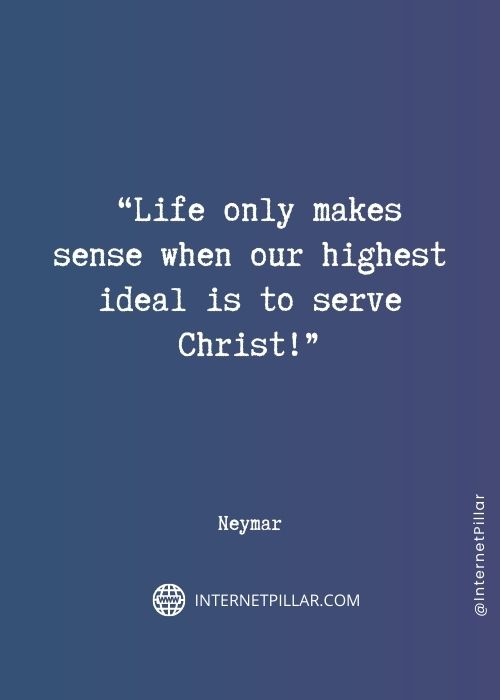 5. "Life only makes sense when our highest ideal is to serve Christ!" ~ (Neymar).
6. "I prefer that Argentina wins the World Cup. Messi deserves it for all he has done in football. He's my friend, I wish him the best." ~ (Neymar).
7. "All that matters is to help the team." ~ (Neymar).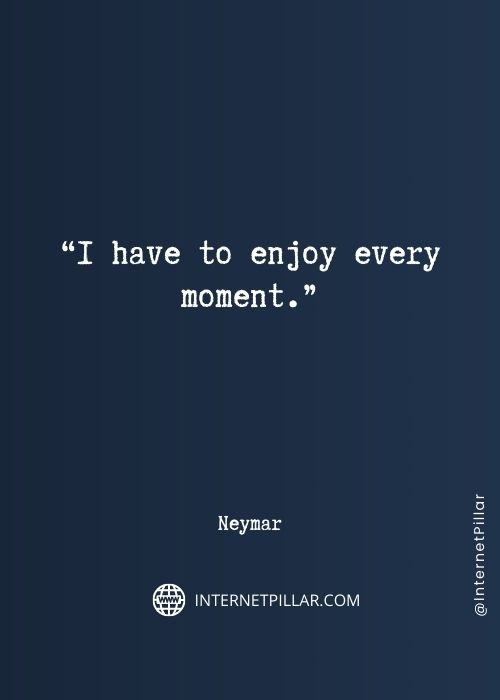 8. "I have to enjoy every moment."  ~ (Neymar).
9. "My foot, for a football player, is very beautiful!" ~ (Neymar).
Best Neymar Quotes
10. "I don't even know who Joey Barton is." ~ (Neymar).
11. "Neymar is massively overrated." ~ (Neymar).
12. "My father has been by my side since I was little. He takes care of things, my finances and my family." ~ (Neymar).
13. "I like to watch good football so I like to watch good players. I like Cristiano Ronaldo, Andres Iniesta, Xavi and Wayne Rooney." ~ (Neymar).
14. "This moment, which we are living right now will pass too. We have to enjoy, enjoy all that we can." ~ (Neymar).
Top Neymar Quotes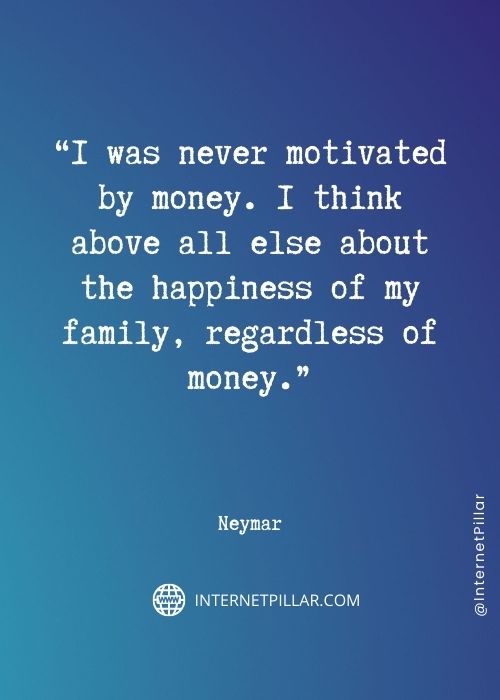 15. "I was never motivated by money. I think above all else about the happiness of my family, regardless of money." ~ (Neymar).
16. "I have both Messi and Cristiano Ronaldo as my idols. If I can take a little of each player's game and make it my own, I would be very happy." ~ (Neymar).
17. "I'm not a spiteful man, never been. I always forgive. The final decision isn't mine, but God's. God knows what He does." ~ (Neymar).
18. "Individually, I always want to give the most." ~ (Neymar).
19. "There are players that try to imitate others, but at free-kick time it is a personal thing. Every person has their own technique and routine when they stand over the ball and I have mine, I am not trying to copy anyone." ~ (Neymar).
20. "No one can compare to Ronaldinho. I remember his plays, his dribbles. I remember him winning every title at the Camp Nou. He made history at Barca, he made history with Brazil and he's still making history." ~ (Neymar).
21. "I have never been concerned about winning the Ballon d'Or or being the best player in the world. The best player is already here and that's Messi. And now I can see him from close up and help him." ~ (Neymar).
22. "I'm a guy who doesn't like to be alone, and the joy that my friends pass me, with them being always by my side, is gigantic." ~ (Neymar).
23. "Barca is more than a club and a great team and I want to contribute to Messi staying the best for many years." ~ (Neymar).
Famous Neymar Quotes
24. "Now I'm more behaved, I think it's age, you get older, more responsible, more quiet. But if I would want to dye my hair, for example red or blue, be sure that I'll dye it!" ~ (Neymar).
25. "I think that Instagram suits me. People know I like to use it all the time". ~ (Neymar).
26. "It is very simple, Messi is the best in the world, and if you give him a little bit of space, he can do whatever he wants." ~ (Neymar).
27. "It is good to be compared with the best player [Pele]. But my dad told me about Garrincha's style as he moved forward, went up, attacked and dribbled. Garrincha's style is more similar to Neymar's." ~ (Neymar).
---
---
You Might Like